Updated: Sun, 26 Sep 2021 09:59 PM IST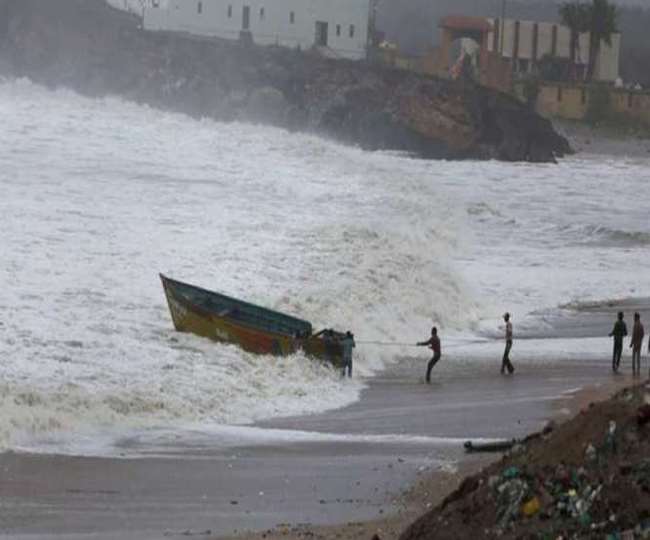 New Delhi | Jagran News Desk: Out of the six fishermen from Srikakulam district of Andhra Pradesh, who fell in the sea due to strong waves, three have reached ashore safely while one fisherman was killed, one injured and another remained missing as the cyclonic storm Gulab crossed the Bay of Bengal coast off Kalingapatnam on Sunday evening.
Strong waves hit their boat off Mandasa coast while returning from the sea this evening.
Cyclone Gulab is likely to weaken into deep depression during the next 6 hours, the Indian Meteorological Department (IMD) said.
The cyclone crossed north Andhra Pradesh and south Odisha coasts, about 20 km north of Kalingapatnam and lay centred at 8:30 pm today over north Andhra Pradesh.
"Next 2 hours are crucial. We expect winds to blow at the speed of 90-100 km/h. Two teams of NDRF & 4 teams of SDRF have arrived here. Heavy rainfall could lead to floods, which is another challenge. 19 mandals in the district are flood prone," said Srikakulam Jt. Collector Sumit Kumar.
Meanwhile, Indian Railways' East Coast Railway (EcoR) zone has decided to cancel/short terminate some trains for the safety of passengers and train operations.
Odisha experienced light to moderate rainfall as cyclone Gulab made landfall at a place in Andhra Pradesh, about 95 kilometres from Gopalpur in the state where a large number of people have been evacuated as a precautionary measure, officials said.
The wind speed of the cyclone is much less in Odisha compared to that in the neighbouring state during landfall.
Special Relief Commissioner PK Jena said after 12 noon of Sunday, the cyclonic storm suddenly picked up speed and moved over the Bay of Bengal towards the landmass at 25 kilometres per hour (kmph) from the earlier 17 kmph and made the landfall three hours ahead of the expected time.
Here are the latest updates on Cyclone Gulab:
Two NDRF teams have been deployed in Gumma & Gosani blocks in Gajapati district in view of Cyclone Gulab.
Odisha: Two NDRF teams have been deployed in Gumma & Gosani blocks in Gajapati district in view of Cyclone Gulab

"We have all the equipment needed in situations like Cyclone & flood & will tackle the situation accordingly," Vishwanath Chaudhari, NDRF Team Commander in Gosani pic.twitter.com/qvbOdugVIT

— ANI (@ANI) September 26, 2021
The landfall process, which commenced at around 6 pm, will continue for the next 2-3 hours over north coastal Andhra Pradesh and adjoining South Coastal Odisha, said IMD.
The cloud bands touched coastal regions and thus the landfall process commenced over north coastal Andhra Pradesh and adjoining south coastal Odisha. System will cross coasts between Kalingapatnam & Gopalpur, about 25 km to north of Kalingapatnam during next 3 hours, IMD tweeted.
#VIDEO | Srikakulam in #AndhraPradesh witnessed strong winds and heavy rainfall due to #CycloneGulab. (Earlier visuals)

As per IMD, the landfall process has commenced in coastal regions of Andhra Pradesh and Odisha

📹: ANI pic.twitter.com/EapGabOfif

— Jagran English (@JagranEnglish) September 26, 2021
Earlier in the day, Cyclone Gulab was located 180 km southeast of Gopalpur. It is predicted to make landfall from late evening to midnight, between Kalingapatnam in Andhra Pradesh and Gopalpur in Odisha said Special Relief Commissioner PK Jena.
Rainfall activity started in Odisha's southern and coastal regions on Sunday morning in the wake of cyclone 'Gulab'.
The cyclone, the second to hit the state in four months, started about 140 km east-southeast of Gopalpur and 190 km east-northeast of Kalingapatnam.
The Odisha government has already mobilised men and machinery, and launched an evacuation drive in seven identified districts in the southern parts of the state.
42 teams of the Odisha Disaster Rapid Action Force (ODRAF) and 24 squads of the National Disaster Response Force (NDRF), along with about 102 teams of fire brigade personnel, have been dispatched to the seven districts (put on high alert) -- Gajapati, Ganjam, Rayagada, Koraput, Malkangiri, Nabarangpur and Kandhamal.
Ganjam is expected to be severely affected by the cyclonic storm, and 15 rescue teams have been deployed in that area alone.
Besides, 11 fire service units, six teams of the ODRAF and eight of the NDRF are on standby for emergency purposes.
Over the next three days, the sea condition will be rough to very rough and fishermen in Odisha, West Bengal and Andhra Pradesh have been asked to not venture into east-central and adjoining northeast Bay of Bengal and Andaman Sea.
(With inputs from PTI)
Posted By: Sugandha Jha