Cyclone Amphan: PM Modi announces Rs 1,000 crore immediate relief for West Bengal as death toll rises to 80 | 10 Points
So far, cyclone Amphan, which has weakened and moved to Bangladesh, has claimed the lives of 80 people in West Bengal
Updated: Fri, 22 May 2020 03:15 PM IST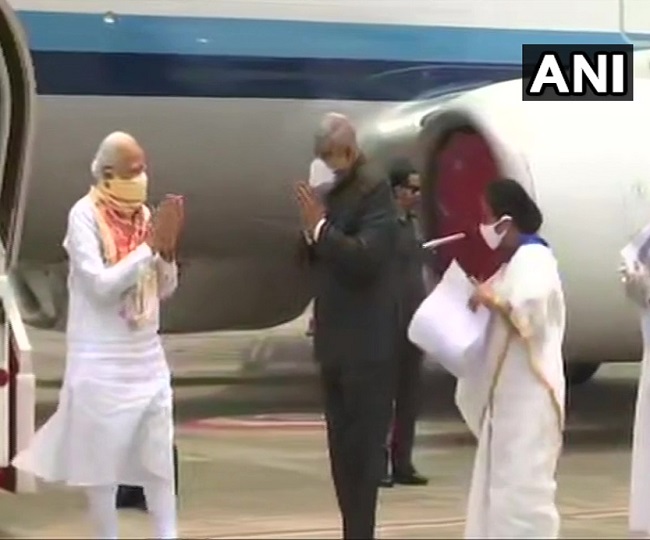 Kolkata | Jagran News Desk: Prime Minister Narendra Modi on Friday conducted the aerial survey of the areas in West Bengal and Odisha that were affected by cyclone Amphan and said that the "country is standing with people of these two states". The Prime Minister also announced that the Centre will allocate Rs 1,000 crore for immediate assistance of West Bengal in the wake of cyclone Amphan.
"A team will be sent by central government to conduct a detailed survey about the damage caused due to cyclone Amphan and the current situation of the affected areas. All aspects relating to rehabilitation and reconstruction will be addressed. We all want West Bengal to move ahead," he said.
Later in the afternoon, he arrived in Odisha where Chief Minister Naveen Patnaik and Governor Ganeshi Lal at the airport.
So far, cyclone Amphan, which has weakened and moved to Bangladesh, has claimed the lives of 80 people in West Bengal while over five lakh people have been effected, said Banerjee. She also announced a compensation of Rs 2 Lakh to the families of those who died in cyclone Amphan.
Here are ten key things that you need to know about cyclone Amphan and its impact:
1. Cyclone Amphan has killed 80 people and affected lakhs in West Bengal. The extremely severe cyclonic storm battered the state, uprooting thousands of trees besides swamping low-lying areas. Most of the damage was caused in North and South 24 Parganas.
2. Looking at the situation, West Bengal Chief Minister announced a compensation of Rs 2 lakh each for the family members of the deceased and a corpus fund of Rs 1,000 crore for preliminary restoration work of the affected areas.
3. The state officials, meanwhile, have said that National Disaster Response Force (NDRF) and the State Disaster Relief Force (SDRF) have been working continuously to provide relief to the people.
4. The National Crisis Management Committee (NCMC) also reviewed the rescue and relief operations in West Bengal and Odisha at a meeting in Delhi and was told that minimal loss of lives was reported due to accurate forecast by the IMD and timely deployment of NDRF troops.
5. Headed by Cabinet Secretary Rajiv Gauba, the NCMC was told by the chief secretaries of West Bengal and Odisha that timely and accurate forecast by the IMD and advance deployment of the NDRF facilitated in evacuation of about five lakh people in West Bengal and about two lakh in Odisha.
6. "Thousands of trees have been removed so far. But still, there is a lot more to be done. We are hopeful than within two-three days we would be able to normalise the situation. For the time being, we would request people to stay indoors," Kolkata Mayor Firhad Hakim said.
7. On the other hand, cyclone Amphan affected 45 lakh people in Odisha, said Chief Minister Naveen Patnaik, asking officials to submit report on damage to crops and houses within stipulated time. "The cyclone has severely damaged houses, standing crops, electrical infrastructure and uprooted trees in many districts. Steps are being taken on a war footing to restore normalcy," he said.
8. He has also expressed deep concern at the extensive damage specially to standing crops in the cyclone affected districts, an official in the CMO said, adding that Patnaik has ordered for repair of damaged infrastructure and early restoration of normalcy in these districts.
9. Meanwhile, the Indian Meteorological Department (IMD) has said that the Amphan has weakened significantly and moved to Bangladesh where 10 people have been killed. It said that Amphan was the fiercest cyclone to hit West Bengal in the last 100 years.
10. The extremely severe cyclone packing winds of up to 190 kmph rampaged through coastal Odisha and West Bengal on Wednesday, dumping heavy rain, swamping homes and farmland, the IMD said.
(With PTI inputs)
Posted By: Aalok Sensharma