COVID-19 Impact: Delhi govt imposes 70 per cent 'special corona fee' on liquor from today
Updated: Tue, 05 May 2020 08:03 AM IST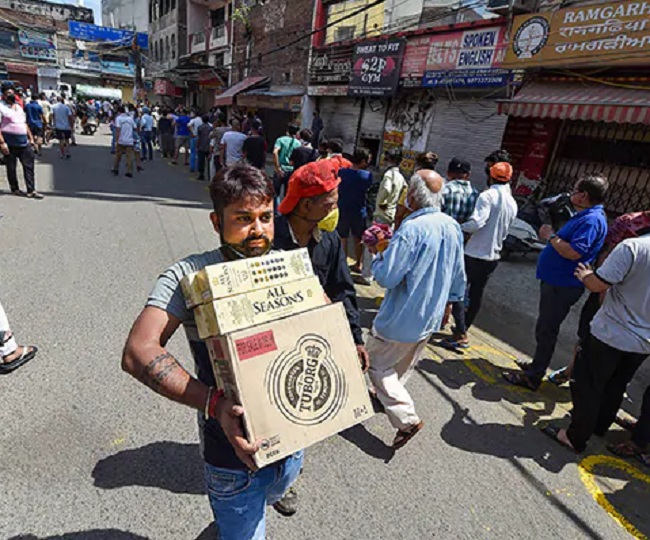 New Delhi | Jagran News Desk: The Delhi government on Monday said that 70 per cent "special corona fee" will be imposed on liquor sale amid the ongoing COVID-19 pandemic, news agency PTI quoted sources as saying.
The move will boost the government revenue, which has been hit hard due to the coronavirus pandemic. The idea was considered at a Cabinet meeting chaired by Chief Minister Arvind Kejriwal on Monday, the sources said.
On Sunday, Kejriwal had said that the government's earnings and economy have been badly affected due to the coronavirus-induced lockdown.
Citing revenue figures, he had said the Delhi government earned Rs 3,500 crore in April 2019, but only Rs 300 crore in April this year.
Neighbouring Haryana also is considering to impose a variable "COVID cess" on liquor to support the areas or institutions adversely hit by the pandemic, Deputy Chief Minister Dushyant Chautala had said on Sunday.
On Monday, tripplers in hundreds and thousands thronged the liquor shops across the country to end their 40-day-lond dry spell, jostling and pulling at each other in total defiance of social distancing norms, forcing authorities to shut the stores in some places to prevent near-riot situations.
Extraordinary scenes of chaos were witnessed outside the government-run shops in New Delhi, Mumbai, Bengaluru, Lucknow and other cities.
Thousands of men, and in a few cases women too, were seen standing in snaking queues for hours or jostling restlessly as they waited for the shutters to go up.
As India entered the third phase of the lockdown and some curbs were eased, the cynosure of attention for those deprived their daily or weekly tipple was clearly the alcohol shops.
Like in Delhi, parts of West Bengal, Rajasthan and Andhra Pradesh where many liquor shops had to be shut just minutes after they opened as restless, edgy crowds milled around, forgetting all about social distancing norms necessary to ward off COVID-19.

In Delhi, an official said about 150 government-run liquor shops were allowed to open from 9 am to 6.30 pm in accordance with the latest lockdown relaxations given by the Ministry of Home Affairs (MHA).
After a prolonged period of quiet, markets such as south Delhi's Malviya Nagar erupted with hundreds of people, not all in masks, thronging liquor shops. Traffic slowed, cars honked, people tried to capture the action on their phones and police tried hard to control the situation.
According to All India Brewers' Association (AIBA) Director General Shobhan Roy, the liquor industry contributes around Rs 2.5 lakh crore to the exchequers of the state government.
The industry size is around 330 million cases of beer (9 litres each), 350 million cases of spirits and 300 million cases of country liquor.
(With PTI inputs)
Posted By: Abhinav Gupta