Coronavirus News | 'Delta plus variant still not a 'variant of concern' in India due to low cases: AIIMS doctor
Catch all the LIVE Updates here
Updated: Tue, 22 Jun 2021 04:05 PM IST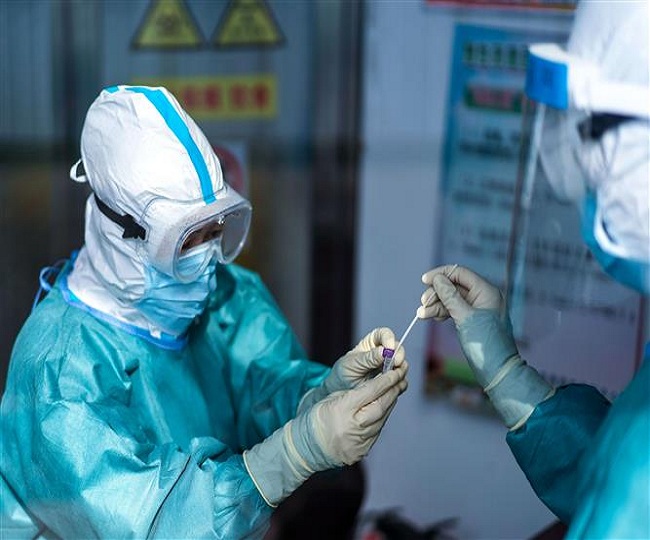 New Delhi | Jagran News Desk: The Hyderabad-based COVID vaccine manufacturing company Bharat Biotech submitted data from the Phase III clinical trials of Covaxin to the Drugs Controller General of India (DCGI) over the weekend, according to government sources. "We have received the data from the phase III trials," a senior government official confirmed.
Bharat Biotech's Covaxin is one of the three vaccines which are currently being used in India. The phase III data of its vaccine have been questioned various times and that is what makes the data crucial which will ascertain the efficacy of the vaccine. The company has developed the vaccine in association with the Indian Council of Medical Research (ICMR).
Here are the LIVE Updates of June 22:
3:45 pm: There are issues of farmers' & Maratha reservation among others. This govt seems to be sleeping to discuss these. This is why we walked out from Business Advisory Committee meet today: Ex-Maharashtra CM & LoP Devendra Fadnavis
3:40 pm: Govt always tries to ignore assembly sessions citing COVID19. Today, govt again proposed monsoon session for 2 days. Thousands of people come for inauguration of ruling party's offices or protests or oath-taking ceremonies: Ex-Maharashtra CM & LoP Devendra Fadnavis
3:30 pm: This was a nudge, incentivising the states to adopt progressive policies to avail additional funds. The results of this exercise are not only encouraging but also run contrary to the notion that there are limited takers for sound economic policies: PM Modi writes in a blog
3:15 pm: In May 2020, as part of Aatmanirbhar Bharat package, Govt of India announced that State Govts would be allowed enhanced borrowing for 2020-21. An extra 2% of GSDP was allowed, of which 1% was made conditional on implementation of certain economic reforms: PM Modi in a blog
3:00 pm: Covaxin shows 77.6 % efficacy in phase 3 trial data in review by subject expert committee (SEC): Sources
2:45 pm: Indian SARS-CoV-2 Genome Sequencing Consortia (INSACOG) to formally release the genomic surveillance bulletin on Delta Plus variant soon. Centre is closely monitoring Delta Plus cases to take timely and appropriate step to prevent its spread: Government Sources
2:35 pm: But in India, the numbers are still very low. It is still a variant of interest & not a variant of concern yet, as the number of infected people is low: Dr Subhradip Karmakar, Associate Professor, Department of Biochemistry, AIIMS
2:20 pm: Delta plus has addl mutant K417N, that converts Delta(B.1.617.2) to Delta plus. There are speculations that this mutant is more contagious & it's 35-60% more infectious compared to alpha variant. It could be potentially contagious: Dr Subhradip Karmakar,Dept of Biochemistry,AIIMS
2:10 pm: Every variant comes with a different kind of clinical response. In the previous variant, the oxygen level was dropping but we don't know what kind of consequences Delta plus variant will come with: Dr Subhradip Karmakar, Associate Professor, Department of Biochemistry, AIIMS
2:00 pm: In order to control 3rd wave of #COVID19 a detailed discussion was held with a expert committee. The committee has made some important recommendations regarding safety measures for children, medical oxygen availability, post-COVID health issues: Karnataka CM, BS Yediyurappa
1:45 pm: As of today, there's sufficient vaccine (in state)...In vaccination drive that began y'day, number of people (who were inoculated) doubled as compared to earlier. But we've to do more, see that around 2 lakh people get vaccinated daily - that's our target: Chhattisgarh Health Min
1:30 pm: Many variants will come in the days to come because virus keeps mutating. Right now we have delta & delta plus variants. We'll have to be alert & it'll have to be seen if vaccine is effective against them: Chhattisgarh Health Minister TS Singh Deo on Delta plus variant
1:00 pm: A passenger travelling to Mumbai, on a Vistara flight, created a ruckus at Delhi Airport (T3) after he was not allowed to board the aircraft as he was not carrying an RT-PCR report, mandatory for passengers arriving in Maharashtra. He was handed over to Delhi Police by CISF.
11:55 am: 90% of people who have died could have been saved. The biggest reason for this was the lack of oxygen at the time. While there is no shortage of oxygen in the country. PM's tears did not save the lives of people but oxygen could have: Rahul Gandhi, Congress
11:45 am: So far five cases of the Delta Plus variant (of #COVID19) have been reported in Madhya Pradesh. Four out of five people who got the vaccine are healthy. One has died: Madhya Pradesh Health Minister, Prabhuram Choudhary
11:40 am: Yes, good work has happened yesterday (highest number of vaccines administered) but this is not a series of events. But govt has to make this process work not just for one day but everyday until we've vaccinated our whole population: Congress leader Rahul Gandhi
11:30 am: It's clear that management of the first & second wave of COVID was disastrous, & we've tried to point out the reasons behind it. I would even go so far as to say that there might be waves even after the third wave of COVID19 as the virus is mutating: Rahul Gandhi, Congress
11:15 am: The aim of this white paper on COVID19 is not finger-pointing at the government but to help the nation prepare for the third wave of infection. The whole country knows that a third wave will strike: Congress leader Rahul Gandhi
10:30 AM: Madhya Pradesh administered the highest number of vaccines yesterday with 16,95,592 jabs. Our target was 10 lakh. Indore has also set a record and administered 2,23,628 doses: Medical Education Minister Vishwas Sarang
10:00 am: Subject Expert Committee to meet today to review the Phase 3 data of Bharat Biotech's COVAXIN: Govt sources
9:45 am: India reports 42,640 new #COVID19 cases (lowest in 91 days), 81,839 discharges & 1,167 deaths in last 24 hours as per Union Health Ministry Total cases: 2,99,77,861 Total discharges: 2,89,26,038 Death toll: 3,89,302 Active cases: 6,62,521 Total Vaccination: 28,87,66,201
9:30 am: India administered 86.16 lakh (86,16,373) vaccine doses in a single day yesterday; Highest ever single day vaccination achieved in the world so far: Ministry of Health
9:15 am: Odisha reported 2,957 new COVID19 cases, 38 deaths and 4,587 recoveries in the last 24 hours; the number of active cases in the State is 34,965
9:00 am: The total number of samples tested up to 21st June is 39,40,72,142 including 16,64,360 samples tested yesterday, says the Indian Council of Medical Research (ICMR)
8:40 am: Congress leader Rahul Gandhi to hold a press conference via video conferencing at 11 am today, to release a white paper on COVID19
8:15 am: Ladakh reported 33 new cases and 31 recoveries yesterday. The total number of COVID19 active cases in the Union Territory has come down to 365.
7:45 am: Madhya Pradesh administered 16,73,858 vaccine doses yesterday during the mega inoculation drive against COVID19
7:30 am: COVID19 | Mizoram reported 374 new cases and 1 death yesterday. The number of active cases in the State is 4,227
7:22 am: Ambulance service worth Rs 11 launched in Odisha's Sambalpur. "We came up with this idea to ensure people are not overcharged as they were during COVID peak. It is a 24-hours service with two drivers," said Sidharth Saha, ex-vice president of SATHI Trust that launched it
7:10 am: With Delhi govt allowing opening of bars from this week, restaurateurs expect more footfall. "Occupancy has been good but with the opening of bars, we expect it to improve further. It will take us a month or a two to get back on track," said restaurant manager Arun Sharma
Posted By: Talibuddin Khan