By Abhinav Gupta
Updated: Sat, 30 May 2020 08:59 PM IST
Minute Read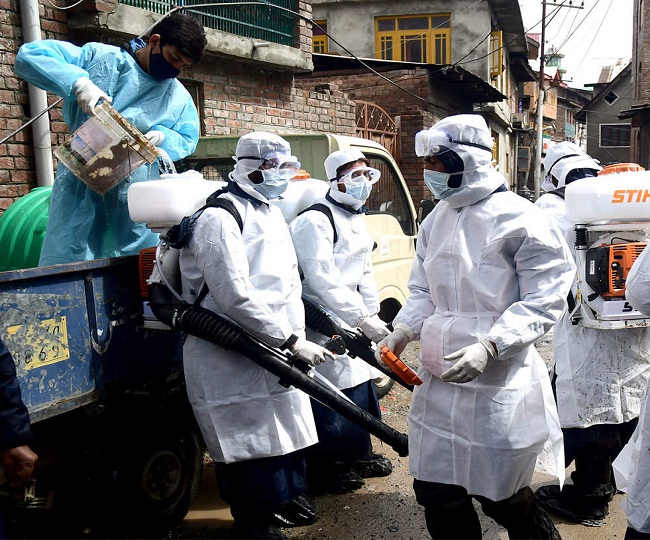 New Delhi | Jagran News Desk: The Centre has extended the lockdown in the country till June 30, but the restrictions have been kept limited to containment zones. The new guidelines by the Home Ministry, which have been termed as Unlock 1, have allowed re-opening of shopping malls, restaurants, hotels and religious places from June 8.
The MHA order said that the containment zones will be demarcated by the district authorities after taking into consideration the guidelines of the Health Ministry.
The containment zones will be demarcated by the state/ UT governments, after taking into consideration the guidelines issued by the Health Ministry. Within the containment zones, strict perimeter control shall be maintained and only essential activities will be allowed.
In the fourth phase of lockdown, states and Union Territories were given the power to identify red, orange and green zones, and containment and buffer zones inside red and orange zones.
While red, orange and green zones will be decided by the states, the district administration and local urban bodies will identify the containment and buffer zones with technical inputs at local level and by taking into consideration the health ministry guidelines.
According to the Health Ministry, a containment zone refers to a specific geographical area where positive cases of coronavirus are found. Strict movement restrictions are put in place in such areas to prevent further spread of the virus.
These zones are created to map the local transmission of the disease and prevent the contagion from spreading. They are identified by by the Rapid Response Team (RRT) based on the extent of cases listed and mapped by them.
Every confirmed case has to be considered as an epicentre and micro-plan activities will need to be done, according to the ministry.
Identification of containment zone and restrictions imposed
The perimeters of the containment zone are decided based on the number of positive cases in the area, contact tracing history and population density.
The RRT demarcates the area of 3-kilometre radius around the epicentre (the residence of the positive case or where he has been isolated) in case contact listing and mapping takes more than 24 hours. This area of 3 km radius is the containment zone.
If required, based on the mapping of contacts and cases, the containment zone is refined, the release issued by the health ministry read.
"The perimeter control will ensure that there is no unchecked outward movement of population from the containment zone except for maintaining essential services (including medical emergencies) and government business continuity. Thermal screening, IEC shall be carried out at all entry and exit points," read the ministry's press release.
"All vehicular movement, movement of public transport and personnel movement will be stopped. All roads including rural roads connecting the containment zone will be guarded by Police. For personnel and vehicles requiring regular movement, a pass/ID card may be issued with details recorded and communicated," it added.
Buffer Zone
The adjoining blocks of the affected district or rural districts of the affected city are known as buffer zones.
A buffer zone of an additional 5-kilometre radius (7 Kms in rural areas)/administrative boundary of including neighbouring districts/per-urban zone shall also be identified, as detailed in the cluster containment plan.
"The containment zone will be divided into sectors with 50 houses each (30 houses in difficult areas)," the government's release on the micro plan containing local coronavirus transmission read.
Cluster Containment
The government has drawn out a containment plan as clusters posing high risk of further spread of COVID-19 cases have emerged in several states like Kerala, Maharashtra, Rajasthan, Uttar Pradesh, Punjab, Karnataka, Telangana as also Delhi and Ladakh.
The cluster containment strategy would be to contain the disease within a defined geographic area by early detection of cases, breaking the chain of transmission and thus preventing its spread to new areas.
Noting that local transmission will lead to clustering of cases in time and space, epidemiologically linked to a travel related case or a positive case that has links to a travel related case, the health ministry has drawn out the plan.
India would be following a strategic approach for possible scenarios - travel-related case reported in India, local transmission of COVID-19, large outbreaks amenable to containment, widespread community transmission of COVID-19 disease and India becomes endemic for COVID-19, the ministry said.
According to the document, "containment for large outbreaks through geographic quarantine strategy calls for near absolute interruption of movement of people to and from a relatively large defined area where there is single large outbreak or multiple foci of local transmission" of COVID-19.
"In simple terms, it is a barrier erected around the focus of infection. Geographic quarantine shall be applicable to such areas reporting large outbreak and/or multiple clusters of COVID-19 spread over multiple blocks of one or more districts that are contiguous," it said.
The cluster containment strategy would "include geographic quarantine, social distancing measures, enhanced active surveillance, testing all suspected cases, isolation of cases, quarantine of contacts and risk communication to create awareness among public on preventive public health measures", the document stated.
The ministry listed some of the factors affecting large outbreak cluster containment.
A number of variables determine the success of the containment operations through geographic quarantine which include the number and size of the cluster or clusters and also how efficiently the virus is transmitting in Indian population, taking into account environmental factors especially temperature and humidity, it said.
The factors also include public health response in terms of active case finding, testing of large number of cases, immediate isolation of suspect and confirmed cases and quarantine of contacts along with the geographical characteristics of the area.
According to the document, the authorities will do extensive contact tracing and active search for cases in containment zone, test all suspect cases and high risk contacts, isolate all suspect or confirmed cases, implemen social distancing measures and intensive risk communication as part of the cluster containment strategy.
For large outbreaks amenable to containment, the documents stated that the strategy will remain the same but vary in extent depending upon spread and response to be mounted to contain it.
Geographic quarantine and containment strategy will include defining the area of operation, active surveillance for cases and contacts in the identified geographic zone, expanding laboratory capacity for testing all suspect cases, high risk contacts and SARI cases and operationalising surge capacities created for isolation (COVID-19 hospitals/blocks) to hospitalise and manage all suspect or confirmed cases.
It will also include implementation of social distancing measures with strict perimeter control, providing chemoprophylaxis with Hydroxychloroquine to all asymptomatic healthcare workers and asymptomatic household contacts of laboratory confirmed cases and further intensification of risk communication through audio, social and visual media.
In alignment with strategic approach, the document provides action that needs to be taken for containing a large outbreak. The actions for mitigation phase will be dealt separately under a mitigation plan.