Coronavirus News: COVID-19 cases in Delhi nears 20,000, death toll rises to 473 | Highlights
Coronavirus News Latest Updates: COVID-19 cases in India reaches 1.82 lakh, death toll tops 5,000.
Updated: Sun, 31 May 2020 05:04 PM IST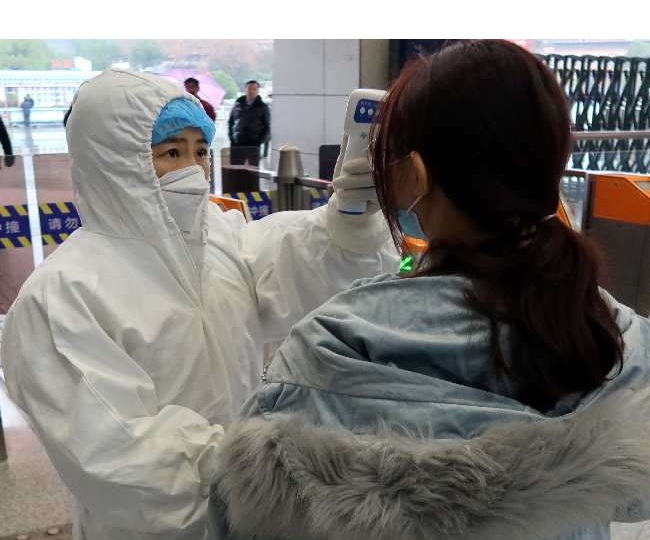 New Delhi | Jagran News Desk: The number of novel coronavirus cases is increasing at an alarming rate in the country. The number of cases have surged to 1,82,143, while the death toll has risen to 5,164, according to the latest data by the Ministry of Health and Family Welfare. Of the total number of cases, there are 89,995 active cases, while 86,984 people have been cured.
Amid this, the Home Ministry on Saturday issued guidelines for the fifth phase of lockdown till June 30 in containment zones. On the other hand, it also issued guidelines for the phased reopening of all activities outside containment zones for the next one month.
The unlock 1 phase of re-opening will have an economic focus. Shopping malls, hotels, restaurants, and religious places of worship will be allowed to open from June 8.
State governments are likely to release guidelines on Sunday.
Here are the LIVE updates of COVID-19:
6:02 pm: 13 deaths and 1295 new #COVID19 positive cases reported in Delhi today, taking the total number of cases in Delhi to 19844 and death toll to 473: Delhi Government
5:08 pm: After Ministry of Home Affairs' guidelines, timings for prohibition of movement of individuals, for all nonessential activities has been revised by Chandigarh administration from 9 pm to 5 am with immediate effect from June 1.
5:01 pm: Maharashtra Government extends the #COVID19 lockdown till 30th June in the state. Movement of individuals to remain strictly prohibited between 9 pm to 5 am except for essential activities.
5 pm: Manipur reports 5 new #COVID19 positive cases, taking the total number of cases to 71. Number of active cases stand at 60: State Government
4:30 pm: Nepal's #COVID19 tally reaches 1567 after the confirmation of 166 new cases of coronavirus in the past 24 hours: Ministry of Health and Population
4:25 pm: The guidelines on lockdown measures will remain in force in Karnataka till 30th June 2020. Religious places and places of worship for public; hotels, restaurants and other hospitality services; and shopping malls; will be permitted to open from June 8, 2020: State Govt #Unlock1
4 pm: COVID19 lockdown to continue till 30th une in the state. Religious places, hotels, restaurants and shopping malls to reopen from 8th June: UP Additional Chief Secretary (Home), Awanish Awasthi #Unlock1
3:50 pm: Lockdown has been extended in containment zones in Bihar till 30th June: State Home Department
3:40 pm: In last 24 hours, 262 new COVID19 positive cases have been reported in Uttar Pradesh. There are 2901 active cases in the state and 4709 people have been cured/discharged. Death toll stands at 213: State Principal Secretary (Health), Amit Mohan Prasad
3:30 pm: Guidelines on lockdown measures in Union Territory of Jammu and Kashmir to continue till June 8, 2020: Jammu and Kashmir Government #Unlock1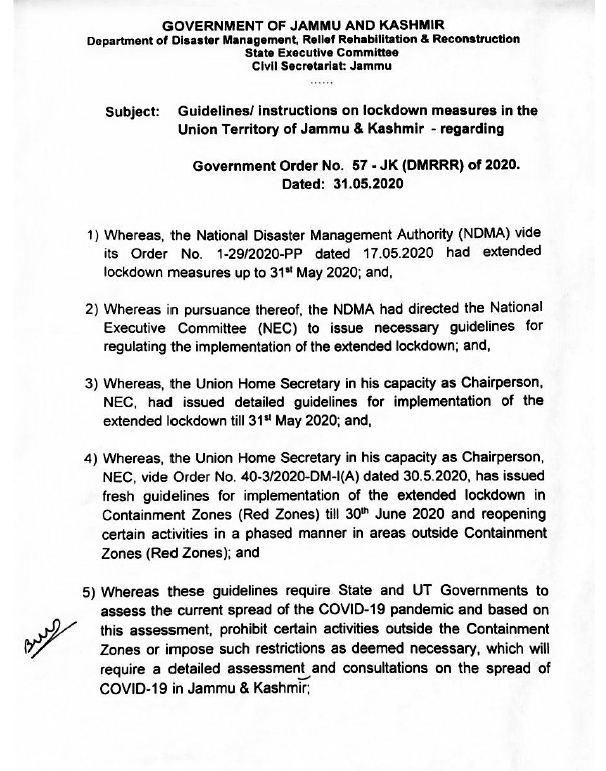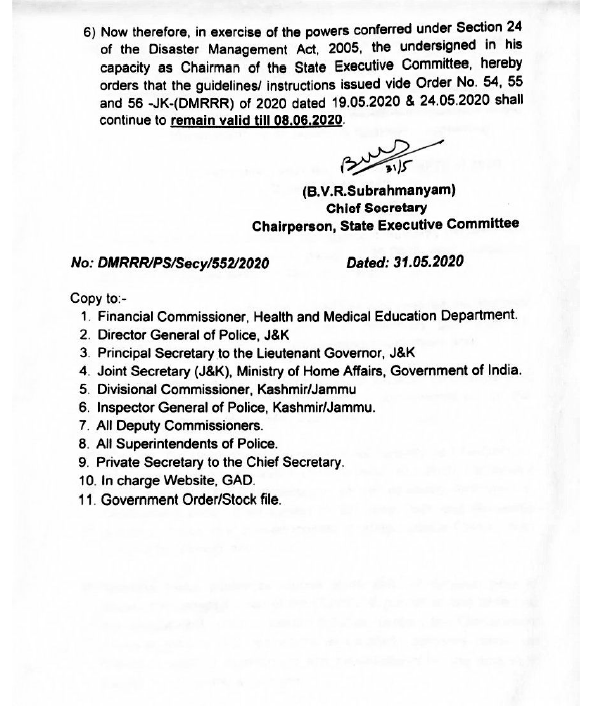 3 pm: Some media houses have reported that TRAI has recommended 11-digit numbering plan for mobile services. As per TRAI recommendation,country will continue with 10-digit numbering,we've categorically rejected shifting to 11-digit numbering plan:Telecom Regulatory Authority of India
2:52 pm: 55 new COVID19 cases in Madhya Pradesh's Indore district, tally 3,486; death toll 132 with 3 more fatalities: Health Department official
2:51 pm: It has been decided that Tarapith Temple will remain closed till June 15, however, by June 14 a review meeting will be held in which further decision will be taken: Priest of Tarapith Temple in West Bengal. #COVID19
2:34 pm: 53 new COVID19 positive cases reported in Uttarakhand. The total number of positive cases in the state stands at 802: Uttarakhand State Control Room COVID-19
2:21 pm: 56 new cases of #COVID19 reported in Assam today. The total number of positive cases in the state now stands at 1272, including 163 recovered, 1102 active cases and 4 deaths: Assam Health Minister Himanta Biswa Sarma
2:10 pm: In last 24 hours, 98 new #COVID19 positive cases have been reported in Andhra Pradesh; taking the total number of cases to 3042. Death toll stands at 62 after 2 deaths were reported.
2 pm: A 52-year-old Police personnel who had tested positive for #COVID19 passed away today: Delhi Police
1:52 pm: Today after 2 pm, we will issue the guidelines for #Unlock1 in the state. Intra-state bus and taxi services will resume. Mass gatherings will remain prohibited. Social distancing and masks are mandatory: Chief Minister Yogi Adityanath.
1:45 pm: Until Haryana govt's new directions come, existing directions will continue to remain in effect. Delhi HC & Haryana HM had issued certain guidelines,inter-dist & inter-state movement will continue based on them. New directions will come by tomorrow: Deputy Commissioner, Faridabad
1:40 pm: Centre has issued new guidelines regarding lockdown. Haryana govt will issue necessary directions after discussing them. Dist admn is also discussing the same with officials & various orgs. We'll issue necessary directions regarding this, by tomorrow: Dy Commissioner, Faridabad
1:29 pm: So I have requested central govt to grant us Rs 5000 Crore. I have written to the Union Finance Minister to provide us this immediate assistance as Delhi govt has not received the fund sanctioned to states under Disaster Relief Fund. Delhi is facing financial issues: Delhi Dy CM
1:20 pm: We reviewed Delhi govt's revenue & its min.expenses. It needs around Rs 3500 Cr/month to pay salaries & bear office expenses. In last 2 months GST collection was Rs 500 Cr each. Combining that with other sources, the govt has Rs 1735 Cr. We need Rs 7000 Cr, for 2 months: Delhi Dy CM
1:10 pm: I would like to ask PM Modi, 'Can you tell us how much money did you give to labourers from your PM CARES Fund?' I request him to answer this question. Many people died during this period, some died while walking, some died in train, some died of hunger: Kapil Sibal, Congress
12:56 pm: Two more #COVID19 positive cases reported in Bapu Dham Colony today. They are contacts of a positive case. The total number of positive cases in Chandigarh now stands at 291, including 88 active cases: Public Relations Department, Chandigarh
12:40 pm: Manipur reports 4 new #COVID19 positive cases, taking the total number of cases to 66. Number of active cases stand at 59: State Govt
12:20 pm: Karnataka: Vehicular movement continues in the state, some shops open and people go on with their daily chores as the state govt yesterday announced that there will be no complete lockdown on Sunday (today) & normal day to day life will continue today.
12:11 pm: 'Need to be more vigilant as economy has opened': PM Modi as India moves towards 'unlock 1.0'
12:10 am: In the last 24 hours, 91 police personnel have tested positive for COVID19 have been reported. Total number of positive cases in Maharashtra Police rise to 2,416 with death toll at 26. 1421 cases are active: Maharashtra Police
10:53 am: 76 COVID19 positive cases, 1 death, 33 recovered and 20 discharged in last 24 hours in Rajasthan. The total number of positive cases in the state rises to 8693, including 194 deaths, 5772 recovered, 5099 discharged: State health department
10:50 am: Kerala: Fishermen in Kochi say they are incurring loss due to upcoming monsoon & complete ban on fishing in Kerala coast & south east Arabian sea. Biju, a fisherman says, "We had no work amid lockdown. We request govt to reduce time period of ban as the business is in loss".
10:42 am: A Uttarakhand cabinet min & 41 people living at his residence have been placed under quarantine & their samples have been sent for testing after his wife & former cabinet min tested positive for COVID19. The former minister has been sent to AIIMS Rishikesh: Dehradun Dist Magistrate
10:30 am: Vegetable shops come under essential services so they were open during lockdown. Vendors had maintained social distancing but we didn't want to take risk. If someone among them tests positive then we'll isolate him & give him treatment. We'll test butchers tomorrow: Dr Safia Khan
10:23 am: Jammu & Kashmir | Doda district administration today launched an initiative to test vegetable/fruit vendors and wholesalers for COVID19. Vendors were notified yesterday and a total of 51 people reached the sample collection centre in Doda city today.
10:20 am: 4 COVID19 positive cases reported in Solan district of Himachal Pradesh, taking the total number of positive cases in the state to 317, including 201 active cases: State Additional Chief Secretary (Health) RD Dhiman
10:14 am: Odisha reports 129 new COVID19 positive cases; taking the total number of cases to 1948. Active cases stand at 889: State Health Department.
9:35 am: India records 8,380 new COVID-19 cases and 520 deaths.
9:20 am: Lockdown will continue till June 30 in Tamil Nadu. All districts will be divided into 8 zones. E-pass not necessary for movement. Public transportation restricted in 7 zones of Kanchipuram, Chengalpattu and Thiruvallur district and 8 zones of Chennai: Tamil Nadu government
9 am: Tripura: CM Biplab Kumar Deb participated in a plantation drive at Agartala Government Medical College & Govind Ballabh Pant Hospital yesterday, to mark the completion of one year of the 2nd tenure of PM Narendra Modi-led central government.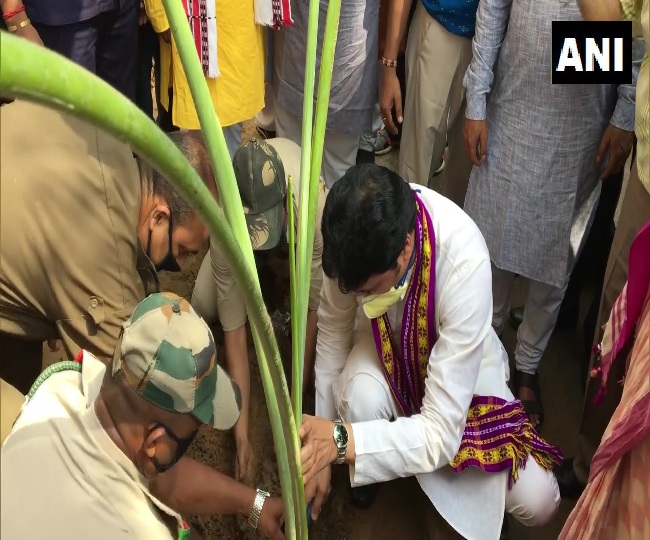 8:30 am: The address by the Prime Minister is likely to focus on the relaxations being given from June 1, after over two months of lockdown to control the spread of COVID-19.
7:50 am: Prime Minister Narendra Modi to address the nation through his radio programme 'Mann Ki Baat' at 11 AM today. Incidentally, the 'Mann Ki Baat' address comes a day after the one-year anniversary of the second term of the Modi government.
7:35 am: Jharkhand recorded highest single-day spike with 72 cases of COVID19 yesterday, taking the total number of cases to 594: Health secretary Nitin Madan Kulkarni
7:30 am: Death toll in Brazil due to coronavirus hits 28,834: AFP news agency
Posted By: James Kuanal