Coronavirus Pandemic: 'Need to learn to live with the virus,' says Health Ministry | Highlights
Updated: Fri, 08 May 2020 06:23 PM IST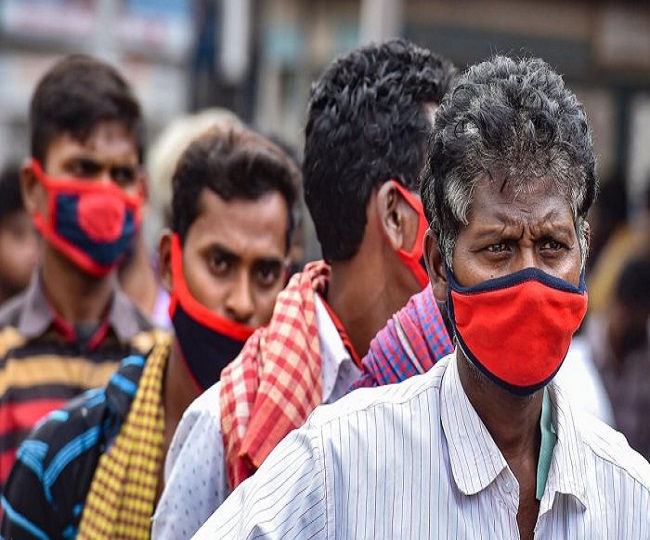 New Delhi | Jagran News Desk: The number of coronavirus cases in India is surging at an alarming rate. As per data available at the Ministry of Health and Family Welfare, the deadly virus has infected over 56,000 people in the country and claimed the lives of more than 1,800 while 16,540 people have been cured and discharged from hospitals. As per the Health Ministry, urban centres like Mumbai, Delhi, Ahmedabad and Chennai have reported rising numbers of people having tested positive for the deadly infection.
The Health Ministry has further said that a number of health workers and security personnel, who are among the 'frontline warriors' in the coronavirus fight, have tested positive for the dreadful infection in the recent days.
Here are the LIVE updates on coronavirus pandemic in India:
16:26 pm: "Need to learn to live with the virus," says Health Ministry
16:19 pm: Railways has converted 5231 coaches as COVID care centres. They will be placed on 250 identified stations & will be used for treatment of mild & very mild cases while ensuring that different coaches are designated for suspected & confirmed cases: Lav Agrawal, Jt Secy, Health Ministry
16:16 pm: In 216 districts in the country no positive cases of COVID19 have been detected. In 42 districts no new cases have been detected in the last 28 days: Lav Agrawal, Joint Secy, Health Ministry
16:16 pm: In the last 24 hours, there were 3390 new COVID19 positive cases and 1273 recoveries. The recovery percentage is now 29.36%. Till now, 16,540 patients have been cured and 37,916 patients are under active medical supervision: Lav Agrawal, Jt Secy, Health Ministry
16:08 pm: 1,273 people were cured in the last 24 hours: Health Ministry
16:08 pm: Recovery rate in India is 29.36 per cent: Health Ministry
16:08 pm: Railways has run 222 Shramik Special Trains for movement of stranded persons, more than 2.5 lakh people have made use of this facility so far: Punya Salila Srivastava, Joint Secretary, Ministry of Home Affairs (MHA)
16:03 pm: Health Ministry briefs media over COVID-19 outbreak
15:18 pm: 64 more people have tested positive for COVID19 in Rajasthan, taking the total number of cases to 3491 out of which 1475 cases are active. Number of deaths stands at 100: Rajasthan Health Department
15:17 pm: The second special train with 1301 migrant labourers left Mohali Railway Station at 10 AM today for Hardoi in Uttar Pradesh: Mohali District Public Relations Office
14:39 pm: Drug Controller General of India has given approval for clinical trials of Favipiravir which is used in influenza in Japan, China etc and could be potentially useful against COVID-19 and a phytopharmaceutical which is an extract of a plant: CSIR Director General Shekhar Mande
14:06 pm: 'States can consider indirect sale or home delivery': SC refuses to ban liquor sale amid coronavirus lockdown
13:08 pm: Male: The first batch of Indian nationals who will be brought back from the Maldives under operation Samudra Setu board INS Jalashwa.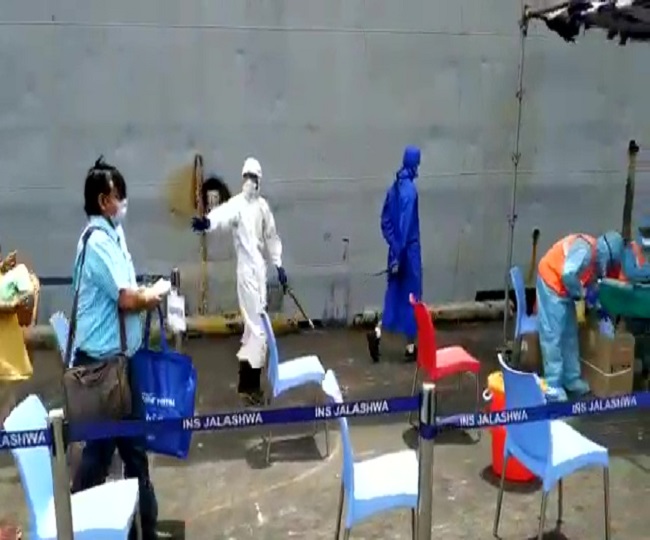 12:48 pm: The migrant workers are distressed. The way they are being treated by the Centre and State Governments is very wrong. Not even proper food and accommodation is being arranged for them, says Bahujan Samaj Party (BSP) Chief Mayawati
12:47 pm: 45 new COVID-19 positive cases have been reported from 5 pm yesterday to 12 noon today. Total number of positive cases in the state stand at 750, this includes 30 deaths and 371 discharges, says Karnataka Health Department
12:21 pm: Medical test reports of a CISF Assistant Sub-inspector posted in Indian Museum, Kolkata who died yesterday confirmed that he was COVID-19 positive, says Central Industrial Security Force (CISF)
11:45 am: Red, orange and Green zones have been demarcated at National level. These zones should be decided at state levels involving District Magistrates. Our CMs are saying that the areas which are red zones at national level are actually green zones & vice versa: Rahul Gandhi
11:44 am: This is not the time to criticise, we need a strategy to open the lockdown. Any businessman will tell you that there is a clash between economic supply chain and 'red, orange and green zones', that need to be resolved: Rahul Gandhi
11:44 am: The central thing that Government needs to do now is, give a little bit of transparency on its actions. We need to understand when they open the coronavirus lockdown what will be the criteria for its opening: Rahul Gandhi
11:22 am: 'Don't understand why this is happening to me': South African cricketer Solo Nqweni tests positive for coronavirus
10:44 am: 600 Maldivian Rufiyaa or an equivalent amount of USD 40 will be charged as the evacuation service charge from Indian nationals listed for repatriation from Maldives by INS Jalashwa under Operation Samudra Setu: High Commission of India in Maldives
9:47 am: 23 labourers of Nahari village ran away from boys hostel in Aranpur, yesterday. The hostel was made a quarantine centre for migrant labourers, ANI quoted SP Dantewada Abhishek Pallav as saying
9:27 am: 26 new positive cases have been reported today; taking the total number of positive cases to 3453. One death has been reported today; death toll rises to 100, says Rajasthan Health Department
9:03 am:
#WATCH Bangladesh: Students from Jammu and Kashmir, who are being brought back from Dhaka under #VandeBharatMission, express their gratitude towards Indian Govt and Indian Embassy in Bangladesh. #COVID19 pic.twitter.com/LEVBguif99

— ANI (@ANI) May 8, 2020
8:59 am: 3,390 new coronavirus cases in last 24 hours take India's tally surge past 56,000; death toll climbs to 1,886
8:40 am: On 5th May, 15 COVID-19 positive cases were reported in the state taking total number of active cases to 400. Out of the 15 cases, 3 persons had returned from Mumbai,Maharashtra. We are conducting test of all the people who are returning from other states, says Telangana Health Department
8:24 am: 14 migrant workers mowed down by goods train in Maharashtra's Aurangabad
7:51 am: Delhi: Police personnel check IDs and passes of people as they commute through Delhi-Ghazipur border amid lockdown.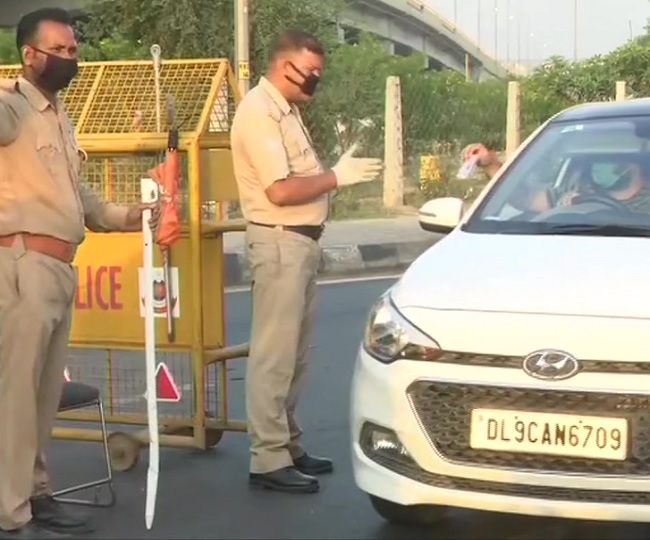 7:25 am: US records 2,448 coronavirus deaths in the past 24 hours, bringing the total toll to 75,543, reports AFP.
7:25 am: Coronavirus likely to peak in India in June and July: AIIMS Director raises alarm
7:19 am: Meanwhile, the first of the two special flights from the UAE, carrying a total of 363 Indian nationals, have landed in Kerala amid lockdown.
7:18 am: 15,267 have also been cure from the virus and discharged from hospitals.
7:18 am: As per Health Ministry, 52,952 have been infected in India while 1,783 have lost their lives.
Posted By: Aalok Sensharma