Coronavirus Pandemic: Assam's first COVID-19 patient discharged | Highlights
Coronavirus has affected over 52,000 and claimed the lives of nearly 1,800 patients in India so far. [Representational Image]
Updated: Thu, 07 May 2020 06:56 PM IST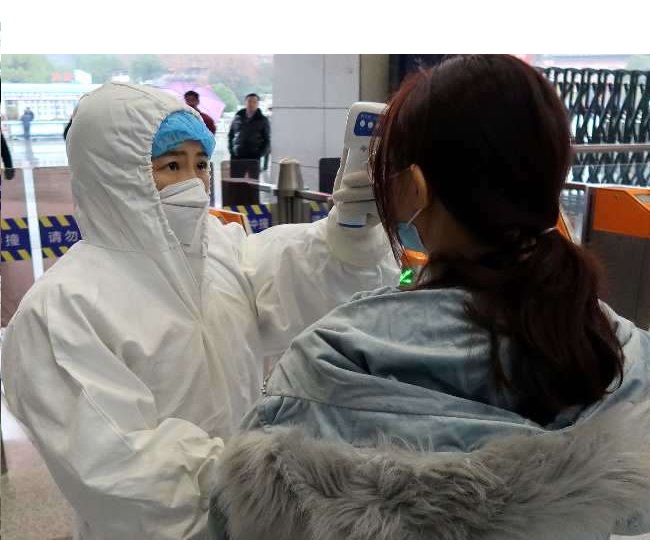 New Delhi | Jagran News Desk: The total number of coronavirus cases in India has increased to 52,952 on Thursday, while the death toll has surged to 1,783 according to the latest data by the Ministry of Health and Family Welfare. Of the total number of cases, there are 35,902 active cases, while 15,267 people have been cured and discharged from hospitals.
Prime Minister Narendra Modi on Thursday participated in a virtual Vesak global celebrations on Buddha Purnima to pay tribute to the frontline warriors of Covid-19 as well as the victims of the pandemic. The event was organised in honour of the victims and the frontline warriors of COVID-19.
In his speech, he said that India is lending help to all the nations across the globe without discrimination. The Prime Minister added that everyone should appreciate and honour the frontline workers involved in fight against COVID-19.
Amid lockdown, the centre has said that 64 flights will be operated in the first week of operation to bring stranded Indians from different countries from May 7 to May 13. The 64 flights include- UAE- 10 flights, Qatar- 2, Saudi Arabia- 5, UK- 7, Singapore- 5, United States-7, Philippines- 5, Bangladesh- 7, Bahrain - 2, Malaysia-7, Kuwait-5, and Oman-2.
The Delhi government in an advisory said that Indian citizens coming from foreign countries need to spend 14 days at a paid quarantine facility.
Meanwhile, special shramik trains are running across the country to help migrant workers reach their hometown.
After the centre's nod to the selling of liquors from May 4, Delhi and Andhra Pradesh have imposed 70 to 75 per cent tax as a special coronavirus fee. Price hike is imposed to discourage alcohol consumption and minimise the gathering of people outside shops. States like Punjab and Chhattisgarh are offering home delivery to prevent virus spread.
The global death toll due to COVID-19 is over 2.6 lakhs, while the number of infections has crossed 3.7 million, as per a data tracker by the World Health Organisation (WHO).
In the United States, more than 73,000 Americans had died due to the deadly virus and over 12 lakh had tested positive.
Here are the Highlights of coronavirus pandemic:
5:01 pm: Today Assam govt has issued a notification that any person returning from a red zone district in any state will be put in institutional quarantine even if he is asymptomatic: Assam Minister Himanta Biswa Sarma
5 pm: The first #COVID19 patient from Assam who is also a cancer patient was discharged from Silchar Medical College and Hospital day before yesterday: Assam Minister Himanta Biswa Sarma
4:49 pm: Abu Dhabi | Pavan Kapoor, India's Ambassador to United Arab Emirates (UAE) interacts with Indians who are being brought back under #VandeBharatMission.
4:32 pm: Indian Consulate officials all are on frontline to assist our fellow Indians passengers: Consulate General of India, Dubai (Visuals from Dubai Airport)
4:25 pm: COVID-19 is likely to peak in June-July: AIIMS-Delhi Director Dr Randeep Guleria
4:18 pm: One more death in Bihar due to #Coronavirus. Death toll rises to 5: State Health Department
4:07 pm: Govt of Karnataka has written to Jharkhand, Odisha, Bihar, Madhya Pradesh, Uttar Pradesh, Manipur, Tripura, West Bengal and Rajasthan Governments seeking their consent to operate trains to their states from 8 to 15 May for transportation of people stranded in Karnataka. #COVID19
3:55 pm: 10 people tested positive for #COVID19 in Gautam Buddha Nagar today. Total number of cases in the district is now at 202, including 93 active cases.
3:50 pm: United Arab Emirates: Indian nationals, all from Kerala, who are being brought back from Abu Dhabi under #VandeBharatMission, express their gratitude towards Indian Embassy in UAE.
3:45 pm: 31 police personnel have tested positive for COVID-19 in Indore, said Mohammad Yusuf Qureshi, SP (East) Indore
3:35 pm: We have put a ban on traveling between Rajkot to Ahmadabad and vice versa due to #COVID19. No vehicle will be allowed to travel between these two cities except ambulances and medical van: Rajkot Collector Remya Mohan #Gujarat
3:20 pm: Punjab Government has decided to declare summer vacation in Government Colleges and Universities in the state from May 15 to June 15, 2020: Minister for Higher Education and Languages Tript Rajinder Singh Bajwa
3:10 pm: No new positive case has been reported in Uttarakhand today till 2 pm. Total number of positive cases of #COVID19 stands at 61 with only 1 death. Active cases remain 21 in the state: State Health Department
3:03 pm: Armed Forces have kept in readiness 6 quarantine facilities that can accommodate up to 2,100 Indians being evacuated from several countries in coordination with the Ministry of External Affairs and Ministry of Civil Aviation: Ministry of Defence (MoD)
3:01 pm: Indian Armed Forces have dispatched Naval ships with medical teams and aid supplies to several countries in the Indian Ocean Region (IOR). In return journey, the Ships will bring back Indian national evacuees from this region: Ministry of Defence (MoD)
2:56 pm: Over 3,400 migrant workers arrive in Uttar Pradesh from different parts of the country on Shramik Special trains: Officials told PTI.
2:55 pm: Process of repatriation of overseas Indians is beginning today from United Arab Emirates (UAE), a place where we have the largest diaspora of Indians in the world: Pavan Kapoor, Ambassador of India to UAE
2:30 pm: To boost job opportunities&development in state, the process of registration or license for companies, shops, contractors & beedi manufacturers will be completed in just 1 day as compared to 30 days which used to take place earlier: Madhya Pradesh Chief Minister Shivraj Singh Chouhan
2:20 pm: Air India has opened bookings for eligible foreign nationals and valid visa holders of UK, USA and Singapore for outbound repatriation flights that will be operated between May 7 and May 14 under the Vande Bharat mission, officials told The Times of India. Foreign nationals or valid visa holders will be charged the same fare as Indian nationals who want a seat on the inbound repatriation flights, they added.
1:42 pm: The evacuation process to start tomorrow from Maldives, with INS Jalashwa carrying 750 Indians to Kochi (Kerala).
1:30 pm: 130 pilgrims who were at a Gurudwara in Manmad area of Nashik have been sent back to Punjab in buses arranged by Maharashtra Government. All the pilgrims have been medically screened and will be quarantined for 14 days on their arrival in Punjab.
1:17 pm: The first flight to repatriate stranded Indian nationals took off from Kochi Airport to Abu Dhabi today. It will return to India at 9.40 pm with 179 passengers.
1:12 pm: 56 new positive cases&2 deaths reported in Andhra Pradesh in last 24 hours, taking the total number of positive cases to 1833. Total 51 persons have been discharged in the past 24 hours, the total discharged are 780 till date. Death toll stands at 38: State #COVID19 Nodal Officer
12:55 pm: About 250 police personnel have tested positive for #COVID19 in Mumbai. The number of symptomatic cases is very low and none of them are in ICU: Mumbai Commissioner of Police Param Bir Singh
12:40 pm: 8 new #COVID19 positive cases reported in Karnataka from 5 PM yesterday to 12 noon today, taking the total number of cases in the state to 701 including 30 deaths and 363 cured/discharged: State Health Department
12:30 pm: ..Clinical trials of Ayush medicines like Ashwagandha, Yashtimadhu, Guduchi Pippali, Ayush-64 on health workers and those working in high risk areas has begun from today: Union Health Minister Dr Harsh Vardhan
12:20 pm: INS Jalashwa entering Male port for the first phase under Operation Samudra Setu to repatriate Indians from Maldives: High Commission of India in Maldives. #COVID19
12:14 pm: Rahul Gandhi to hold special press conference shortly.
12:07 pm: Kerala: Police resort to mild lathicharge in Koothattukulam area of Ernakulam District to disperse migrant labourers who were protesting demanding they be sent back to their native places.
11:45 am: Maharashtra: Migrant workers are walking on Mumbai-Nashik highway towards their native places in different states. One of the migrants, Preeti Kumari who is going to her home in Jaunpur (UP) says, "I don't have money. How will I feed my child here? I'll give him biscuits in the journey"
11:33 am: Special Press Conference by @RahulGandhi at 12:30 PM today: Congress
11:15 am: Lucknow | Chief Minister Yogi Adityanath holds COVID19 review meeting with chairpersons of 11 committees.
11 am: The total number of positive cases in Delhi stands at 5532, of which 428 cases were reported yesterday. Total 12 patients are on ventilator. The doubling rate of #COVID19 in Delhi is 11 days now: Delhi Health Minister Satyendra Jain
10:43 am: Tamil Nadu: DMK Chief MK Stalin holds protest against State Government's decision to allow opening of state-run liquor shops from today except in #COVID19 containment zones, outside his residence in Chennai
10:30 am: Madhya Pradesh CM Shivraj Singh Chouhan to announce some changes in labour laws today, including allowing maximum production in factories with minimum restrictions. Govt may allow to increase working hours of workers in factories and allow an overtime of up to 72 hours a week.
10:15 am: In the wake of the situation in Visakhapatnam, PM Narendra Modi has called for a meeting of the NDMA at 11 AM today: Prime Minister's Office. #VizagGasLeak
10:10 am: Spoke to officials of MHA(Ministry of Home Affairs) and NDMA (National Disaster Management Authority) regarding situation in Visakhapatnam, which is being monitored closely. I pray for everyone's safety and well-being in Visakhapatnam: Prime Minister Narendra Modi.
10:05 am: Tamil Nadu: People stand in queue outside a liquor shop in Thiruvallur. State Government has allowed opening of state-run liquor shops from today, except in #COVID19 containment zones.
10 am: My condolences to the families of 5 people who passed away due to gas leak at a private firm in Visakhapatnam, Andhra Pradesh today. Spoke to the Chief Secretary & DGP of the state to take stock of the situation: G Kishan Reddy, MoS Home Affairs.
9:49 am: 2 deaths and 38 new #Coronavirus positive cases reported in Rajasthan today. The total number of cases stands at 3355 in the state; death toll at 95: State Health Department
9:35 am: First special train for migrant workers to leave from Delhi today. About 1200 migrant workers of Madhya Pradesh staying in shelter homes in Delhi to leave for their native state: Delhi Government
9:25 am: Buddha is the symbol of both realization and self-realisation of India. With this self-realisation, India is working in the interest of the humanity and the world, and will continue to do so: PM Modi
9:18 am: India is constantly working to help other countries across the globe and will continue to do the same. To stop after getting tired cannot be a solution to any problem. All of us have to fight together to defeat #Coronavirus: PM Modi
9:13 am: Today, India is standing firmly in support of everyone, without any discrimination, who are in need or who are in trouble, in the country or across the globe: PM Narendra Modi. #COVID19
9:12 am: During this difficult time of #CoronavirusLockdown, there are several ppl around us who are working 24 hours to help others, to maintain law&order, to cure infected persons&to maintain cleanliness, by sacrificing their own comforts. All such people deserve appreciation&honour: PM
9:09 am: The message and resolve to reduce problems of every life has guided the culture of India. Lord Buddha contributed to the enrichment of Indian civilization and tradition. Buddha became his own light and also lit the lives of others in his journey of life: PM Narendra Modi
9:06 am: I extend my wishes to all on the occasion of Buddha Purnima. Today, situation is such that I can't participate in Buddha Purnima programs physically. It would have been my pleasure to be with you all in the celebrations,but circumstances prevailing today do not permit us: PM Modi
9 am: PM Narendra Modi's speech on Buddha Purnima
8:40 am: India Using Buddha's Inspiration to Help the World: Modi told News 18| "India will continue to help developments in the world using Buddha' teachings amid the corona crisis," said PM Modi on the occasion of Buddha Purnima.
8:30 am: "I hope people of India continue to help each and every hand that asks for help amid the coronavirus pandemic," said Prime Minister Narendra Modi as quoted by News18.
8:28 am: India will continue to help developments in the world despite pandemic said PM Modi on the occasion of Buddha Purnima, reported News 18.
8:24 am: India's has helped and has been helping all nations amid the coronavirus pandemic while keeping our interests and foolowing restrictions, PM Modi told News 18.
8:20 am: PM Modi Goes Live on Bhuddha Purnima on Covid-19 Response
8:09 am: Rajasthan CM Ashok Gehlot has issued an order stating that all the inter-state boundaries of the state will be sealed with immediate effect to prevent the entry of unauthorized persons from the inter-state boundaries of the state. #COVID19
7:50 am: Air India to operate non-scheduled commercial flights from US to various cities in India from 9 to 15 May, in first phase. Cost of travel from designated airport in USA to the designated airport in India will be borne by passengers: Embassy of India in Washington DC,USA. #COVID19
7:40 am: 20 new #Coronavirus positive cases reported in Odisha, taking the total number of positive cases in the state to 205 including 142 active cases, 2 deaths and 61 cured/discharged: State Health Department
7:20 am: US virus death toll climbs by 2,073 in 24 hours: AFP quoting Johns Hopkins University.
7:12 am: Delhi | People begin to gather outside a wine and beer shop in Laxmi Nagar. #CoronaLockdown
7:11 am: Delhi | People reach the wholesale fruit and vegetable market in Delhi's Ghazipur, to make purchases amid Coronavirus lockdown.
7:10 am: Kerala: A special train, carrying around 1189 migrant workers, left from Kozhikode for Bihar yesterday amid #CoronavirusLockdown.
7:05 am: 31 Police personnel have tested positive for #COVID19 so far, 22 of them are admitted at hospitals, 8 were discharged after making full recovery, 1 of them lost his life: Mohammad Yusuf Qureshi, SP (east) Indore #MadhyaPradesh
7 am: Himachal Pradesh | Travel & tourism industry has taken a hit due to #COVID19. Vijay Inder, a hotelier in Dharamshala says "50-60% of the total revenue in a year used to be earned in April, May & June. Won't earn this now due to COVID. We're concerned that how'll we bear our expenses"
Posted By: James Kuanal