Coronavirus Pandemic: Passengers coming to Delhi airport from abroad to be quarantined for 14 days, says Delhi Govt | Highlights
Coronavirus has affected over 49,000 and claimed the lives of more than 1,600 patients in India so far. [Representational Image]
Updated: Wed, 06 May 2020 07:18 PM IST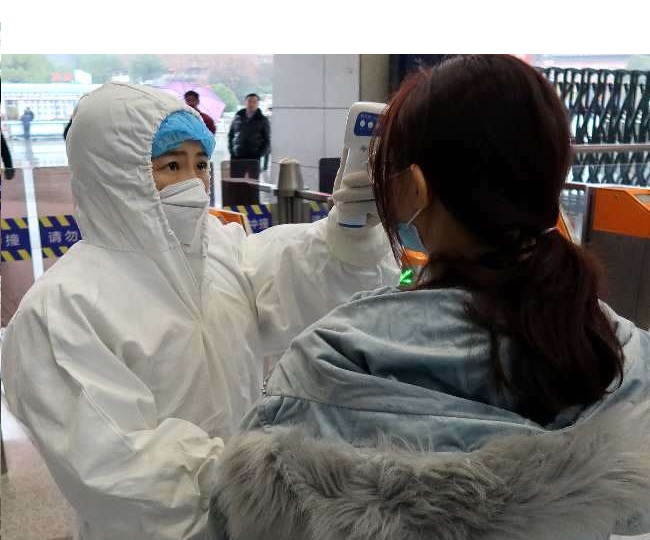 New Delhi | Jagran News Desk: The total number of coronavirus cases in India has increased to 49,391 on Wednesday, while the death toll has surged to 1,694 according to the latest data by the Ministry of Health and Family Welfare. Of the total number of cases, there are 33,514 active cases, while 14,183 people have been cured and discharged from hospitals.
Amid the pandemic, the centre has said that 64 flights will be operated in the first week of operation to bring stranded Indians from different countries from May 7 to May 13. The 64 flights include-UAE- 10 flights, Qatar- 2, Saudi Arabia- 5, UK- 7, Singapore- 5, United States-7, Philippines- 5, Bangladesh- 7, Bahrain - 2, Malaysia-7, Kuwait-5, and Oman-2.
Telangana on Tuesday extended the lockdown till May 29.
Meanwhile, special shramik trains are running across states to help migrant workers reach their hometown.
After the government allowed selling of liquors from May 4, Delhi and Andhra Pradesh have imposed 70 to 75 per cent tax as a special coronavirus fee. Price hike imposed to discourage alcohol consumption and minimise the gathering of people outside shops.
The global death toll due to COVID-19 is over 2.5 lakhs, while the number of infections has crossed 3.5 million, as per a data tracker by the World Health Organisation (WHO).
In United States, more than 71,000 Americans had died due to the deadly virus and over 12 lakh had tested positive.
Here are the LIVE updates of coronavirus pandemic:
4:41 pm: Passengers coming to Delhi airport from abroad to be quarantined at paid facility for 14 days, as per Delhi govt order
4:40 pm: I am awaiting details on it, the processes are not finalised, we are at an advanced stage, yes of course we will share it with the world: Israel's Ambassador to India Ron Malka on Israel's breakthrough on antibodies and if clinical trials have begun #COVID19
4:28 pm: This crisis has brought India and Israel closer. Both countries are sharing their best practices in combating #COVID19 & facilitating new processes: Israel's Ambassador to India Ron Malka
4:22 pm: 15 laboratories in the state, 10 government & 5 private, are conducting tests for #COVID19. Tests are being conducted every day at an average of 2500: Alapan Bandyopadhyay, West Bengal Home Secretary
4:07 pm: 19 trains carrying people stranded in other states have arrived in Uttar Pradesh. More trains will be arriving. Around 1200 persons are accommodated in each train: Additional Chief Secretary (Home) Awanish Awasthi
4:02 pm: Number of #COVID19 cases has reached 1831 in Uttar Pradesh out of which 1080 patients have recovered while 58 others succumbed to the infection. There is no active case in six districts of the state: State Principal Secretary (Health) Amit Mohan Prasad
4 pm: TVS Motor Company has commenced its manufacturing operations in India post lockdown, across its factories in Hosur, Mysuru and Nalagarh, : TVS Motor statement
3:50 pm: A person has been tested for #COVID19 in Kangra, taking total number of active cases to 3 in Himachal Pradesh: State Special Health Secretary Nipun Jindal
3:45 pm: Delhi Government has issued guidelines 'for handling of the passengers coming from abroad and landing at Delhi Airport in view of planned phased return of Indians stranded abroad by Ministry of External Affairs'.
3:38 pm: Congress asks Centre to share 75 pc revenue earned from petrol/diesel hike with states to avoid more burden on people.
3:30 pm: While performing operational&essential duties, 85 more BSF personnel have been infected with COVID19. It's reiterated that in each establishment of BSF, SOPs are strictly being followed. Instructions of MoHFW are enforced & religiously followed to check spread of pandemic: BSF
3:18 pm: We have proposed seven trains to bring back people of Assam who are stranded in different parts of the country. The trains will probably start after May 7. Our priority is to bring back students, patients & the people who went on pilgrimage: Assam Minister Chandra Mohan Patowary
3:12 pm: After following all protocols Border Security Force headquarters in Delhi has been made functional today. While performing operational and essential duties, 85 more personnel have tested positive for #COVID19: Border Security Force (BSF)
2:52 pm: We have utmost respect for our warriors in this pandemic. We talked to them & it was felt that there was a need to make them aware of the rules, hence we took this decision: Bihar Health Minister Mangal Pandey on show-cause notice to over 350 doctors for not reporting to work
2:35 pm: UP Raises Liquor Prices: Report | The Uttar Pradesh government has increased the rates of alcohol amid the coronavirus pandemic, reported News 18. Foreign liquor( IMFL) will be charged at Rs 10 extra on economy brands upto 180ml. Rs 20 for 180 ml to 500 ml and Rs 30 on above 500 ml. The hike in liquor rates to come in force from today. The UP government will generate an extra Rs 2,350 crore in this financial year through liquor sale.
2:30 pm: VAT has been increased by Rs 2 per litre on petrol and Rs 1 per litre on diesel. New prices will be applicable from today midnight: UP Finance Minister Suresh Khanna
2:20 pm: No new positive case has been reported in Uttarakhand today till 2 pm. Total number of positive cases of #COVID19 stands at 61 with only 1 death. Active cases remain 21 in the state: State Health Department
2:10 pm: It's quite difficult to treat #COVID19 patients. Wearing PPEs is painful. Most patients feel they are kept in hospital unnecessarily, get irritated & demand unnecessary things: Nurse Radhika Vinchurkar who works at COVID-19 ward of a hospital in Nagpur & returned home after a month.
1:59 pm: 30 Border Security Force (BSF) jawans who were performing law and order duty in Delhi, were later shifted to Jodhpur where they tested positive for #COVID19: BSF Source
1:45 pm: Gujarat | A special train carrying migrant workers leaves from Sabarmati Railway Station in Ahmedabad for Gorakhpur (in Uttar Pradesh).
1:35 pm: 7 new positive cases of #COVID19 have been reported in Haryana today. Total number of positive cases rise to 555 in the state. Death toll stands at 6: Haryana Health Department
1:30 pm: A PIL has been moved by an NGO, Civil Safety Council of India in the Delhi High Court demanding the closure of liquor shops in Delhi. Petition states that the opening of liquor shops is failing the purpose of lockdown. #COVID19
1:18 pm: Tamil Nadu govt has announced hike of 15% Excise Duty on Indian Made Foreign Liquor, hike of Rs 10 on normal brands&hike of Rs 20 on premium brands per 180 ml bottle.State govt had already ordered opening of state-run liquor shops from May 7,except in #COVID19 containment zones
1:05 pm: Congress leader Adhir Ranjan Chowdhury today resumed the office as Chairman of the Public Accounts Committee of Parliament in Delhi amid #COVID19 lockdown.
12:43 pm: A plea has been moved in the Kerala High Court alleging possible leak of personal details of #COVID19 patients by hospitals. Court adjourned the matter to May 11.
12:35 pm: 19 more #COVID19 cases reported in Karnataka from 5 pm yesterday till 12 pm today. Total number of positive cases in the state is now at 692, including 345 discharges & 29 deaths: State Health Department
12:24 pm: The situation in Maharashtra is certainly a matter of concern right now as 34 out of 36 districts are affected by #COVID19. I will hold a meeting with CM as well to discuss further course of action to control spread of the virus in state: Union Health Minister Dr Harsh Vardhan
12:23 pm: After May 17th, what? and after May 17th, how? What criteria is Govt of India using to judge how long the lockdown is to continue: Congress interim President Sonia Gandhi during Congress Chief Ministers' meeting.
12:13 pm: Telangana | People wait in queues outside liquor stores in Warangal Urban district. #CoronavirusLockdown
12:06 pm: Chief Ministers need to deliberate and ask as to what is the strategy of the Govt of India to get the country out of lockdown?: Senior Congress leader Dr. Manmohan Singh during Congress Chief Ministers' meeting.
12 pm: A package of Rs. 1610 crores will be released as #COVID19 financial package. One time compensation of Rs 5000 will be given to 230,000 barbers and 775,000 drivers: Karnataka Chief Minister BS Yeddyurappa. #CoronavirusLockdown
11:55 pm: More than a kilometre long queue seen outside a liquor shop in Kalyan Puri area today in Delhi. #CoronavirusLockdown
11:39 pm: Karnataka govt announces Rs 5000 cash assistance to auto, cab drivers, barbers, dobhis, construction workers, reported the Times of India.
11:38 pm: We have sent around 1 lakh people in 3500 buses and trains, back to their home towns. I have also appealed to the migrant workers to stay as the construction work has resumed now: Karnataka Chief Minister BS Yeddyurappa. #CoronavirusLockdown
11:24 am: 60 new #COVID19 cases&2 deaths reported in Andhra Pradesh today, 12 of them are from Gujarat&1 from Karnataka. Total positive cases in state increases to 1777, of which 1012 are active cases. 729 persons have been discharged till date. Death toll stands at 36: State Health Dept
11:14 am: Germany wants to reopen all shops and schools and restart football league in May
11 am: The total number of positive cases in Delhi stands at 5104, of which 206 cases were reported yesterday. Total 1468 patients have recovered, while 17 are on ventilator. The doubling rate of #COVID19 in Delhi is 11 days now: Delhi Health Minister Satyendra Jain
10:50 am: Delhi | People in Chilla village line up to collect drinking water from Delhi Jal Board (DJB) trucks, amid #CoronaLockdown. A local says, "We need one more tanker in the evening. The tanker is coming regularly but still there is shortage of drinking water".
10:40 am: Haryana| People queue up outside to make purchases at a liquor store in Gurugram today. #COVID19
10:35 am: 3 BSF Camps in Tripura Sealed: Report | Three BSF camps in Tripura's Dhalai district were sealed and declared 'containment zones' after 40 personnel including two children tested COVID-19 positive since Saturday. On Tuesday, 13 more BSF personnel including a mess worker at 138 batallion posted in Ambassa sub-division tested positive.
10:30 am: West Bengal: Disinfectant was sprayed on people at Dankuni railway station who arrived in Hooghly y'day from Ajmer(Rajasthan) by 'Shramik Special Train.' The train carrying around 1100 ppl, mainly migrant workers, had arrived in Hooghly yesterday. #CoronavirusLockdown
10:20 am: Telangana: People were seen in a long queue outside a liquor shop in Hyderabad today. Police deployed outside for maintaining social distancing. #CornovairusLockdown
10:10am: Maharashtra: A 'shramik special train' carrying around 1200 people, mainly migrant workers, left from Kalyan yesterday for Darbhanga in Bihar. #CoronavirusLockdown
10:05 am: Delhi | People gather outside a store to buy liquor in Shivpuri area today amid #COVID19 lockdown.
10 am: 35 new positive cases of #COVID19 and 1 death reported in Rajasthan today. Total number of cases rise to 3193 with death toll at 90. 1536 people have recovered till now: State Health Department
9:50 am: #COVID19: 'Aarogya Setu' team issues a statement on data security of the mobile application.
9:45 am: Maharashtra: Scores of migrant workers were seen in long queues outside private medical clinics today in Dombivli city of Thane, to get medical certificates in order to obtain transit passes to return to their native places amid #COVID19 lockdown.
9:39 am: Italy Claims to Have Developed Covid-19 Vaccine: Report | Italy may have developed a coronavirus vaccine. Science Times reports that tests carried out at Rome's infectious disease Spallanzani Hospital, an Italian coronavirus vaccine has antibodies generated in mice that work on human cells."A first since the race for a coronavirus vaccine begun in the world," said Luigi Aurisicchio, the CEO of Takis, a firm developing the medication as quoted by News 18.
9:26 am: We've asked all private doctors, who are below 55 yrs of age&not having any comorbidity & who closed their clinics due to lockdown, to work for 15 days to provide #COVID19 treatment. They'll be paid & provided with protective gears: Director, Medical Education & Research (Mumbai)
9:12 am: Total number of #COVID19 positive cases in India rises to 49,391 including 33,514 active cases, 1694 deaths, 14,182 cured/discharged and 1 migrated: Ministry of Health and Family Welfare.
8:48 am: Maharashtra's Covid-19 relief efforts received a shot in the arm on Tuesday, with IT major Wipro committing to convert one of its campuses at Pune into a 450-bed hospital.
8:40 am: Jammu & Kashmir: Industrial units in Kathua open today amid #CoronavirusLockdown, following the revised guidelines issued by the Ministry of Home Affairs.
8:30 am: Haryana: People seen standing outside a liquor shop at Sohna Adda Chowk in Gurugram, after state govt decided to open retail liquor vends from today, except in the areas demarcated as 'Containment Zones'. Retail liquor vends are allowed to open from 7 am to 7 pm.
8:20 am: One new #COVID19 positive case & 1 death reported in Odisha today. The total number of positive cases in the state is now at 177, of which 115 are active cases while 60 patients have recovered. Death toll is at 2: State Health Department
8:10 am: Section 144 CrPC to remain imposed in Ghaziabad district till May 31, 2020. This period can be reduced or cancelled as per the situation, DM Ajay Shankar Pandey told The Times of India.
8:09 am: One new #COVID19 positive case & 1 death reported in Odisha today. The total number of positive cases in the state is now at 177, of which 115 are active cases while 60 patients have recovered. Death toll is at 2: State Health Department
8 am: Delhi | People queue up outside a liquor shop near Delhi-Kapashera border amid #CoronavirusLockdown.
7:50 am: Central Government has nominated Tarun Bajaj, Secretary, Department of Economic Affairs, Ministry of Finance as a Director on the Central Board of Reserve Bank of India vice Atanu Chakraborty: Yogesh Dayal, Chief General Manager, Reserve Bank of India
7:45 am: The movement of all non-essential activities in the jurisdiction of the Police Commissionerate Bhubaneswar-Cuttack will remain strictly prohibited from 7 pm to 7 am till May 17, says Bhubaneswar Police,
7:30 am: UP | If smartphone users do not have Aarogya Setu App installed on their phones, while out in a public place, then this will be a punishable offence for the violation of lockdown norms: Ashutosh Dwivedi, Gautam Buddh Nagar Commissioner of Police (Law and Order), in an order dated 03.05
7:20 am: Police personnel check vehicles at Delhi-Gurugram border, amid Coronavirs Lockdown. Individual inter-state and inter-district movement have been curtailed in Gurugram, including media persons, police and doctors, in a bid to contain coronavirus cases.
7:09 am: West Bengal | 116 people returned to Paschim Medinipur district from Rajasthan's Ajmer last night. They were brought from Dankuni Junction railway station in 4 government buses.
7:07 am: United States coronavirus deaths rise by 2,333 in 24 hours: AFP news agency quoting Johns Hopkins tracker.
7:05 am: Thanks to the profound commitment of our citizens, we have flattened the curve and countless American lives have been saved. Our country is now in the next stage of the battle - a very safe phased and gradual reopening, reopening our country: US President Donald Trump #COVID19
7:03 am: Something is going to happen. Tremendous progress being made. Don't want to talk about it until it's there. But I'll say they really are making progress. Johnson & Johnson folks have been really fantastic. They want to get to it fast. We'll all know very soon: US Pres Donald Trump.
7 am: We're doing something very dramatic & there hasn't been anything like what we have done since the mobilisation since World War II. We've dramatically accelerated development of new therapies & potential vaccines. We have 90 clinical trials underway & hundreds more on way: US Prez
Posted By: James Kuanal