Coronavirus Pandemic: 'Currently we are very comfortable in terms of managing COVID-19', says Health Ministry | Highlights
Updated: Tue, 05 May 2020 04:24 PM IST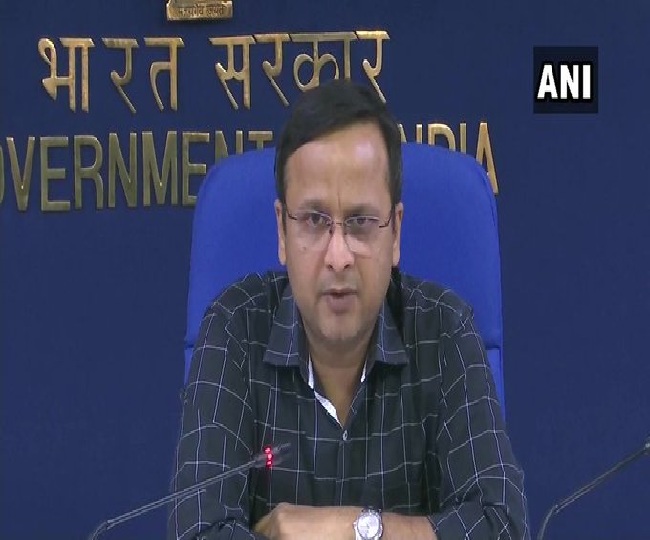 New Delhi | Jagran News Desk: The total number of coronavirus cases in India has increased to 46,836 on Tuesday, while the death toll has surged to 1,568, according to the latest data by the Ministry of Health and Family Welfare. Of the total number of cases, there are 32,138 active cases, while 12,727 people have been cured and discharged from hospitals.
Three naval ships have been sent to evacuate Indians stranded in Maldives and UAE due to the COVID-19 pandemic. Three ships sent to evacuate Indians from the Maldives and UAE will return to Kochi.
The global death toll due to COVID-19 is over 2.5 lakhs, while the number of infections has crossed 3.5 million, as per a data tracker from the World Health Organisation (WHO).
The centre allowed selling of wine as per MHA guidelines from Monday after a gap of 42 days. The Delhi government's approval to open liquor shops saw people queuing up in large numbers outside wine shops with police personnel unable to manage the crowd. Several liquor shops were closed in Shahdara, East Delhi, Northeast Delhi, Southwest districts. The Arvind Kejriwal-led government in late-night government order on Monday said it will charge 70 per cent extra tax "special corona fee" on liquor from Tuesday amid the coronavirus pandemic.
Here are the LIVE updates of coronavirus pandemic:
4:30 pm: 62 special trains run till now for domestic workers carrying about 70,000 travellers; 13 more such trains expected to run on Tuesday: MHA
4:24 pm: We also need to ensure that people continue to receive non-COVID19 healthcare services at both government and private facilities. Services for critically ill patients should also run smoothly: Lav Agarwal, Health Ministry Joint Secretary
4:23 pm: We are very comfortable in terms of managing COVID-19 as of now but any laxity at field level may have consequences: Health ministry
4:22 pm: 12,726 COVID-19 patients have recovered so far, 27.41 pc of total cases; 1,020 people recovered in last 24 hours: Health ministry
4:21 pm: Till now, 67 Shramik Special Train have been run by various Zonal Railways. Till 4 May, we had run 55 trains. Today, trains have been operated from Bengaluru, Surat, Sabarmati, Jalandhar, Kota, Ernakulam etc. 21 more such trains may leave today: Ministry of Railway. #COVID19
4:20 pm: We persuaded certain states as we were not receiving reports of cases/deaths on time from them, after which the cases have been reported and we have seen spike in death cases today: Lav Aggarwal, Joint Secretary, Health Ministry #COVID19
4:19 pm: Total number of positive cases of #COVID19 is 46,433. In last 24 hours there have been 3,900 new cases, 195 deaths and 1,020 people have recovered. The recovery rate is 27.41% : Lav Aggarwal, Joint Secretary, Health Ministry
4:15 pm: The offices that are operational now must ensure thermal scanning of employees.The incharge must ensure sufficient availability of face masks&sanitisers. Social distancing norms must be followed. Employees must be registered on Aarogya Setu app:Joint Secy,Ministry of Home Affair
4:12 pm: To maintain social distancing, gathering of not more than 50 persons are allowed at wedding functions and not more than 20 persons at last rites of deceased persons: Punya Salila Srivastava, Joint Secretary, Ministry of Home Affairs (MHA) #COVID19
4:10 pm: From May 7 to May 13, Air India will conduct repatriation flights; pvt airlines may join evacuation effort after that: Aviation minister
4:05 pm: Passengers to be charged on repatriation flights. Rs 50,000 per passenger for London-Delhi flight, Rs 12,000 for Dhaka-Delhi flight: Govt
4 pm: Health Ministry is briefing media over COVID-19 outbreak.
3:55 pm: The 64 flights include-UAE- 10 flights, Qatar- 2, Saudi Arabia- 5, UK- 7, Singapore- 5, United States-7, Philippines- 5, Bangladesh- 7, Bahrain - 2, Malaysia-7, Kuwait-5, and Oman-2: Civil Aviation Minister Hardeep Singh Puri
3:50 pm: 64 flights will be operated in the 1st week of operation to bring stranded Indians from different countries from May 7 to May 13: Civil Aviation Minister Hardeep Singh Puri
3:46 pm: First Shramik Express train carrying 1,200 stranded migrant workers leaves for Daltonganj in Jharkhand from Jalandhar railway station in Punjab: Officials
3:45 pm: Govt of India has decided to operate two special flights from Doha to India. The first one will be from Doha to Kochi on 7th May and the second will be from Doha to Thiruvananthapuram on 10th May: Embassy of India in Doha.
3:40 pm: 3 new deaths including an 11-year-old child have been reported in Pune district today. Total active cases of #COVID19 stands at 2,132 with rise in death toll to 118: Health Official, Pune #Maharashtra
3:30 pm: Punjab government has today announced to provide 50% subsidy on machinery used for paddy and maize cultivation to the farmers during the Kharif season. #CoronavirusLockdown
3:20 pm: First consignment of 5 million Hydroxychloroquine tablets from India arrives in Toronto, reported The Times of India. India has exported close to three million of HCQ tablets to 87 countries, garnering praise from heads of state of various nations.
3:10 pm: We are re-launching Chief Minister Jan Kalyan Sambal Yojana today, which was stopped by the previous government. This scheme will provide new life to poor families. They will get benefit of this scheme from before birth and after death: Madhya Pradesh CM Shivraj Singh Chouhan
2:50 pm: 45 Indo-Tibetan Border Police (ITBP) personnel have tested positive for #Coronavirus so far- 43 of those deployed for IS duties in Delhi and 2 of those deployed for Law and Order duty with Delhi Police: ITBP
2:42 pm: 24 people have tested positive for COVID19 in Indian Army's Research and Referral Hospital in Delhi. Results of more patients in the hospital are awaited: Army sources
2:32 pm: Delhi AAP MP ND Gupta has written a letter to Chief Minister Arvind Kejriwal saying, 'private hospitals may be directed to reserve at least 50% beds for COVID-19 patients'.
2:30 pm: 66 new positive cases of #COVID19 and 5 deaths reported today in the state. Total number of cases rise to 3,127 with 82 deaths. Actives cases in the state are 1,581: Rajasthan Health Department
2:26 pm: We must weigh every decision and predict consequences to ensure there is no spike in cases: Harsh Vardhan on relaxations during lockdown
2:22 pm: Health has to be on radar just as much as economy, govt has to do balancing act: Health Minister Vardhan on extension of lockdown
2:21 pm: Congress interim President Sonia Gandhi to hold meeting via video conference with Chief Ministers of the Congress-ruled states tomorrow, over situation due to #Coronavirus.
2:10 pm: We've had demanded from govt to provide migrant labourers at least 3 month's salary. If they return to their home states now when work is resuming, it will be a huge problem: US Ahuja, President,Chamber of Industrial & Commercial Undertaking, Ludhiana, Punjab
2:04 pm: The Andhra Pradesh Junior Doctors Association (APJUDA) has written to the state health minister to ban liquor sale to prevent covid spread
2:03 pm: I want that liquor shops should be allowed to open, I am against online delivery. The final decision will be taken in the State Cabinet meeting that will be held in a day or two: Tripat Rajinder Singh Bajwa, Punjab Cabinet Minister. #CoronavirusLockdown
1:56 pm: Today, I held a review meeting with officials of Delhi Govt & city's municipal corporations over preparedness for Dengue, Chikangunya, Malaria diseases. It is important to take measures to control these vector-borne diseases: Health Minister Dr Harsh Vardhan
1:44 pm: 8 more #COVID19 cases reported in Pimpri Chinchwad today, including 2 infants: Pimpri Chinchwad Health Department #Maharashtra
1:40 pm: Rajasthan government has not charged any migrant worker train fare. After announcement by Sonia Gandhi ji, we will send them back to their home states free of cost: Rajasthan Transport Minister Pratap Singh Khachariyawas
1:34 pm: India hands over medical equipment, supplies to Mynamar, reported News 18. India has handed over medical equipment, medicines, and other supplies to the Ministry of Health and Sports at Yangon Airport to support Myanmar's Healthcare System.
1:30 pm: COVID-19 fallout | Vistara CEO says senior employees to go on leave without pay for up to 4 days per month in May and June
1:20 pm: Chennai: Koyambedu wholesale market has been temporarily shut after it emerged as a latest hotspot for COVID19. The wholesale market will now be shifted to Thirumazhisai.
1 pm: Today 1,188 persons reached Dankuni railway station from Rajasthan. They are being sent to their respective homes after health check-up. 64 buses and 42 small vehicles have been placed for this purpose: West Bengal Police
12:49 pm: Reviewed contribution of 17 NCC Directorates in India's fight against #COVID19 via VC facility. NCC cadets played a significant role in assisting civilian administration by performing various tasks.I congratulate NCC for their positive role&contribution: Defence Min Rajnath Singh
12:45 pm: Delhi | Central Industrial Security Force (CISF) personnel voluntarily donated their one day's salary to PM Cares Fund. Rajesh Ranjan, Director General, CISF handed over a cheque of Rs.16,23,82,357 to Home Minister Amit Shah yesterday. #COVID19
12:42 pm: Chhattisgarh government has started home delivery of liquor in green zones in the state. A customer can place an online order for up to 5000ml liquor at a time, with delivery charges of Rs 120.
12:36 pm: Comparison between hydroxychloroquine & remdesivir is not right because we do not know the efficacy of both of them till now. Which one is better can only be ascertained after trials: Dr Shekhar C Mande, DG of Council of Scientific & Industrial Research (CSIR) #COVID19
12:25 pm: A senior official of Department of Legal Affairs in Ministry of Law & Justice tested positive for #COVID19 on May 1. He had last visited his office on 23rd April. As precautionary measure, Shastri Bhawan office of Department of Legal Affairs has been sealed: Law Ministry
12:10 pm: 8 more #COVID19 cases reported in Karnataka between yesterday 5 pm and 12 pm today . Total number of cases in the state is now at 659, including 324 discharged & 28 deaths: State Health Departmen
12:07 pm: Bharat Dynamics Ltd (BDL), a defence public sector undertaking (PSU), has signed a memorandum of understanding (MoU) for the large scale manufacturing of the ventilators developed by Nocca Robotics, an incubated start-up of Indian Institute of Technology (IIT), Kanpur. #COVID19
12 pm: TASMAC state-run alcohol shops will not open in Greater Chennai City police limits on May 7th, opening date to be announced later: Tamil Nadu Govt
11:46 am: Delhi High Court refuses to grant interim stay on the web series 'Hasmukh' streaming on Netflix. The plea was seeking an interim stay on the web series claiming it maligned the image of lawyers at large.
11:43 am: Andhra Pradesh government hikes liquor prices by 50%, taking the total overall hike in price of liquor to 75%. Price hike imposed to discourage alcohol consumption: Chief Minister's Office
11:33 am: A man outside a liquor shop in Laxmi Nagar, Delhi says,"I'm here since 6 am. Shop was supposed to open at 9 am but police arrived at 8:55 am...who will be responsible if something untoward happens here? We've no issue with 70% tax, it's like a donation from us to country".
11:30 am: Week 1 of evacuation flights: 13 countries, 64 flights, over 14,000 stranded Indian passengers to be repatriated
11:24 am: 67 new COVID19 positive cases reported in Andhra Pradesh in the last 24 hours, taking the total number of cases in the state to 1717, death toll 34: Andhra Pradesh Health Department
11:18 am: Delhi: Long queue of people outside a liquor shop in Mayur Vihar Phase -1 area amid #CoronaLockdown. Delhi Government has imposed a "Special Corona Fee" of 70% tax on Maximum Retail Price (MRP) of the liquor.
11:07 am: Special train with 1,200 migrant workers departs for Bihar from Telangana, reported PTI.
11 am: 40 special trains to operate for a week from Tuesday to repatriate migrants from Telangana, reported The Times of India. The Trains would run from the state to Bihar, Odisha, Jharkhand, West Bengal and other states, CM Rao said. Migrant workers who have registered their names with local police stations would be allowed to travel.
10:55 am: Referral hospital in Gr Noida, dedicated for #COVID19 patients has received patients from all central armed police forces. Currently 58 jawans from ITBP, BSF, & CISF are admitted at the hospital. Teams of specialist doctors are treating our jawans 24×7: DG ITBP SS Deswal to ANI
10:52 am: Delhi | Large crowd of people seen at a government liquor shop in Jhandewala area; social distancing norms being flouted. Delhi Government has imposed a "Special Corona Fee" of 70% tax on the Maximum Retail Price (MRP) of the liquor.
10:42 am: In the first phase in March, between 27th & 29th we brought back more than 6.5 lakhs migrant workers & made arrangements for their treatment & food. In the second phase, in the last 3 days, more than 50,000 migrant workers have been brought back: UP Chief Minister Yogi Adityanath
10:32 am: Delhi: Union Group of Ministers (GoM) meeting on #COVID19, underway at the Health Ministry. Chief of Defence Staff (CDS) General Bipin Rawat also present.
10:20 am: Delhi: A man showers flower petals on people standing in queue outside liquor shops in Chander Nagar area of Delhi. The man says, "You are the economy of our country, government does not have any money". #CoronaLockdown
10:11 am: Delhi Government increases VAT on petrol from 27% to 30%, and on diesel from 16.75 % to 30%. Price of petrol increased by Rs 1.67 & diesel by Rs 7.10
10:05 am: 18-year-old man who returned from Surat tests positive for COVID19 in Ganjam. He is under quarantine at a government facility, contact tracing. Total positive cases in the state is now 170: Information & Public Relations Dept. Govt. of Odisha.
10 am: Delhi: People queue outside a liquor shop in Laxmi Nagar area. Positions of people in the queue have been written on their hands. #CoronaLockdown
9:55 am: Karnataka: People use water bottles, bags, helmets, slippers etc to reserve their places in queue, outside liquor shops in Gokul road area of Hubli. #CoronaLockdown
9:45 am: There're 2 concerns, one is how to avoid chain of bankruptcies,may be writing off lot of debts...Second is demand shortfall,&getting some cash into hands of people is the best way to kick start the economy: Nobel Laureate Prof. Abhijit Banerjee during interaction with Rahul Gandhi
9:30 am: Delhi: Long queue outside a liquor shop in Chander Nagar area. Delhi Government has imposed a "Special Corona Fee" of 70% tax on Maximum Retail Price (MRP) of the liquor.
9:25 am: Jaipur| BJP leader Rajyavardhan Singh Rathore pays tribute to Col. Ashutosh Sharma who lost his life in action during Handwara encounter in Jammu and Kashmir
9:20 am: 3900 #COVID19 cases & 195 deaths have been reported in the last 24 hours, the largest spike till now in both: Ministry of Health and Family Welfare
9:15 am: Till now, Central Crime Branch, Bengaluru has conducted 51 raids & seized fake masks, fake sanitizers, checked illegal sale of liquor, sale of food items above MRP and gambling etc. Total Rs 1.5 Cr worth items seized and 70 persons arrested: Sandeep Patil,Joint CP(Crime)
9:12 am: 38 more #COVID19 cases & 5 deaths reported in Rajasthan today. Total number of cases in the state is now at 3099, including 1577 active cases & 82 deaths: State Health Department
8:55 am: Rajasthan| Relatives of Col Ashutosh Sharma pay last respects to him at Jaipur Military Station. He was the commanding officer of the 21 Rashtriya Rifles unit and lost his life in an encounter in Handwara, Jammu & Kashmir.
8:50 am: Karnataka| People queue up outside a liquor shop in Hubli after state government yesterday permitted sale of liquor between 9 am to 7 pm
8:45 am: INS Jalashwa sailed from Visakhapatnam a few days ago from the east coast to the west coast. Total 14 warships have been readied for evacuating Indian citizens from Gulf and other countries: Indian Navy officials
8:40 am: Three Navy warships have sailed out to bring back Indian citizens from Maldives and United Arab Emirates (UAE). The warships include INS Jallashwa, INS Magar and INS Shardul: Indian Navy officials
8:35 am: People line up outside a liquor shop in Delhi's Laxmi Nagar. Delhi Government has imposed a "Special Corona Fee" of 70% tax on Maximum Retail Price of the liquor.
8:30 am: Rahul Dev, a Hindu youth has been recruited as a general duty pilot officer in the Pakistan Air Force (PAF). It is for the first time in PAF's history that a Hindu has been selected as a pilot: Pakistan Media
8:25 am: Delhi | People outside the fruit & vegetable market in Okhla amid #CoronaLockdown. The nationwide lockdown, imposed to combat #COVID19, has been extended till May 17, 2020.
7:53 am: 7 more #COVID19 cases reported in Nepal, taking the total number of positive cases in the country to 82: Nepal Health Ministry
7:45 am: Bihar: A train carrying 1208 migrant workers arrived at Muzaffarpur railway station this morning from Ahmedabad, Gujarat amid #CoronaLockdown.
7:35 am: Section 144 of the Criminal Procedure Code (CrPC) imposed in Mumbai till 17th May 2020. Movement of one or more persons for all non-essential services, except for medical reasons, will be prohibited between 8 pm & 7 am: Mumbai Police #Maharashtra#CoronaLockdown
7:25 am: One more #COVID19 positive case reported in Odisha. The total number of positive cases in the state is now at 170, including 109 active cases, 60 recovered cases & 1 death: State Health Department
7:20 am: Three more zones de-contained in Delhi, with this the total number of containment zones in the national capital now stands at 90. In & around area of 11/3, 2nd Floor Ashok Nagar, A 36/4, East Patel Nagar and G-174 and Capital Greens, DLF, Moti Nagar were removed from the list
7:10 am: A woman, who was attending to a patient admitted in Urology ward of AIIMS Rishikesh, has tested positive for #COVID19. She has been admitted to the isolation ward of the hospital. Contact tracing is being done: Harish Mohan Thapliyal, PRO of AIIMS Rishikesh #Uttarakhand
7 am: United States #coronavirus deaths rise by 1,015 in 24 hours, lowest in a month: AFP news agency quoting Johns Hopkins tracker.
Posted By: James Kuanal