Coronavirus Pandemic: Delhi govt will implement lockdown relaxations as per MHA guidelines, says Kejriwal | Highlights
Coronavirus has affected nearly 40,000 and claimed the lives of more than 1,300 patients in India so far.
Updated: Sun, 03 May 2020 06:46 PM IST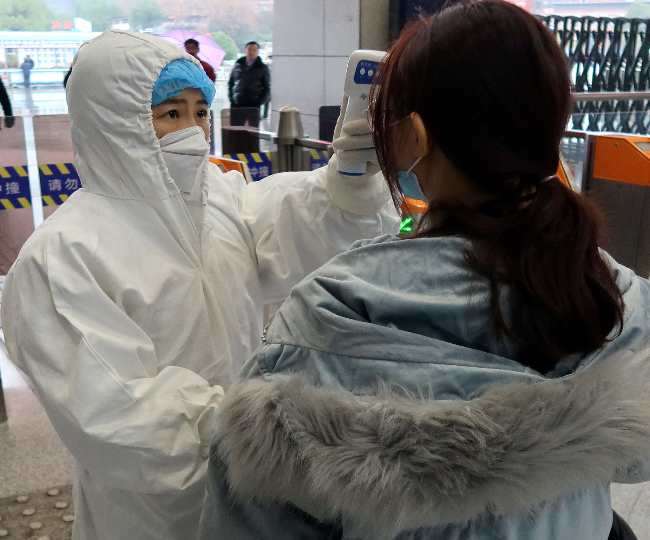 New Delhi | Jagran News Desk: The total number of coronavirus cases in India has increased to 39,980 on Sunday, while the death toll has surged to 1,301, according to the latest data by the Ministry of Health and Family Welfare. Of the total number of cases, there are 28,046 active cases, while 10,633 people have been cured and discharged from hospitals. Maharashtra remains the worst affected state with 12,296 cases and 521 fatalities.
As India is set to enter its third phase of lockdown to prevent the spread of the virus, the state government has categorised parts of the country in red, green, and orange. The lockdown will be eased in places where less number of cases have been reported (except in Red zones) from May 4 (Monday).
Meanwhile, several state governments like Telangana and Maharashtra are running special trains to send stranded migrant workers and students to their home states.
The United States (US) recorded 1,435 COVID19 deaths in the last 24 hours, taking the overall toll to over 60,000, while the number of confirmed cases of coronavirus has soared past 1.1 million.
According to a data tracker of the World Health Organisation (WHO), the global COVID-19 death toll has crossed 2.4 lakh while confirmed cases have crossed 3.4 million.
Here are the LIVE updates of the coronavirus pandemic:
6:30 pm: Lockdown was necessary to contain COVID-19; Delhi is fully ready to relax lockdown restrictions: Kejriwal
6:25 pm: Will suggest centre to declare only containment areas in the city as red zone and not the entire district: Kejriwal
6:23 pm: Time has come to re-open Delhi. We will have to be ready to live with coronavirus: Kejriwal
6:22 pm: Suspension of travel by flight, Delhi Metro and bus will continue in the national capital: Kejriwal
6:20 pm: Delhi govt will take strict action against those found spitting at public places: Kejriwal
6:18 pm: Delivery of essential goods through e-commerce portals will continue: Kejriwal
6:15 pm: Malls, cinemas, salons, market complexes, Delhi Metro will remain shut; shops selling essentials will continue to be open: Kejriwal
6:10 pm: Delhi govt offices engaged in essential services to function with full strength; private office to open with 33 per cent strength: Kejriwal
6:05 pm: Delhi government will implement all lockdown relaxations prescribed by home ministry: CM Arvind Kejriwal
5 pm: Bengali Market and its adjacent areas which were declared as containment zones did not report any new case in the past 28 days. Hence, the containment process in the area to be scaled down from tomorrow, to ease the restrictions: Delhi Govt #COVID19
4:43 pm: #COVID19 cases in UP rise to 2,579 after 92 more people test postive; active cases 1,838
4:34 pm: #COVID19 death toll in Indore rises to 76; cases climb to 1,568 in the Madhya Pradesh district after 23 people test positive: Official
4:25 pm: All educational and training institutions will remain closed in Jammu & Kashmir till May 17: Jammu & Kashmir govt spokesperson Rohit Kansal
4:15 pm: Delhi | Resident Doctor's Association of All India Institute of Medical Sciences writes to Chief of Defence Staff General Bipin Rawat to appreciate 'the morale-boosting gesture by the defence services for standing in solidarity with us' (doctors) to fight #COVID19 pandemic.
4:08 pm: #Lockdown will continue in Jharkhand for the next two weeks as a precautionary measure as our labourer brothers & sisters, students & others are returning to the state. The Centre's fresh instructions regarding relaxations will not be applicable in Jharkhand: CM Hemant Soren
4:04 pm: Jawaharlal Nehru University (JNU) has issued a notification stating that 'the University shall remain closed till 17th May, 2020'. #CoronavirusLockdown
3:35 pm: Nearly 500 students stranded in Kota in Rajasthan due to COVID19 lockdown return to Delhi in 40 buses.
3:30 pm: Maharashtra | Mumbai Metropolitan Region Development Authority begins the work of constructing a 1000 bedded #COVID19 hospital at MMRDA ground in Bandra Kurla Complex.
3:20 pm: #COVID19 death toll in Rajasthan rises to 70 with 2 more fatalities in Jaipur; total cases 2,803 after 31 people, including 9 in Jodhpur, 8 in Jaipur & 5 in Udaipur, test positive: Officials
3:10 pm: 19 new #COVID19 cases in Ladakh -- 18 in Leh, 1 in Kargil; total rises to 41: Officials
3 pm: Jammu & Kashmir | Five people injured after an unexploded shell went off when they were cleaning a drainage in Ahgam village of Handwara. "Handwara District Hospital Superintendent Dr Aijaz says, "Out of the five people, two are children. Condition of three patients is stable".
2:53 pm: After a staff of one of the top officers of CRPF tested COVID-19 positive, the Central Reserve Police Force (CRPF) Directorate General (DG) has ordered that the CRPF Headquarters in Delhi will remain closed till Tuesday (5th May) morning.
2:28 pm: Number of #COVID19 cases reaches 421 in Haryana including 242 discharges & five deaths. Number of active cases stands at 174: State Health Department
2:22 pm: 42 people, who returned for Hazur Sahib in Maharashtra's Nanded, have tested positive for COVID19 in Punjab's Sri Muktsar Sahib, taking active number of cases to 48: District Civil Surgeon Dr Hari Narayan Singh
2:20 pm: 63 out of 130 people, who returned from Hazur Sahib in Nanded, Maharashtra, have tested positive for #COVID19: Vinay Bulani, Deputy Commissioner, Nawanshahr #Punjab
2:14 pm: A 30-year-old male has tested positive for #COVID19 in Keonjhar. Total positive cases stand at 162: Government of Odisha.
2:08 pm: Punjab | 372 people from Kashmir who were stranded in Amritsar due to #Coronaviruslockdown left for Kashmir today. Neeraj Kumar, SHO Ram Bagh says, "7 buses have been provided to them by the district administration and they were screened before boarding the buses."
2:03 pm: Chhattisgarh Chief Minister Bhupesh Baghel has written a letter to PM Modi requesting inclusion of policemen, local bodies & officers & employees of district administration in insurance scheme under PM's Poor Welfare Package, on the lines of health workers.
2:01 pm: Our Govt in Bangla has also announced health insurance with up to Rs 10 lakh coverage for frontline COVID19 workers, including journalists: West Bengal CM Mamata Banerjee.
1:42 pm: National camps suspended due to lockdown can be expected to restart in phased manner from end of this month: Sports Minister Kiren Rijiju
1:12 pm: Today more than 10,000 COVID19 patients have been discharged. Those still admitted at hospitals are on the road to recovery. If in last 14 days doubling rate was 10.5 days, then today it's around 12 days.Our mortality rate of 3.2% is the lowest in the world: Union Health Minister
1 pm: The total number of COVID19 cases in #Haryana stands at 421 including 242 recovered/discharged & 5 deaths: Haryana Health Department
12:50 pm: A 34-year-old man tests positive for COVID19 in Balasore. The total number of positive cases in Odisha is now 161: Odisha Health Department
12:45 pm: 58 new COVID19 cases reported in Andhra Pradesh in the last 24 hours; the total number of positive cases in the state is now 1583.
12:21 pm: One Shramik special train from Chikbanawara (in Bengaluru ) to Bhubaneswar in Odisha left at 9.26 am today morning. Total of 1190 people have boarded the train. Karnataka Govt arranged Bangalore Metropolitan Transport Corporation (BMTC) buses & brought them to station: BMTC PRO
11:57 am: 5 new #COVID19 positive cases have been reported in Karnataka from 2nd May, 5 pm to 3rd May, 12 noon; taking the total number of positive cases to 606 which includes 25 deaths and 282 discharges: Govt of Karnataka
11:20 am: Delhi| Union Minister for Health and Family Welfare Dr. Harsh Vardhan visits Lady Hardinge hospital.
11 am: Goa| Fish market opens in Panaji from today. Timings will be from 6 am to 1 pm.
10:57 am: The safety trial of 'Mw vaccine' drug has been completed. But its actual trial will be conducted on 40 patients in PGI Chandigarh, AIIMS-Delhi and AIIMS Bhopal: Dr Jagat Ram, Director PGIMER, Chandigarh #COVID19
10:18 am: 2644 new COVID19 positive cases, 83 deaths in the last 24 hours: Ministry of Health and Family Welfare
10 am: 31 new COVID19 positive cases have been reported in Rajasthan till 9 am today. Total positive cases in the state stand at 2803: Health Department, Rajasthan
9:45 am: Total number of COVID19 positive cases in India rises to 39,980 including 28,046 active cases, 10,633 cured/discharged/migrated and 1301 deaths: Ministry of Health and Family Welfare
9:21 am: First Train from Kerala arrived at Jagannath Pur Station in Ganjam, all returnees were screened by the Health team: Ganjam District Administration Odisha
8:50 am: One more COVID19 positive case has been reported in Odisha; taking the total positive cases to 160: Health Department, Odisha.
8:25 am: Srinagar | Indian Air Force's flypast over Dal Lake to pay tribute to medical professionals and all other frontline workers. #COVID19
8:18 am: Ministry of Railways 'clarified' that few special trains which are being run for migrants workers and other persons stranded at different places, are being operated on request of state governments only.
7:58 am: Central Crime Branch (CCB) Bengaluru raided a hookah bar located in Banashankari area which was operating illegally amid the #CoronavirusLockdown. Three persons have been arrested: Sandeep Patil, Joint Commissioner of Police. #Karnataka
7:53 am: Over 800 UP migrant labourers reach Lucknow in a special train from Nashik.
7:45 am: Two new #COVID19 positive cases have been reported in Odisha. Total positive cases in the state stand at 159 which includes 102 active cases, 56 cured/recovered and 1 death: Health Department, Odisha
7:15 am: In a bid to curb domestic violence cases that have increased during the lockdown period, Raipur Police has launched "Chuppi Tod" campaign.
7:10 am: Lucknow| A 'shramik special train' carrying more than 800 migrant workers arrived at Charbagh railway station from Nashik, Maharashtra this morning. #CoronaLockdown
7:05 am: Delhi | People queue outside the wholesale fruit and vegetable market in Ghazipur amid CoronaLockdown.
7 am: #COVID19 deaths in the United States of America (USA) climbed by 1,435 in the past 24 hours, as per Johns Hopkins University tally: AFP news agency
Posted By: James Kuanal