Coronavirus Pandemic: 'COVID-19 recovery rate in India is 31.15 per cent': Health Ministry | Highlights
Coronavirus has infected affected over 67,000 people and claimed the lives of more than 2,200 patients so far. [Representational Image]
Updated: Mon, 11 May 2020 04:17 PM IST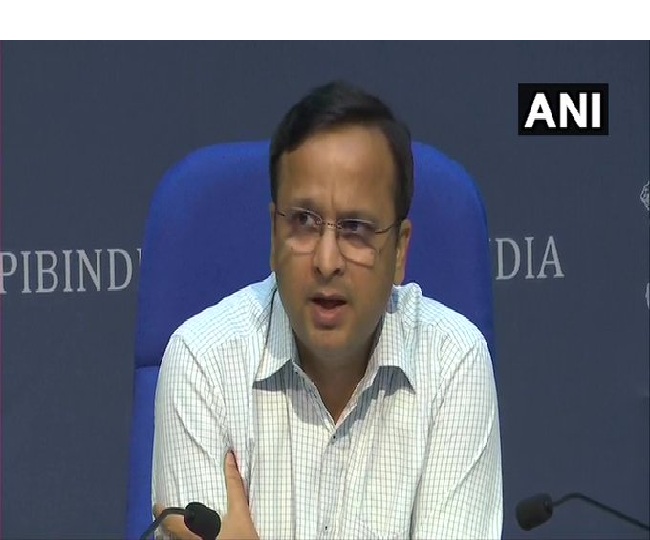 New Delhi | Jagran News Desk: The number of cases and fatalities due to novel coronavirus is surging at an alarming rate in the country. As per the latest data from the Union Health Ministry, the number of cases in India has reached 67,152. At least 2,206 people have succumbed to the infection. A total of 20,917 patients have been cured and discharged from hospitals. The number of active cases in the country stands at 44,029.
Prime Minister Narendra Modi will interact with all the chief ministers of the states on Monday, a week before the end of the coronavirus lockdown 3.0. The Prime Minister will likely discuss about a plan to exit the lockdown, which is expected to end on May 17.
A massive repatriation operation referred to as Vande Bharat Mission is being carried out to bring back Indians stranded abroad. On Monday, seven flights will operate to London, Abu Dhabi, Manila Washington, Singapore and Riyadh from Delhi, Mumbai and Hyderabad.
Meanwhile, Shramik trains are being run by several state governments to help stranded migrant workers and students reach their home state. Railway Minister Piyush Goyal has appealed to all states to permit the operation of migrant special trains so that the stranded can reach home in the next three to four days.
The Indian Railways has announced that it will gradually restart passenger train operations from May 12, initially with 15 pairs of trains. These trains will be run as special trains from New Delhi Station connecting Dibrugarh, Agartala, Howrah, Patna, Bilaspur, Ranchi, Bhubaneswar, Secunderabad, Bengaluru, Chennai, Thiruvananthapuram, Madgaon, Mumbai Central, Ahmedabad and Jammu Tawi
The global death toll due to COVID-19 has surpassed 2.8 lakh, while the number of cases has increased above 4.1 million, according to a data tracker by the World Health Organisation (WHO).
In the United States, the death toll has surged over 79,000, according to a report by news agency AFP.
Here are the Highlights of COVID-19 pandemic:
4:21 pm: 20,917 COVID-19 patients have been cured till now, taking recovery rate to 31.15 pc; 1,559 patients recovered in last 24 hrs: Health ministry
4:20 pm: Discharge policy has been changed because several countries have changed their policy from test-based strategy to symptom & time-based strategy. We have also changed it based on this: Lav Agarwal, Joint Secretary of Health Ministry
4:08 pm: Around 4000 Indians have been brought back by 23 flights under #VandeBharathMission. Over 5 lakh migrant workers have been sent to their home states by 468 special trains. 101 special trains were run yesterday: Union Home Ministry Joint Secretary Punya Salila Srivastava
4 pm: Health Ministry is briefing media over COVID-19 outbreak.
3:55 pm: Prime Minister Narendra Modi's 5th video conference meeting with Chief Ministers underway. Home Minister Amit Shah, Defence Minister Rajnath Singh and Finance Minister Nirmala Sitharaman also present.
3:45 pm: CM Bhupesh Baghel took part in Prime Minister Narendra Modi's video conference meeting with Chief Ministers over #COVID19: Chhattisgarh Chief Minister's Office
3:33 pm: Madhya Pradesh Chief Minister Shivraj Singh Chouhan takes part in the Chief Ministers' video conference meeting over #COVID19 under the chairmanship of Prime Minister Narendra Modi: Madhya Pradesh CM's office
3:15 pm: PM Narendra Modi's Meeting With CMs Begin, reported News 18.
3 pm: Prime Minister Narendra to interact with CMs shortly, likely to discuss exit plan and economy.
2:59 pm: So far, 184 trains have brought 2.26 lakh migrant workers from other states. 55 more trains will arrive in Uttar Pradesh today. Around 1 lakh migrant workers have returned by their own conveyance: Additional Chief Secretary (Home) Awanish Awasthi
2:53 pm: There will be no increase in lease rent for the Special Economic Zone (SEZ) units for the financial year 2020-21. Payment of lease rent of 1st quarter is to be deferred up to 31st July 2020 for all SEZ units: Ministry of Commerce and Industry
2:43 pm: Till now, 15 police personnel have tested positive for Coronavirus in Bihar: Additional Director General of Police (headquarters), Jitendra Kumar
2:29 pm: Delhi Govt had taken a decision to deposit Rs 5000 into the bank accounts of the registered construction workers last month. This month also as the lockdown has been extended govt has decided to again deposit Rs 5000 to provide them help: Delhi Labour Minister Gopal Rai #COVID
2:28 pm: Two trains are expected to arrive at Udhampur tomorrow. In order to conduct COVID19 testing of all those who arrive, we have upgraded our testing & sampling capacity: Rohit Kansal, Principal Secretary, Jammu & Kashmir on 'Shramik special' trains
2:20 pm: #Chandigarh Administration has decided that public dealings in government offices to start from May 18.
2:10 pm: 126 new cases of #COVID19 and 2 deaths have been reported in Rajasthan today till 1 pm, taking the total number of cases & deaths to 3940 & 110, respectively. Number of active cases stands at 1566: Rajasthan Health Department
2 pm: Aarogya Setu data only shared with government officials directly involved in COVID-19 interventions, "highly encrypted" says Niti Aayog CEO
1:50 pm: No death due to #COVID19 reported in Delhi in the last 24 hours. 310 persons tested positive in the national capital today; taking the total number of positive cases to 7233. The death toll stands at 73: Delhi Govt
1:38 pm: Tamil Nadu | Tea stalls, cloth stores, hardware stores & other standalone shops re-open in Chennai amid #CoronavirusLockdown. Standalone & neighbourhood shops can function from 10:30 AM to 6 PM in Chennai, according to a state govt order.
1:32 pm: West Bengal | A South 24 Parganas based private firm GCC Biotech India claims it has developed indigenous 'real-time' #COVID19 test kit costing only Rs 500 for a single test
1:25 pm: 468 Shramik Special trains run so far, over 5 lakh migrants ferried: Railways
1:25 pm: #COVID19 cases in Odisha rise to 391 after 14 more people, including 12 in Ganjam district, test positive; 320 active cases: Health Department
1:13 pm: Total 27 people including the Chief Priest will be allowed at the Badrinath Temple when the portals of the temple will be opened on May 15. No devotee will be allowed at that time: Anil Chanyal, Sub-Divisional Magistrate, Joshimath. #Uttarakhand
12:41 pm: INS Magar Departs Male With Indian Citizens Onboard, reported News 18 | INS Magar for evacuation of Indian citizens, has completed embarkation of personnel. A total of 202 personnel have embarked the ship, which includes 24 women, two expectant mothers and two children.
12:39 pm: Safe passage ensured for over 900 trucks carrying essential supplies, from Zoji La to Kargil in the past 21 days: Indo-Tibetan Border Police (ITBP).
12:30 pm: Advisory for public to exercise due care while joining online conference platforms through audio calls, after few consumers experienced bill shocks when they joined online conferencing platforms inadvertently dialing international numbers: TRAI
12:24 pm: African Swine Flu has claimed the lives of around 13000 pigs in Assam. Kaziranga National Park authorities have dug a canal in Agoratoli range to deter wild boars from going to nearby villages, in order to save them from the disease: Assam Animal Husbandry Minister Atul Bora
12:04 pm: 38 New Covid-19 Cases in Andhra Pradesh, Tally Reaches 2,018, reported News 18 | With new 38 cases of coronavirus reported in Andhra Pradesh, total tally has reached 2,018 in the state. Out of this, 975 are active cases, while 998 have been cured from the infection. So far, 45 people have died due to the virus in the state.
12 pm: 10 new cases of #COVID19 have been reported in Karnataka, taking the total number of positive cases to 858 including 31 deaths & 422 discharges: Karnataka Health Department
11:38 am: #VandeBharatMission: Indian passengers arrive at Manila Airport in Philippines for the repatriation flight from Manila to Ahmedabad (Gujarat), that will take off today.
11:30 am: Shramik Special trains to now have up to 3 stoppages in destination state, run with full capacity of around 1,700 instead of 1,200: Railway order.
11 am: #VandeBharatMission: Special evacuation flight Air India AI 1617 carrying 118 Indian citizens from US (San Francisco) landed at Hyderabad Airport today.
10:58 am: Jammu & Kashmir | Shops of electronic items re-open in Udhampur amid #CoronavirusLockdown. A shopkeeper says, "Electronics shops were closed in the city for the last 2 months. We will ensure that customers follow social distancing at the shops".
10:45 am: Total 160 positive #COVID19 cases have been reported in the state till date, of which 79 are active cases and 78 are recovered/discharged cases: Jharkhand Health Department
10:35 am: Madhya Pradesh| 1383 migrant labourers reach Bhopal by a 'Shramik Special' train from Morbi in Gujarat. "They will be sent to their home districts by buses," says Bhopal Sub Divisional Magistrate Rajesh Gupta. #lockdown
10:30 am: Delhi: Shram Shakti Bhawan has been sealed as per protocol, after an employee in the Ministry of Power, whose office is the building tested positive for #COVID19. All employees has been advised to work from home, till further notice.
10:25 am: 11 more #COVID19 positive cases reported in Bihar, taking the total number of cases to 707: Sanjay Kumar, Principal Secretary (Health), Bihar
10:20 am: A total of 37 stranded persons including 11 students (4 female students and 7 male students) left from Agra for J&K earlier today: Department of Information and Public Relations, Govt of Jammu & Kashmir
10:10 am: We welcome the decision of the government to cautiously start operations of inter-state passenger trains. The same modest opening should be started with road transport and air transport: P. Chidambaram, Congress leader and former Union Finance Minister
10:02 am: Punjab | Amritsar's Tahli Sahib wholesale cloth market has been allowed to operate from 6 am to 10 am only. Sub inspector Baldev Singh says, "Social distancing norms are being followed here".
9:58 am: Union Home Secretary Ajay Bhalla writes to Chief Secretaries of all the states to cooperate in receiving Shramik special trains and to facilitate the movement of stranded migrant workers. #CoronavirusLockdown
9:48 am: 84 new cases of #COVID19 have been reported in Rajasthan today, taking the total number of cases & deaths to 3898 & 108, respectively. Number of active cases stands at 1537: Rajasthan Health Department
9:34 am: 14 new Coronavirus positive cases reported in Odisha, taking the total number of cases in the state to 391: Odisha Health Department
9:30 am: Out of the 755 samples tested yesterday for #COVID19, results of 16 are positive: King George's Medical University (KGMU), Lucknow
9:25 am: #VandeBharatMission: Total 7 special evacuation flights will be operated today on the 5th day of the mission; London to Delhi to Bengaluru, San Francisco to Mumbai to Hyderabad, Dhaka to Mumbai, Dubai to Kochi, Abu Dhabi to Hyderabad, Kaula Lampur to Chennai&Bahrain to Kozhikode.
9:20 am: Karnataka | More than 300 Indians returned to Bengaluru from London, UK, on an Air India special flight early morning today. #VandeBharatMission
9:10 am: Spike of 4213 #COVID19 cases in the last 24 hours.
8:57 am: The Ministry of Health & Family Welfare has issued revised guidelines for home isolation of very mild/pre-symptomatic #COVID19 cases
8:32 am: A couple tied the knot wearing masks and face shields at a Gurudwara in Kanpur on Sunday amid the coronavirus pandemic
8:13 am: Today, technology is helping many in the efforts to make the world free from COVID-19. I salute all those at the forefront of research and innovation on ways to defeat Coronavirus. May we keep harnessing technology in order to create a healthier and better planet: PM Modi
8:10 am: On National Technology Day, our nation salutes all those who are leveraging technology to bring a positive difference in the lives of others. We remember the exceptional achievement of our scientists on this day in 1998. It was a landmark moment in India's history: PM Modi
7:45 am: 'It worked on my body': Indore's plasma therapy recipient shares experience
7:15 am: US adds 776 coronavirus deaths in 24 hours: AFP
7:12 am: People arrive at wholesale fruit and vegetable market in Delhi's Ghazipur, to make purchases amid #CoronavirusLockdown.
7:10 am: First Air India special flight from the US brings in 225 Indians from San Francisco to Mumbai: Dr S Jaishankar, External Affairs Minister #VandeBharatMission
7:08 am: A special train carrying 1200 passengers departed from Surat (Gujarat) for Kathgodam in Uttarakhand at 4 am: Uttarakhand Chief Minister's Office
7:06 am: Two police personnel suffered injuries after migrant labourers allegedly pelted stones at police in Kerala
7:05 am: Maharashtra | Air India flight carrying 241 passengers from Manila, Philippines arrived in Mumbai. #VandeBharatMission
7:01 am: Air India flight 1387 carrying Indians from Manila, Philippines has arrived in Mumbai: Dr S Jaishankar, External Affairs Minister #VandeBharatMission
Posted By: James Kuanal