Coronavirus Pandemic: 75 news cases of COVID-19 reported in last 24-hrs, says Health Ministry | Highlights
Updated: Fri, 27 Mar 2020 06:42 PM IST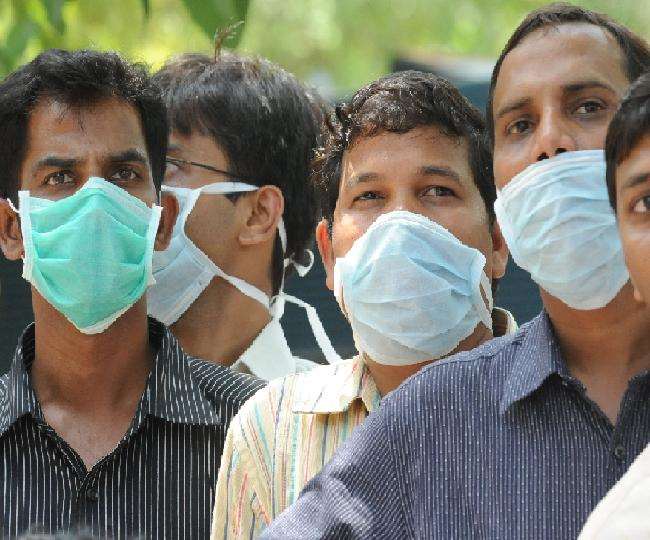 New Delhi | Jagran News Desk: The number of confirmed of the coronavirus cases in India have crossed the 700 mark with the death toll reaching 17, said the Union Ministry of Health and Family Welfare while adding that the the rate of increase in the positive cases was "relatively stable" in India. The Health Ministry has maintained that India is at the second stage of the outbreak as there is still no "hard evidence" to say that there has been community transmission of the fast-spreading coronavirus, remarks which may provide anxious citizens with much needed assurance and hope.
Meanwhile, hundreds of people across the country were booked and penalised for violating restrictions on the second day of the national lockdown yesterday and drones were deployed to send out a warning, as authorities ramped up measures to ensure there was no supply disruption of essential commodities.
Here are the LIVE updates on the coronavirus pandemic:
17:15 pm: United Kingdom PM Boris Johnson tests positive for coronavirus, says 'but will continue to lead'
16:38 pm: We have issued national telemedicine guidelines. This facilitates the process wherein doctors sitting at their homes can provide services to the patients. We urge & request citizens to take advantage of it & doctors to utilize this: Lav Aggarwal, Joint Secy, Union Health Ministry
16:31 pm: Around 1.4 lakh companies have asked their employees to work from home on our appeal: Lav Aggarwal, Joint Secretary, Union Health & Family Welfare
16:28 pm: States and UTs have been requested to make arrangements for food, water & sanitation for the migrant labourers. Hotels and rented accommodation should stay open and functional, while taking all the COVID-19 precautions: Punya Salila Srivastava, Joint Secretary, MHA
16:28 pm: We have given an order to a PSU to provide 10,000 ventilators. Bharat Electronics Limited (BEL) has also been requested to purchase 30,000 additional ventilators in 1-2 months: Lav Aggarwal, Joint Secretary, Union Health Ministry
16:28 pm: Till now 724 COVID-19 cases have been confirmed, total deaths stand at 17. In the last 24 hours, 75 new positive cases & 4 deaths have been reported: Lav Aggarwal, Joint Secretary, Union Health Ministry
15:47 pm: 12 more people (contacts of earlier positive cases) test positive for Coronavirus in Sangli; Till now, there are 147 positive cases in Maharashtra: PRO, Maharashtra Health Department
15:17 pm: Considering the current situation of COVID-19, appointment orders are issued to 1508 lab technicians, 500 doctors & 1000 nurses for immediate joining. State to immediately increase its ambulance fleet with 200 new ambulances: Tamil Nadu Government
14:55 pm: Tamil Nadu: Madurai Thiruparankundram Subramanya Swamy temple cancels Panguni festival, in the light of coronavirus lockdown to avoid spread of COVID-19.
14:55 pm: Delhi CM Arvind Kejriwal to represent Delhi and India in a global meeting of city leaders via video conferencing today, being organized by C40 Cities Climate Leadership Group, to share lessons in fighting COVID-19.
14:55 pm: Total number of Coronavirus positive cases in Haryana stands at 19: Health Department, Haryana Government
14:09 pm: Sachin Tendulkar has donated Rs 25 Lakh each to PM's Relief Fund and Maharashtra Chief Minister's Relief Fund to fight the COVID-19 pandemic.
13:43 pm: MHA asks States to streamline essentials so that students and working women hostel inmates are allowed to stay put in existing facilities
13:43 pm: States, UTs have been advised to make vulnerable groups aware of free food grains, other essentials to stop mass exodus: MHA
13:26 pm: Coronavirus Outbreak: India reports 18th death, 65-year-old COVID-19 patient passes away in Karnataka
13:25 pm: Goa: People in Panaji practice social distancing while standing in a long queue outside a grocery shop amid lockdown due to coronavirus.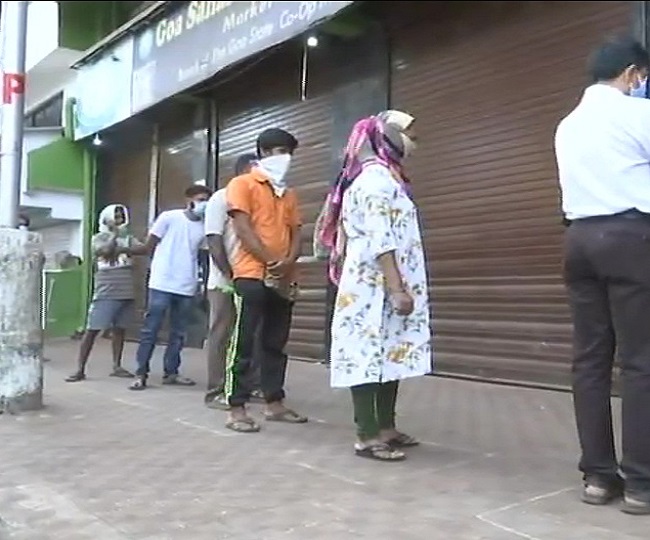 12:34 pm: In the view of Govt directives issued regarding coronavirus, I advise people to avoid gathering in mosques on Friday and offer prayers at home only. It's our religious and social responsibility to protect ourselves and other: Jamiat Ulama-i-Hind Pres Maulana Arshad Madani
12:33 pm: Coronavirus Pandemic | Ready to deal with spike in cases, schools turned into kitchens to feed 4 lakh poor daily: Kejriwal
12:10 pm: 'Social distancing' only way to combat COVID-19: Arvind Kejriwal
12:05 pm: There are a total of 39 coronavirus positive cases in Delhi today. 29 of them had come from outside and were kept in quarantine & 10 of these are cases of local transmission: Delhi CM Arvind Kejriwal
12:04 pm: Delhi Chief Minister Arvind Kejriwal addresses media amid COVID-19 lockdown
11:58 am: Maharashtra: Roads in Mumbai's Mankhurd area being sanitised by Fire Brigade Department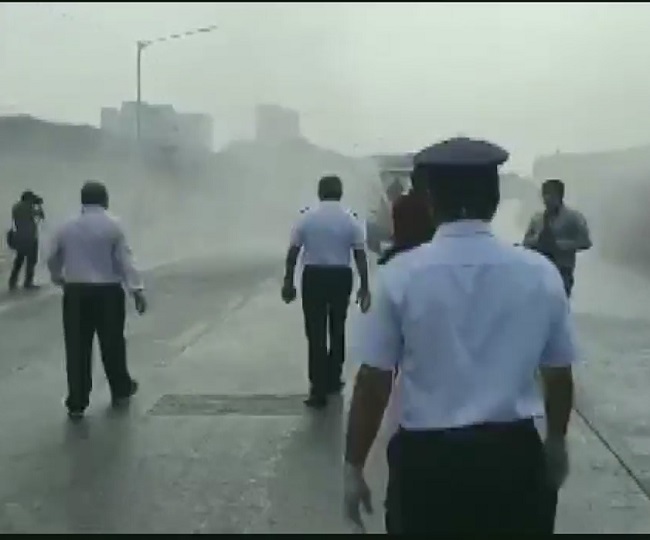 11:36 am: Delhi CM Arvind Kejriwal to address the media today at 12 PM over coronavirus lockdown
11:01 am: Uttarakhand: Disaster Management Secretary Amit Negi has directed all District Magistrates of the state to prepare a list and distribute food packets among senior citizens, pregnant women, daily wage labourers in the light of coronavirus lockdown
10:32 am: RBI cuts policy repo rate to 4.4% from 5.15% in preponed policy committee meet amid lockdown
10:32 am: It has been decided to reduce the Cash Reserve Ratio (CRR) of all banks by 100 basis points to 3% of Net Demand and Time Liabilities with effect from the fortnight beginning March 28 for a period of 1 year: RBI Governor Shaktikanta Das
10:31 am: India has locked down economic activity and financial markets are under severe stress. Finance is the lifeline of the economy, keeping it following is the paramount objective of the Reserve Bank of India at this point of time: Shaktikanta Das, RBI Governor
10:29 am: RBI lowers cash reserve ratio of all banks to 3 per cent for a period of one year to boost liquidity
10:25 am: The outlook is now heavily contingent upon the intensity, spread & duration of the pandemic. There is a rising probability that large parts of the world will slip into recession: RBI Governor Shaktikanta Das
10:25 am: MPC (Monetary Policy Committee) noted that global economic activity has come to a near stand-still as COVID-19 related lockdowns & social distancing in affected countries. Expectations of a shallow recovery in 2020 from 2019's decade low in global growth have been dashed: RBI Guv
10:19 am: Living in extraordinary situation; war effort needs to be mounted against coronavirus using conventional, unconventional tools: RBI Guv
10:16 am: RBI advances monetary policy committee meeting to March 25-27: Governor Shaktikanta Das
10:15 am: Monetary policy committee voted 4:2 majority to cut 75 basis points to 4.4 pc: RBI Governor
10:12 am: RBI cuts reverse repo rate by 90 points.
10:08 am: Repo rate reduced from 5.15 pc to 4.4 pc: RBI Governor
10:07 am: RBI Governor Shaktikanta Das addresses media
10:00 am: "Two new coronavirus positive cases reported in Bhilwara. Both are close relatives of the person who was tested positive and died last evening, due to prevailing comorbid conditions. Total positive cases rise to 45 in the state," says Rajasthan Health Department, as quoted by ANI
9:50 am: RBI Governor Shaktikanta Das to address media shortly.
9:34 am: Number of confirmed coronavirus cases have surged past 700, according to the Ministry of Health and Family Affairs.
9:28 am: All Shiv Sena MPs and MLAs to contribute their one month's salary to Chief Minister's Relief Fund.
8:49 am: Prayagraj: Police personnel deployed at Civil Lines Police Station prepared food for the needy and distributed among them amid lockdown, in the wake of coronavirus outbreak.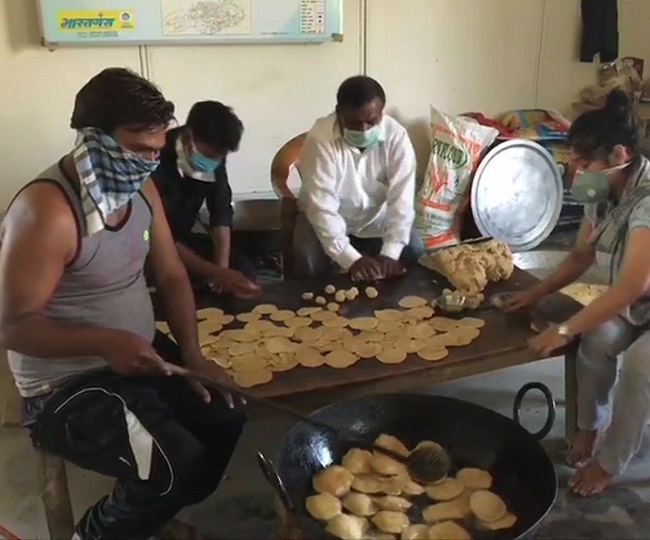 8:33 am: The Central government hereby directs that sale by retail of any preparation containing the drug Hydroxychloroquine shall be in accordance with the conditions for sale of drugs specified in Schedule H1 to the Drugs and Cosmetics Rules, 1945: Ministry of Health and Family Welfare
8:23 am: "3 COVID-19 patients from Pune's Pimpri-Chinchwad (Maharashtra) have tested negative in their repeat samples. They will be discharged today following due process," says Pimpri-Chinchwad Municipal Commissioner Shravan Hardikar, as quoted by ANI.
7:56 am: Mumbai: Aarti being performed at Mumbadevi Temple by priests and temple trustees on the third day of Chaitra Navratri 2020. Devotees gather outside the temple to see 'aarti' through a TV as entry for devotees has been restricted due to 21-day lockdown.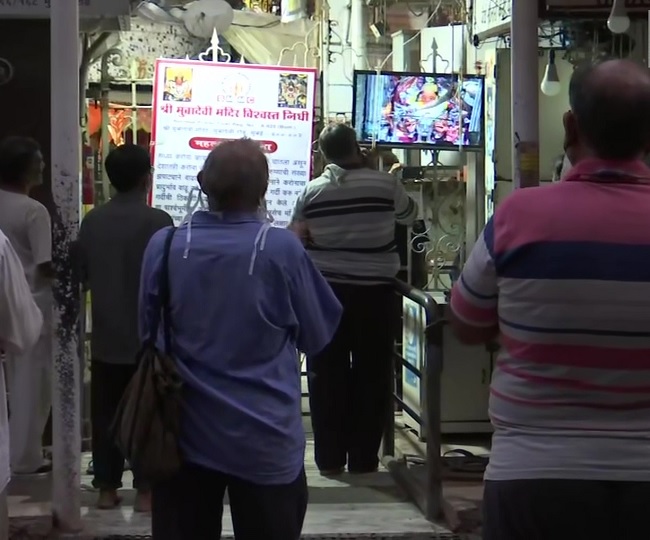 7:37 am: Meanwhile, RBI Governor Shaktikanta Das will address the media at 10:00 am today
7:33 am: Coronavirus Outbreak: Cases swell up to 694 with 88 news ones, highest in a day; death toll reaches 16
7:32 am: Meanwhile, hundreds of people across the country were booked and penalised for violating restrictions on the second day of the national lockdown.
7:31 am: The government, however, has maintained that there is no report of community transmission of COVID-19 and the infection is still at the second stage of the pandemic.
7:30 am: The total number of confirmed coronavirus cases in India is nearing 700 with 16 deaths.
Posted By: Aalok Sensharma