Coronavirus Pandemic: Fresh cases reported in Maharashtra, West Bengal and Gujarat; India tally rises to 649 | Highlights
The number of confirmed COVID-19 cases have crossed the 600 mark in India and the virus has claimed the lives of 13 in the country.
Updated: Thu, 26 Mar 2020 07:21 PM IST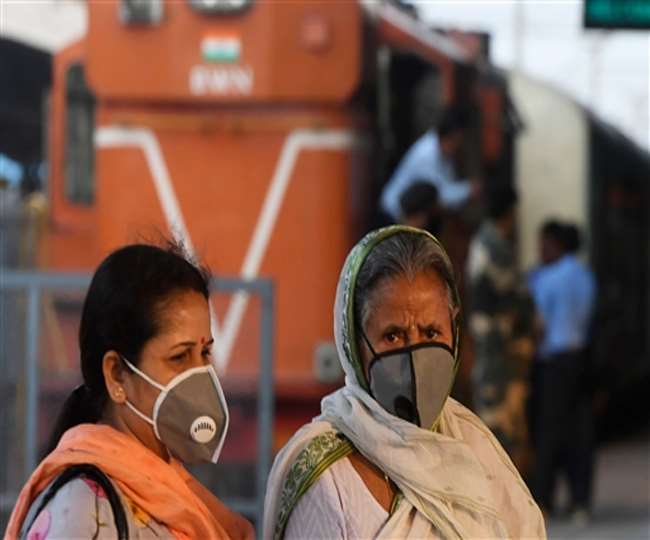 New Delhi | Jagran News Desk: India today has entered the day 2 of the 21-day nation-wide lockdown imposed by Prime Minister Narendra Modi to control the spread of the deadly coronavirus in the country. The number of confirmed COVID-19 cases have crossed the 600 mark in India and the virus has claimed the lives of 13 in the country.
Amid this, PM Modi yesterday once again reiterated that social distancing and staying indoors were the only way out and the best option to deal with coronavirus. Underscoring the enormity of the health challenge before the country , he invoked the Mahabharata, and said the epic war was won in 18 days and his government's effort is to win this war against coronavirus in 21 days.
Here are the LIVE updates of the coronavirus pandemic:
17:52 pm: Out on road during coronavirus lockdown? Here's list of documents you'll need for passage
17:51 pm: Some time back DRDO developed a ventilator along with Society for Biomedical Technology (SBMT), its technology has been transferred to the industry. An industry in Mysore is producing the secondary version of that ventilator now: DRDO Chairman Dr. G Satheesh Reddy
17:28 pm: Coronavirus could become seasonal, warns top US scientist; highlights urgent need of finding cure
16:39 pm: Government of India allows doorstep delivery of medicines/drugs to people in view of the COVID-19 pandemic. Notification to be published soon in the Gazette of India.
16:37 pm: While the numbers of COVID-19 cases are increasing, the rate at which they are increasing appears to be relatively stabilizing. However, this is only the initial trend: Lav Aggarwal, Joint Secretary, Union Health & Family Welfare Ministry
16:37 pm: Govt is taking steps to ensure that production, supply or distribution of essential goods & services do not get affected during coronavirus lockdown. States are working to provide food & shelter to migrant workers: Punya Salila Srivastava, Joint Secretary, MHA
16:36 pm: On our request, work has started in around 17 states for COVID-19 dedicated hospitals: Lav Aggarwal, Joint Secretary, Union Health & Family Welfare Ministry
16:36 pm: 42 fresh coronavirus cases and four deaths related to #COVID19 have been reported in the last 24 hours. Total number of cases stands at 649: Lav Aggrawal, Joint Secretary, Health Ministry
16:31 pm: 5 kg of rice/wheat & one kg of pulses will be given to every family free of cost under Pradhan Mantri Garib Kalyan Anna Yojana. Additionally, every family will get one kilo free pulses. It shows our government's commitment towards the welfare of the poor: BJP chief NP Nadda
15:47 pm: As the number of persons infected with coronavirus has gone up to 3, in an effort to contain the spread of infection in Srinagar, the District Magistrate has ordered the closure of all places of worship: Government of Jammu & Kashmir
15:37 pm: 'First step in right direction': Rahul Gandhi praises govt's Rs 1.7 lakh crore relief package for poor
15:36 pm: Total number of coronavirus positive cases in Maharashtra rises to 125
15:34 pm: We are committed to fighting coronavirus. I appeal to all to follow lockdown rules. A supply chain has been established for regular supply of essential commodities. In past 4 days, 33000 people have registered as volunteers incl doctors, nurses, paramedics: Haryana CM ML Khattar
14:43 pm: Indian Army issues fresh instructions reiterating enhanced measures to fight coronavirus.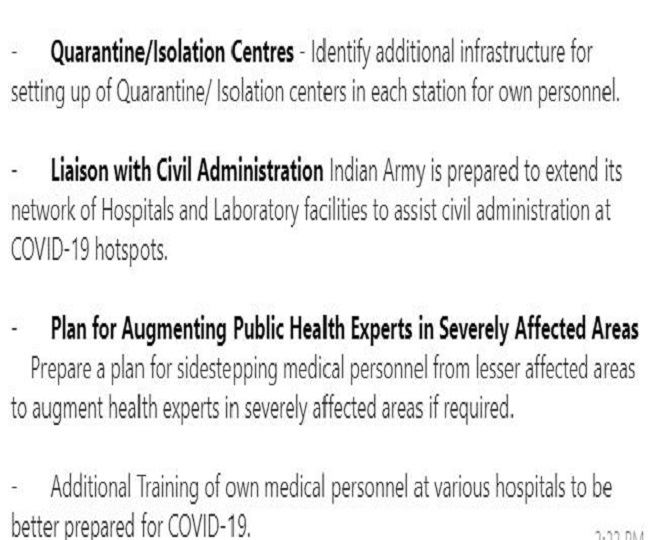 14:11 pm: Coronavirus Impact: FM announces Rs 1.7 lakh crore relief package with focus on for poor | Key announcements
13:58 pm: Govt of India will pay the Employees' Provident Fund(EPF) contribution, both of employer and employee, put together it will be 24%, this will be for next 3 months.This is for those establishments which have upto 100 employees and 90% of them earn less that 15,000: FM Sitharaman
13:52 pm: Self Help women groups (7 crore houses holds covered), collateral-free loans doubled to 20 Lakh, to increase money in hand, announces Finance Minister Nirmala Sitharaman
13:51 pm: DBT Cash transfers:1)Farmers,MGNREGA, Poor widows, Pensioners&divyangs covered
2) Jan Dhan Yojna accounts,Ujjwala scheme,Self help group women dealing with DDU livelihood missions,EPFO organised workers covered 3)Construction workers&district mineral workers covered,announces FM
13:48 pm: Ujjawala scheme near 8.3 crore BPL families covered in this, so that no running short of cooking medium, for 3 months free cylinders, announces Finance Minister Nirmala Sitharaman
13:48 pm: 20 crore Jan Dhan Women account holders covered- Ex gratia amount of Rs 500 per month for the next three months, announces FM Sitharaman
13:47 pm: Old age, Divyang, pensioners: 3 crore people covered, one-time amount of additional Rs 1000 in two installments through DBT (hence no middlemen) over 3 months to be given,announces FM Sitharaman
13:47 pm: Wage increase in MGNREGA- 5 crore families benefited, an increase of Rs 2000 per worker on average as additional income, announces FM Sitharaman
13:46 pm: 8.69 crore farmers to be immediately benefited through Direct cash transfers. Installment of Rs 2000 in the first week of April will be transferred: Finance Minister Nirmala Sitharaman
13:37 pm: FM announces Rs 1.70 lakh crore Pradhan Mantri Gareeb Kalyan scheme to help the needy
13:35 pm: Pradhan Mantri Gareeb Kalyan Ann Yojna (for next 3 months) 80 cr poor people covered (2/3rd of India's population), in addition to already allotted 5Kg of rice/wheat per person,an additional 5kg will be free. Additional 1kg pulse (acc to regional preference) will be given: Finance Minister Nirmala Sitharaman
13:30 pm: There will be Rs 50 lakh insurance per health care worker as a medical insurance cover for them for three months. Hopefully, we would be able to contain the virus in this period: Finance Minister Nirmala Sitharaman
13:27 pm: A package is ready for the poor who need immediate help like migrant workers and urban and rural poor. No one will go hungry. The package is worth Rs 1.7 lakh crore: Finance Minister Nirmala Sitharaman
13:24 pm: FM announces economic package of Rs 1,70,000 crore
13:24 pm: Finance Minister Nirmala Sitharaman addresses media
13:19 pm: Bihar Chief Minister Nitish Kumar has announced a Rs 100 crore relief package for the poor in wake of coronavirus lockdown
13:13 pm: Three more persons test positive for coronavirus in Noida; total cases in Gautam Buddh Nagar district 14: Officials.
13:05 pm: All India Institute of Medical Sciences (AIIMS) has constituted a task force to develop management protocols for the coronavirus pandemic.
12:45 pm: Finance Minister Nirmala Sitharaman to announce economic package to deal with COVID-19 impact shortly.
12:38 pm: Food home delivery services have been allowed, the delivery persons can show their ID cards that will be sufficient. Mohalla clinics will continue to function but with all precautions: Delhi CM Arvind Kejriwal
12:32 pm: Online service providers/e-retailers delivering essential services & goods to be allowed. All essential services shops can remain open 24 hours so that there is no rush of people: Delhi Lt Governor Anil Baijal
12:09 pm: Gautam Budh Nagar District Magistrate BN Singh has sealed Ace Golfshire apartments in Sector 150 and Hotel Sandal Suit Sector in Sector 135 till 10am 28th March after tracing of earlier reported Coronavirus positive cases in the area.
12:08 pm: Delhi: Finance Minister Nirmala Sitharaman to brief the media at 1 pm today.
11:40 am:
Congress Interim President Sonia Gandhi has written to Prime Minister Narendra Modi with suggestions that the government should undertake during the lockdown period. pic.twitter.com/UJ2RFcln5L

— ANI (@ANI) March 26, 2020
11:21 pm: Delhi Police issues directions to all Deputy Commissioners of Police, asking them to ensure hassle free movement of personnel and vehicles of e-retailers delivering essential services and goods, reports ANI.
10:41 am: A total of 800 people who came in contact with the mohalla clinic doctor have been quarantined for 14 days: Delhi Health Minister Satyendar Jain
10:40 am: COVID-19 cases in Delhi have risen to 36. A mohalla clinic doctor and 4 others have been tested positive after they came in contact with an infected woman who returned from Saudi Arabia. The doctor's wife and daughter have also tested positive: Delhi Health Minister Satyendar Jain
10:40 am: Total number of COVID-19 positive cases rise to 649 in India (including 593 active cases, 42 cured/discharged people and 13 deaths): Ministry of Health and Family Welfare
10:12 am: Meghalaya: People at markets in West Garo Hills district practice social distancing, amid lockdown due to coronavirus.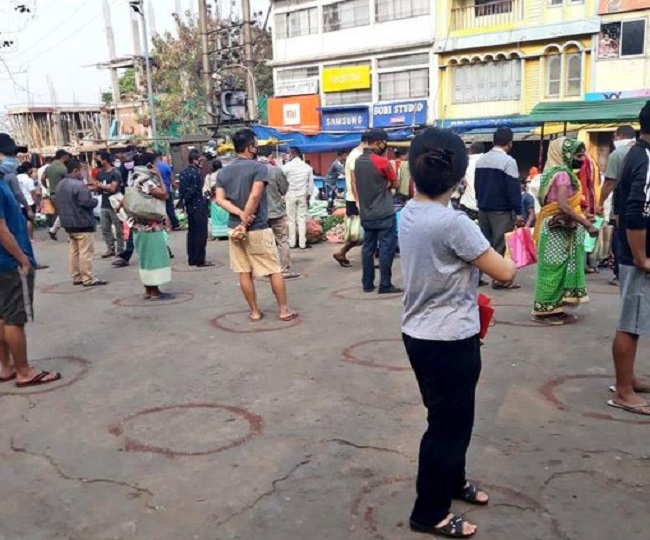 10:00 am: Coronavirus Outbreak | J-K reports first COVID-19 death as 65-year-old passes away in Srinagar
9:25 am: Vehicles transporting essential goods need no pass and they shall not be stopped from going to their destinations, says Gautam Budh Nagar District Magistrate BN Singh, as quoted by ANI
9:08 am: Buses, trams, and metros in Kolkata have stopped plying as the city remains under lockdown to control the spread of coronavirus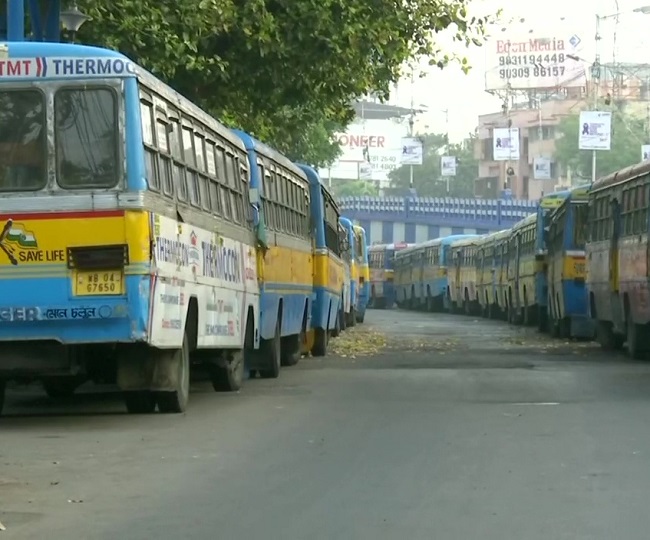 9:01 am: Madhya Pradesh COVID-19 tally rises to 20; five test positive in Indore, reports PTI.
8:55 am: Coronavirus Outbreak | Delhi doctor, wife and teen daughter test positive for COVID-19; visitors quarantined
8:32 am: Board of Control for Cricket in India (BCCI) President Sourav Ganguly to donate Rs 50 lakh worth rice to the underprivileged amid lockdown, reports ANI.
8:13 am: Gautam Budh Nagar: People at a Mother Dairy booth in Sector 19 stand at a distance from each other as they practice social distancing.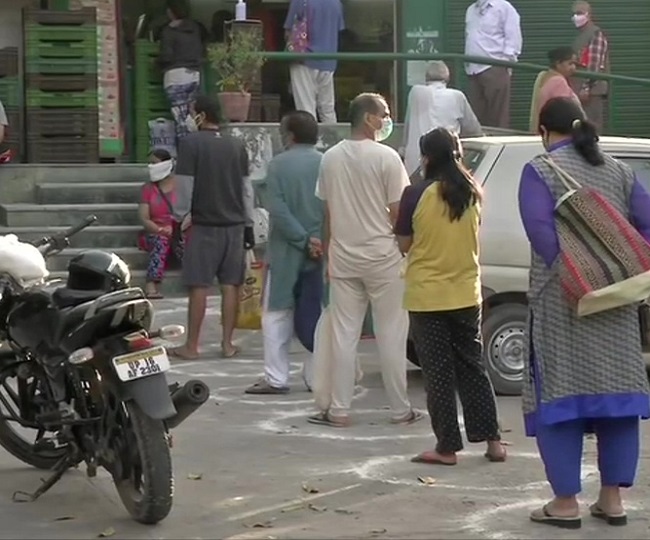 8:13 am: A 66-year-old man in West Bengal's Nayabad tests positive for coronavirus. Total number of positive cases in the state rise to 10
7:30 am: The movement of vehicles transporting essential commodities is permitted during the 21-day nationwide lockdown; visual from Delhi-Noida border (Noida Sector-14-Mayur Vihar border)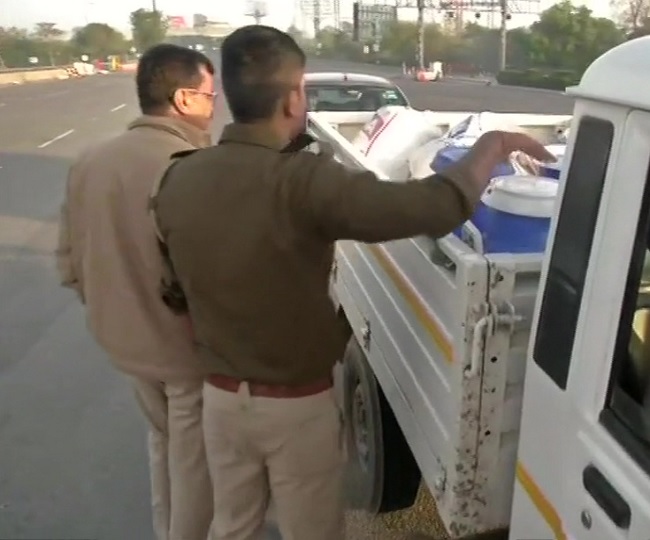 7:29 am: India under 21-day coronavirus lockdown as cases rise to 606; panic buying of essentials continues
7:28 am: "To slow the spread of Covid-19, many countries introduced "lockdown" measures. But on their own, these measures will not extinguish epidemics. We call on all countries to use this time to attack the novel coronavirus. You have created a second window of opportunity," Tedros Adhanom Ghebreyesus said in a daily briefing.
7:27 am: Meanwhile, World Health Organisation (WHO) Director-General Tedros Adhanom Ghebreyesus has said that lockdowns will not be enough to eradicate the coronavirus pandemic from the world.
7:26 am: So far, the deadly virus has infected more than 600 in India and claimed the lives of ten in te country.
7:19 am: India today entered the day 2 of the 21-day nation-wide lockdown.
Posted By: Aalok Sensharma