Coronavirus News: Meeting with Amit Shah focused on prevention of COVID-19 spread in NCR: Kejriwal | Highlights
The coronavirus cases in the country reached 3,66,946, while the death toll due to the deadly virus crossed the 12,000 mark to reach 12,237.
Updated: Thu, 18 Jun 2020 06:29 PM IST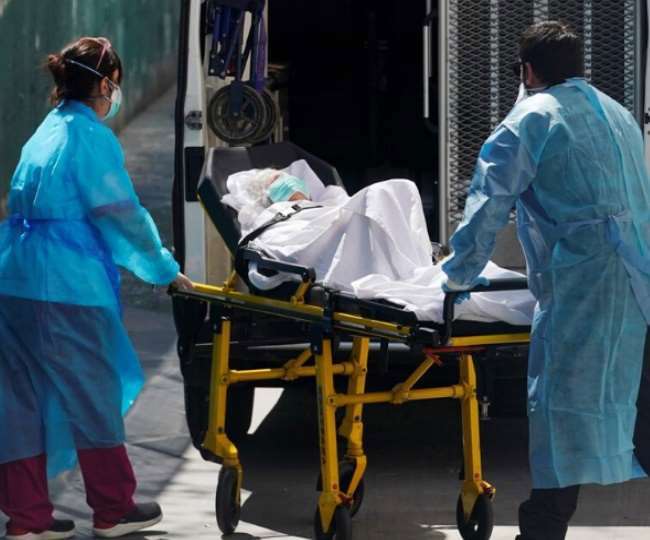 New Delhi | Jagran News Desk: The coronavirus cases in the country reached 3,66,946, while the death toll due to the deadly virus crossed the 12,000 mark to reach 12,237. Yesterday the death toll rose by over 2,000 fatalities after the states updated their data after reconciliation. India is at fourth rank in worst-hit nations of the world from the COVID-19. Only US, Brazil and Russia is ahead of India in terms of total cases.
Meanwhile, Prime Minister Narendra Modi also concluded the two-day meeting with CMs of 15 states and UTs, yesterday. After the meet, PM Modi had said that the discipline shown by the citizens helped the government in containing the exponential growth of the virus and the timely measures taken also helped in curbing the spread. PM Modi also emphasised on testing and expanding the health infrastructure of the country so that a person found infected person can be traced, isolated and treated.
Here are the Highlights on coronavirus from across the country:
6:30 pm: 97 new #COVID19 cases have been reported in Kerala today. Death toll rises to 21 after one death was reported today. Total cases in the state stand at 2794 cases, of which 1358 are active cases: CM Pinarayi Vijayan
6:15 pm: Keeping in view the structure of Delhi-NCR region, all the concerned bodies need to unite and work on a common strategy against #coronavirus. In this context, I met Delhi CM, senior officials of Center and Delhi-NCR today to discuss a strategy: Home Minister Amit Shah
6:00 pm: Three people have been tested positive for #COVID19 in Kangra and Solan districts, taking total number of cases to 589 out of which 201 cases are active: State Health Department
5:30 pm: Preeti Sudan, Secretary Union Health Ministry writes to Chief Secretaries of all States & UTs, directing them to ensure salaries of doctors & health workers doing #COVID19 related duty is released on time.
5:15 pm: 169 rapid antigen detection testing centres have been set up to test everyone residing in containment zones of Delhi. The centres will provide test results within 30 minutes. These testing kits have been imported from South Korea: MoS Home Affairs G Kishan Reddy
5:00 pm: The discussion with Home Minister Amit Shah was focussed on how we can save the entire NCR unit from #COVID19 because NCR can't be separated. Delhi, Gurugram, Noida and Faridabad are the same: Delhi CM Arvind Kejriwal
4:30 pm: Everyone who needs an assignment in these 116 districts will be given work under #GaribKalyanRojgarAbhiyaan, broad estimated expenditure for the scheme is Rs 50,000 crores, the money allotted for this will be front-loaded: Union Finance Minister Nirmala Sitharaman
4:25 pm: Within 125 days, for 116 districts, nearly 25 schemes of the government will be brought together under #GaribKalyanRojgarAbhiyaan, we will reach saturation levels for each of those schemes within those 125 days: Union Finance Minister Nirmala Sitharaman
4:22 pm: We have found that migrant workers returned in large numbers to 116 districts, spread over six states - Bihar, Jharkhand, Uttar Pradesh, Madhya Pradesh, Odisha and Rajasthan: Union Finance Minister Nirmala Sitharaman
4:15 pm: The central and state governments have meticulously mapped the skill sets of the migrant workers who have returned in large numbers to the 116 districts in 6 states: Union Finance Minister Nirmala Sitharaman
4:10 pm: Workers from all over the country wanted to go back to villages a little while after the lockdown began,& central & state govts made some arrangements,& they have gone back. We have looked at the districts to which they have largely returned: Finance Minister Nirmala Sitharaman
4:00 pm: Jharkhand bans consumption of all types of tobacco products at public places in the entire state, in view of rising #COVID19 cases.
3:40 pm: 16,546 samples were tested in the state yesterday. A total of 5,15,280 samples have been tested till date: Principal Health Secretary Amit Mohan Prasad.
3:25 pm: 630 new #COVID19 positive cases reported in the state, in last 24 hours. There are 5659 active cases, 9638 people have been discharged after making full recovery from the disease. A total of 488 people have succumbed to it: Principal Health Secretary Amit Mohan Prasad
3:00 pm: Assam reports 82 new #COVID19 positive cases taking the total number of cases to 4777. Number of active cases stand at 2111: State Health Minister Himanta Biswa Sarma
2:50 pm: Uttarakhand reports 57 new #COVID19 cases till 2:30 PM today, taking the total number of positive cases to 2079: State Control Room COVID-19
2:25 pm: 586 #COVID19 positive cases reported in Himachal Pradesh so far, including 6 deaths and 368 recovered: State health department
1:45 pm: We had started the fight against COVID with one laboratory in Feb. Today we have 953 laboratories across the country. Out of these 953, around 699 are govt labs. To ensure testing facilities in far-flung areas, such innovations have been developed: Union Health Minister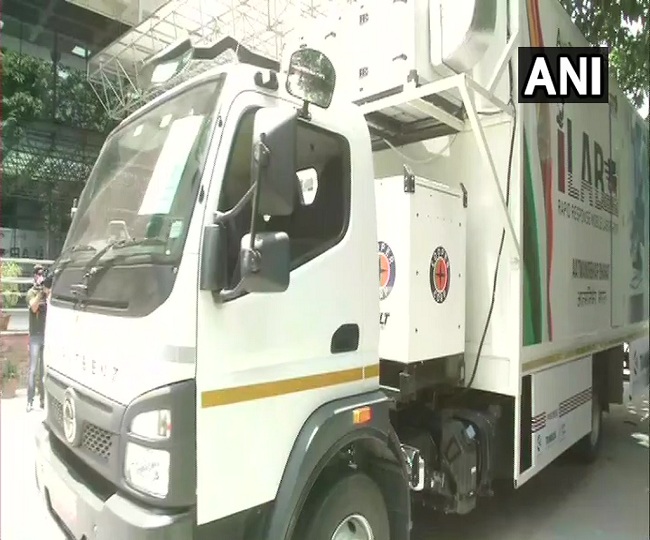 1:40 pm: Delhi: Union Health Minister Harsh Vardhan today launched India's first mobile lab for #COVID19 testing. It'll be deployed in interior, inaccessible parts of the country&have capability to perform 25 RT-PCR tests/day, 300 ELISA tests/day & addl tests for TB, HIV as per CGHS rates
1:30 pm: Supreme Court rejects a petition filed by a Madurai resident, seeking a direction to the Centre to drag China to International Court of Justice to seek damages to the tune of USD 600 billion for 'spreading COVID-19'
1:25 pm: Lord Jagannath will forgive us if we stay the Rath Yatra this year. Such gatherings can't take place at the time of the #COVID19 pandemic. In the interest of public health and safety of citizens, Rath Yatra can't be allowed this year: Supreme Court
1:10 pm: 299 fresh cases of #COVID19 & two deaths recorded in Andhra Pradesh in the last 24 hours, taking the total number of cases to 5854 & death toll to 92. Number of active cases stands at 2779: State Health Department
12:55 pm: Supreme Court stays the annual Rath Yatra at Puri's Jagannath Temple in Odisha on June 23
12:30 pm: The Board has decided to not allow the entry of devotees in temples from today till the end of June, due to a rise in COVID19 cases: #Kerala Devaswom Board
12:15 pm: Delhi government has decided to cap the rates for #COVID19 RT-PCR test at Rs 2400 inclusive of all charges: Delhi Deputy Chief Minister Manish Sisodia
11:40 am: We have set a target to gasify around 100 million tonnes of coal by 2030. I have been told that 4 projects have been identified for this and about 20 thousand crores will be invested in them: PM Narendra Modi
11:33 am: For decades, the country's coal sector was entangled in a web of captive&non-captive. It was excluded from competition, there was a big problem of transparency. After 2014, several steps were taken to change this situation. Coal sector got strengthened due to steps taken: PM
11:25 am: To make India self-reliant in the energy sector, a major step is being taken today: PM Narendra Modi
11:22 am: India will turn this COVID19 crisis into an opportunity. It has taught India to be self-reliant. India to reduce its dependence on imports: Prime Minister Narendra Modi addresses at the launch of auction of 41 coal mines for commercial mining
11:20 am: Everyone participating in this event from home and abroad are most welcome. Having such an event in this challenging time & all of you joining it, is a big message in itself: Prime Minister Narendra Modi
11:15 am: Prime Minister Narendra Modi addresses the launching of auction of 41 coal mines for commercial mining, via video conference.
11:10 am: Union Home Minister Amit Shah to hold a meeting today at 12 PM with senior administrative officers of Delhi-NCR, in view of COVID-19 management and situation in the national capital.
10:45 am: The total number of cases in the state stands at 4512, of which 3047 have recovered and 1451 cases are active: Odisha Government
10:30 am: Delhi: Several banquet halls in the national capital are being turned into quarantine facilities by the government in view of the rise in #COVID19 cases; visuals from Shehnai Banquet located in front of LNJP Hospital on Jawaharlal Nehru Marg.
10:00 am: Bengaluru: Students arrive at Mount Carmel College for Karnataka 2nd PUC Exam 2020 English paper. The Principal says, "we have sanitised the college premises. Hand sanitisers are available in corridors and classrooms. Social distancing to be maintained in classrooms".
9:20 am: India reports the highest single-day spike of 12881 new #COVID19 cases in last 24 hours; 334 deaths reported. Total number of positive cases now stands at 366946 including 160384 active cases, 194325 cured/discharged/migrated & 12237 deaths: Ministry of Health and Family Welfare
9:10 am: Mumbai: BJP leader Dr Kirit Somaiya has written to Municipal Commissioner Iqbal Singh Chahal seeking withdrawal of June 13 BMC circular stating that private laboratories should not give COVID19 positive reports directly to the patients.
9:00 am: Out of 317 samples tested, no COVID-19 positive case has been reported. Total number of positive cases in the state stands at 193, of which 90 are active, and 103 have recovered: S Pangnyu Phom, Minister for Health & Family Welfare, Govt. of Nagaland
8:50 am: Delhi Deputy CM Manish Sisodia has been given additional charge of the health ministry and other departments allocated to Delhi Minister Satyendar Jain. Jain tested for positive COVID19 yesterday.
8:20 am: We have organized a walk from Vidhana Soudha (to Cubbon Park) to create awareness about the importance of wearing a mask as a preventive measure against COVID19. We are celebrating 'Mask Day' at all district headquarters today: Karnataka CM BS Yediyurappa in Bengaluru
8:00 am: Uttarakhand: Tourism industry badly affected due to #Coronavirus outbreak. Manu Kochar, a hotelier in Dehradun, says, "Hotel industry is the worst hit. Over 2.5 lakh people have lost their employment in the state. We haven't got any permission yet for hotels to resume operations"
7:40 am: An Air India flight AI 1317 carrying 116 Indians from Auckland, New Zealand landed at Chandigarh International Airport yesterday
7:30 am: Mizoram reports 9 new #COVID19 positive cases; the total number of cases in the state stands at 130 including 129 active cases and 1 cured/discharged: Department of Information & Public Relations, Government of Mizoram
7:20 am: Karnataka: Sanitization work was undertaken yesterday at examination centres in Shivamogga ahead of II Pre-University (II PU) english exam to be held today
7:10 am: Maharashtra:Commuters at Chhatrapati Shivaji Terminus were seen standing at markings made on floor to ensure social distancing in view of COVID19.Western Railway&Central Railway have resumed their selected suburban services for employees engaged in essential services.
7:00 am: 8 people who have returned from foreign countries under Vande Bharat Mission have tested negative for COVID19 and are placed under institutional quarantine: Dr Amit Malakar, Indore Nodal Officer, Madhya Pradesh
Posted By: Talib Khan