Coronavirus News Latest Updates: Cases rise in Chandigarh, Mumbai as India's tally crosses 3.5 lakh-mark | Highlights
Coronavirus News: The coronavirus cases in the country crossed the 3.50 lakh-mark and reached 3,54,065, while the death toll due to the dreadful infection also rose to 11,903.
Updated: Wed, 17 Jun 2020 06:55 PM IST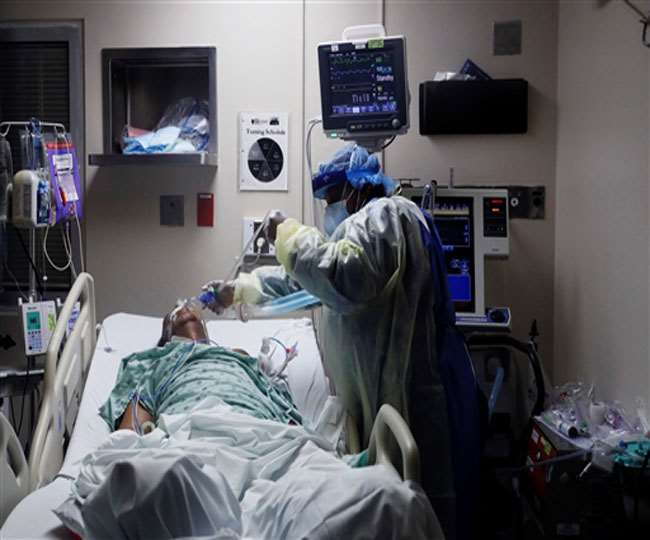 New Delhi | Jagran News Desk: The coronavirus cases in the country crossed the 3.50 lakh-mark and reached 3,54,065, while the death toll due to the dreadful infection also rose to 11,903, according to the Union Health Ministry data on Wednesday. The active number of coronavirus cases in India stands at 1,55,227 while the recovery rate has improved to 52.46 per cent as 1,86,934 people have been cured and discharged from hospitals.
In view of the rise in the cases and restrictions under the current phase of lockdown, Prime Minister Narendra Modi also started his two-day meeting yesterday with Chief Ministers, Lt Governors, and top bureaucrats of states and union territories. During the meet PM Modi said "by putting a united front against the novel coronavirus and working in tandem, the Centre and states have shown the finest example of 'cooperative federalism". Based on the feedback by the CMs, PM Modi will likely to announce the policies beyond June 30 when the Unlock 1.0 will end.
Here are the Highlights of Coronavirus news from across the country:
5:00 pm: Number of #COVID19 cases reaches 368 in Chandigarh; fatalities at 6: Chandigarh Administration
4:40 pm: It's a good initiative but there are some unresolved issues like coaches are very warm. We'll figure out how that can be controlled. If AC coaches can be made available that would facilitate more: Delhi Dy CM on 50 #COVID care isolation coaches installed by Centre in Shakur Basti
4:25 pm: Nepal reports 586 new cases of #COVID19 in the last 24 hours. Total cases rise to 7177: Health Ministry
4:15 pm: Govt Doon Medical College, Dehradun is hereby designated as a centre of excellence for clinical management of #COVID19. Dr Anurag Aggarwal, Professor and Head, Department of Respiratory Medicine of the hospital has been nominated as nodal officer for the same: Govt of Uttarakhand
3:55 pm: With increase in number of corona patients,expansion of health infrastructure should be our utmost priority.This will happen when each corona patient will get proper treatment, for this we'll have to emphasize on testing so that we can test,trace&isolate infected person: PM Modi
3:50 pm: Just 3 months back, there was shortage of PPE kits&diagnostic kits across the world. In India too, we had a very limited stock because we were completely dependent on imports. But today, more than 1 crore PPE kits & equal no. of N95 masks have reached the states: PM Narendra Modi
3:45 pm: Also, at present, ventilator and ICU care are needed for very few patients across the country. We have been able to fight #COVID19 and control its spread because of the timely measures taken by us: Prime Minister Narendra Modi
3:30 pm: The number of patients who have recovered from #COVID19 till now is more than the number of active cases in the country: Prime Minister Narendra Modi
3:15 pm: Delhi: PM Narendra Modi, Union Home Minister Amit Shah and the chief ministers of 15 states and union territories, who are present in the meeting via video-conferencing today, observe two-minute silence as a tribute to the soldiers who lost their lives in #GalwanValley clash.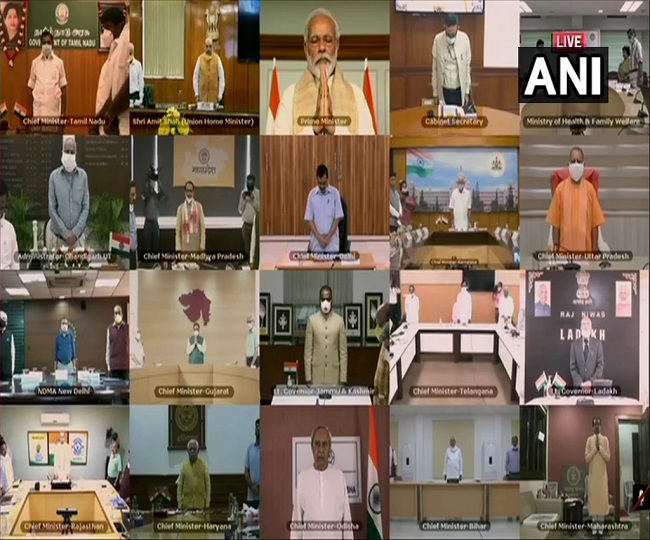 3:00 pm: Uttarakhand records 43 fresh cases of #COVID19, taking total number of cases to 1985 including 1230 recoveries and 25 deaths: State Health Department
2:45 pm: Delhi High Court dismisses a PIL seeking an order prohibiting the eviction of tenants on grounds of non-payment of rent till #COVID19 crisis subsides.
2:00 pm: Had a constructive meeting of Expert Panel with Delhi CM Arvind Kejriwal, Deputy CM Manish Sisodia, Chief Secretary, Additional Chief Secretary(Home), Principal Secretary (Health) & members of the Advisory Committee on #COVID19 management in Delhi: Lieutenant Governor Anil Baijal
1:45 pm: Delhi's Health Minister Satyendar Jain tested again for COVID19 today. His test result came negative yesterday. He was admitted to Rajiv Gandhi Super Speciality Hospital after he complained of high fever and difficulty in breathing yesterday.
1:30 pm: 275 new cases of #COVID19 reported in Andhra Pradesh today, taking total number of cases to 5,555 out of which 2,559 cases are active. Number of fatalities stands at 90: State Health Department
1:05 pm: Supreme Court's three-judge bench asks, "What has Delhi done? Please protect doctors, nurses. They are #Corona warriors. You (Delhi govt) do not want the truth to come out. Several videos have come out."
12:55 pm: "Don't shoot the messenger, don't threaten doctors and health workers, support them," Supreme Court tells Delhi Govt while hearing suo motu cognisance matter related to the 'proper treatment of #COVID19 patients and dignified handling of bodies in government hospitals'.
12:45 pm: "You can't suppress the truth. Why did you suspend a doctor who made a video of the pathetic conditions of one of your hospitals?" the Supreme Court said and asked Delhi government to an affidavit in the case; Further hearing fixed for Friday.
12:30 pm: Supreme Court starts hearing the Suo Motu Cognisance (SMC) matter related to the 'proper treatment of #COVID19 patients and dignified handling of bodies in government hospitals'.
12:20 pm: Himachal Pradesh reports 8 new COVID19 cases taking the state's total to 568, out of which 185 are active patients. Death toll at 6.
11:50 am: Supreme Court hears a petition filed by a doctor, Dr Arushi Jain, for separate facilities and timely salaries, among others, for COVID19 frontline health workers, including doctors and other related staff.
11:40 am: Solicitor General (SG) Tushar Mehta tells Supreme Court, that the Central govt had already issued a circular saying that the salaries must be paid to doctors&other health care staff, the Chief Secretaries of states must ensure this. Any violation of this, will attract punishment
11:30 am: Supreme Court asks the Union of India to look at the issue and pass necessary directions to states for payment of salaries and other required quarantine facilities to doctors and health care workers treating COVID19 patients.
11:15 pm: 1 death and 122 new COVID19 positive cases reported till 1030 am today, taking the total number of positive cases in the state to 13,338: Rajasthan Health Department
10:40 am: 175 more #COVID19 cases & 120 recoveries reported in Odisha on 16th June. Total number of cases in the state is now at 4338, including 2974 recovered and 1350 active cases: State Government
10:15 am: Defence Minister Rajnath Singh & Home Minister Amit Shah to also attend Prime Minister Narendra Modi's meeting with Chief Ministers of 15 states & UTs via video conferencing today
10:00 am: 2003 deaths and 10,974 new #COVID19 cases in the last 24 hours. The total number of positive cases in the country now stands 3,54,065 at including 1,55,227 active cases, 1,86,935 cured/discharged/migrated and 11903 deaths: Ministry of Health and Family Welfare
8:55 am: Beijing airports cancel 1,255 flights over coronavirus fears: AFP news agency
8:30 am: To define containment zones with large outbreaks of COVID19 cases and activities to be done in containment zones, District Technical Committees headed by Civil Surgeons have been constituted to demarcate exact boundaries of specific area in all districts: Punjab Government
7:30am: A total of 821 samples from Siaha, Lawngtlai, Kolasib, Hnahthial, Lunglei and Aizawl District were tested y'day. 633 samples tested negative for #COVID19, while test for remaining 188 will continue today. No new cases detected. Total cases stand at 121: Mizoram Government
7:20 am: People of Indore have followed guidelines of #COVID19 lockdown,so chain of transmission has broken. It's good thing&people should continue to practice social distancing&also take other precautionary measures: Mahendra Sharma, Chief Medical&Health Officer
7:10 am: J&K:Construction work at a tourist facilitation centre in Anantnag's Aishmuqam has resumed after lockdown relaxations. Project Supervisor says,"We're expecting that it will be completed by July.When tourists will arrive here,it will help in economic development of area"
7:00 am: Jodhpur railway division has prepared 150 isolation coaches for northwestern railway zone of which 50 are for Jodhpur. We have modified the coaches according to standard design: Gopal Sharma, Public Relations Officer, Jodhpur Railway Division
Posted By: Talib Khan