Coronavirus News Latest Updates | 'India not in community transmission, recoveries exceeding active cases': ICMR
Meanwhile, Delhi recorded 1,501 fresh coronavirus cases on Wednesday, taking the COVID-19 tally in the city to over 32,000, and the death toll due to the disease mounted to 984,
Updated: Thu, 11 Jun 2020 04:23 PM IST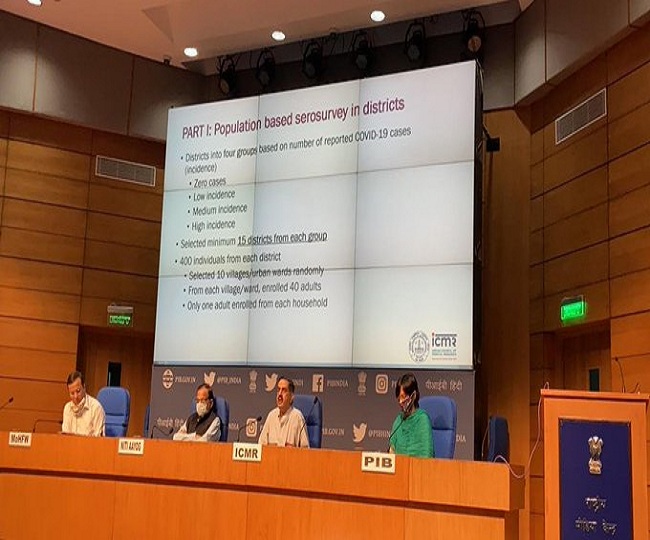 New Delhi | Jagran News Desk: The coronavirus pandemic has wreaked havoc across the country. The deadly virus has so far afflicted 2,86,579 people in India, while 8,102 people have succumbed to the deadly virus so far. In India, Maharashtra is the worst hit state with more than 90,000 case and over 3,200 deaths. Tamil Nadu is second worst hit state after Maharashtra. Yesterday the southern state recorded over 1900 new infections, highest spike in a day, and 19 deaths. Meanwhile, Delhi recorded 1,501 fresh coronavirus cases on Wednesday, taking the COVID-19 tally in the city to over 32,000, and the death toll due to the disease mounted to 984, authorities said.
Delhi Chief Minister Arvind Kejriwal also met Union Home Minister Amit Shah on Wednesday and discussed the situation in the national capital due to the coronavirus. Kejriwal after meeting Shah said that the Centre has assured him of full help amid the crisis.
Here are Latest Updates on Coronavirus from across the country:
4:28 pm: Assam reports 34 new #COVID19 positive cases today, taking the total number of positive cases to 3319: State Health Minister Himanta Biswa Sarma
4:20 pm: India is such a large country and prevalence is very low. India is not in community transmission: Prof (Dr.) Balram Bhargava, DG, ICMR, Delhi on COVID19
4:15 pm: We found that about 0.73% of the population in these 15 districts showed a prevalence of past exposure to infection. It means that lockdown measures were successful in keeping it low and preventing rapid spread: Prof (Dr.) Balram Bhargava, DG, ICMR, Delhi on serosurvey
4:10 pm: The States cannot lower their guard and need to keep on implementing effective surveillance and containment strategies preventing the spread of COVID19 : ICMR
4:02 pm: From March till 10th June, in all 3 Municipal Corporations of Delhi, there have been around 2098 #COVID19 death cases for which funerals have been held: Jai Prakash, Chairperson, Standing Committee, North Delhi Municipal Corporation
4:00 pm: Today, our recovery rate is 49.21%. The number of patients recovered presently exceeds the number of active patients: Lav Agrawal, Joint Secretary, Health Ministry on COVID19 situation in the country
3:30 pm: Jammu and Kashmir: Athletes begin practicing outdoors as playgrounds open up in Srinagar following government guidelines.
3:00 pm: The total number of COVID19 positive cases in Chandigarh is now 332 with 4 new cases reported today: Chandigarh Health Department
2:45 pm: Public Interest Litigation (PIL) filed in Delhi High Court seeking imposition of strict lockdown in Delhi. According to Delhi govt, the national capital might see 5.5 lakh #COVID19 cases by July end.
2:30 pm: 75 new COVID19 positive cases reported till 2pm today, taking the total number of positive cases in the state to 1637: Uttarakhand Health Department
2:20 pm: Karnataka government extends ban on online classes till 7th standard. Earlier, it was decided to not allow online classes till 5th standard.
2:10 pm: Telangana Junior Doctors Association says they will continue strike at Hyderabad's Gandhi Hospital which started after an alleged attack on a doctor by a relative of a #COVID19 patient.
2:00 pm: We don't hide the number of deaths, we won't gain anything if we do that: Tamil Nadu Chief Minister Edappadi K Palaniswami.
1:50 pm: There is no community spread in Tamil Nadu till now. Coronavirus has been curtailed in many districts of the state. Since Chennai is densely populated the spread of the virus is more there: Tamil Nadu Chief Minister Edappadi K Palaniswami. #COVID19
1:40 pm: Andhra Pradesh: Darshan for common devotees resumed at Tirumala Tirupati Balaji Temple today. The trial run was held from June 8-10. Measures such as social distancing and wearing masks, among other measures, is being observed at the temple amid #COVID19 pandemic.
1:30 pm: Delhi: First Thursday prayers held at Lodhi Road's Sai Baba Temple after reopening of religious places; management says they are allowing only 10 people at a time and premises is being sanitised at regular intervals. Thursday is considered auspicious for the worship of Sai Baba.
1:15 pm: Telangana: A #COVID19 survivor, Punna Reddy has developed an artificial intelligence based screening system that detects people who have high temperature or those not wearing masks. The system has been installed at Secunderabad and Hyderabad Railway stations.
1:00 pm: Imphal's total number of #COVID19 cases reaches 342 with 31 new cases. Number of active patients stands at 279.
12:50 pm: When COVID crisis started we had 2 units making Hydroxychloroquine, now we have 12 & production is more than requirement. Hence, GoI lifted export restrictions on it, manufacturers have to sell 20% in domestic market, rest can be exported: M.Mandaviya, MoS Chemicals & Fertilizers
12:40 pm: The total number of #COVID19 positive cases in Himachal Pradesh is 458 now including 182 active cases, 259 recovered and 6 deaths: State Health Department
12:30 pm: Andhra Pradesh reports 135 new #COVID19 positive cases; the total number of cases in the state increases to 4261 including 1641 active cases, 2540 discharged/cured and 80 deaths: State Health Department
12:20 pm: Named 'GermiKlean', the machine is deployed at Parliament Street Police Station. It is designed to sanitise 25 pairs of uniforms within 15 minutes: DRDO officials
12:10 pm: Defence Research and Development Organisation (DRDO) develops chamber for sanitizing uniforms of security forces after Delhi Police gave their requirement for sanitizing their uniforms, canes, cane shields, helmets etc: DRDO officials
12:00 pm: Bihar reports 109 more COVID19 positive cases, taking the total number of cases in the state to 5807: State Health Department
11:45 am: 42 laboratories are functional in Delhi. 7 of them were stopped for 2-3 days as they were delaying test results. All labs have to give test results within 24 hours: Delhi Health Minister Satyendar Jain
11:20 am: Delhi: A Chief Medical Officer of CRPF has tested positive for #COVID19. The CMO has been shifted to a private hospital in Okhla. Total positive cases in CRPF now stands at 544, out of which 353 have recovered and 4 died.
11:00 am: 51 COVID19 positive cases & 5 deaths in Rajasthan till 10:30 AM today; 27 people recovered from the disease & 26 discharged during this period. Total number of positive cases in the state rises to 11651, including 264 deaths, 8596 recovered & 8221 discharged: State health dept
10:45 am: Kerala: Restaurants have reopened in Kottayam but customer turnout continues to be low, amid #COVID19 pandemic. A restauranteur says, "We are facing trouble at this time. Very few customers are coming here after shops reopened. We are not earning much, our material gets wasted."
10:20 am: Punjab: Farmers in Ludhiana are facing shortage of labourers as they begin paddy cultivation. Jugraj Singh,a farmer says,"Migrant labourers have gone to their home towns&labourers who are available are demanding high charges.We cannot afford machines as they cost Rs 10-12 lakhs"
10:00 am: Out of the 1928 samples tested yesterday for #COVID19, results of 81 are positive: King George's Medical University (KGMU), Lucknow
9:45 am: 52,13,140 samples tested till 11th June, 9 AM. 1,51,808 samples tested in last 24 hours: Indian Council of Medical Research (ICMR)
9:30 am: India reports the highest single-day spike of 9996 new #COVID19 cases & 357 deaths in the last 24 hours. Total number of cases in the country now at 286579, including 137448 active cases, 141029 cured/discharged/migrated and 8102 deaths: Ministry of Health and Family Welfare
9:00 am: Moradabad:Non-vegetarian restaurant owners say that they are facing difficulty in resuming their business amid the Coronavirus Pandemic. Rehan,a restaurant owner says, "Our business is down by 90%.There is also a shortage of staff as labourers have gone to their native places".
7:45 am: Jaipur: Jewellery shops at Johri Bazar reopened following relaxations in lockdown norms. A shopkeeper says,"We don't have customers, as people are scared to come out. It has become difficult for us to pay salary of our employees & pay rent of the shop."
7:35 am: Maharashtra: Body of an 82-year-old woman COVID19 patient who had gone missing from Jalgaon Civil Hospital on June 2 was found dead inside a toilet of the hospital yesterday.Police says,"we got a missing complaint from hospital on June 6.We are investigating the matter further"
7:30 am: Restaurants have resumed services in Ghaziabad following relaxations in lockdown norms. Sunil Kumar Tiwari, a restaurant manager says, "we are taking all precautionary measures. The seating arrangement has been made in such a manner that social distancing is maintained."
7:20 am: West Bengal: Malls reopened for public in Kolkata following relaxations in lockdown.Subrata Roy,a salon owner says,"we're under tremendous financial pressure.Our expenses have increased as we've to buy PPE kits,thermal guns&sanitizers now,but there is no cash flow in market
7:10 am: With the increase in number of deaths due to COVID19 in Delhi, the crematorium ground in Punjabi Bagh has been reserved to cremate bodies of COVID19 victims: Bhupender Gupta, Standing Committee Chairman South Delhi Municipal Corporation
7:00 am: All resident doctors of the hospital haven't received their salaries for last 3 months (March,April&May). As this is not the right time to go on a strike,so we've decided to tender mass resignations:Dr Sunil Kumar,President,Resident Doctors' Association of Kasturba Hospital,Delhi
Posted By: Talib Khan