Coronavirus Pandemic Latest Updates: India's tally rises to 5274, death toll at 149
At least 124 have died and 4,789 people have been affected by the novel coronavirus.
Updated: Wed, 08 Apr 2020 06:32 PM IST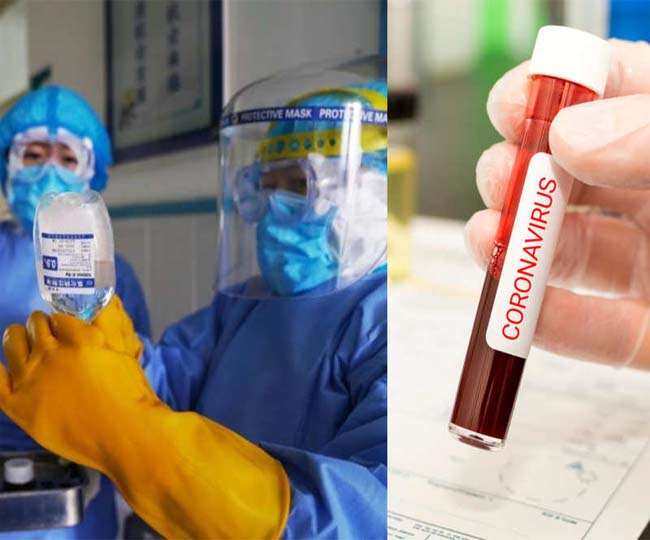 New Delhi | Jagran News Desk: At least 149 have died and 5274 people have been affected by the novel coronavirus in India, as per the latest data available at the Ministry of Home and Family Welfare and 411 have been cured and discharged from hospitals. Of the total number of cases, 4,714 are active cases of COVID-19. The death toll also included the death of a 14-year-old in the Jamnagar district of Gujarat. Meanwhile, at least 200 suspected of infected from coronavirus were quarantined in Uttar Pradesh's Noida
On Tuesday, the Health Ministry said that one COVID-19 patient can cause infection to 406 people in 30 days if he or she doesn't follow self-isolation or undergo quarantine. It also put a rest to all the speculation regarding the extension of the ongoing lockdown saying no such decision has been taken so far and the media will be informed as and when any such decision is taken.
Here are the Latest Updates of Coronavirus Pandemic on April 8
6:34 pm: Total number of #COVID19 positive cases rise to 5274 in India (including 4714 active cases, 411 cured/discharged/migrated people and 149 deaths): Ministry of Health and Family Welfare
5:40 pm: Maharashtra Govt issues order to wear masks compulsorily while entering in any of the Government offices in Mumbai Metropolitan Region and Pune Metropolitan Region.
5:32pm: 14 new #COVID19 positive cases have been reported in Jammu and Kashmir today. Total active cases stand at 130: Govt of Jammu and Kashmir.
5:30 pm: CM Arvind Kejriwal calls high-level meeting with ministers, top officers of Delhi govt to discuss measures to check COVID-19 spread: Official
5:09 pm: Maybe someone is doing out of goodwill, yet I insist that if you really have so much love and want to honour Modi, then take the responsibility of a poor family, at least as long as the #coronavirus crisis exists. There can be no greater honour for me than this: PM Modi
5:08 pm: It has been brought to my attention that some people are running a campaign that to to honour Modi stand for 5 minutes. At first glance, it seems like a mischief to drag Modi into controversies: Prime Minister Narendra Modi (1/2)
4:29 pm: In 31 states/UTs, cash benefits of Rs.1000 to Rs.6000 have been announced for registered construction workers under Building & Other Construction Workers' Welfare Cess Fund. Rs. 3000 crores have been given to 2 crore registered construction workers till now: Jt Secy, Home Ministry.
4:21 pm: It is ensured that not only today even in future there will not be any lack of HCQ (Hydroxychloroquine) as and when needed: Lav Aggarwal, Joint Secretary, Health Ministry
4:18 pm: Total 1,21,271 tests for COVID-19 have been done so far: ICMR official
4:14 pm: As number of COVID-19 cases rising in country, our response and preparedness intensifying accordingly: Health ministry official
4:08 pm: Till date total 402 people have been discharged, total 5194 positive confirmed case have been reported. In last one day 773 positive cases were reported. Total 149 deaths have been reported and around 32 people have died yesterday: Lav Aggarwal,Joint Secy,Health Ministry #COVID19
4:00 pm: Health Ministry briefs media over COVID-19.
3:55 pm: 15 more #COVID19 positive cases have been reported in the state, total cases till now are 363: Rajasthan Health Department.
3:48 pm: PM said entire world is currently facing grave challenge of COVID-19, adding that present situation is epoch changing event in mankind's history&we must evolve to counter impact. He praised efforts of states working together with the Centre in fight against the pandemic: PM Office
3:44 pm: Situation in country is akin to a 'social emergency'; it has necessitated tough decisions and we must continue to remain vigilant. States, District administrations and Experts have suggested extension of Lockdown to contain spread of the virus: PM during interaction with MPs
3:35 pm: Districts which have 6 or more cases are Agra, Lucknow, Ghaziabad, Gautam Budh Nagar, Kanpur Nagar, Varanasi, Shamli, Meerut, Bareilly, Bulandshahr, Basti, Saharanpur, Maharajganj & Sitapur. Lockdown will be observed in the hotspots in these dists: Addl Chief Secretary
3:31 pm: UP: 15 districts have high viral load of #COVID19. So affected areas will be sealed. Only home delivery & medical teams will be allowed there. It's being done to prevent community spread, as numbers are high: RK Tiwari, Chief Secretary
3:08 pm: 15 new #COVID19 cases in Andhra Pradesh, total rises to 329: Health Department officials. #coronavirus
3:06 pm: #COVID19 deaths in Indore rise to 16 after 49-year-old man dies: Officials. #coronavirus
3:05 pm: 6 more people, including journalist working with news channel, test positive for #COVID19 in Bhopal; cases rise to 91 in city: Officials. #coronavirus
3 pm: In last 24 hours,5 deaths have been reported. With this, death toll due to #COVID19 reaches 13. Day before yesterday, relatives of two deceased refused to accept their bodies so PMC workers performed their last rites: Shekhar Gaikwad, Commissioner, Pune Municipal Commission
2:54 pm: All India Institute Of Medical Sciences(AIIMS) New Delhi Registrar says there is no option to make contributions to #PMCARES fund voluntary/opt-in as proposed by Resident Doctor's Association.
2:45 pm: 15 districts - including Noida, Ghaziabad, Meerut, Lucknow, Agra, Shamli, Saharanpur - which have viral load of #COVID19, to be sealed. Only home delivery & medical teams will be allowed there. It's being done to prevent community spread,as numbers are high: RK Tiwari, Chief Secy
2:25 pm: Congress Interim President Sonia Gandhi will interact with Presidents of all Pradesh Congress Committees (PCCs), through video conferencing, on April 11th to discuss relief work related to #COVID19 crisis.
2:12 pm: I want to appeal to all retired Army personnel who have experience of medical field, nurses, ward boys, & those who have completed the training but didn't work for some reason - you must come forward to join us. Maharashtra needs you: Maharashtra CM Uddhav Thackeray
2:05 pm: Uttarakhand Cabinet approves 30 per cent cut in salaries of ministers & MLAs till further orders & a cut of Rs 1 crore from each MLAs' Local Area Development Fund for two years in view of #CoronavirusPandemic: Madan Kaushik, State Minister & govt spokesperson.
2:01 pm: People should use masks while stepping out of their homes: Uddhav Thackeray
2 pm: I understand that people are facing different types of issues while staying at home. People are getting bored. I am sorry about that but there is no option other than staying at home to beat #COVID19: Maharashtra Chief Minister Uddhav Thackeray
1:55 pm: In an extra precautionary measure, Ganjam District Administration to conduct door-to-door health screening of people from tomorrow, around 7 lakh families will be screened: Vijay Amruta Kulange, Collector & District Magistrate Ganjam, to ANI #Coronavirus
1:53 pm: I am getting news from all over the world through news channels, that things in Wuhan (China) have returned to normalcy and the restrictions are being removed. It's good news. This means things can be better with time: Maharashtra CM Udhhav Thackeray
1:50 pm: Essential Services Management Act has been implemented with immediate effect to better manage #CoronavirusPandemic in Madhya Pradesh: Chief Minister Shivraj Singh Chouhan
1:40 pm: Sale of milk has slumped by 35 per cent as its procurement, processing & distribution channels have been hit due to #CoronavirusLockdown in Pune. We are trying to enhance our capacity to deliver milk door-to-door: VH Kshirsagar, Managing Director of Katraj Dairy
1:10 pm: Telangana: Sudha Cars Museum unveils Coronavirus-themed car to spread awareness about #COVID19 among the people in Hyderabad.
1:05 pm: Bhima Koregaon case: Solicitor General Tushar Mehta opposed the plea and said this was only a mechanism to buy time. Supreme Court has reserved its order on their plea.
12:55 pm: Till date 141 confirmed cases of #COVID19 have been reported in the state (including 10 foreign nationals and 51 from other states); 17 people have been discharged so far, 2 deaths have been reported in the state: Health Department, Govt of Haryana
12:50 pm: Chandigarh: Golfer Aadil Bedi, who won his maiden title at Bengal Open Golf Championship, practices the game at his home amid lockdown. "I practice in my garden & drawing room where I use Trackman, KVest, sensor-level plates to analyse elevation, direction&speed of swings," he says.
12:40 pm: MP: FIR registered against Congress MLA Siddharth Kushwaha at Kolgawan Police station in Satna for violation of rules under Section 144 of CrPC. The MLA had staged a sit-in protest in Nai Basti area along with other people. FIR registered under sections of the Disaster Mgmt Act.
12:30 pm: Six new cases reported from 5pm yesterday till 12 noon today. Total cases in the state are 181 including 5 deaths and 28 cured cases: Health Department, Government of Karnataka. #COVID19
12:20 pm: Delhi Chief Minister Arvind Kejriwal is holding a meeting via video-conferencing, with all the MPs (both Rajya Sabha and Lok Sabha) of Delhi, over #Coronavirus.
12:17 pm: Eight fresh cases of #COVID19 have emerged in Bhopal today, taking total cases to 91 in the capital of Madhya Pradesh. While one person has died due to the disease, two others have been cured/discharged: Bhopal Chief Medical & Health Officer Dr Sudhir Kumar Dehariya
12:15 pm: Agriculture Minister Narendra Tomar held video conference with officers to review steps for facilitating farming activities during lockdown.He called for strict compliance of exemptions given to agriculture& allied sectors&directed setting up of control rooms: Agriculture Ministry
12:12 pm: A bench comprising Justices A K Jayasankaran Nambiar and Shaji P Chaly passed the interim order in a petition filed by Advocate Mohammad Shah, member of Bar Council of Kerala and Advocate P Abu Siddik. The case will be next taken on April 15.
12:10 pm: Jammu & Kashmir: Border Security Force distributes ration & other essential items among daily wage labourers in Pampore, Pulwama. "We have identified 100 families of labourers who will be provided with ration till the lockdown continues," says Rajesh Mishra, BSF IG, Kashmir.
12:05 pm: On a credible input, operation was launched at Arampora by Police and Security Forces last night. Exchange of fire started sometime back. Two to Four terrorists reported to be present. Operation in progress: J&K Police
11:55 am: Eight members of a family have tested positive in Khargone, Madhya Pradesh as they came in contact with an infected member who attended Tablighi Jamaat event in Delhi last month. The attendee & his mother have died due to the disease: District Magistrate GC Dad
11:49 am: 51 new #Coronavirus positive cases have been reported in Delhi today (including 35 with history of travel to a foreign country, 4 from Markaz and 2 deaths). The total number of positive cases in the union territory now stands at 576.
11:37 am: Aligarh chief Mufti asks Muslims not to visit graveyards and mosques on Shab-e-Barat in view of country-wide lockdown to contain spread of #coronavirus
11:30 am: Number of #COVID19 cases has reached 1078 in Maharashtra as 60 more people tested positive today. 44 fresh cases have been found under Brihanmumbai Municipal Corporation area, 9 under Pune Municipal Corporation area, 4 in Nagpur, & 1 each in Ahmednagar, Akola & Buldhana
11:20 am: My government is ready to write to the Prime Minister to extend the lockdown. People isolating themselves is the only cure to stop the spread of #Coronavirus infection: Puducherry CM V Narayanasami
11:14 am: A 49-year-old #COVID19 patient dies at Sri Aurobindo Institute of Medical Sciences in Indore, Madhya Pradesh, taking total deaths due the disease to 16 in the district.
11 am: There are a total of 576 positive cases in Delhi so far, 35 of them are in ICU and 8 on ventilator: Delhi Health Minister Satyendar Jain
10:46 am: Four new COVID-19 cases in Gujarat; state tally reaches 179: Health official
10:45 am: Odisha: Bhubaneswar Municipal Corporation has declared Satya Nagar area in Bhubaneswar as a Containment Zone, after a #COVID19 positive case was found here.
10:40 am: Karnataka: Devotees maintain social distancing while offering prayers to Lord Hanuman at a temple in Maratha Galli area of Hubli on the occasion of Hanuman Jayanti.
10:37 am: 15 new #Coronavirus positive cases reported in the state from 6 PM yesterday till 9 AM today - 6 each in Nellore and Krishna & 3 in Chittoor. Total number of positive cases in the state is 329 (including 6 discharged persons & 4 deaths): Andhra Pradesh nodal officer Arja Srikanth
10:30 am: COVID-19: Yogi govt announces Rs 50 lakh insurance cover for UP police personnel
10:15 am: Maharashtra: Number of #COVID19 cases rises to 9 in Mumbai's Dharavi, with two more men testing positive at Mukund slum & Dhanwada Chawl. According to Union Health Ministry, total cases have surged to 1018 in the state while 64 people have succumbed to the disease.
10:05 am: Chief Minister Arvind Kejriwal to hold meeting with all Delhi MPs on #coronavirus via video conference
10 am: India's total number of #Coronavirus positive cases rise to 5194 (including 4643 active cases, 401 cured/discharged people and 149 deaths): Ministry of Health and Family Welfare Increase of 773 new #COVID19 cases and 10 new deaths recorded in last 24 hours.
9:42 am: #COVID19 cases rise to 348 in Rajasthan, with five more people testing positive in Bikaner, Banswara & Jaipur. The fresh cases are contacts are COVID-19 patients: Rajasthan Health Department
9:41 am: Two more people die of #coronavirus in Maharashtra's Pune; toll in district climbs to 10: Officials
9:39 am: One more person dies of #COVID19 at Sassoon General Hospital in Pune. He was suffering from comorbidity. The total number of deaths due to the disease stands at 10 in the city: Dr Deepak Mhaisekar, Divisional Commissioner, Pune region
9:23 am: PM Narendra Modi condoles demise of veteran Indian-American journalist Brahm Kanchibotla who died of #coronavirus in New York.
9:11 am: Dharmaraya Swamy Temple has agreed to cancel the celebration of Karaga festival after High Court directed not to assemble for any religious activity, and also to follow lockdown this year Karaga festival will not be celebrated: Dharmaraya temple trust (07.04.2020) #Coronavirus
9:03 am: A 44-year-old man dies of #COVID19 in Pune, Maharashtra. He was suffering from diabetes. With this, death toll due to the disease reaches 9 in the city: Health Officials in Pune
8:59 am: People are requested not to step out of their houses and instead pray for their family's safety. Everyone should desist from any behaviour that compromises with the safety guidelines for battling #COVID19: Delhi Lt Governor Anil Baijal's appeal regarding Shab-E-Barat
8:57 am: Bihar: 6 children have been admitted at Shrikrishna Medical College & Hospital, Muzaffarpur this year so far due to Acute Encephalitis Syndrome (AES). Out of these 6, 3 are still under treatment, 2 have been discharged & 1 died.
8:55 am: 8 foreigners linked to Tablighi Jamaat have been booked for violating the Foreigners Act & the tourist visa norms in Nagpur, Maharashtra. They were staying at a mosque in the city & have been quarantined: Jayesh Bhandarkar, Senior Police Inspector, Tehsil Police Station in Nagpur
8:36 am: #COVID19 cases surge to 38 in Bihar, with four more people testing positive yesterday in Siwan and Begusarai (two in each district). Their travel history is being ascertained: Principle Secretary, Bihar Health Department
8:36 am: The complaint by civil defence personnel of Delhi Urban Shelter Improvement Board (DUSIB), on the basis of which the FIR has been registered, states that some people had thrown bottles filled with urine in the premises of the quarantine facility.
8:35 am: An FIR has been registered against unidentified persons in connection with the recovery of two bottles filled with urine at the premises of a quarantine facility under Dwarka North Police Station area, under Section 269 & 270 of the IPC: Delhi Police
8:09 am: In view of increase in suspected cases in state, Chief Executive Officer submitted proposal to include 15 new procedures under Dr YSR Aarogyasri Scheme to treat #COVID19 suspected&confirmed positive stable/unstable cases as recommended by Govt pulmonologists: Andhra Pradesh govt
8:05 am: Arunachal Pradesh as on 8th April 7 am - total samples collected: 179, negative results: 159, positive result: 1, results awaited: 19: Arunachal Pradesh CM Pema Khandu
7:59 am: Karnataka CM BS Yediyurappa has given clarification on celebration of Karaga festival in Bengaluru; only 4-5 people will be allowed to be present during celebration of the festival at the city's Sri Dharmarayana Swamy Temple. The celebrations are scheduled to begin this evening.
7:30 am: Gujarat: Police are spreading awareness about #Coronavirus among the people in Surat, by displaying posters
7:20 am: Sufficient number of teams for conducting door-to-door screening/thermal scanning of each and every person of the entire households falling in the containment zones shall be deployed by the Civil Surgeon: Faridabad district administration, Haryana #COVID19
7:09 am: 22 more persons have tested positive for Coronavirus in Madhya Pradesh's Indore, taking the total number of cases in the district to 173. 15 people have died due to Coronavirus, so far in the district: Mahatma Gandhi Memorial Medical College, Indore
7:05 am: United States reports nearly 2,000 Coronavirus deaths in last 24 hours: AFP news agency quoting Johns Hopkins
7 am: India has so far reported 124 fatalities due to COVID-19 and 4,789 confirmed cases.
Posted By: James Kuanal