Coronavirus Pandemic: Males account for 73 pc total COVID-19 deaths, female 27 pc, says Health Ministry | Highlights
Updated: Mon, 06 Apr 2020 06:52 PM IST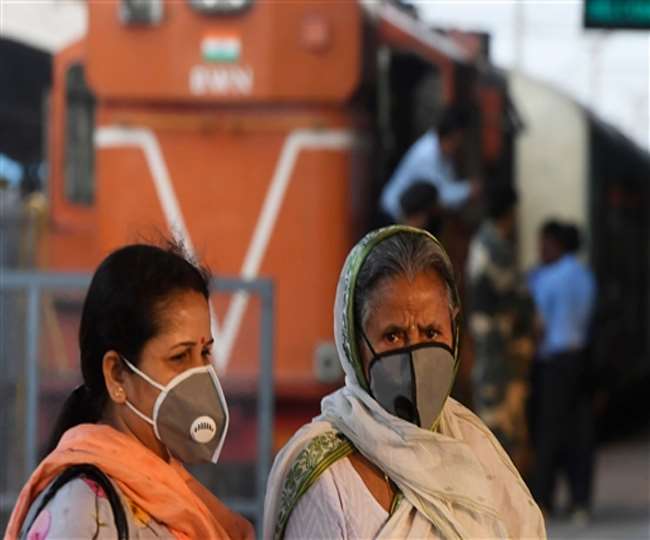 New Delhi | Jagran News Desk: At least 109 have died and 4,067 people have been affected by the novel coronavirus in India, as per the data available at the Ministry of Home and Family Welfare and 275 have been cured and discharged from hospitals. Amid the surging number of COVID-19 cases, the government has directed all district heads to ensure seamless functioning of pharma units making devices and medicines.
The government has further clarified that there is no evidence that coronavirus was an airborne infection and said the rate of doubling of COVID-19 cases in India is 4.1 days currently, but if the cases linked to the Tablighi Jamaat congregation would not have happened, it would have been 7.4 days.
Here are the LIVE updates on the coronavirus pandemic:
16:23 pm: During coronavirus lockdown, 16.94 lakh metric tonnes of food grains have been transported across India till now. In 13 states, 1.3 lakh metric tonnes of wheat and in 8 states, 1.32 lakh metric tonnes of rice have been allotted: Lav Agarwal, Health Ministry
16:21 pm: We have quarantined over 25,000 Tablighi Jamaat workers and their contacts; 5 Haryana villages where they visited have been sealed: Punya Salila Srivastava, Joint Secretary, Ministry of Home Affairs (MHA)
16:18 pm: Number of COVID19 deaths stand at 109, with 30 people succumbing to it yesterday. 63 per cent of the deaths have been reported among people over 60 years age, 30 per cent in age bracket of 40 to 60 years & 7 per cent victims were below 40 years age: Lav Aggrawal, Health Ministry
16:15 pm: Rs 1100 crores have already been released from National Health Mission Funds for the states. Also an additional amount of Rs 3000 crores has been released today: Lav Aggarwal, Joint Secy, Health Ministry.
16:12 pm: In the last 13 days, Indian Railways transported sugar through 1340 wagons, salt through 958 wagons and edible oil through 316 wagons/tanks, to different parts of the country, amid #CoronavirusLockdown: Lav Aggarwal, Joint Secy, Health Ministry
16:11 pm: 693 new COVID-19 cases have been reported in the last 24 hours, taking the total number to 4067 in India out of which 1445 cases are related to Jablighi Jamaat. 76 per cent cases have been reported in males & 24 per cent in females: Lav Aggarwal, Joint Secretary, Health Ministry
16:09 pm: Health Ministry briefs media on COVID19 outbreak
15:29 pm:
West Bengal: Residents of Kumarpur area in Asansol felicitated sanitation workers in their locality today, for their services amid #CoronavirusPandemic. pic.twitter.com/kiQZA2Hhee

— ANI (@ANI) April 6, 2020
15:28 pm: Delhi Government has decided that Lok Nayak Hospital (that includes GB Pant Hospital) with a capacity of 2000 beds and Rajiv Gandhi Super Speciality Hospital that can accommodate 450 beds will now be dedicated for coronavirus cases only.
15:10 pm: Coronavirus Pandemic | 'Money isn't problem': Kejriwal requests Gambhir to help Delhi govt get PPE kits
14:40 pm: "2nd notice issued to Maulana Saad (of Tablighi Jamaat) under Sec 91 CrPC. He, through his lawyer, has submitted some documents&info to Delhi Police which were sought in 1st notice. Most documents are in Urdu. Police has sought just info&not asked him to come," ANI quoted Delhi Police sources as saying.
14:15 pm: Haryana man, a COVID-19 suspect, attempts escape using bedsheets in Karnal hospital; falls and dies
13:54 pm: PM Modi had telephonic conversation today with Scott Morrison, PM of the Commonwealth of Australia. They discussed COVID-19 and domestic response strategies being adopted by their respective Govts. They agreed on importance of bilateral experience-sharing in context of this crisis, reports ANI.
12:51 pm: 769 foreign tourists from all over the country register on 'Stranded in India' portal in first five days. Assistance in various forms being rendered to those requesting for help through the portal: Ministry of Tourism
12:37 pm: A 65-year-old man, who tested COVID-19 positive in preliminary test, died today morning in Amritsar. He was admitted to a hospital on March 29 and had tested negative. COVID-19 infection has not been conclusively confirmed behind his death: Punjab Special Chief Secretary KBS Sidhu
12:35 pm: On March 28, US Govt, via US Agency for International Development,announced USD 2.9 mn to support India in its response to COVID-19. It builds on a foundation of over USD 1.4 bn in health assistance and nearly USD 3 bn in total assistance, that US provided to India over last 20 years: US Embassy in India
These new funds will support 2 organisation: USD 2.4 million for USAID's health strengthening project, implemented by Jhpiego, an international non-profit health organisation affiliated with Johns Hopkins University, and USD 500,000 for the World Health Organization (WHO): US Embassy in India
12:35 pm: Himachal Pradesh Police: FIR registered against four people linked to Tablighi Jamaat under Sections 188, 269 & 270 of IPC & Section 51 of Disaster Management Act, in Nerwa area of Shimla. Three of them attended Markaj at Delhi's Nizammudin on March 9 & one attended on March 18.
12:35 pm: A resident of Almora who had recently attended a Jamaat has tested positive for COVID-19. Total number of positive corona virus cases in Uttarakhand stands at 27: Yugal Kishor Pant, Additional Secretary (Health)
12:09 pm: We experienced yesterday at 9 pm, the strength of togetherness of 130 crores people of our country. People from every section of society and age group demonstrated this unity and strengthened the resolve in fight against COVID-19: Prime Minister Narendra Modi
12:09 pm: I state it with full responsibility that this is a long war against coronavirus pandemic. But we do not have to get tired or take a rest in this war. We have to emerge victorious. Today, the country has only one goal and one resolve - to win this war: PM Narendra Modi
12:02 pm: The maturity shown by the people during lockdown, in a large country like India, is unprecedented. No one could have imagined that the people will abide by this with such obedience and sense of service: PM Narendra Modi
12:01 pm: India's efforts have set an example before the world in tackling coronavirus pandemic. India is one of the countries which understood seriousness of this disease and waged a timely war against it. India took several decisions and tried its best to implement them on ground: PM Narendra Modi
11:58 am: India has worked rapidly with a holistic approach that is being appreciated by not only Indians but also WHO. All countries should come together and fight this, so India had active participation in the meeting of the SAARC countries and the G20 meeting: PM Narendra Modi
11:58 am: This foundation day of BJP has come at a time when not only the country but also the world is going through a difficult time. Humanity is facing a crisis, our devotion to service of the country creates our path during this challenging time: Prime Minister Narendra Modi
11:35 am: We have not been able to trace the contact of 70 people, out of the total number of positive cases found in Delhi. Many of them were found to be positive only yesterday, so we will find it out by this evening: Delhi Health Minister Satyendar Jain
11:33 am: 14 more COVID-19 positive cases reported in Andhra Pradesh - 5 in Visakhapatnam, 3 in Anantapuram, 3 in Kurnool, 2 in Guntur, & 1 in West Godavari. Total number of positive coronavirus cases in the state stands at 266: Arja Srikanth, State Nodal Officer
11:32 am: A 60-year-old man was found positive in Kota and admitted to hospital yesterday with the symptoms of pneumonia, fever and cough. He died at 11 PM last night. No contact and travel history given by patient. Some Jamaatis lived in his area but they had tested negative: Rajasthan Health Department
10:54 am: Maharashtra: Wockhardt Hospital in Mumbai has been declared a containment zone after some staff at the hospital tested positive for COVID-19
10:54 am: BJP MP Gautam Gambhir has allocated Rs 50 Lakhs from MPLAD fund to Delhi government. Earlier too he had allocated Rs 50 Lakh to the Delhi govt.
10:53 am: Madhya Pradesh: Streets wear a deserted look in Bhopal amid coronavirus lockdown. Bhopal District Magistrate had yesterday ordered that making the guidelines even more stringent, all shops, except dairies and medical stores, in Bhopal will remain closed till further orders.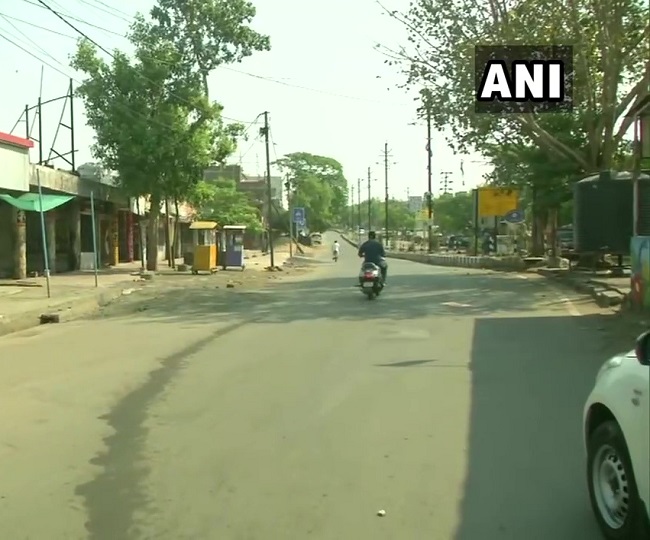 10:52 am: Police have been provided phone numbers of all those who are under home quarantine. At least 176 FIRs were lodged solely on the basis of phone tracking and surprise physical visits: Delhi Police
10:06 am: Coronavirus Pandemic: India's toll touches 109 with 32 deaths in last 24 hours, highest in a day; confirmed cases reach 4,067
9:51 am: 8 more people test positive for coronavirus in Rajasthan - 5 in Jhunjhunu, 2 in Dungarpur & 1 in Kota. The 5 people in Jhunjhunu and 1 in Dungarpur had attended Tablighi Jamaat event in Delhi. The total number of positive cases in the state increased to 274: Rajasthan Health Department
9:51 am: Increase of 490 COVID-19 cases in the last 12 hours, India's positive cases cross 4000 mark - at 4067 (including 3666 active cases, 292 cured/discharged/migrated people and 109 deaths): Ministry of Health and Family Welfare
9:12 am: The first death in Bhopal due to coronavirus reported after a 52-year-old person died last night: Bhopal Health officials
8:38 am: 16 more people (all men) have tested positive for COVID-19, they are admitted at various hospitals in the state: King George's Medical University (Lucknow) Administration
8:28 am: Maharashtra: People at Bandra-Kurla vegetable market in Mumbai to buy essentials, amid coronavirus lockdown.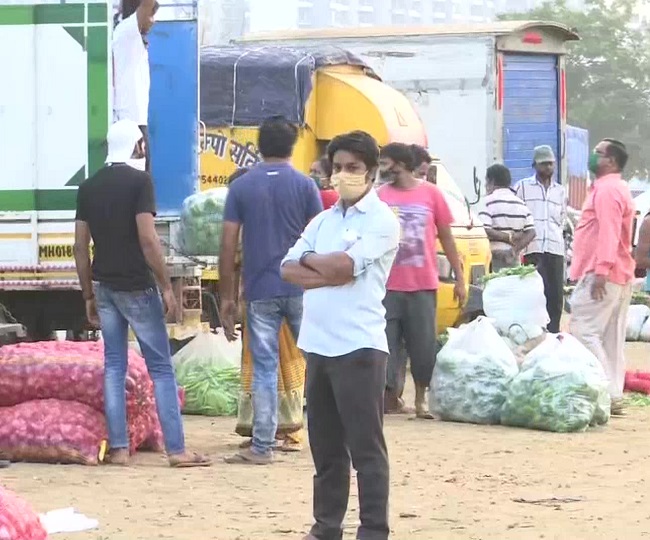 8:27 am: Wearing face masks has been made compulsory for all staff, officers and visitors to Maharashtra Mantralaya for the coming few months. No entry to anyone without face masks. The decision has been taken in view of prevention of coronavirus: Maharashtra government
7:47 am: United States coronavirus deaths top 1,200 in last 24 hours, reports AFP.
7:46 am: An Indonesian national who had attended the Tablighi Jamaat event in Nizamuddin Markaz, Delhi has tested positive for coronavirus. He is currently under quarantine at a hospital in the district: Prayagraj District Administration
7:27 am: The government has further said that the rate of doubling of COVID-19 cases in India is 4.1 days currently.
7:27 am: It has also clarified that there is no evidence that coronavirus was an airborne infection.
7:27 am: It has also said that a decision on reopening of schools and colleges will be taken on April 14 after a review of the coronavirus threat in an indication that the 21-day lockdown could be lifted as scheduled.
7:26 am: Amid this, government has directed states to ensure seamless functioning of pharma units.
7:25 am: At least 83 have died and 3,577 people have been affected by the novel coronavirus in India.
Posted By: Aalok Sensharma