Coronavirus Pandemic: 'Doubling of cases increased to 11 days from 3.4 days after lockdown', says Health Ministry | Highlights
Updated: Thu, 30 Apr 2020 05:08 PM IST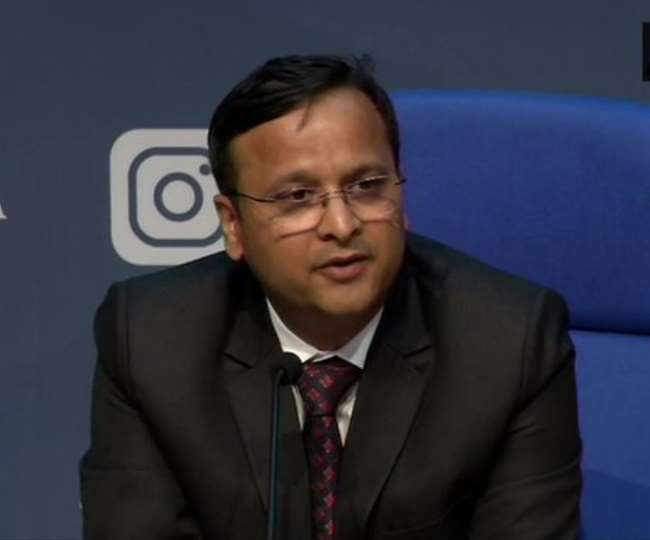 New Delhi | Jagran News Desk: The total number of coronavirus cases in India has increased to 33,050 on Thursday, while the death toll has surged to 1,074, according to the latest data by the Ministry of Health and Family Welfare. Of the total number of cases, there are 23,651 active cases, while 8,325 people have been cured and discharged from hospitals.
Maharashtra remains the worst affected state with 9,915 cases and 432 fatalities.
United States of America (USA) recorded 2,502 COVID19 deaths in the last 24 hours, taking the overall toll to over 60,000, while the number of confirmed cases has soared past 1 million.
According to the data tracker of the World Health Organisation (WHO), the global COVID-19 death toll has reached over 2.2 lakh while confirmed cases have crossed 3.1 million.
India's doubling rate of Covid-19 positive cases has slowed further in the last three days to an average of 11.3 days with only 0.33% people on ventilator support, health minister Harsh Vardhan said on Wednesday.
Here are the latest updates of the coronavirus pandemic:
5:04 pm: 14 new COVID19 positive cases reported in Odisha, taking the total number of positive cases in the state to 142 (including 102 active cases, 39 cured/recovered & 1 death): Odisha Health Department
4:35 pm: Current doubling rate in COVID-19 cases is 11 days, before lockdown it was 3.4 days: Health Ministry
4:30 pm: As of now, the directives are to use buses: Punya Salila Srivastava, Joint Secretary, Ministry of Home Affairs (MHA) on if Centre is considering proposal by many State Govts for running special trains to transport stranded people like students & migrant labourers
4:29 pm: As far as testing and treatment protocol is concerned we have to use RTP-CR test only: Lav Agrawal, Joint Secy, Health Ministry on COVID19
4:25 pm: Recovery rate of #COVID19 cases stands at 25.19% which was 13.06% 14 days ago. Fatality rate is 3.2%. Comorbidities was found in COVID-19 patients in 78% of the deaths. Doubling rate of the cases has now increased to 11 days: Lav Agrawal, Joint Secy, Health Ministry
4:19 pm: #COVID19- 1718 new cases have been reported in the last 24 hours, taking the total number of cases to 33050. The recovery rate is now 25.19%. A progressive recovery rate has been observed: Luv Agrawal, Joint Secy, HelahtMinistry
4:14 pm: Central Team visiting Hyderabad has found that the state has adequate no. of testing kits, PPE, etc. The state is using an end-to-end IT dashboard to track patients right from testing to discharge: Punya Salila Srivastava, Joint Secretary, Ministry of Home Affairs (MHA)
4:05 pm: Health Ministry is briefing media over COVID-19 outbreak.
3:51 pm: People will have to undergo necessary medical screening before boarding the buses for Uttar Pradesh. 100 buses have left Madhya Pradesh to bring back people to Uttar Pradesh & we are sending people to Madhya Pradesh in 40 buses: Additional Chief Secretary (Home) Awanish Awasthi
3:50 pm: CM Yogi Adityanath has appealed to migrant workers not to travel back to UP on foot. Govt is making arrangements to bring them back. Chief Secretary&Home Department will hold discussions with States to bring workers in a staggered manner:Addl. Chief Secretary(Home) Awanish Awasthi.
3:32 pm: Karnataka| Cashew processing units in Mangaluru have resumed operations, amid lockdown till May 3. Prakash Rao, Chairman, CII-Mangaluru says, "This industry employs about 60,000 women. We have created SOPs&following all guidelines like use of masks&maintaining social distance".
3:25 pm: Gurugram District administration has issued notification for enforcing stricter measures through curbs on cross-movement across all borders of the district from 10 AM on 1st May 2020. #Haryana
2:40 pm: Four more #COVID19 positive cases are reported from Bongaigaon district. The number of COVID-19 patients in Assam now stands at 41. ( 29 are discharged, 1 death, so active hospital cases 11): Himanta Biswa Sarma, Assam Minister
2:30 pm: 118 positive cases reported in Rajasthan today so far - 83 in Jodhpur, 21 in Jaipur, 4 in Ajmer, 3 in Chittorgarh, 2 each in Kota & Tonk, 1 each in Alwar, Baran & Dholpur; 3 deaths. Total cases here rises to 2556, including 58 deaths & 836 recovered: State Health Dept #COVID19
2:10 pm: 18 new positive cases reported in the state today, taking the total number of cases to 329. A total of 227 patients have been recovered/discharged. 3 people in the state have died so far: Health Department, Government of Haryana #COVID19
1:22 pm: India needs to be cleverer in lifting lockdown: Raghuram Rajan tells Rahul Gandhi
12:52 pm: 22 new positive cases have been reported in Karnataka from 29th April, 5 pm to 30th April 12 pm. Total number of #COVID19 cases rise to 557, including 21 deaths & 223 discharges. +1 death due to non – Covid cause: Health Department, Government of Karnataka
12:30 pm: Punjab | Sub Inspector (SI) Harjeeet Singh reaches his home in Patiala after he was discharged from PGIMER in Chandigarh today. His hand was chopped off (and later replanted) fighting off an attack, while enforcing curfew at Patiala Sabzi Mandi on April 12.
12:15 pm: UP | Delhi Police issues fourth notice to Maulana Saad.
12 pm: Jammu and Kashmir | A Flu Clinic has started in District Hospital in Ganderbal as part of precautionary measure amid #COVID19 outbreak. Shafqat Iqbal, Deputy Commissioner says,"It is a free clinic which began from y'day. People are screened here for any #COVID19 related symptoms".
11:30 am: 71 new positive cases reported in Andhra Pradesh in last 24 hours. Total number of #COVID19 positive cases in the state stands at 1403, including 1051 active cases, 31 deaths & 321 discharges. No death reported in last 24 hours: State Command Control Room, Andhra Pradesh
9:35 am: Out of the 646 samples tested yesterday for #COVID19, results of 27 are positive: King George's Medical University (KGMU), Lucknow.
9:27 am: All India Institute Of Medical Sciences, Raipur has discharged 2 more patients today, belonging to Korba district, after they completely recovered from #COVID19. Presently, there are 2 active cases including a nursing officer. Both are stable: AIIMS, Raipur #Chattisgarh
9:18 am: No new cases for 4 days. Tests over 8100 per million: Chetan Sanghi, Chief Secretary, Andaman and Nicobar Islands #COVID19
9 am: 10 #COVID19 positive cases found in Jhajjar. 9 out of them are vegetable vendors who have a history of travelling to Delhi and one is a nurse at a hospital. The total cases in Jhajjar district are 18: Chief Medical Officer (CMO) Dr Randeep Puniya. #Haryana
8:40 am: With 1718 new cases & 67 deaths in the last 24 hours, the total number of #COVID19 positive cases in India rises to 33050 (including 23651 active cases, 1074 deaths, 8325 cured/discharged/migrated): Union Ministry of Health and Family Welfare
8:30 am: UP | There will be complete lockdown in the limits of Varanasi municipal corporation till May 3. Home delivery to be done for people in case they need anything. People will be allowed to move out of the limits only on health & medical grounds: DM Varanasi, Kaushal Raj Sharma #COVID19
8:15 am: Andhra Pradesh| Vizianagaram Police yesterday, with support of Elwinpeta Police & Task force Circle Inspector, raided at illicit liquor making units. Police destroyed raw material used for making liquor worth Rs 25,000 & arrested one person, while search for 2 more is underway.
8:04 am: Gujarat | Flowers farmers in Rajkot say they are incurring losses due to #COVID19 lockdown. Mavji Bhai, a farmer says, "Nobody is buying our flowers. All the yield is getting waste. The government should announce a relief package and help us".
7:47 am: Imposition of Section 144 CrPc in the district has been extended till 7th May 2020. There is no restriction on movement of people rendering or availing essential services: Kalaburagi (Karnataka) Deputy Commissioner Sharat B #COVID19
7:44 am: Haryana | Travel of govt employees and common people from neighbouring states and districts to Faridabad has been prohibited, as a preventive measure against #COVID19. Visuals from Delhi-Faridabad border.
7:20 am: Delhi | People with cycle carts queue at the entrance of the wholesale fruit & vegetable market in Ghazipur, amid #CoronaLockdown.
7:10 am: Delhi | People at wholesale fruit and vegetable market in Okhla to buy essentials, amid the #CoronavirusLockdown. The nationwide lockdown imposed to combat #COVID19 will last till 3rd May 2020
7 am: 2,502 #coronavirus deaths in the last 24 hours in the United States of America (USA): AFP news agency
Posted By: James Kuanal