Coronavirus Pandemic: 'No new COVID-19 cases reported in 17 districts in last 28 days': Health Ministry | Highlights
Coronavirus has affected over 29,000 and claimed the lives of more than 900 patients in India so far.
Updated: Tue, 28 Apr 2020 04:22 PM IST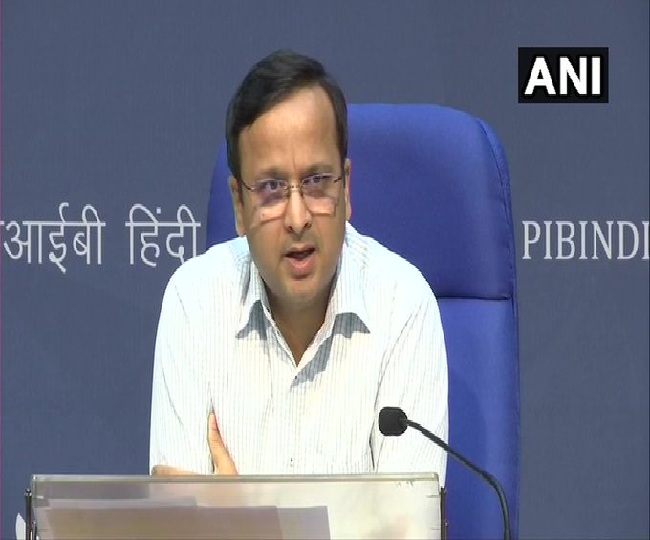 New Delhi | Jagran News Desk: The number of coronavirus cases in India has increased to 29,435 on Tuesday, while the death toll has surged to 934, according to the latest data by the Ministry of Health and Family Welfare. Of the total number of cases, there are 21,632 active cases, while 6,868 people have been cured and discharged from hospitals. Maharashtra remains the worst affected state with 8,590 cases and 369 fatalities.
United States of America (USA) recorded 1,303 COVID19 deaths in the last 24 hours, taking the overall toll to over 56,000 while the number of confirmed cases has soared to nearly 1 million.
The global death toll has reached over 2.1 lakh while confirmed cases have crossed 3 million.
Here are the Highlights of the coronavirus pandemic:
4:26 pm: No new cases of COVID-19 reported from 17 districts in last 28 days: Health Ministry
4:22 pm: Plasma therapy is being experimented, however no evidence that this can be used as a treatment. National level study launched by ICMR to study efficacy: Lav Aggarwal, Joint Secretary, Ministry of Health
4:21 pm: With 1543 new cases in the last 24 hours, the total COVID19 positive cases in the country are now 29,435. 684 patients have been found cured, in the last 24 hours; our recovery rate is now 23.3%. This is a progressive increase in recovery rate:Lav Agrawal,Jt Secy,Health Ministry
4:20 pm: IMCT held discussions with various stakeholders including textile and diamond industries, who are major employers of labourers. Most labourers have received the pay for last month. Central team has told Surat administration to prepare future plans as well: Punya Salila Srivastava
4:13 pm: IMCT (which is visiting Surat) found that the administration is conducting extensive testing so that COVID positive cases are identified in the initial stages itself: Punya Salila Srivastava, Joint Secretary (MHA) #COVID19
4 pm: Health Ministry is briefing media over COVID-19 outbreak.
3:51 pm: 13 more #COVID19 positive cases reported in Bihar today, taking the total number of positive cases in the state to 359: Sanjay Kumar, Principal Secretary (Health) #Bihar
3:35 pm: Punjab | Number of deaths have reportedly reduced in Amritsar amid the #CoronavirusLockdown. "25-30 dead bodies used to be brought here before the lockdown, now 10-15 bodies are brought", Dharmendra, a worker at Shivpuri cremation ground said.
3:21 pm: One more patient has tested positive for #COVID19 today from Hindpiri in Ranchi. Total positive cases in Jharkhand touch 104: Health Secretary Nitin Madan Kulkarni
3 pm: Mumbai | A Bandra Court today granted bail to accused Vinay Dubey on a personal bond of Rs 15,000. He was arrested in connection with the gathering at Bandra on 14th April. #CoronavirusLockdown
2:47 pm: In Delhi, 4.11% health workers (incl 13 paramedics, 26 nurses, 24 field workers, 33 doctors) are COVID19 affected. This is worrying; Currently, there are around 100 hotspots in Delhi, this number should go down: Union Health Minister Dr Harsh Vardhan
2:39 pm: West Bengal | Essential food items being distributed at the office of Panpur Keutia Gram Panchayat in North 24 Parganas, amid #CoronavirusLockdown.
2:03 pm: We will be able to produce RT-PCR and antibody test kits in India by May. All processes are in advanced stage and production will start after getting approval from ICMR. It will help us in meeting our target of 1 lakh test per day by May 31: Union Health Minister Dr Harsh Vardhan
2:01 pm: #MadhyaPradesh - 19 inmates of Central Jail who are currently lodged at a temporary jail have tested positive for Coronavirus: Chief Medical and Health Officer Indore Praveen Jadia
1:45 pm: Total number of positive #COVID19 cases (including 14 Italian Nationals) stands at 304 now, of which 218 have been discharged. Total 3 deaths reported till now: Health Department, Haryana
1:40 pm: Gujarat | Labourers protested and pelted stones at the office of Diamond Bourse in Surat, alleging that they were made to work amid #CoronavirusLockdown. Workers also demanded that they be sent back to their native places.
1:16 pm: Maharashtra | Sellers of dairy products in Nagpur say their business has slumped amid #CoronaLockdown."Our business is down by 90%. We had to throw 150-200 kg paneer in 2-3 days, now we've reduced our production as there are very less buyers", said Roshan Gupta, one of the sellers.
1:13 pm: Lucknow: Flower farmers say that they're incurring losses due to #COVID19 lockdown."We've to pluck the flowers in order to save our plants, but are forced to throw flowers away. When lockdown ends, we'll have to invest twice more to normalize", Neeraj, one of the farmers said.
1 pm: From 4th May, the Chairperson & Members of the National Green Tribunal, as well all the officers of NGT (Deputy Registrars and above) will attend office with 100% attendance, while the remaining staff upto 33% strength shall physically attend office: National Green Tribunal
12:50 pm: Delhi: Shops selling electronic products have been allowed to open following govt's revised lockdown guidelines. An electric fan shop owner says, "I've opened shop today after 21st March. It's the peak season for the sale of fans, but very few customers are coming."
12:40 pm: Chhattisgarh | Around 75 buses carrying over 2000 students who were stranded in #Kota, Rajasthan have reached the state. Visuals of students undergoing screening for COVID-19 symptoms after reaching Raipur. #CoronavirusLockdown
12:31 pm: Total number of active #COVID19 cases in Chhattisgarh stand at 3 now; total 34 patients have been cured and discharged till date: AIIMS (All India Institute of Medical Sciences) Raipur
12:25 pm: 8 new COVID19 positive cases reported in Karnataka from 27th April 2020, 5:00 PM to 28th April 2020, 12:00 noon, taking the total number of cases to 520: Karnataka Government
12:01 pm: No fresh case reported in 80 districts since last 7 days. In 47 districts, no case has been reported in last 14 days, while 39 districts have not reported a case since last 21 days. 17 districts have not reported a case for last 28 days: Dr. Harsh Vardhan, Union Health Minister
12 pm: For the last 14 days, our doubling rate is 8.7, while for the last 7 days, it is 10.2 days. In last 3 days, it is 10.9 days roughly: Dr. Harsh Vardhan, Union Minister of Health while interacting with autonomous Institute of Department of Biotechnology, through video conferencing
11:45 am: 522 news cases and 27 deaths reported in Maharashtra today. Total 8590 positive #COVID19 cases and 369 deaths have been reported in the state till date. Mortality Rate stands at 4.30%: Maharashtra Health Department
11:39 am: 82 new #COVID19 cases reported in Andhra Pradesh in the last 24 hours, taking the total number of positive cases in the state to 1259. The death toll stands at 31: Andhra Pradesh Health Department
11:30 am: 8 more persons have tested positive for #COVID19 in Agra, taking the total number of cases to 389 including 54 cured/discharged. We are tracing the contacts of positive cases: District Magistrate Prabhu N Singh
11:15 am: The total number of positive cases in Delhi stands at 3108 now, of which 190 cases were reported yesterday. 877 patients have been cured, while 11 are on ventilator. Death toll stands at 54. The doubling rate of #COVID19 in Delhi is 13 days: Delhi Health Minister Satyendra Jain
11 am: Long queue of vehicles seen on Delhi-Gurugram border as Police personnel check passes of people commuting through the route, as a preventive measure against #COVID19 amid #CoronavirusLockdown .
10:40 am: Kerala: With no #COVID19 positive case in Thiruvananthapuram currently, the city has been removed from the list of hotspots.
10:30 am: One more positive #COVID19 case reported today in Mohali, taking the total number of cases to 64, of which 27 are cured. 2 deaths reported till date in Mohali: Girish Dayalan, DC Mohali. #Punjab
10:10 am: Goa | People practice social distancing at a vegetable market on Inox Road in Panaji, amid the Coronavirus Lockdown.
9:45 am: As 5 asymptomatic persons returning from Hazur Sahib in Nanded, Maharashtra have tested positive for #COVID19 in Tarn Taran, it has been decided that all returnees coming from Hazur Sahib are to be put in quarantine facilities. They'll be tested for COVID-19: Dept of Health, Punjab
9:31 am: 66 new #COVID19 cases have been reported; 13 from Jodhpur, 11 from Ajmer, 17 from Jaipur and 19 from Kota. Cumulative positive cases in the state stand at 2328 now. 51 deaths reported till date: Rajasthan Health Department
9:21 am: Odisha CM asks Centre to prepare national SOP for stranded people, enhancement of testing facilities.
8:50 am: 62 deaths and 1543 new cases in last 24 hours due to #Coronavirus, the sharpest ever increase in death cases in India.
8:45 am: Total number of #COVID19 positive cases in India rises to 29435 including 21632 active cases, 6868 cured/discharged, 934 deaths and 1 migrated: Ministry of Health and Family Welfare
8:31 am: Jammu and Kashmir | Police are conducting checks on the movement of people amid the #CoronavirusLockdown.
8:25 am: Seven new #COVID19 positive cases reported in the state, taking the total number of cases to 118. Total 37 patients have been cured/recovered. 1 death reported till date: Odisha Health Department
8:13 am: 4,982 more global deaths due to COVID-19, toll nears 200,000: WHO
7:42 am: Police personnel checking passes and identity cards of people to control the movement of vehicles during Coronavirus Lockdown.
7:10 am: Delhi Government has lifted the bar on veterinarians, plumbers,& electricians after reviewing COVID19 situation in the national capital. In the order, Delhi Disaster Management Authority (DDMA) also allowed inter-state travel of health workers, lab technicians & scientists.
7 am: United States of America (USA) recorded 1,303 #COVID19 deaths in the last 24 hours as per Johns Hopkins University tally: AFP news agency
Posted By: James Kuanal