Coronavirus News: Cases rise in Delhi, Maharashtra and Tamil Nadu as India's tally crosses 4.90 lakh-mark | Highlights
The novel coronavirus has affected 4.73 lakh people and claimed nearly 15,000 lives in India so far.
Updated: Fri, 26 Jun 2020 06:53 PM IST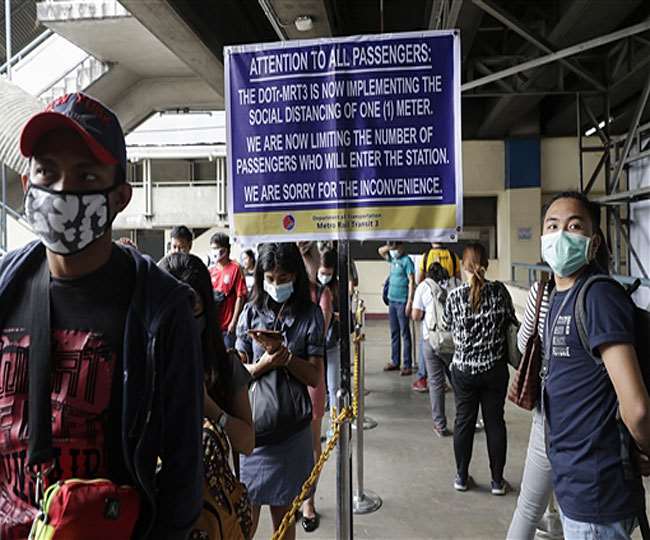 New Delhi | Jagran News Desk: Day after recording the worst spike in COVID-19 cases, the Maharashtra government has decided to undertake antigen and rapid antibody tests for the highly contagious virus. To assess the situation in the state, a team led by Joint Secretary in the Health Ministry Lav Agarwal will also visit Maharashtra to coordinate with the state officials in strengthening COVID-19 management efforts in those areas.
The novel coronavirus has affected 4.90 lakh people and claimed more than 15,000 lives in India so far while the recovery rate has improved to 58.24 per cent as over 2.85 lakh people have been cured and discharged from hospitals, according to the Ministry of Health and Family Welfare.
Here are the LIVE updates on coronavirus pandemic:
17:21 pm: West Bengal Higher secondary exam which was supposed to be conducted on 2nd, 6th and 8th July has been cancelled, next date will be announced later, says West Bengal Education Minister Partha Chatterjee
17:20 pm: We are discussing with the Metro authorities about resuming the Metro services from 1st July, allowing passengers only up to the seating capacity, says West Bengal Chief Minister Mamata Banerjee
16:41 pm: Coronavirus Updates Haryana: Malls in Gurugram to re-open from next week, religious places to remain shut
16:09 pm: State Government has decided to issue e-certificates to the players who had participated in the Inter-District Games for the year 2019-20 in view of the COVID-19 epidemic, says Punjab government
15:55 pm: In the last 24 hours, 762 new COVID-19 positive cases have been reported in the state. There are 6,730 active cases, 13,583 patients have been discharged so far and 630 patients have succumbed to the infection: Uttar Pradesh Principal Secretary (Health) Amit Mohan Prasad
15:02 pm: 'Situation under control in Delhi, COVID cases rising because of augmented testing': Arvind Kejriwal
14:30 pm:
Delhi: DG ITBP visits #COVID19 Care Centre at Radha Soami Beas in Chattarpur. Says, "ITBP has gained experience in last 4 months. Initially we managed a COVID quarantine center in Chhawla & then our 200 bedded hospital in Noida. Our medical team will help people in this crisis." pic.twitter.com/3DOxiuIHGl

— ANI (@ANI) June 26, 2020
13:52 pm: Weekend lockdown on Saturdays and Sundays to be enforced in urban areas in Assam. Areas falling under the jurisdiction of town committees and municipalities will come under the ambit of the weekend lockdown and will continue until further notice, says Assam Minister Himanta Biswa Sarma
13:33 pm: Complete lockdown to be imposed in the entire Kamrup Metropolitan district from the midnight of 28th June for the next 14 days, due to rise in COVID19 cases. Medical stores to remain open during the lockdown, says Assam Health Minister Himanta Biswa Sarma
13:27 pm: There are some patients whose oxygen level became very low but they showed no symptoms, it dropped suddenly and they died suddenly. So we have provided oxymeter to asymptomatic patients or those with mild symptoms who are under home isolation: Delhi CM
13:27 pm: A major issue with Corona is that oxygen level of patient drops sudddenly. Oxygen level should be 95. If it drops below 90 then consider it dangerous, if it drops below 85 then consider it very serious. You will face difficulty in breathing if it drops to 90 or 85: Delhi CM
13:15 pm: In the last one week, the number of beds occupied has been around 6,000 despite almost 3,000 new cases daily as they do not require hospitalisation. COVID19 cases in Delhi are mild and most of them don't require hospitalisation. Right now, we have over 13,000 beds ready: Delhi CM
13:14 pm: No.of COVID19 cases in Delhi is high but the situation is under control and there is no need to worry. We've increased testing by three times but positive cases have increased by around 3000 per day only. Out of the total COVID19 patients,approx 45,000 people have recovered: Delhi CM
12:52 pm: CBSE Board Exams 2020: Class 10th, 12th results to be declared by July 15; SC approves re-assessment formula
12:25 pm: The total number of COVID-19 positive cases in Border Security Force is 868 including 245 active cases, 618 cured and 5 deaths, says Border Security Force
11:44 am: 218 new COVID19 cases were reported in the state yesterday. The total number of positive cases in the state stands at 6180, says Odisha Health Department
11:44 am: 1 death and 91 new COVID19 positive cases reported in the state till 10.30am today, taking the total number of positive cases in the state to 16,387, says Rajasthan Health Department
11:04 am: Record 17,296 new COVID-19 cases in last 24 hours take India's tally to 4.90 lakh; death toll crosses 15,000-mark | Check state-wise list here
10:37 am:
Ahmedabad: A Central Health Team led by Lav Agarwal, Jt Secretary, Ministry of Health visits Ghatlodia area to review COVID19 status. The team will also interact with State officials and coordinate with them to strengthen ongoing efforts for management of COVID19#Gujarat pic.twitter.com/8XQ5lNm7DF

— ANI (@ANI) June 26, 2020
10:36 am: As per the directives of HM Amit Shah, discussion was done on the serological survey in Delhi, which will be carried out jointly by NCDC and Delhi Government. Survey will begin from June 27, training of all the concerned survey teams was completed yesterday: Home Ministry
10:36 am: It was also informed in the meeting that the re-drawing of containment zones including all clusters of COVID outbreak in Delhi would be completed by June 26 as per the timeline fixed by HM Amit Shah. Completion of door to door health survey would also be done by June 30: Home Ministry
10:35 am: On 25 June, Union Home Secretary reviewed implementation of various decisions on COVID in Delhi which were taken on 21 June in a meeting chaired by HM Amit Shah. Member Niti Aayog, Director AIIMS, DG ICMR along with Delhi's Chief Secretary and Health Secretary attended the meeting: Home Ministry
10:22 am: Total number of samples tested up to 25 June is 77,76,228; the number of samples tested on 25 June is 2,15,446, says Indian Council of Medical Research
9:52 am: Meanwhile, the recovery rate has improved to 58.24 per cent 2,85,637 people have been cured and dishcharged from hospitals.
9:31 am: The active number of coronavirus cases in India currently stands at 1,89,463: Health Ministry
9:23 am: The deadly coronavirus has affected 4,90,401 people and claimed the lives of 15,301 in India so far: Health Ministry
9:03 am: World Health Organisation head Tedros Adhanom Ghebreyesus has said that coronavirus pandemic is subsiding in Europe, but getting worse globally with the number of infections expected to reach 10 million next week and the number of deaths 5,00,000
He further said that once the pandemic was over, the world should not return to its previous state, but build a "new normal" that would be fairer, greener and help prevent climate change
8:55 am: Meanwhile, Delhi has reported 70,390 coronavirus cases and 2,365 death so far
8:22 am: Maharashtra remains the worst-hit state in India with nearly 1.43 lakh coronavirus cases and over 6,700 deaths
7:56 am: Night curfew hours in Noida, Meerut, Ghaziabad, Bulandshahr, Hapur and Muzaffarnagar revised to be imposed from 8 pm-6 am. Those found without mask and spitting in public places to be penalised. Movement, except essential services, prohibited in containment zones, says Meerut Divisional Commissioner
7:26 am: Mexico has surpassed 25,000 COVID-19 deaths and 2,00,000 cases, reports AFP
7:25 am: Only patients without facilities at home to be shifted in COVID care centres as govt tweaks home isolation rules in Delhi
7:24 am: Meanwhile, the recovery rate has improved to 57.43 per cent as 2,71,697 people have been cured and discharged from hospitals
7:23 am: The active number of coronavirus cases in India stands at 1,86,514
7:23 am: The dreadful coronavirus has affected 4,73,105 people and claimed 14,894 lives in India so far
Posted By: Aalok Sensharma