Coronavirus News Latest Updates: BMC to set COVID care centre with 1000 beds in Mumbai
Coronavirus News: Meanwhile, the Ministry of Health and Family Welfare has said that India's recovery rate has improved to 56.37 per cent as 2,58,684 people have been cured and discharged from hospitals.
Updated: Wed, 24 Jun 2020 05:08 PM IST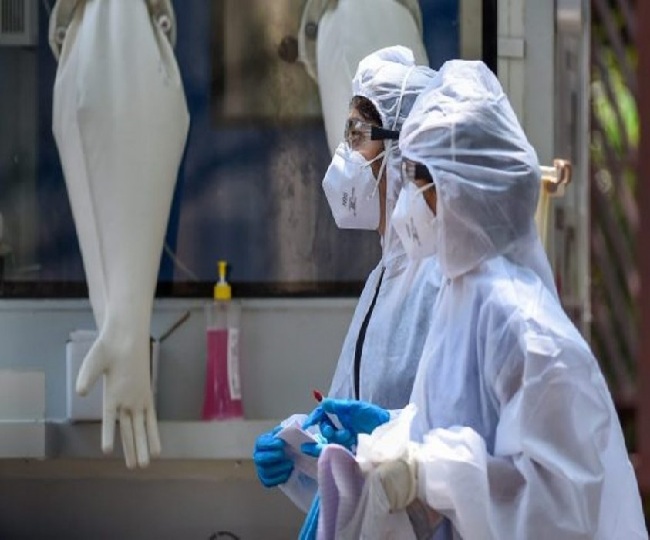 New Delhi | Jagran News Desk: The coronavirus has so far afflicted 4,56,183 people across the country, while 14,476 people have succumbed to this deadly pathogen. In India, Maharastra with more than 1.39 lakh cases remains to be the worst-hit state. The national capital, Delhi, leaving Tamil Nadu behind also became the second worst-hit state. In Delhi, 66,602 people have been afflicted by the coronavirus, while 2,301 people have been killed due to this deadly COVID-19.
Meanwhile, the Ministry of Health and Family Welfare has said that India's recovery rate has improved to 56.37 per cent as 2,58,684 people have been cured and discharged from hospitals.
In a statement, the Health Ministry said the difference between the recovered patients and the active COVID-19 cases continues to widen and the number of recovered patients has crossed the number of active patients by 75,662.
Here are the LIVE Updates on coronavirus pandemic:
5:20 pm: 4 #COVID19 patients from Champhai district (3 males&1 female) discharged from dedicated Covid Health Centre Champhai & one female patient from Aizawl district discharged from SRHF-ZMC. With this total number of cured cases is 24 & the active cases stand at 121: Mizoram Government
5:10 pm: Tamil Nadu: Cinema theatres in Chennai remain closed in wake of #COVID19 pandemic. A theatre employee says, "Theatres are closed since March 17 in the city and we have no idea when it will reopen."
5:00 pm: In the last 48 hours, 2 deaths and 185 new #COVID19 positive cases have been reported in Maharashtra Police; the total number of positive cases rises to 4288 including 998 active cases, 3239 recoveries and 51 deaths: Maharashtra Police
4:50 pm: Puducherry reports 59 new positive cases of #COVID19, taking the total number of cases to 461 including 176 recoveries and 9 deaths: Puducherry Health Department
4:40 pm: Maharashtra: Brihanmumbai Municipal Corporation (BMC) is setting up a Covid care centre with a capacity of around 1000 beds in Mahalakshmi Race Course in Mumbai.
4:30 pm: West Bengal Chief Minister Mamata Banerjee holds an all-party meeting over #COVID19 situation in the state, at Nabanna in Kolkata.
4:20 pm: Karnataka: Mysuru City Corporation issues an order to close Devaraja market, Santhepete, Shivaramapete, Mannars market and Boti Bazaar for the next four days in view of the increasing number of #COVID19 cases.
4:10 pm: The total number of COVID19 positive cases in Chandigarh stands at 420, 6 deaths: Chandigarh Health Department
4:00 pm: Uttarakhand reports 33 new cases of COVID19, taking total number of active cases to 863. Number of deaths due to the disease stands at 35: State Health Department
3:00 pm: Karnataka: Cinema halls in Bengaluru face problems due to closure of their operations in wake of COVID19 pandemic. Arun Kumar, a theatre owner, says,"If it continues for another one month, theatres will have to take tough decisions. We demand a 50% concession in fixed power charges."
2:45 pm: The first patient arrived at Shakur Basti COVID Care Center of Railways (in file pic) in New Delhi: Railway Minister Piyush Goyal
2:30 pm: Punjab: Dine-in facilities have resumed in hotels and restaurants in Ludhiana after state govt allowed to reopen hotels, restaurants, marriage halls & other hospitality services at reduced 50% capacity.
2:15 pm: Delhi govt prepares eight-point 'Revised COVID Response Plan' in line with recommendations of Dr VK Paul committee. The plan includes conducting sero-survey of 20,000 people across districts and house-to-house screening by July 6, among other measures.
2:00 pm: Delhi Deputy CM Manish Sisodia writes to Union Home Minister Amit Shah seeking his intervention to do away with the rule under which all COVID19 patients in the national capital are required to visit a quarantine centre for clinical assessment.
1:30 pm: SSLC exams to take place tomorrow. About 8,48,203 students will write the exam. Social Distancing&mask required. Minister of Education&I have already held a lot of meetings. Students from containment zones will be carefully handled: Karnataka Health Minister B Sriramulu
1:15 pm: In the last 24 hours, 497 fresh COVID19 cases and 10 deaths have been reported in Andhra Pradesh. Total positive cases stand at 10331 including 5423 active cases, 129 deaths and 4779 discharged cases: State Command Control Room
1:00 pm: As per Patanjali's application, we issued them a license. They didn't mention coronavirus, we only approved license for immunity booster, cough & fever. We'll issue them a notice asking how they got permission to make the kit (for COVID19): Licence Officer, Uttarakhand Ayurved Dept
12:35 pm: Indo Tibetan Border Police (ITBP) today took over the COVID19 Care Centre at Radha Soami Beas Chattarpur, Delhi as Nodal Agency to operate. Many teams of ITBP including medical & administration visited the ashram today & held a series of discussions with the stakeholders: ITBP
12:25 pm: Today I have written to Union Home Minister Amit Shah requesting him to do away with this system as it will create chaos: Delhi Deputy CM Manish Sisodia
12:15 pm: I had requested Lt Governor to change the rule under which every COVID patient is required to visit a quarantine centre for assessment. It has been 2 days, I haven't received any reply. This new system has created pressure on administration: Delhi Deputy CM Manish Sisodia
12:00 pm: Rajasthan reports 7 deaths and 182 new COVID19 positive cases today. The total number of positive cases in the state stands at 15809 including 3013 active cases and 372 deaths: State Health Department
11:30 am: 282 new COVID19 positive cases reported in Odisha, taking the total number of positive cases in the state to 5752, of which 1740 are active and 3988 have recovered: Odisha Information & Public Relations Department
10:40 am: It's a good thing that Baba Ramdev has given a new medicine to the country but as per rule, it has to come to AYUSH Ministry first. They even said that they have sent a report. We'll look into it&permission will be given after seeing the report: Shripad Naik, AYUSH Minister
10:30 am: 229 people flew back home today via AI0309 Melbourne-Delhi-Hyderabad flight. We wish you all a happy journey: Consulate General of India in Melbourne, Australia
10:15 am: Punjab: People make purchases at Ludhiana sabzi mandi; social distancing norms flouted.
10:00 am: Varanasi: Boat services on the bank of river Ganga have resumed from today after almost 3 months. A boatman says, "Due to the lockdown our livelihood was at stake as movement of boats were completely shut. We are very happy today.
9:30 am: 73,52,911 samples tested till 23rd June. 2,15,195 samples tested in the last 24 hours: Indian Council of Medical Research (ICMR)
9:15 am: 465 deaths and highest single-day spike of 15968 new COVID19 positive cases reported in India in last 24 hrs. Positive cases in India stand at 456183 including 183022 active cases, 258685 cured/discharged/migrated & 14476 deaths: Ministry of Health
8:30 am: West Bengal: Chief Minister Mamata Banerjee to chair an all-party meeting in Kolkata today, over Coronavirus Pandemic
7:30 am: Latin America and the Caribbean pass 1,00,000 COVID19 deaths: AFP news agency
7:20 am: Maharashtra | Eric & Merlin, a couple from Vasai, Mumbai donated 50 beds to a quarantine centre on their wedding day
7:10 am: COVID-19 lockdown in India has impacted the education of over 247 million school children: UNICEF report
7:00 am: We have fixed rates for COVID19 treatment at private hospitals. We did this so nobody gets looted by private hospitals: Anil Vij, Haryana Health Minister
Posted By: Talib Khan