Coronavirus News: With 462 new COVID-19 cases in last 24 hours, Andhra Pradesh's tally rises to 9,834 | Highlights
The number of coronavirus cases in India has increased to 4,40,215 while the death toll is at 14,011
Updated: Tue, 23 Jun 2020 05:36 PM IST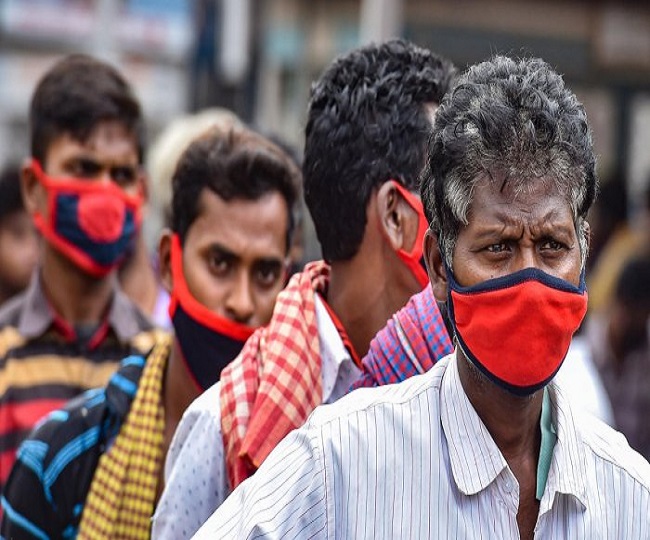 New Delhi | Jagran News Desk: Amid the surging number of coronavirus cases in the country, the Ministry of Health and Family Welfare has said that the India's recovery rate has improved to 56.37 per cent as 2,48,190 people have been cured and discharged from hospitals.
In a statement, the Health Ministry said the difference between the recovered patients and the active COVID-19 cases continues to widen and the number of recovered patients has crossed the number of active patients by 70,176.
According to Health Ministry, the novel coronavirus has affected 4,40,215 people and claimed 14,011 live in India so far. Delhi has become the second worst-hit state with more than 62,000 cases while Maharashtra continous to be on top with over 1.35 lakh cases.
Here are the highlights of June 23 on coronavirus pandemic:
17:11 pm: By December with launch of 'K Fone', free internet to be provided to all financially weak families. There's need for all students to have laptops, considering COVID-19 situation. Kerala launching a scheme implemented by KSFE (Kerala State Financial Enterprises), says state minister Thomas Isaac
40 lakh Kudumbashree workers can join chit fund scheme in KSFE. After 3 months, by paying Rs 500 monthly installment, they'll be provided laptop. Payment can be made in installment for 30 months. Members who don't need laptop can join it too. They'll be given money, he added
16:44 pm: Received requests from several countries incl US, France, Germany among others requesting that their air carriers be allowed to participate in transportation of passengers along the line being conducted by Air India under Vande Bharat Mission, says Ministry of Civil Aviation
16:21 pm: Delhi CM Arvind Kejriwal writes to Union Home Minister Amit Shah inviting him to inspect the 10,000-bedded COVID care centre at Radha Soami Satsang Beas campus in Chhattarpur. He has also requested for deployment of doctors and nurses from ITBP and Army at the Centre, reports ANI
16:20 pm: Nepal's COVID-19 tally crossed 10,000-mark as 538 new cases have been registered in last 24 hours. The national tally now stands at 1099: Health Ministry
16:04 pm: Health Department has informed that Antigen test kits have arrived and they will be brought into use from tomorrow. Special focus will be on Noida, Ghaziabad, Lucknow, Gorakhpur, Varanasi and Kanpur Nagar districts, says UP Additional Chief Secretary (Home) Awanish K Awasthi
15:47 pm: 50,000 Made-in-India ventilators worth Rs 2,000 crore under PM CARES Fund to fight COVID-19
14:36 pm: Himachal Pradesh reports 29 fresh COVID-19 positive cases today, taking the total number of positive cases to 756, says state Health Department
14:28 pm:
Delhi Deputy CM Manish Sisodia writes to Union Home Minister Amit Shah and Delhi LG Anil Baijal seeking rollback of new rule under which every #COVID19 positive patient has to visit quarantine centre for clinical assessment, says,'it is causing inconvenience to people'. pic.twitter.com/nNGzMFjYuG

— ANI (@ANI) June 23, 2020
13:41 pm: Due to LG's order, pressure has increased on ambulance system and people, as police and administration are pressurising patients to visit a quarantine centre. The former system was better, wherein government's team used to visit patients' residence for clinical assessment, says Delhi Deputy CM Manish Sisodia
13:40 pm: After Lt Governor ordered that every COVID positive patient is required to visit quarantine centre for clinical assessment, a lot of pressure is being built on people. So, I have written a letter to LG requesting him to withdraw this order, says Delhi Deputy CM Manish Sisodia
13:03 pm: 462 new COVID-19 cases and 8 deaths recorded in Andhra Pradesh in the last 24 hours, taking the total number of cases to 9,834 including 5,123 active cases. Number of deaths stands at 119, says state Health Department
12:44 pm: Corovirus Cure: Baba Ramdev's Patanjali launches Ayurvedic medicine Coronil for COVID-19 treatment | All you need to know
12:19 pm: We have decided that Haj pilgrims from India will not be sent to Saudi Arabia for Haj 2020. Application money of more than 2.3 lakh pilgrims will be returned without cancellation deductions through direct transfer, says Union Minister Mukhtar Abbas Naqvi
11:45 am: 199 new COVID19 positive cases reported in the state till 10.30 am today, taking the total number of positive cases in the state to 15,431, death toll 356, says Rajasthan Health Department
11:45 pm: The total no.of samples tested up to 22 June is 71,37,716. including 1,87,223 samples tested yesterday: Indian Council of Medical Research
11:44 am: 50,000 Made in India ventillators under PM CARES Fund; So far 2923 ventilators manufactured, out of which 1340 ventilators already delivered to States/UTs. Prominent recipients incl Maharashtra (275), Delhi(275), Gujarat (175), Bihar(100), Karnataka(90), Rajasthan(75), says PMO
10:56 am: As per the Supreme Court's order, COVID-19 test was conducted for all 'sevayats' (priests) at Puri's Jagannath Temple. One sevayat has tested positive, he is not allowed to participate in the Rath Yatra, says Odisha Law Minister Pratap Jena
10:19 am: Delhi Coronavirus Latest Updates: New rules for home isolation issued, here's what you need to know
9:45 am: The recovery rate has climbed to 56.37 per cent as 2,48,190 people have been cured and discharged from hospital: Health Ministry
9:27 am: The active number of coronavirus cases in India is 1,78,014, says Health Ministry
9:22 am: The number of coronavirus cases in India has increased to 4,40,215 while the death toll is at 14,011: Health Ministry
8:51 am: Meanwhile, Tamil Nadu is the third worst-hit state in India with 59,377 COVID-19 cases and 757 fatalities
8:31 am: Maharashtra has been the worst-hit state in India with over 1.32 coronavirus cases more than 6,100 deaths
8:12 am: Supreme Court allows Puri's Rath Yatra under 'strict restrictions', asks state govt, Centre to 'work in tandem'
7:47 am: "Hearing continued at the High Court till late last night but we could not get permission for Rath Yatra due to COVID-19. I thank the Trustee and Mahant of the temple for understanding the situation and arranging Rath Yatra inside the temple premises," says Gujarat CM Vijay Rupani on Puri Rath Yatra
7:47 am:
Odisha: Preparations underway for #RathYatra at Puri Jagannath Temple. Supreme Court yesterday granted permission to hold the annual chariot festival this year amid #COVID19 pandemic. No more than 500 people will be allowed to pull the chariots as per SC's order. pic.twitter.com/q9stqdPitO

— ANI (@ANI) June 23, 2020
7:22 am: 267 new COVID-19 cases reported in Assam yesterday (22 June) as of 11:50 pm. Total number of cases in the state is now at 5,853, including 3,565 discharged, 2,276 active and 9 deaths, says state Health Minister Himanta Biswa Sarma
7:19 am: Meanwhile, Delhi has become the second worst-hit state in India with almost 60,000 COVID-19 cases
7:15 am: "The difference between the recovered patients and the active COVID-19 cases continues to widen. The number of recovered patients has crossed the number of active patients by 62,808," said Health Ministry yesterday
7:15 am: Meanwhile, the recovery rate has improved to 55.77 per cent as 2,37,196 people have bee cured and discharged from hospitals
7:14 am: The number of active coronavirus cases in India is 1,74,387
7:14 am: According to Health Ministry, the novel coronavirus has affected 4,25,282 people and claimed 13,699 live in India so far
Posted By: Aalok Sensharma