Coronavirus News: Andhra Pradesh reports 477 new COVID-19 cases, state's tally rises to 8,929 | Highlights
The number of coronavirus cases in India today crossed the undesirable 4 lakh mark.
Updated: Sun, 21 Jun 2020 06:27 PM IST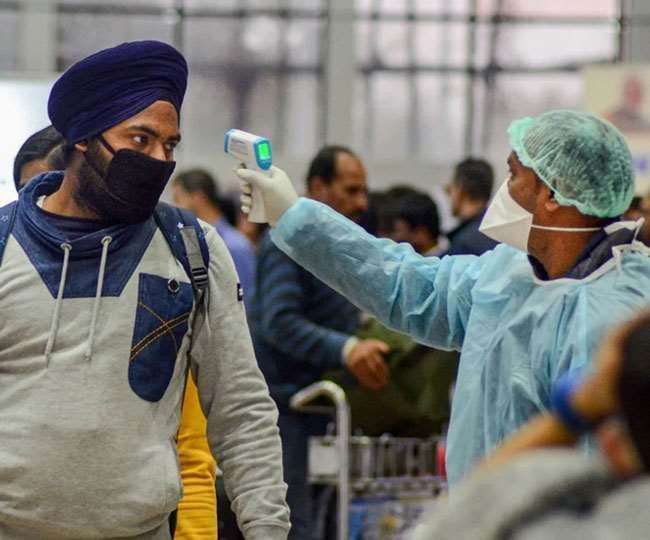 New Delhi | Jagran News Desk: The number of coronavirus cases in India today crossed the undesirable 4 lakh mark. The last one lakh coronavirus cases were reported in just seven days, causing an alarm in the country. According to the Ministry of Health and Family Welfare, there are 4,10,461 cases of coronavirus in India while the death toll has reached 13,254. The recovery rate, however, has improved to 55.48 per cent as 2,27,756 people have been cured and discharged from hospitals.
As the COVID-19 surge continues, states have moved to put a cap on testing and treatment prices. The Delhi Disaster Management Authority (DDMA) approved recommendations of the High Level Expert Committee for fixing rates of hospital beds for treatment of coronavirus patients. Rates for isolation bed, ICUs without and with ventilator in all hospitals have been capped at Rs 8000-10000, Rs13000-15000 and Rs 15000-18000 respectively.
Here are the highlights of June 21 on coronavirus pandemic:
17:48 pm:
Delhi: A meeting chaired by Union Home Minister Amit Shah, over COVID-19 situation, is underway at the Ministry of Home Affairs (MHA). Union Health Minister Dr Harsh Vardhan and Health Secretary Priti Sudan also present at the meeting. pic.twitter.com/uWrgIDU5oo

— ANI (@ANI) June 21, 2020
17:47 pm: The total number of COVID-19 positive cases in Chandigarh is now 404, including 82 active cases, 6 deaths and 316 cured cases, says Chandigarh Health Department
17:25 pm: Being densely populated (227136 persons/sq km), Dharavi had 491 cases in April with 12% growth rate and case doubling period of 18 days. Proactive measures adopted by BMC reduced COVID-19 growth rate to 4.3% in May 2020 and further to 1.02% in June: Ministry of Health and Family Welfare
The measures also ensured an improved case doubling time to 43 days in May 2020 and 78 days in June 2020: Ministry of Health and Family Welfare
16:13 pm: Supreme Court will hear tomorrow four petitions seeking modification of its earlier order of June 18, which had stayed the 'Rath Yatra' in Puri and all other places in Odisha keeping in view the spread of COVID-19 pandemic.
15:35 pm: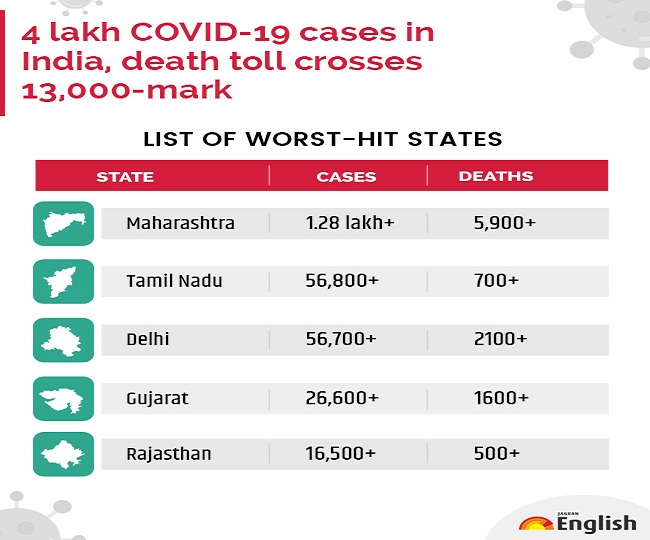 15:30 pm: Uttarakhand detects 23 new COVID-19 positive cases today, taking total positive cases in the state to 2324, says state Health Department
15:30 pm: The health condition of Delhi Health Minister Satyendar Jain has improved after being administered plasma therapy. His fever has subsided and oxygen level has improved. Doctors say that he can be shifted to the general ward by tomorrow: Office of Delhi Health Minister
15:29 pm: 88 new COVID-19 positive cases and 1 death recorded in the last 24 hours in Maharashtra Police, taking the total number of positive cases and deaths to 4,048 and 47 deaths respectively, say Maharashtra Police
14:36 pm: How many times has your ICMR changed guidelines, you must think about it. We asked for 1000 ventilators but you have given us only 50. Our machine was diverted to Kolkata by ICMR on the orders of PM. We ordered the machine but you diverted it there, says Telangana Health Minister
14:35 pm: If adequate facility for home isolation exists and person on clinical assessment is found to have no co-morbidities and doesn't require hospitalisation, he would be offered to either continue to stay in COVID centre/paid isolation facility or can opt for home isolation, says Delhi government
Rest will have to continue to stay in COVID care centres as per MoHFW guidelines. Those in home isolation must follow home isolation guidelines by MoHFW and stay in touch with health care providers so if their condition deteriorates, they can be moved to COVID hospitals, says Delhi government
14:35 pm: Individuals who are positive will be referred to COVID care centres for assessment of clinical conditions, severity of illness and co-morbities. Physical assessment to be done for adequate facilities for home isolation so that cluster of cases doesn't develop in locality, says Delhi government
13:41 pm: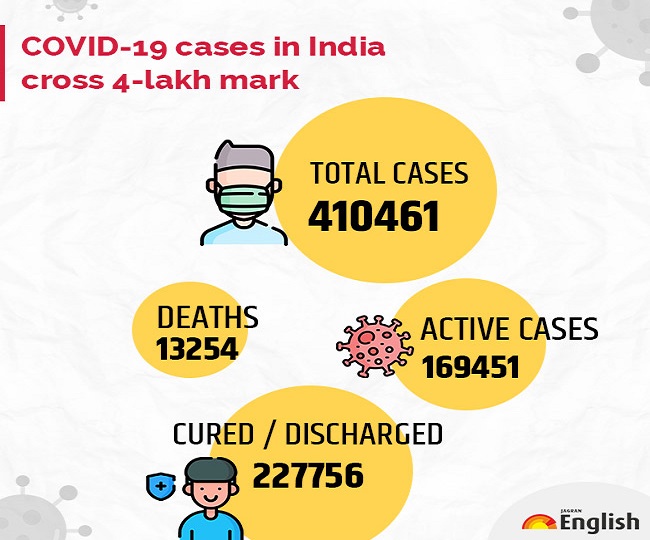 13:20 pm: Two more people tested positive for COVID-19 in Himachal Pradesh, taking total number of active cases to 233, says state Health Department
13:17 pm: 477 new COVID-19 cases and 5 deaths recorded in Andhra Pradesh in last 24 hours, taking total number of cases to 8,929 including 4,516 active cases. Number of deaths stands at 106, says state Health Department
13:03 pm: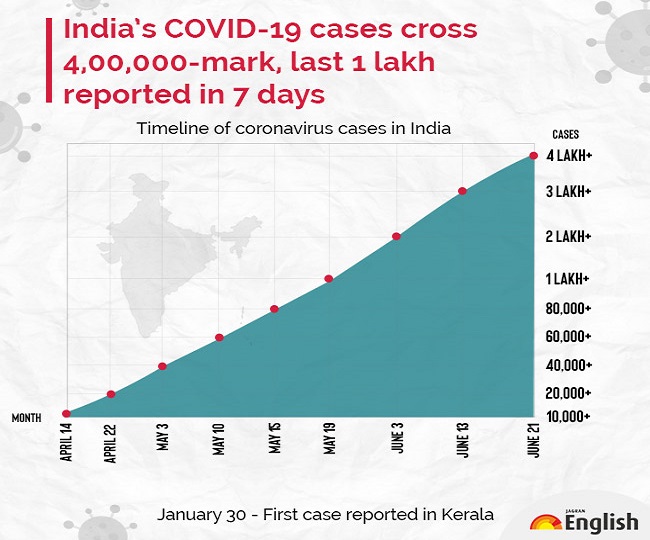 12:38 pm: The number of samples being tested everyday also continues to grow. In the last 24 hours, 1,90,730 samples were tested. The total number of samples tested thus far is 68,07,226, says Centre
12:37 pm: Number of patients recovering from COVID-19 continues to increase. So far, 2,27,755 patients have been cured. During the last 24 hours, a total of 13,925 COVID-19 patients have been cured. The recovery rate has further improved to 55.49% amongst COVID-19 patients, says Centre
12:19 pm: 133 new COVID-19 cases reported in Assam, taking total cases to 5,388 including 3,202 recoveries and 9 deaths, says state Health Department
12:00 pm: Odisha records 304 fresh cases of COVID-19, taking the total number of cases to 5,160 including 1,607 active cases, says state Health Department
11:51 pm: India likely to face a massive cyberattack 'in form of COVID-19 phishing emails' today, warns govt
11:20 am:
Tamil Nadu: Police check commuters; decreased vehicular movement in Chennai on third day of complete lockdown.

Lockdown to remain imposed till June 30 in Chennai, Chengalpet, Kancheepuram and Thiruvallur districts in the wake of rise in #COVID19 positive cases in the state. pic.twitter.com/dZFsCUjiwG

— ANI (@ANI) June 21, 2020
11:07 am: Highest single-day spike of 823 positive COVID-19 cases and 24 deaths reported in Pune today. Total number of positive cases and death toll rise to 15,004 and 584 respectively, says Pune Health Department
10:55 am: Maharashtra continues to be the worst-hit state in India with 1,28,205 coronavirus cases and 5,984 deaths
10:47 am: Rajasthan reports 154 new COVID-19 positive cases and 4 deaths today, taking the total number of positive cases and deaths to 14,691 and 341 respectively, says state Health Department
10:15 am: Meanwhile, Home Minister Amit Shah has called for a review meet regarding the coronavirus crisis in Delhi at 5 pm today
10:13 am: India's COVID-19 tally breaches 4 lakh-mark after highest one-day spike of 15,413, last 1 lakh cases in 7 days; death toll at 13,254
10:12 am: Meanwhile, the recovery rate stands at 55.48 per cent as 2,27,756 people have been cured and discharged from hospitals
10:11 am: As per Health Ministry, the number of active coronavirus cases stands at 1,69,451
10:11 am: So far, the deadly virus has affected 4,10,461 people and claimed the lives of 13,254
10:07 am: The number of coronavirus cases in India on Sunday crossed the undesirable 4 lakh mark
Posted By: Aalok Sensharma