Coronavirus News: Uttarakhand reports 101 new COVID-19 cases, state's tally rises to 2,278 | Highlights
The number of coronavirus cases in India has increased to 3,95,048 while the death toll has increased to 12,948.
Updated: Sat, 20 Jun 2020 05:57 PM IST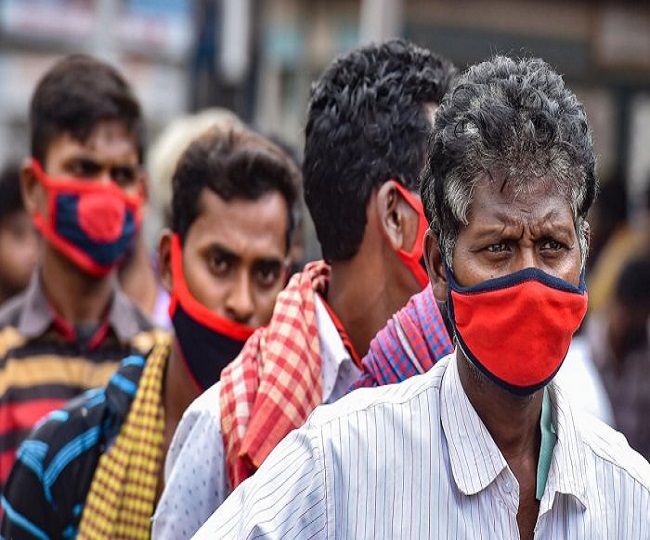 New Delhi | Jagran News Desk: The number of confirmed cases of the highly contagious coronavirus in India has 3.95 lakh-mark while the death toll has increased to 12,948, according to the Ministry of Health and Family Welfare. As per the Health Ministry, the number of active coronavirus cases in India currently stands at 1,68,269 while over 2.13 lakh people have been cured and discharged from hospitals.
Amid the alarming spike in the number of coronavirus cases, the government yesterday asked states to replicate the best practices implemented by Karnataka, which includes comprehensive contact tracing of COVID-19 cases and physical or phone-based household survey, for better management.
Here are the highlights of June 20 on coronavirus pandemic:
17:28 pm: Andhra Pradesh govt has decided not to conduct 10th class exams in the wake of COVID-19, says state Education Minister Adimulapu Suresh
16:40 pm: Kerala High Court Advocates' Association has written to Kerala High Court Chief Justice S Manikumar urging the Court to temporarily discontinue physical sittings and filing as a safety measure, given that a police officer who tested COVID-19 positive entered the court premises, reports ANI
They urged that the Court discontinue physical court sittings and physical case filings until June 30. The representation further suggested that reopening of the court may be considered based on the results of COVID-19 tests of primary contacts of the police officer, reports ANI
16:12 pm: Exclusive: From playing PUBG to practising Cricket, how Yuzvendra Chahal is dealing with coronavirus lockdown | Watch
15:40 pm: There are 986 active cases of COVID-19 in Maharashtra Police while 46 personnel have so far died due to the disease, say Maharashtra police
15:40 pm: Uttarakhand reports 101 new COVID-19 cases, taking the state's total to 2,278
15:18 pm: Close to 2,75,000 Indians, who were stranded in foreign countries, have been brought back to the country in flights and ships during the lockdown, says Union Civil Aviation Minister Hardeep Singh Puri
15:16 pm: We're getting 30 COVID-19 cases everyday in small population like Puducherry. If our law enforcements, medical staff and sanitation workers will also get affected then who will protect us? We have to be very careful and protect our lives and livelihood, says Puducherry Lieutenant Governor Kiran Bedi
14:57 pm: 1 death and 140 new COVID-19 positive cases reported among police personnel in the last 48 hours. The total number of positive cases rise to 3,960 including 46 deaths and 2,925 recoveries, say Maharashtra police
14:37 pm: In Delhi, the deadly coronavirus has affected more than 53,000 people and claimed the lives of over 2,000 people so far
14:06 pm: 'Why different rules for Delhi': Arvind Kejriwal on LG's mandatory institutional isolation for COVID patients order
13:36 pm:
#WATCH - Centre's decision of making 5-day institutional quarantine compulsory for #COVID19 patients in Delhi is wrong. I am a corona patient & recovering at home. Due to this 5-day institutional quarantine, people will now refrain from getting tested: Atishi, AAP MLA pic.twitter.com/tVoQxka9Kx

— ANI (@ANI) June 20, 2020
13:14 pm: A consensus could not be reached at today's SDMA meeting on rates of beds at private hospitals and LG's order of ending home isolation. Another meeting will be held at 5 pm today, says Delhi Deputy Chief Minister Manish Sisodia
12:55 pm: Puducherry records 52 fresh cases of COVID-19, taking total number of cases to 338 including 131 recoveries and 7 deaths, says Puducherry Health Department
12:43 pm: Opposing Lieutenant Governor Anil Baijal's decision of compulsory 5-day institutional quarantine for COVID-19 patients, Delhi CM Arvind Kejriwal said Railway has provided isolation coaches but given the hot weather, how will someone stay in them, reports ANI
12:25 pm: Delhi CM Arvind Kejriwal at today's SDMA meeting opposed LG Anil Baijal's decision of 5-day compulsory institutional quarantine for COVID-19 patients. He said this will make people evade testing which will further increase the spread of infection, reports ANI
12:22 pm: COVID-19 is a huge menace, the whole world has been shaken by it but you stood tall. The way India's villages have fought corona, it has taught a lesson even to the cities, says Prime Minister Narendra Modi
11:50 am: 179 new cases of COVID-19 recorded in Odisha, taking the total number of cases to 4856 out of which 1543 cases are active, says state Health Department
11:44 am: Delhi Disaster Management Authority (DDMA) meeting is scheduled for 12 pm today. We will oppose LG's order of ending home isolation in this meeting. Ending home isolation is against ICMR guidelines and will create chaos in Delhi, says Delhi Deputy CM Manish Sisodia
11:22 am: Madhya Pradesh: A BJP MLA who had participated in voting for Rajya Sabha elections yesterday has tested positive for COVID-19, reports ANI
11:19 am: Rajasthan reported 158 COVID-19 cases till 10.30 AM today, taking total number of cases to 14,314 out of which 2,860 cases are active. Number of deaths due to the disease stands at 333, says state Health Department
11:19 am: As per our calculation, Delhi needs 15,000 beds by June 30 but after this order, now we need 90,000 beds by June 30. From where will we get 90,000 beds?, says AAP MLA Raghav Chadha
11:00 am: As per yesterday's order, all COVID-19 patients, symptomatic or asymptomatic, will be kept in quarantine centres for 5 days. People from my constituency have told me that they won't get themselves tested for fear of being whisked away to quarantine centres, says AAP MLA Raghav Chadha
10:40 am: Record 14,516 new infections in last 24 hrs take India's COVID-19 tally near 4 lakh-mark; death toll at 12,948
10:20 am:
Punjab: Police personnel distribute face masks to people in Amritsar to spread awareness about #COVID19 pandemic as the state observes weekend lockdown.

Only shops of essential items are allowed to open on Saturdays and Sundays in the state. pic.twitter.com/AsbhzF3xTx

— ANI (@ANI) June 20, 2020
10:01 am: 66,16,496 samples tested till 19th June. 1,89,869 samples tested in the last 24 hours, says Indian Council of Medical Research (ICMR)
10:00 am: Delhi Minister Satyendar Jain has been administered plasma therapy. He has no fever now, his health will be monitored at ICU over the next 24 hours, says his office
9:45 am: According to Health Ministry, the recovery rate in India is 54.12 per cent as 2,13,831 people have been cured and discharged from hospitals
9:30 am: The number of active coronavirus cases in India stands at 1,68,269: Health Ministry
9:22 am: The number of coronavirus cases in India has increased to 3,95,048 while the death toll has increased to 12,948: Health Ministry
9:11 am: 'Arbitrary decision, will seriously harm city': Delhi govt slams LG for making institutional quarantine mandatory for COVID patients
8:44 am: One more policeman died of COVID-19 in Mumbai yesterday, taking the death toll in Mumbai Police to 31. A total of 2,349 police personnel have contracted the disease so far in the city, says Mumbai Police PRO Pranay Ashok
8:39 am: Meanwhile, Maharashtra has reported more than 1.20 lakh coronavirus cases so far. Maharashtra is the worst-hit state in India
8:23 am: In Delhi, the number of coronavirus cases is nearing 50,000-mark. The national capital has become one of the hotspots of coronavirus in India
7:56 am: Director of Directorate of Medical Education and Research Maharashtra issues show-cause notice to the Dean of a government hospital in Latur district for allegedly asking a COVID-19 patient to buy medicines from the market. He has been asked to respond to the notice within 3 days, reports ANI
7:42 am: Brazil's health ministry says it recorded 54,771 new infections bringing the total cases to 10,32,913 with 48,954 deaths, reports AFP
7:40 am: Mizoram reports 10 new COVID-19 positive cases. The total number of cases in the state stands at 140 including 131 active cases and 9 cured/discharged, says state government
7:24 am: Amid surge in COVID-19 cases, recovery rate improves to 53.79 pc with total recoveries crossing 2 lakh-mark
7:22 am: Meanwhile, the recovery rate in the country stands at 53.79 per cent as 2,04,711 people have been cured and discharged from hospitals
7:22 am: As per the Health Ministry, the number of active coronavirus cases in India currently stands at 1,63,248
7:21 am: The novel coronavirus as affected 3,80,532 people and claimed the lives of 12,573 in India so far
Posted By: Aalok Sensharma