Coronavirus News: 95,527 patients recovered, COVID-19 recovery rate in India is 48.07%, says Health Ministry | Highlights
Modi Speech at CII Annual Session LIVE: 'Intent, Inclusion, Investment, Infrastructure and Innovation are 5 things important to make India atmanirbhar', says PM
Updated: Tue, 02 Jun 2020 04:16 PM IST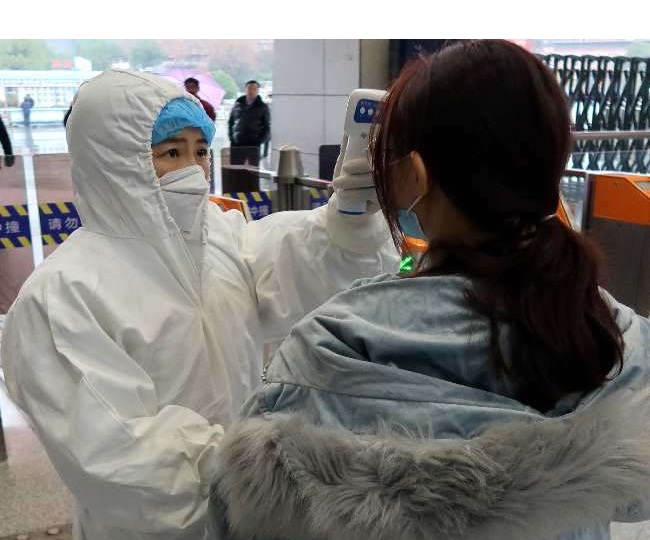 New Delhi | Jagran News Desk: The number of novel coronavirus cases is increasing at a rapid rate in India. The number of cases have surged to 1,98,706, while the death toll has risen to 5,598, according to the latest data by the Union Health Ministry. Of the total number of cases, there are 97,581 active cases, while 95,527 people have been cured. Maharashtra is the worst affected state with 70,013 cases and 2362 fatalities, according to state government data.
After the MHA's guidelines, almost every state has shared revised guidelines for 'Unlock 1'-- aimed at lifting restrictions a phase-wise manner. Shopping malls, hotels, restaurants, and religious places of worship will be allowed to open from June 8. The lockdown has been extended in several states for a period of 15-30 days. Containment zones will observe Lockdown 5 till June-end.
Here are the LIVE updates of COVID-19:
4:20 pm: Indian RNA extraction kits are now available in good number, RT-PCR kits by 11-12 indigenous vendors are now being used, we are now in a comfortable position as reg. testing, due to identification and hand-holding of domestic players: Nivedita Gupta, ICMR
4:19 pm: We have 681 laboratories that are approved for conducting #COVID19 tests- 476 in Government sector and 205 in private sector, as of 1st June 2020. Today, we are conducting 1 lakh 20 thousand tests every day: Nivedita Gupta, Scientist at Indian Council of Medical Research
4:18 pm: 73% of #COVID19 deaths in India are people with co-morbidities: Lav Agrawal, Joint Secretary, Health Ministry
4:15 pm: 10% of India's population accounts for 50% of India's COVID19 linked deaths: Lav Agrawal, Joint Secretary, Health Ministry
4:12 pm: The fatality rate in our country is 2.82%, one of the lowest in the world: Lav Agrawal, Joint Secretary, Health Ministry
4:10 pm: Till now, 95,527 COVID19 patients have recovered. The recovery rate is now 48.07% : Lav Agrawal, Joint Secretary, Health Ministry
4:03 pm: 25 new #COVID19 positive cases reported in Mumbai's Dharavi area today; the total number of positive cases in the area rises to 1830, death toll stands at 71: Brihanmumbai Municipal Corporation
3:15 pm: Nearly 150 Covid positive patients are being moved out of the makeshift facility at MMRDA ground in BKC and shifted to the NSCI Dome in Worli owing to the cyclone warning, reported The Times of India.
2:44 pm: Uttarakhand reports 41 new #COVID19 positive cases; the total number of cases in the state rises to 999. Death toll is at 7: State Health Department
2:39 pm: Armed forces' members stay away from dear ones for long times, so we can relate to the feeling of those who've been away from family. Indian Navy is proud to be part of Op Samudra Setu. It gives sense of pride, satisfaction: Captain Pankaj Chauhan,Commanding Officer, INS Jalashwa
1:40 pm: Also, for all information related to hospitals and beds, you can call on our helpline 1031. They will send you an SMS with the status of bed availability in Delhi hospitals: Delhi CM
1:35 pm: Total 302 ventilators are available in Delhi, of which 210 are vacant. All this information will be updated on this app twice a day, 10 am & 6 pm, to give you latest details: Delhi CM
1:30 pm: No. of cases in Delhi are increasing, but there's no need to worry about medical care for #COVID19 patients as we've done sufficient arrangements. If any member of your family tests positive, then they'll get the required medical services: Delhi CM Arvind Kejriwal.
1 pm: Till date, 675 #COVID19 positive cases have been reported in Jharkhand including 296 recoveries, 374 active cases and 5 deaths: State Health Department
12:25 pm: Self-reliant India is not an India of isolation and its not an inward-looking India. It is an India which develops an ecosystem as a robust asset to the global economy: Union Minister Ravi Shankar Prasad
12:07 pm: Andhra Pradesh reports 82 new #COVID19 positive cases in the last 24 hours; taking the total number of cases to 3200. Death toll stands at 64: State COVID-19 Nodal Officer
11:45 am: 171 new #COVID19 positive cases and 2 deaths have been reported in the state till 10:30 am today. Total positive cases stand at 9271 and death toll is at 201: Rajasthan Health Department
11:42 am: World is looking for a trusted, reliable partner. In India, we have potential, strength & ability. Today, all of you, including all the industries must benefit from the trust that has developed for India all over the world: PM
11:34 am: Now we have to invest in the creation of a Robust Local Supply Chain that strengthens India's stake in the Global Supply Chain. In this campaign, a big institution like Confederation of Indian Industry (CII) will also have to come forward in a new role post-Corona: PM Modi
11:29 am: The country now needs to manufacture products which are 'Made in India' but are 'Made for the World': Prime Minister Modi
11:25 am: Intent, Inclusion, Investment, Infrastructure and Innovation— these five things are important to speed up India's development and make it 'atmanirbhar'. You will get a glimpse of these in the bold decisions recently taken by us: PM Narendra Modi
11:22 am: The direction in which the government is moving today, be it our mining sector, energy sector or research and technology, in every field there will be many new opportunities for youth of the country: PM Modi
11:20 am: Re-strengthening economy against Corona is one of our highest priorities. For this, the government has taken immediate decisions. We have also taken decisions which will help the country in the long run: PM Narendra Modi
11:18 am:
#LIVE -- The decisions we've recently taken have a reflection of all five elements. We've made all sectors future-ready: PM @narendramodi

For more updates, follow: https://t.co/Ghj3PBADJR#NarendraModi pic.twitter.com/tZK0If1LSu

— Jagran English (@JagranEnglish) June 2, 2020
11:15 am: Pradhan Mantri Garib Kalyan Yojana has helped a lot in providing immediate benefits to the poor. Under this scheme ration has been delivered to the houses of 74 crore beneficiaries. Free ration is also being provided to migrant workers: Prime Minister Narendra Modi
11:12 am: I would rather go beyond 'Getting Growth Back' and I would say, "Yes, we will definitely get our growth back": Prime Minister Narendra Modi
11:08 am: Today, on the one hand we've to save lives of our countrymen&on the other hand, we've to stabilize country's economy. In this situation, CII has started the talk of "Getting Growth Back"& I congratulate all the people of Indian industry for this: PM Modi
11:05 am: Prime Minister Narendra Modi addresses the Annual Session of the Confederation of Indian Industry (CII) to mark its 125 years since its inception in 1895.
10:45 am: Best wishes to the people of Andhra Pradesh. Hardwork and courage are synonymous with the culture of this land. The state's role in India's growth is deeply valued. Wishing the citizens of the state the very best for their future endeavours: PM Modi
10:35 am: Greetings to people of Telangana on their Statehood Day. People from this state are excelling in a wide range of sectors. This state is making valuable contributions to the growth trajectory of India. I pray for progress & prosperity of the people of Telangana: PM Narendra Modi
10:30 am: Tamil Nadu | INS Jalashwa carrying 685 Indian nationals from Colombo in Sri Lanka arrives at V O Chidambaranar Port in Tuticorin. A passenger says, "it feels great to be back home. We had a pleasant trip. We are grateful to Indian govt for bringing us back." #OperationSamudraSetu
10:05 am: At 11 AM today, Prime Minister @narendramodi will address the CIIAnnualSession2020. He will speak on the subject- "Getting Growth Back."
After Unlock-1 has been announced, this would be the Prime Minister's first major speech on aspects relating to the Indian economy.
9:52 am: Gujarat: Textile market in Surat reopened today amid relaxations in the #lockdown. Dinesh Katariya, a businessman says, "all precautionary measures have been taken. We have installed automatic hand sanitizers,sanitizing tunnels. Thermometer guns are being used to check temperature"
9:43 am: Father-son duo use #lockdown time to dig well to solve problem of water scarcity in village in Nanded district of #Maharashtra
9:10 am: India reports 8,171 new #COVID19 cases & 204 deaths in the last 24 hours. Total number of cases in the country now at 1,98,706 including 97,581 active cases, 95,526 cured/ discharged/migrated and 5,598 deaths: Ministry of Health and Family Welfare
8:30 am: US on Monday recorded 743 new coronavirus deaths in 24 hours, bringing its total to 105,099 since the global pandemic began. Total cases reached 1.8 lakh: The Times of India
8:04 am: 12 new #COVID19 positive cases confirmed at Zoram Medical College: Mizoram CM Zoramthanga.
7:42 am: Delhi: Police personnel check vehicles at Delhi-Gurugram border, amid vehicular movement on the route. Delhi CM Arvind Kejriwal yesterday announced that Delhi borders will be sealed for the next one week and only essential services will be exempted.
Delhi: Police personnel check vehicles at Delhi-Gurugram border, amid vehicular movement on the route. Delhi CM Arvind Kejriwal yesterday announced that Delhi borders will be sealed for the next one week and only essential services will be exempted. pic.twitter.com/XHqLmk2VxC

— ANI (@ANI) June 2, 2020
7:30 am: According to a data tracker by WHO, the global tally of infections has reached 6.2 million with over 3.75 lakh deaths.
7:20 am: Mexico's tally of confirmed COVID-19 deaths has passed 10,000. News of the updated toll -- now 10,167 -- came as Mexico announced it was gradually reopening its economy by reactivating its automotive, mining and construction sectors: AFP
7:15 am: Delhi | Joggers and morning walkers carry out their exercises at Nehru Park in Chanakyapuri area, amid COVID19 pandemic. Unlock1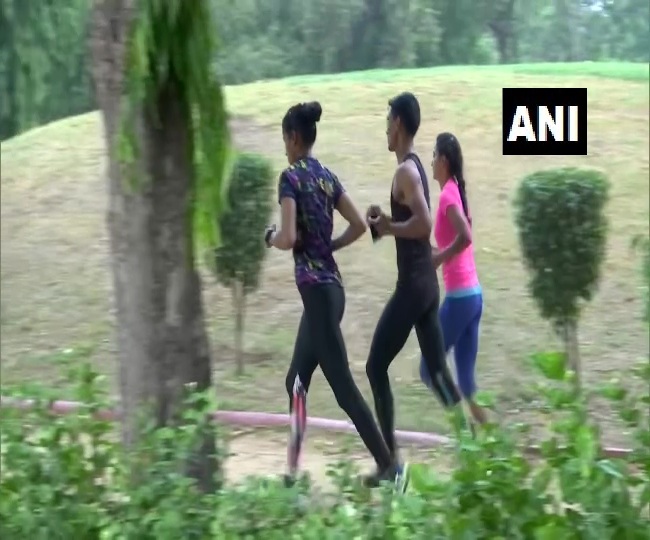 7:08 am: Rajasthan | 13 people at Saras dairy plant in Jodhpur, tested positive for #COVID19 on Monday. Plant's Managing Director says, "They were contractual workers and used to work in the garden where waste water of dairy is utilised. They had not come in contact with packaging or milk"
We sanitise the plant five times everyday. We are also sanitising the garden and the entire Plant today: Madan Lal Bagdi, Managing Director of the Plant
7 am: MP | Indore Municipal Corporation is stopping distribution of free ration that had started in March amid lockdown. Municipal Commissioner says "We distributed 21-22 Lakh packets. Now industrial activities resuming, PDS shops opening & unlock 1 has begun, so it's not needed."
Posted By: James Kuanal