Coronavirus News: Cases rise in Bihar and UP as India's COVID-19 cases reach 7.67 lakh | Highlights
Coronavirus News: Amid surging cases, the health ministry said it has roped in specialist doctors from the AIIMS to provide expert guidance on COVID-19 to doctors manning ICUs in state hospitals, in an effort to reduce the fatality rate
Updated: Thu, 09 Jul 2020 05:32 PM IST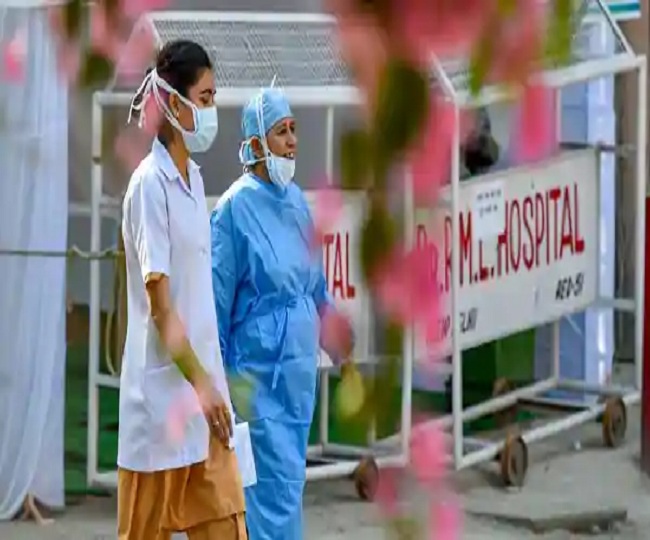 New Delhi | Jagran News Desk: India's coronavirus cases mounted to 7,67,296 on Thursday with a record single-day rise of 24,879 infections. The death toll in the country also crossed the 21,000-mark and reached 21,129 deaths after 487 fresh deaths were reported in a day.
The number of recoveries stands at 4,76,378, while there are 2,69,789 active cases of coronavirus currently in the country. The rate of recovery among COVID-19 patients continues to increase and touched 61.53 per cent on Wednesday, the ministry said.
Amid surging cases, the health ministry said it has roped in specialist doctors from the AIIMS here to provide expert guidance and knowledge support on COVID-19 to doctors manning ICUs in state hospitals, in an effort to reduce the fatality rate. The doctors will provide guidance on effective clinical management of coronavirus infected patients in the ICUs of different state hospitals through tele/video consultation.
Here are the Highlights on Coronavirus:
5:30 pm: Chief Minister said he will seek revocation of the July 6 MHA orders on compulsory conduct of final terms exams in the universities/colleges by September, and withdrawal of the University Grants Commission (UGC) guidelines accordingly: Punjab Chief Minister's Office (CMO)
5:15 pm: In FICCI's virtual conference they said it takes months & yrs (to get approval for shooting). It's natural that it'll be difficult for people of film industry to go to other countries. They should follow PM's advice&go to 15 destinations within country in 3 yrs: Tourism Minister
5:00 pm: Terming the COVID situation in the state non-conducive to conduct of exams, Punjab CM Capt Amarinder said that he will write to PM Modi & Union Home Minister Amit Shah seeking cancellation of exams in universities & colleges in the interest and safety of the students: Punjab CMO
4:45 pm: 9 new COVID19 positive cases reported in Dharavi area of Mumbai today; the total number of positive cases in the area is now 2347 and 86 deaths: Brihanmumbai Municipal Corporation (BMC)
4:30 pm: All monuments were allowed to open from July 6 but SOPs are very clear, everyone will have to ensure safety&follow local admn's guidelines. If a monument is in Red zone & state govt disagrees to it, our approval doesn't mean it'll open. State govt's consent essential: Tourism Min
4:00 pm: In the last 24 hours, 1,248 new #COVID19 positive cases have been reported. Active cases in the State stand at 10,373. A total of 21,127 have been discharged after recovering from the disease. The death toll stands at 862:Uttar Pradesh Principal Health Secretary Amit Mohan Prasad
3:45 pm: We've 72 labs where #COVID19 tests are conducted. They are under pressure with increased number of tests. When lab technicians are quarantined, it gets difficult to complete work. So we're considering to increase number of labs&technicians: B Sriramulu, Karnataka Health Minister
3:30 pm: Bihar reports 704 new #COVID19 positive cases today, taking the total number of cases to 13,978. Number of recovered cases stand at 9,541: State Health Department
3:10 pm: Last evening a Chinese national was stopped at our border in Kaloha. His purpose was tourism, so he was asked for std requirements by the Himachal Pradesh govt - a within 72 hrs #COVID19 negative test & 5-days advance booking at a hotel. Those things were not with him: Kangra SP
2:55 pm: He had not registered himself with tourism site of Himachal Pradesh govt. So we detained him there & put him in institutional quarantine. Today we're getting him tested. Further action will be taken as per the report of the COVID-19 test: Vimukt Ranjan, Kangra SP
2:45 pm: Universities&colleges can opt to conduct exams through online, offline or blended mode. Guidelines for the conduct of exams have been issues on the basis of Standard Operating Procedure suggested by the Health Ministry. All states should conduct exams for final year students: UGC Secy
2:30 pm: Punjab: 82 Pakistani nationals who were stuck in India due to #COVID19 lockdown crossed over to Pakistan via Attari-Wagah border today. Arunpal Singh, Protocol Officer (Police) says, "82 people who were stuck here since last 3-4 months due to COVID crossed over to Pakistan today."
2:00 pm: They had first produced antibody test report which said it's not a comprehensive COVID19 negative test. So we denied them entry. Y'day they returned with RT-PCR report on RML hospital's letter-head. We cross-verified it with RML & got to know it's fake, not issued by RML: Kangra SP
1:50 pm: Himachal Pradesh: A Delhi couple was caught visiting Dharamshala by producing fake #COVID19 negative certificates. Kangra SP says, "Sent them to institutional quarantine centre, they'll be tested today. Case registered against them. Action will be taken according to their report"
1:25 pm: The global comparison between the five most affected countries clearly depicted that India has one of the lowest cases per million (538) and deaths per million (15) compared the global average of 1453 and 68.7, respectively: Government of India.
1:15 pm: Hospital authorities have informed me that misinformation is being spread. Hospital is following all protocols: Bihar Health Minister Mangal Pandey on video posted by RJD leader Tejashwi Yadav alleging mishandling of bodies in Nalanda Hospital in Patna.
1:10 pm: The number of COVID-19 cases reaches 1101 in Himachal Pradesh, active cases stand at 256. Total of 821 patients have recovered so far. The death toll stands at 9: State Health Department
1:00 pm: Karnataka: Chief Minister BS Yediyurappa calls State Ministers, MPs, MLAs and Corporators from Bengaluru for a meeting at Palace Grounds to discuss #COVID19 management in the city
12:45 pm: During our discussions today, experts again stated that there is no community transmission in India. There may be some localised pockets where transmission is high but as a country, there's no community transmission: Health Min Harsh Vardhan after Group of Ministers meet
12:30 pm: We are seeing on TV that India has become the 3rd most #COVID19 affected country. It is necessary to see this in correct perspective, we are a country with the 2nd highest population in the world. Our cases per million are 538, while world average is 1,453: Union Health Minister
12:10 pm: Exclusions are a 1-time measure for exams due to #COVID19. While it's easy to misconstrue exclusion of 3-4 topics like nationalism, local govt, federalism & build a concocted narrative,a wider perusal of different subjects will show that this is happening across subjects: HRD Min
12:00 pm: A huge country like Brazil, with a similar population to Uttar Pradesh, has suffered around 65,000 deaths due to #COVID19. While in Uttar Pradesh, around 800 people have lost their lives, it means many lives have been saved in the state: Prime Minister Narendra Modi
11:45 am: Supreme Court starts hearing the suo moto case with regards to the problems faced by migrant workers during the lockdown due to #COVID19.
11:30 am: The Nodal Officer will provide voluntary plasma donor including replacement donors keeping in view the projected requirement of Convalescent plasma and the scarce availability of this meagre resource: Delhi Govt
11:15 am: For the sake of coordination, requisition and issuance of Convalescent plasma from Delhi plasma bank, all the Medical Superintendents/In-charges of hospitals in Govt and Private/Corporate Sectors are required to nominate a Nodal Officer: Delhi Govt
11:00 am: 100 years ago, a similar pandemic happened, it is said that back then the population was not this big in India. Even then, at that time, India was one of the countries which had the most deaths. That is why whole world was concerned for India this time: PM Modi
10:30 am: 149 #COVID19 cases & 7 deaths reported in Rajasthan today. Total number of cases in the state is now at 22212, including 4846 active cases & 489 deaths: State Health Department
10:00 am: Group of Ministers (GoM) meeting under the chairmanship of Union Health Minister Dr Harsh Vardhan on #COVID19, is underway, through video conferencing. External Affairs Minister S Jaishankar & Union Civil Aviation Minister Hardeep Singh Puri also present.
9:40 am: India reports the highest single-day spike of 24879 new #COVID19 cases and 487 deaths in the last 24 hours. Positive cases stand at 767296 including 269789 active cases, 476378 cured/discharged/migrated & 21129 deaths: Ministry of Health & Family Welfare
9:10 am: A total of 1,07,40,832 samples tested for COVID19 till 8th July. Of these, 2,67,061 samples were tested yesterday: Indian Council of Medical Research (ICMR)
8:50 am: Kerala: 25 Commandos of Special Armed Police (SAP) deployed in Poonthura to enforce lockdown guidelines. Kerala DGP says, "Coast Guard, Coastal Security, & Marine Enforcement also put on guard here to prevent fishing boats going out to or returning from Tamil Nadu."
7:30 am: On that evening we got a call from a staff member who informed us that my mother's body was still in the mortuary. The body that was handed over to us earlier was of a Muslim woman. Today we did our mother's last rites: Mohini, daughter of a COVID19 patient who passed away
7:20 am: Ghaziabad | Bodies of two #COVID19 patients were allegedly exchanged while being taken for last rites. Mohini, daughter of one of the deceased said, "My mother was admitted at AIIMS, Delhi and she passed away on July 5. Last rites were completed the next morning."
7:10 am: Pickle manufacturers in Panipat say their businesses have been affected due to #COVID19. Owner of a pickle manufacturing unit says, "We are facing labour shortage & transportation problem. We have faced a huge loss in the last few months. Export of pickle has also stopped"
7:00 am: Madhya Pradesh: Gym owners and fitness trainers staged a demonstration in Jabalpur yesterday, urging the government to allow reopening of gyms.
Posted By: Talib Khan