Coronavirus News: Cases rise in Karnataka, Tamil Nadu as India's COVID--19 caseload reaches 7.42 lakh | Highlights
India has 315.8 recovered cases per million, while the active cases per million in the country is at a "low level" of 186.3, the ministry said in a statement.
Updated: Wed, 08 Jul 2020 03:51 PM IST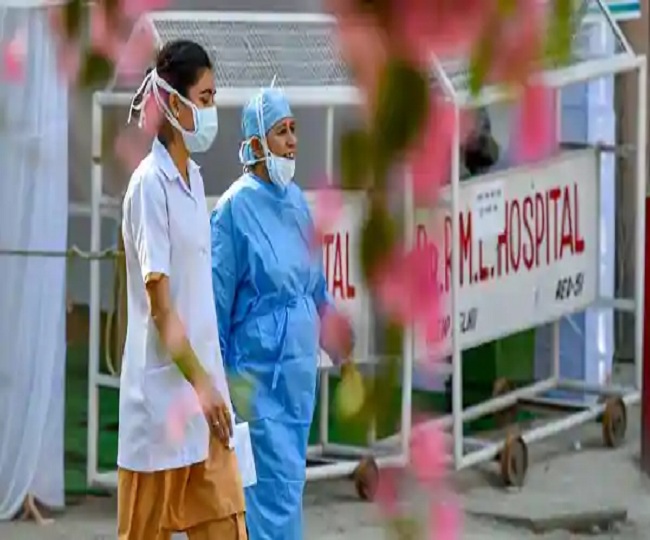 New Delhi | Jagran News Desk: The country's COVID-19 caseload increased to 7,42,417 on Wednesday with a single-day rise of 22,752 cases, while the death toll climbed to 20,642 with 482 persons succumbing to the disease in the last 24 hours. The Union health ministry said India's recovered cases per million population is more than active COVID-19 cases per million. It credited the states and Union Territories for early identification and effective management of the coronavirus cases.
India has 315.8 recovered cases per million, while the active cases per million in the country is at a "low level" of 186.3, the ministry said in a statement.
Meanwhile, the Delhi government has decided to obtain feedback from patients and their willingness to donate blood plasma at the time of discharge from designated COVID hospitals.
The medical superintendents of all government and private COVID hospitals have been issued directions in this regard. The feedback form will have questions about cleanliness, food, doctors at the hospital, blood group and underlying conditions.
Here are the Highlights on Coronavirus from across the country:
3:50 pm: Case filed against Congress MP Pradyut Bordoloi&All India United Democratic Front (AIUDF) MLA Aminul Islam, in connection with violation of lockdown norms during the funeral of Maulana Khairul Islam, in Nagaon last week. They were present at the event: Nagaon SP.
3:30 pm: A Delhi Court grants bail to the Brazilian, Australia, Fiji, China and Philippines nationals who participated in the Tablighi Jamaat congregation at Nizamuddin Markaz. The court granted bail on the personal bond of Rs 10,000 each.
3:15 pm: As measuring of oxygen saturation level is an important parameter for monitoring health of COVID19 patients, MoD, Dept of Ex-Servicemen Welfare has decided to reimburse cost of pulse oximeter purchased by Ex-Servicemen Contributory Health Scheme beneficiaries: Ministry of Defence
3:00 pm: Maharashtra: Hotels in Mumbai resume their services after the State Government allowed them to operate at 33% capacity from today. A hotelier says, "Anxiety levels are understandably there among the visitors. It is our job to assure them of their safety."
2:45 pm: A session was held by WHO teams for ITBP doctors&medical staff at Sardar COVID Care Center Radha Soami Beas, Chhatarpur, Delhi. The team updated them about global trends, safety protocol etc. So far 42 positive patients have been admitted to the centre: Indo-Tibetan Border Police
2:30 pm: During lockdown, over 100 orgs in Varanasi distributed almost 20lakh food packets&2lakh dry ration kits via food cell of District Admin&through individual efforts. PM will interact with representatives of such orgs tomorrow via video conferencing to discuss their experience: PMO
2:15 pm: Bihar reports 749 new #COVID19 positive cases taking the total number of cases to 13,274. Number of recovered cases stands at 9,338: State Health Department
2:00 pm: To strengthen Central Govt's efforts to reduce COVID mortality, AIIMS-Delhi starts teleconsultation guidance to State doctors on COVID clinical management, twice a week- on Tuesdays&Fridays. 10 hospitals with more than 1000 beds to participate in1st session: Union Health Ministry
1:30 pm: We've supplied over 4000 beds to hospitals in Mumbai, Tamil Nadu, West Bengal, Jharkhand & several other locations. We've donated 2000 beds to Sardar Vallabh Bhai Patel #COVID19 Hospital in Delhi: Mihir Parekh, Executive Director, Bubble Guard Division Nilkamal Ltd, Panaji.
1:00 pm: 1062 new #COVID19 positive cases, 12 deaths, 1332 discharged in last 24 hours in the Andhra Pradesh. The total number of positive cases in the state rises to 22,259 including 11,101 discharged and 264 deaths: State Command Control Room
11:30 am: 173 #COVID19 positive cases, 6 deaths, 8 recovered and 6 discharged today in Rajasthan. The total number of positive cases in the state rises to 21,577 including 478 deaths, 16,583 recovered and 16,208 discharged: Rajasthan Health Department
11:00 am: 527 new COVID19 positive cases reported in Odisha in the last 24 hours. The total number of positive cases in the state is now 10,624 including 3,860 active cases, 6,703 recovered and 48 deaths: Odisha Health Department
10:30 am: Monuments should be opened in consultation with the state governments and following #COVID19 precautions. Today, around 800 monuments including Taj Mahal are still closed but we have to resume work soon: Union Minister of Tourism and Culture Prahlad Singh Patel
10:15 am: Kerala: People buy goods & vegetables at shops & markets in Thiruvananthapuram, amid 'Triple lockdown' (more restrictions) imposed in Thiruvananthapuram Corporation area for a week, starting July 6. State government has given relaxation for shops; to open from 7-11 am.
9:40 am: India reports a spike of 22,752 new #COVID19 cases and 482 deaths in the last 24 hours. Positive cases stand at 7,42,417 including 2,64,944 active cases, 4,56,831 cured/discharged/migrated & 20,642 deaths: Ministry of Health & Family Welfare
9:30 am: Healthcare workers face constant risk while administering anaesthesia or performing suctioning on patients. The device comes with required apparatus inside the box. It will provide safety to doctors and healthcare workers: Dr Sanjeev Misra, Director, AIIMS Jodhpur
9:20 am: Bengaluru: Karnataka CM BS Yediyurappa holds an emergency meeting with Deputy CM Dr Ashwath Narayan & other ministers over #COVID19 situation in state. Total number of positive cases in Karnataka stands at 26,815 including 11,098 recovered & 416 deaths, as per the last bulletin.
9:10 am: Ahmedabad: Gujarat High Court to remain closed from today till 10th July for sanitisation of the entire premises after 6 staff members of the High Court registry and one constable from Vigilance Department were found #COVID19 positive
9:00 am: A total of 1,04,73,771 samples tested for #COVID19 till date. Of these, 2,62,679 samples were tested yesterday: Indian Council of Medical Research (ICMR)
8:00 am: Muzaffarnagar: Children studying in government schools are allegedly not being provided with mid-day meals as promised by state govt, in view of the closure of schools due to #COVID19. A parent says, "Mid-day meal is not being provided, govt has not done anything on this yet.
7:30 am: Dept of Homeland Security has announced its plan for temporary modifications to F-1&M-1 nonimmigrant visa requirements for fall 2020 semester. This will allow a mixture of both in-person&some online coursework to meet requirements for nonimmigrant student status: US Dept of State
7:20 am: This temporary accommodation provides greater flexibility for nonimmigrant students to continue their education in the United States, while also allowing for proper social distancing on open and operating campuses across America: US Department of State
7:10 am: International students will still have to obtain appropriate visa & may still be subject to other visa processing or travel restrictions due to #COVID19. Students should check with the local US embassy or consulate for information specific to their country: US Department of State
7:00 am: Madhya Pradesh: A person who was sent to Gwalior Central Jail on charges of theft had tested positive for #COVID19. He managed to escape from hospital by dodging guards. Manoj Sahu, Superintendent said,"Two police guards who were on duty have been suspended for negligence."
Posted By: Talib Khan