Coronavirus News: Witnessing massive downward shift in active cases, says govt | Highlights
Coronavirus News: Prime Minister Narendra Modi on Friday launched the Customised Crash Course programme for COVID-19 frontline workers.
Updated: Fri, 18 Jun 2021 04:25 PM IST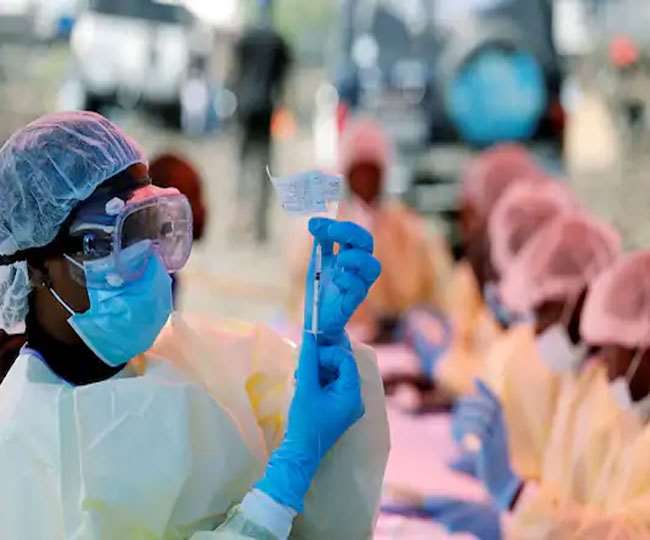 New Delhi | Jagran News Desk: The Indian Medical Association (IMA) held a nationwide agitation today in protest against the series of attacks on doctors, nurses and healthcare staff on COVID-19 duty across the country. IMA president Dr JA Jayalal had earlier said that over 3.5 lakh doctors will participate in the nationwide protest, demanding a central law to protect doctors against violence. He also said that the Association of Physicians of India (API) and Junior Doctor Network (JDN) will also take part in the protest.
Meanwhile, Prime Minister Narendra Modi will launch the Customized Crash Course programme for COVID-19 frontline workers today. In a press release, his office said that the launch will commence the programme in 111 training centres spread over 26 states.
Here are the highlights of the day:
16:20 pm: We've been witnessing an increase in the recovery rate since May 3, which now stands at 96%. We are seeing a downward trend in active cases. Between June 11-June 17, the overall positivity case was less than 5% in 513 districts: Luv Aggarwal, Joint Secretary, Health Ministry
15:10 pm: Giving a fresh impetus to the recruitment process which had slowed down in wake of the ongoing COVID-19 pandemic, Lieutenant Governor, Manoj Sinha today approved the proposal of recruitment of 800 Sub Inspectors in the Jammu and Kashmir Police, says Raj Bhavan.
The Lieutenant Governor also approved the selection process of all Non-Gazetted level posts in all the three departments i.e., Police, Prisons and Fire and Emergency Services departments through the Services Selection Board (SSB), it added.
14:59 pm: People started taking COVID appropriate behaviour lightly after vaccine was rolled out. We have started the unlocking process but we still need to remain cautious and follow all COVID protocols properly, says Union Health Minister Dr Harsh Vardhan.
14:35 pm: Andhra Pradesh | Curfew timings relaxed in the state from 6 am to 6 pm starting 20 June. In the East Godavari district, relaxation time is from 6 am to 2 pm due to high COVID positivity rate, reports ANI.
14:00 pm: Also Read -- COVID-19 still among us, 'can mutate', warns PM Modi; launches customised crash course for corona warriors
13:57 pm: There will be a core committee meeting in the evening, I can't discuss the agenda now. No agenda has been set, political issues, flood, and other issues will be discussed...We will discuss in the evening about giving relaxations and preparation for the third wave, says Karnataka Chief Minister BS Yediyurappa.
13:21 pm: More than 27.90 crore vaccine doses provided to States and UTs so far, by the Government of India. Of this, the total consumption, including wastages is 25,32,65,825 doses, says Union Health Ministry.
More than 2.58 crore (2,58,00,405) COVID19 vaccine doses are still available with the States and UTs to be administered. More than 19,95,770 vaccine doses are in the pipeline and will be received by the States and UTs within the next 3 days, it added.
13:00 pm: There will be no hike in Property tax in Mumbai till the COVID situation continues. We don't know how long will it take but till then we will not burden Mumbaikars by increasing the property tax, says Mumbai Mayor Kishori Pednekar.
11:56 am: People below 45 years of age will get the same treatment for vaccination as for people above 45 years of age from June 21, says PM Modi.
11:32 pm: We are working towards preparing 1 lakh frontline workers in the country, says PM Modi.
11:30 am: Prime Minister Narendra Modi launches six customized crash course programme for COVID19 frontline workers under Skill India via video conferencing.
11:08 am: Delhi High Court takes suo motu cognizance on various images of marketplaces circulated on WhatsApp where people were not wearing masks and not following COVID19 protocols. The Court issues notice to Centre and Delhi government asking them to file status report.
It says there is a need for certain more strict measures required to be taken in the national capital to prevent further spread of COVID19 infection.
10:57 am: Just In: Election Commission is the one who takes decision. But I think elections will be as per schedule in the state, says Goa Chief Minister Pramod Sawant.
10:12 am: A total of 38,7167,696 samples tested up to June 17. Of these, 19,29,476 samples were tested yesterday, says Indian Council of Medical Research.
9:35 am: India reports 62,480 new COVID-19 cases, 88,977 discharges & 1,587 deaths in last 24 hrs, as per Union Health Ministry.
Total cases: 2,97,62,793
Total discharges: 2,85,80,647
Death toll: 3,83,490
Active cases: 7,98,656 (below 8 lakh after 73 days)
Vaccination: 26,89,60,399
9:23 am: Just In: The IMA protest over violence against doctors and nurses begins.
9:08 am: 1,492 new Covid-19 cases, 13 deaths and 1,933 recoveries reported in Telangana in the last 24 hours. Caseload in the state stands at 6,09,417.
8:35 am: Assam reports 3,477 new COVID-19 cases, 4,949 recoveries, and 41 deaths in last 24 hours. Active cases in the state stand at 36,793, reports ANI.
8:00 am: Also Read -- Possible 3rd COVID wave unlikely to affect children due to high seropositivity, claims WHO-AIIMS study
7:42 am: We demand the Madhya Pradesh government to correct the number of deaths due to COVID-19, says Madhya Pradesh's working Congress president Jitu Patwari.
7:35 am: COVID-19 related deaths have surpassed 4 million worldwide, says Reuters.
7:27 am: PM Modi will launch the Customized Crash Course programme for COVID-19 frontline workers today at 11 am video conferencing. He also expected to address the country after the launch.
7:21 am: Indian Medical Association (IMA) to hold nationwide protest today, demanding a central law to protect doctors and nurses against violence.
"IMA is conducting a nationwide protest tomorrow in demand for a central law to protect doctors against violence. 3.5 lakh doctors of IMA will take part in the protest," said IMA national president Dr JA Jayalal.
Posted By: Aalok Sensharma