Coronavirus Crisis | Govt engaging with drug makers to ramp up production of antifungal drug to treat Black Fungus
Catch all the live updates here
Updated: Wed, 12 May 2021 06:40 PM IST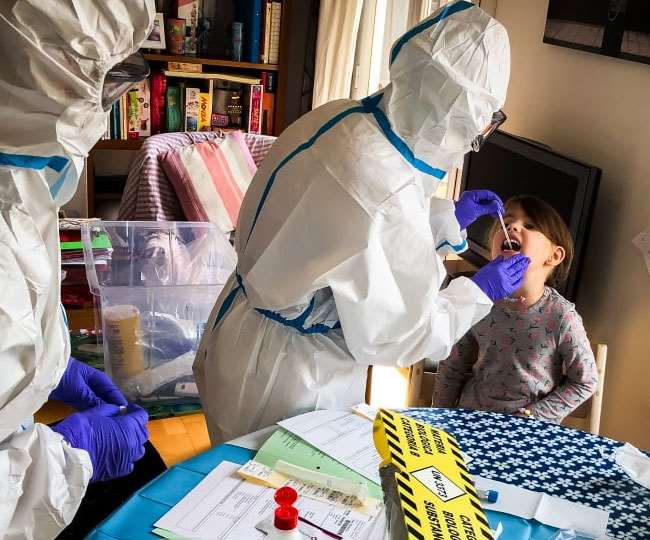 New Delhi | Jagran News Desk: India saw a record rise in COVID-19 deaths with 4,205 fresh fatalities taking the country's death toll to 2,54,197, while 3,48,421 new coronavirus infections were reported, according to the Union Health Ministry data updated on Wednesday. The total tally of COVID-19 cases in country now stands at 2,33,40,938. The active cases have reduced to 37,04,099 comprising 15.87 per cent of the total infections, while the national COVID-19 recovery rate has improved to 83.04 per cent, the data updated at 8 am showed. The number of people who have recuperated from the disease surged to 1,93,82,642 while the case fatality rate was recorded at 1.09 per cent, the data stated.
Here are the LIVE Updates of May 12:
3:30 pm: CDS General Bipin Rawat visited Sardar Vallabh Bhai Patel Hospital & Base Hospital Delhi Cantt to oversee & review medical & patient care against #COVID19. CDS interacted with patients undergoing treatment & also commended COVID Warriors for their selfless service: Indian Army
3:15 pm: Bombay HC slams Pune Municipal Corporation over beds availability in hospitals in the district. The Court said that only creating a dashboard is not enough but beds should also be available
3:00 pm: Tamil Nadu CM MK Stalin announced Rs 25 Lakhs each as compensation for 43 frontline workers and families of government doctors who passed away while carrying their duties during #COVID19 pandemic. He also announced incentives for frontline staff for April, May & June.
2:45 pm: People such as sadhus, prison inmates, senior citizens in old age homes, beggars & others without any of the seven prescribed ID proofs should not be denied of COVID-19 vaccination. The CoWIN portal will create special vaccination sessions for this purpose: Govt of Odisha
2:30 pm: Karnataka: To support people in home isolation, oxygen concentrators are being provided to patients at their doorstep in association with Ola Cabs, Zerodha and GiveIndia Foundation in Bengaluru
2:15 pm: WHO does not identify viruses or variants with names of countries they are first reported from. We refer to them by their scientific names and request all to do the same for consistency: WHO South-East Asia
2:00 pm: INS Tarkash, with 2 Liquid Medical O2 filled (20 MT each) cryogenic containers & 230 Oxygen cylinders embarked, arrived at Mumbai today. O2 containers were facilitated by the French Mission as part of 'Oxygen Solidarity Bridge' & O2 cylinders gifted by Indian diaspora in Qatar
1:40 pm: Rajasthan | It's true that there's more infection in rural areas, nearly 70% positive cases are from villages. About 2,000 people are infected with COVID-19. Medical teams are identifying positive cases, collecting samples and home isolating them: Dr BL Vishnoi, CMHO Barmer
1:25 pm: Karnataka: Migrant workers gather at Bengaluru Cantt railway station to board a train back to their home town as the state is under 14-day lockdown to contain the spread of COVID-19 "Due to lockdown we're not left with any work so I'm going back to my village," says a worker
1:15 pm: Tamil Nadu: Masjid Javeed in Anna Nagar, Chennai has opened a quarantine centre for people who are #COVID19 negative but need a place to stay in quarantine for a few days.
1:00 PM: Delhi: Police have arrested two people for allegedly hoarding & black marketing of essential equipment; 10 Oxygen concentrators, 2000 Pulse Oximeters recovered. Case registered under Essential Commodities Act, 3 Epidemic Diseases Act 1987 & 420/188 IPC at Mundka police station
12:30 pm: Centre should act as the government of a country. They should carry out their responsibility and stop all exports: Delhi Deputy CM Manish Sisodia
12:20 pm: Our reserve stock (of vaccine) is exhausted. The centres administering Covishield vaccines are functioning but we have had to close the centres administering Covaxin. So, we have had to close down more than 100 centres across 17 schools: Delhi Deputy CM Manish Sisodia
12:10 pm: We had demanded 1.34 cr doses, 67 lakhs each of Covaxin & Covishield. Covaxin (Bharat Biotech) wrote to us y'day that they can't provide. They wrote 'we're making dispatches as per directives of concerned govt officials'. Obvious that these are central govt officials: Delhi Dy CM
12:00 pm: GoI is engaging with manufacturers to ramp up production of Amphotericin B - to fight Mucormycosis. States requested to put in place a mechanism for equitable distribution of supplies amongst govt & private hospitals and health care agencies: Ministry of Chemicals & Fertilizers
11:45 am: In view of rising COVID-19 cases, stricter restrictions to come into force w.e.f. 5 am on May 13 till further orders. All shops, eateries including dine-in to be allowed till 1 pm. Only home-delivery allowed after 1 pm. Weekly markets to remain shut for 15 days: Govt of Assam
11:29 am: Chhattisgarh | Complete lockdown to be imposed in Gaurela-Pendra-Marwahi district from midnight today till midnight of 15th May, in view of rise in COVID19 cases
11:23 am: BJP's puppet chief JP Nadda spoke against Rahul Gandhi & Sonia Gandhi. I'd like to ask,till when will they only target Gandhi family&do politics? They're undertaking over Rs 20,000 cr Central Vista project but not giving necessary funds for vaccination: Maharashtra Congress chief
11:20 am: Supreme Court should not only form a task force for COVID management but also form a parallel National Government as the Modi-led BJP govt has failed to protect the country from the pandemic. There is a provision in Constitution for this: Maharashtra Congress chief Nana Patole
11:13 am: Haryana: Panchkula depot converted 5 minibuses into ambulances Each mini bus will have 4 beds with 2 oxygen cylinders. These ambulances will be operated by our drivers along with paramedical and nursing staff: Panchkula depot general manager, Vinay Kumar
11:00 am: There is a shortage of oxygen in the country that's why Supreme Court has created National Task Force (NTF). People are dying due to the shortage of oxygen. Maharashtra also faced a shortage of oxygen but our govt controlled it well. NTF has to work hard: Shiv Sena MP Sanjay Raut
10:45 am: The second shipment of 40 tons of oxygen, donated by France's Air Liquide Group and filled in Qatar reaches Mumbai. Thanks to Indian Navy's frigate INS Tarkash: Emmanuel Lenain, Ambassador of France to India
10:40 am: Maharashtra | Vaccination drive halted at some centers of Nagpur due to the shortage of COVID-19 vaccines. "I came here to take my second dose but due to unavailability of vaccine I was told to come tomorrow," says a local.
10:34 am: Union Health Minister Dr Harsh Vardhan will have a meeting with the Health Ministers of Jammu & Kashmir, Uttarakhand, Haryana, Punjab, Bihar, Jharkhand, Odisha and Telangana.
10:27 am: Union Health Minister Dr Harsh Vardhan will have a meeting today, with the Health Ministers of some states that are lagging behind in #COVID19 vaccination.
10:20 am: Tamil Nadu: People continue to gather in large numbers outside Government Kilpauk Medical College in Chennai to get Remdesivir for their family members.
10:00 am: It received restricted emergency use approval from Central Drugs Std Control Org, Health Ministry, for use in combination with Remdesivir to treat suspected/laboratory-confirmed COVID in hospitalized adults requiring supplemental oxygen, invasive mechanical ventilation: Dr Reddy's
9:52 am: Dr Reddy's Laboratories Ltd has entered into a royalty-free, non-exclusive voluntary licensing agreement with Eli Lilly and Company for the manufacture and commercialization of the drug, baricitinib, in India: Dr Reddy's
9:40 am: India reports 3,48,421 new #COVID19 cases, 3,55,338 discharges and 4205 deaths in the last 24 hours, as per Union Health Ministry Total cases: 2,33,40,938 Total discharges: 1,93,82,642 Death toll: 2,54,197 Active cases: 37,04,099 Total vaccination: 17,52,35,991
9:25 am: Bengaluru bed scam case: Another accused, Anthony - working as a marketing executive in Sapthagiri Hospital, arrested. He took money from patients to get beds allotted to them. So far 8 accused arrested & 2 others are #COVID19 positive, a total of 10 arrested: Joint CP (Crime)
9:10 am: 30,75,83,991 samples tested up to 11th May 2021, for #COVID19. Of these, 19,83,804 samples were tested yesterday: Indian Council of Medical Research (ICMR)
9:00 am: A three-member team of Nodal Officers set up by state govt to oversee COVID treatment at GMCH, should provide their inputs about the issues to the CM: Goa Health Minister Vishwajit Rane
8:50 am: 26 #COVID19 patients died at GMCH between 2-6 am on Tuesday. The requirement of GMCH on Monday was 1200 Jumbo Oxygen Cylinders of which only 400 were supplied, resulting in a shortage: Goa Health Minister Vishwajit Rane
8:40 am: Subject Expert Committee (SEC) gives nod to Bharat Biotech's Covaxin for phase 2 and 3 human clinical trials on 2 to 18-year-olds: Sources
8:30 am: Uttarakhand: Chief Minister Tirath Singh Rawat dispatched 80 MT of oxygen, sent by the central government, through the Oxygen Express at various stations in the state at the railway station at Harrawala. He said that this oxygen will be sent to Garhwal Division & Kumaon Division.
8:15 am: Two people have reportedly died in Madhya Pradesh due to a black fungal infection that affected their brain. According to doctors, 13 patients have been detected with this infection in Madhya Pradesh so far, ANI reported.
8:03 am: There could be over 2,000 Mucormycosis patients in the state as of now and with more and more COVID-19 cases coming up, their number would increase for sure, Maharashtra Health Minister Rajesh Tope said.
7:55 am: Madhya Pradesh: A nurse & 2 lab technicians of a medical college in Shahdol arrested for black marketing of Remdesivir injections. "We also arrested a pharmacy store owner. Six injections, mobile phones & over Rs 6 lakhs cash recovered from their possession," said police
7:45 am: Delhi: A flight from South Korea carrying medical aid landed at the Airport. Cooperation with Republic of Korea continues. Consignment of medical equipment including 200 oxygen concentrators arrives. Appreciate this support from our partner: MEA Spokesperson Arindam Bagchi
7:37 am: Madhya Pradesh: Three persons including a nurse arrested in Chhindwara for their involvement in black marketing of Remdesivir injections. "We have seized 5 Remdesivir injections from their possession. Investigation on," said police
7:28 am: Delhi: Flight carrying medical aid from the Netherlands arrived at Delhi Airport
7:20 am: Delhi: A flight from Switzerland with medical aid arrived at the airport
7:12 am: Haryana: As many as 56 prisoners in Karnal Jail tested positive for COVID19 in last few days. "After prisoners tested positive, we made isolation zone in jail. As it is a matter of concern, all precautionary measures being taken to tackle situation," said Civil Surgeon
Posted By: Talibuddin Khan