Coronavirus News: Delhi reports 571 new COVID-19 cases, state tally rises to 11,659 | Highlights
Updated: Thu, 21 May 2020 06:37 PM IST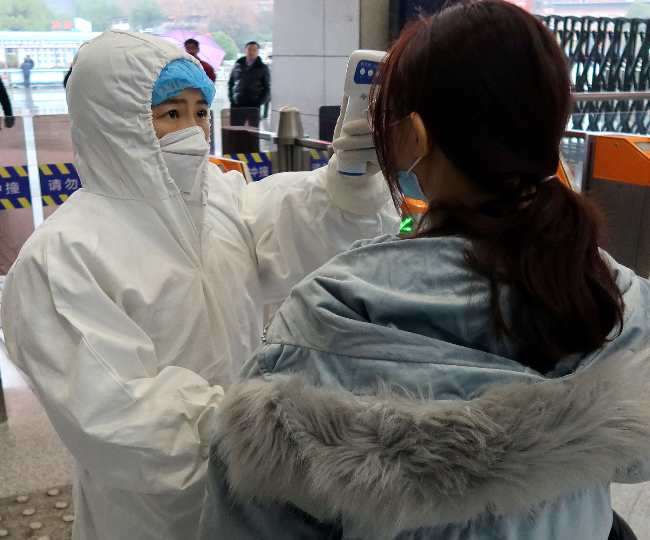 New Delhi | Jagran News Desk: The number of coronavirus cases are increasing at an alarming rate in the country. According to the latest data by the Union Health Ministry, the number of COVID-19 cases in India has surged to 1,12,359, on Thursday, while the death toll has risen to 3,435. There are 63,624 active cases, while 45,300 people have been cured.
A massive evacuation process is being carried out under Phase 2 of Vande Bharat Mission to bring back stranded Indian nationals from abroad amid the pandemic. The government is running Sharmik trains to help migrants reach their hometown. The Indian Railways has begun special train service across 15 destinations. It is adding 200 more trains from June 1.
After fresh guidelines from the state government and Home Ministry, several state governments have allowed the movement of buses, cabs, autos and private vehicles in lockdown 4.
Here are the LIVE updates on coronavirus pandemic:
17:37 pm: Nine new cases of COVID-19 & one death have been reported in Central Reserve Police Force today, taking total number of cases to 335 & fatalities to two in the force. 121 jawans are undergoing treatment: CRPF
17:20 pm: Number of COVID19 cases rises to 216 in Chandigarh including three deaths. Number of active cases stands at 48: Chandigarh Administration
16:45 pm: Coronavirus News | Is working out with face masks harmful? Here's all you need to know
16:09 pm: 96 more positive cases of COVID-19 have been reported in Bihar today, taking the total number of positive cases to 1,872: Bihar Information and Public Relations Department
15:54 pm: 571 COVID19 positive cases, 375 recovered/discharged in last 24 hours. The total number of positive cases in Delhi stands at 11,659, including 5,567 recovered/discharged/migrated and 194 deaths: Delhi Govt
15:38 pm: We've set a minimum & a maximum fare. In the case of Delhi, Mumbai the minimum fare would be Rs 3500 for a journey between 90-120 minutes, maximum fare would be Rs 10,000. This is operative for 3 months - till one minute to midnight on 24th August: Civil Aviation Minister HS Puri
15:37 pm: This order which is being issued today shall remain in force till 23:59 hours IST on 24th August: Civil Aviation Minister Hardeep Singh Puri
15:37 pm: The cabin crew will be required to be in full protective gear. Only one check-in bag will be allowed. Passengers should report before at least 2 hours before departure time. Fares will be regulated & will be in a fixed range: Civil Aviation Minister Hardeep Singh Puri
15:25 pm: For operation from Metro to Metro cities 1/3rd capacity of approved summer schedule 2020, which is more than 33.33%. For operation from Metro to Non-metro cities and vice-versa, where weekly departures are greater than 100, 1/3rd capacity of approved summer schedule 2020: HS Puri
15:17 pm: Starting Monday - 25th May, we will restart the domestic civil aviation operartions in recalibrated manner: Civil Aviation Minister Hardeep Singh Puri
15:16 pm: In Week 2 of Vande Bharat Mission, we ramped up numbers, made it more than double. We are planning to further increase the number of people to be brought back. Besides Air India, private carriers too are joining in the effort: Civil Aviation Minister Hardeep Singh Puri
15:12 pm: We have brought back more than 20,000 of our citizens from various destinations. We have at same time utilised outgoing aircrafts to carry our citizens who are normally resident abroad&needed to travel because of jobs and other professional commitments: Civil Aviation Minister HS Puri
15:07 pm: When we announced Vande Bharat Mission on 5th May, we met virtually. The very fact that we are meeting on 21st May physically, it is a reflection of the fact that we have gained more confidence in the normalisation of the situation and resumption: Civil Aviation Minister HS Puri
14:49 pm: 131 COVID-19 positive cases, 3 deaths, 18 recovered & 41 discharged in Rajasthan today so far. The total number of positive cases in the state rises to 6,146, including 150 deaths and 3,422 recovered and 3,041 discharged, says Rajasthan Health Department
14:15 pm: Web check-in must, only one check-in baggage, Aarogya Setu app: Complete list of guidelines for domestic flights
13:53 pm: Total number of positive cases of COVID19 stands at 1103 in Odisha, including 753 active cases, 343 cured/recovered and 7 fatalities: State Health Department
13:34 pm: Union Minister Hardeep S Puri to address press conference at 3 PM today
13:16 pm: 116 new COVID19 positive cases reported in Karnataka (from 5 PM y'day to 12 PM today), 14 people discharged during this period. Total positive cases in the state rises to 1568, total deaths stand at 41 and a total of 570 people have been discharged so far: Govt of Karnataka
13:15 pm: Some states did not cooperate with us to run special trains for sending back migrant workers to their homes. I think there are around 40 lakh people who want to return to West Bengal but only 27 special trains have entered the state so far: Railway Minister Piyush Goyal
12:48 pm:
Ministry of Civil Aviation issues general instructions for domestic travellers. Only those passengers with confirmed web check-in will be allowed to enter the airport. Passengers will be required to wear protective gear (face mask). Only one check-in bag will be allowed. pic.twitter.com/EVFrOnLgzs

— ANI (@ANI) May 21, 2020
12:11 pm: 45 more COVID19 cases reported in Andhra Pradesh in the last 24 hours. Total number of cases in the state is now at 2452, including 718 active cases and 54 deaths: State's COVID19 Control Room
11:50 am: Total number of cases in Jharkhand now at 290, including 158 active cases & 129 recovered and discharged: State Health Department
11:46 am: 'Aarogya Setu not mandatory for children below 14 years': AAI issues SOP for recommencement of domestic flights
11 am: Gautam Buddh Nagar district administration releases a list of containment zones, divided into category 1 and category 2. A total of 63 zones have been identified (37 in category 1 and 26 in category 2)
10:50 am: All food and beverage (F&B) and retail outlets to be opened with COVID19 precautions. Take-away to be encouraged to prevent crowding. Promote digital payments, self-ordering booths at F&B and retails outlets: Airports Authority of India (AAI) SOP to its Airports
10:30 am: Passenger seating arrangement shall be done in such a manner so as to maintain social distancing among passengers using chairs by blocking those seats that are not to be used, with proper markers/tapes: Airports Authority of India (AAI) SOP to its Airports
10:20 am: Testing (Molecular based) Update - Total number of sample tested is 26,15,920; number of samples tested in 24 hours is 1,03,532: Indian Council of Medical Research (ICMR)
10:17 am: It shall be verified by the Central Industrial Security Force/Airport staff at the entry gate. However, Aarogya Setu is not mandatory for children below the age of 14 years: Airports Authority of India (AAI)
10:15 am: Airports Authority of India (AAI) has issued Standard Operating Procedures (SOP) to all its airports for recommencement of domestic commercial flight operations from 25th May. All passengers must compulsorily be registered with the Aarogya Setu app on their phones as per the SOP.
10:12 am: One new COVID19 positive case confirmed at Barpeta Medical College. The patient is at Kokrajhar Quarantine Centre. Total cases in the state 189, including 48 recovered, 4 deaths and 3 migrated: Assam Health Minister Himanta Biswa Sarma
10:05 am: 502 people who came out of their homes without wearing masks in Madurai yesterday, were fined a total of Rs 59,800: Madurai District Administration
9:50 am: The odd-even vehicle formula that was implemented in 8 cities of Uttarakhand, including Dehradun, has been withdrawn on the directions of Chief Minister Trivendra Singh Rawat. The decision was taken keeping in view the practical difficulties being faced by people: CM's Office
9:40 am: 83 more COVID19 cases & 3 deaths reported in Rajasthan today, as of 9 am. Total number of cases in the state is now at 6098, including 2527 active cases & 150 deaths: State Health Department
9:30 am: Out of the 827 samples tested yesterday for COVID19, results of 26 are positive: King George's Medical University (KGMU), Lucknow
9:11 am: Spike of 5,609 COVID19 cases & 132 deaths in the last 24 hours. Total number of cases in the country now at 112359, including 63,624 active cases & 3,435 deaths: Ministry of Health and Family Welfare
9 am: First special Air India flight from Sydney to New Delhi, under Vande Bharat Mission took off today with 224 Indians onboard: High Commission of India in Australia
8:36 am: Eight players of Mexican football club Santos Laguna test positive for COVID-19
8:30 am: Delhi: People out for a walk at Lodhi Garden following relaxations in the 4th phase of lockdown. Open gym, yoga & other activities are not allowed at parks as per New Delhi Municipal Council (NDMC) order.
8:23 am: Intra-state bus services by Andhra Pradesh State Road Transport Corporation (APSRTC), partially resumed from today in the state. Visuals from Pandit Nehru Bus Station in Vijayawada. Asst Transport Manager of the bus station says "In Krishna region,106 buses are plying on 38 routes"
8:05 am: Delhi | Migrant workers who want to go home are stranded at Delhi-Ghazipur border amid the lockdown. One of them, Pooja who belongs to Ghaziabad says, "I'm 7 months pregnant & have a 1.5-year-old child. I want to go home but police are not allowing us to move towards our home state".
8 am: UP | 95 new Coronavirus positive cases reported in Barabanki taking the total number of positive cases in the district to 124 including 122 active cases and 2 cured/discharged: District Magistrate Barabanki
7:50 am: The United States recorded 1,561 coronavirus deaths in the past 24 hours, bringing the total to 93,406: AFP
The country -- hardest hit by the pandemic in terms of the number of fatalities -- has now confirmed a total of 1,550,959 cases.
Posted By: James Kuanal