Coronavirus News: India's tally tops 96,000, death toll crosses 3,000-mark | Highlights
Updated: Mon, 18 May 2020 04:15 PM IST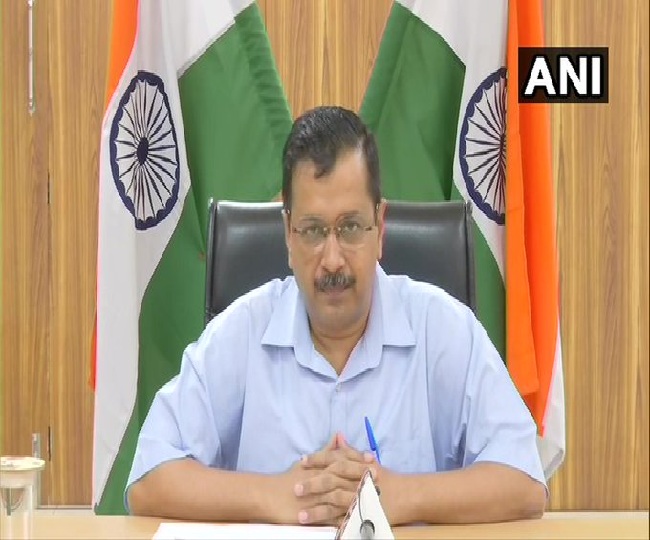 New Delhi | Jagran News Desk: COVID-19 cases in India have been increasing at an alarming rate. According to the latest data by the Union Health Ministry, the number of novel coronavirus cases in the country has surged to 96,169 on Monday, while the death toll has surged to 3,029. Of the total number of cases, there are 56,316 active cases, while 36,824 people have been cured and discharged from hospitals.
National Disaster Management Authority (NDMA) has extended nationwide lockdown till the end of this month. The MHA has released the guidelines that need to be followed during lockdown 4.
Meanwhile, a massive evacuation process is being carried out under Vande Bharat Mission to bring back stranded Indians from abroad.
Shramik trains are running across the country to help migrants reach their home states. Indian Railways is also operating special trains across 15 destinations.
According to the health tracker by the World Health Organisation (WHO), the global tally due to COVID-19 has surpassed 4.7 million, while the death toll has surged past 3.1 lakh. In the United States, the death toll has neared 90,000, according to AFP.
Here are the Highlights of COVID-19:
4:19 pm: West Bengal extends COVID19 lockdown till May 31: Chief Minister Mamata Banerjee
4 pm: The total number of COVID19 positive cases in Assam rise to 104 with 2 new positive cases reported today: Assam Minister Himanta Biswa Sarma
3:55 pm: Delhi CM Arvind Kejriwal to address a press conference at 5.30pm today on the Coronavirus situation.
3:50 pm: Punjab | Migrant workers in Ludhiana are searching for work to meet their financial expenses amid lockdown. A worker says,"We are living on rent, landlord asks for rent daily. We come here everyday with hope to get work but there is no work.If this continues, we will also leave".
3:30 pm: Indian Council of Medical Research (ICMR) releases a revised strategy for #COVID19 testing.
3:15 pm: Kerala: Tribal community in Munnar has started doing agricultural activities amid lockdown. "Subhiksha Keralam is a state government-led initiative to tackle impending food shortage after #COVID19. Adivasi community is also participating," says Mercy Thomas, Panchayat President.
3 pm: 33 new positive cases of #COVID19 and 2 deaths have been reported in Rajasthan till 2 pm. Total number of positive cases rise to 5375 and death toll rise to 133. 2170 active cases remain in state: State Health Department
2:50 pm: 1 #COVID19 positive case has been reported in Uttarakhand today. The total number of positive cases now in the state is 93: Uttarakhand State Control Room
2:45 pm: Number of COVID-19 cases reaches 93 in Uttarakhand out of which 40 cases are active: Uttarakhand Health Department
2:40 pm: 37 fresh positive cases of #COVID19 have been reported in Bihar today. Total number of positive cases in the state rise to 1363: State Health Department
2:30 pm: Another 57 #COVID19 patients have recovered and are being discharged. Bhubaneswar and Jagatsinghpur district now have no active cases of Covid-19. The total recovered cases of Odisha now stand at 277: Health & Family Welfare Department, Government of Odisha
2:25 pm: Cyclone Amphan may turn into super cyclone between today evening&tomorrow morning, which means that winds will blow at the speed of around 230 kmph in the sea. It'll make landfall between Digha&Hathiya island as very severe cyclone on May 20:Odisha Spl Relief Commissioner PK Jena
2:16 pm: States/UTs cannot dilute restrictions imposed in lockdown 4 guidelines, they can only make them stricter based on local level assessment and Ministry of Health and Family Welfare guidelines: Ministry of Hime Affairs (MHA)
2 pm: A relief charter of Star Air-OG 9111, which operated purely as domestic flight departed today at 7:12 am with 28 passengers to Mumbai. As per flight itinerary, from Mumbai, these passengers were to be airlifted by Air India Express flight to Oman: Hyderabad International Airport
1:50 pm: 5 doctors have tested positive for #COVID19 today. 4 of them were treating a single #COVID positive patient: Dr Naveed Shah, Head of the Chest Disease Hospital, Srinagar #JammuandKashmir
1:40 pm: In Odisha (7 districts) & West Bengal (6 districts), a total of 37 NDRF teams have been deployed, of which 20 teams will be actively deployed by the end of this day and 17 teams are on standby: SN Pradhan, Director General of National Disaster Response Force (NDRF).#CycloneAmphan
1:31 pm: We have decided not to allow entry of people from Gujarat, Maharashtra, Kerala and Tamil Nadu till May 31st: Karnataka CM BS Yediyurappa
1:30 pm: All shops will be allowed to open, all trains running within the state will be allowed: Karnataka Chief Minister BS Yediyurappa
1:26 pm: 84 new cases reported in the state from 5 pm yesterday till 12 noon today, taking the total number of active cases to 672. The death toll stands at 37: Karnataka Health Department
1:25 pm: Road state transport corporation buses in state&pvt buses will run. Strict lockdown measures in containment zones & economic activities will be permitted in other areas. Sundays will be total lockdown across state. Home quarantine will be strengthened: Karnataka CM BS Yediyurappa
1:20 pm: We express our thorough disappointment over the stimulus package announced by the Centre. This is complete eyewash. We request govt to announce a revised fiscal stimulus package of not less than Rs 10 lakh crore of real additional expenditure:Former Finance Minister P Chidambaram
1:10 pm: Haryana | Around 2000 migrant workers gather in Kundali Industrial Area in Sonipat waiting for buses to take them back to their home town in UP.A worker says,"I'm from Gorakhpur. I was working here in a company. Now I want to go back home as the company is shut&we don't have money"
1:05 pm: Most analysts, rating agencies & banks have placed the size of the fiscal stimulus at between 0.8 per cent to 1.5 per cent. This package should be rejected as inadequate & the Govt should come out with a revised & comprehensive package: Former Finance Minister P Chidambaram
1 pm: Despite strong efforts Taiwan did not get invited to this week's meeting of a key World Health Organization (WHO) body due to Chinese pressure, its foreign minister Joseph Wu (in file pic) said on Monday, adding they had agreed to put the issue off until later this year: Reuters
12:55 pm: Ghaziabad: Thousands of migrant workers gather at Ramlila Ground for registering themselves for the three Shramik special trains, which will leave for different parts of Uttar Pradesh later today.
12:50 pm: Number of #COVID19 cases in Assam rises to 102, including 41 recoveries and 3 deaths: Assam Health Department
12:40 pm: When Police stopped them they pelted stones, went to Vastrapur&vandalised 2 Police vehicles. They also vandalized the office at a construction site. 250 people have been rounded up. Action will be taken against culprits.Situation under control: Pravin Mal, DCP (Zone-1) #Ahmedabad
12:38 pm: Gujarat: A clash between Police and migrant labourers took place in Ahmedabad today after the latter pelted stones at Police and vandalised their two vehicles allegedly over their demand to go back to their home states. 2 Police personnel injured.
12:33 pm: Delhi: Auto-rickshaw drivers struggling to make ends meet due to lockdown. Sunil, a driver says, "We request Delhi govt to allow us to operate during lockdown as it's difficult to survive now without income. We'll follow all norms, will allow only 1 passenger at a time." #COVID19
12:30 pm: India Meteorological Department (IMD) issues heavy rainfall warning for Odisha, West Bengal, Sub-Himalayan West Bengal and Sikkim, Assam and Meghalaya till May 21st in the light of extremely severe cyclonic storm #Amphan.
12:20 pm: 1273 personnel of Maharashtra Police including 131 officers have contracted #COVID19 so far. Out of the total cases, 291 police personnel have recovered while 11 others succumbed to the infection: Maharashtra Police
12:10 pm: PM Narendra Modi to chair a high-level meeting with the Ministry of Home Affairs (MHA) and National Disaster Management Authority (NDMA) today at 4 PM, to review the arising cyclone situation in parts of the country. #Amphan
12:04 pm: Punjab: Barber shops & salons reopen in Ludhiana, amid nationwide #CoronavirusLockdown. Pooja, a worker at a salon, says, "We are taking all precautions against COVID-19".
12 pm: Noida: Heavy traffic congestion seen at toll booth on Delhi-Noida Direct (DND) Flyway, amid nationwide lockdown which has been extended till May 31 to contain the spread of #COVID19.
11:48 pm: Delhi: Chicken and meat shops, stationery shops, dairy, bakeries, sweet shops and photostat shops open at Khan Market as the fourth phase of #CoronaLockdown begins today.
11:34 am: As an organization that places the safety of all our employees and citizens at the forefront, we have suspended all operations at our manufacturing facility in Greater Noida and initiated #COVID19 testing for 3000+ employees, for which results are awaited: OPPO India
Will only allow employees with negative test results to resume office following all safety protocols. We are undertaking stringent measures to keep the employees safe and disinfecting the premises, it added.
11:33 am: Restrictions under Section 144 CrPC, which was imposed in all districts of Chhattisgarh to contain the spread of #COVID19, have been extended to the next 3 months: Government of Chhattisgarh
11:32 am: Karnataka Chief Minister BS Yediyurappa holds a meeting with state ministers & senior govt officers to discuss about the guidelines issued by the Centre regarding fourth phase of #lockdown, at Vidhana Soudha in Bengaluru.
11:31 am: 52 fresh cases of #COVID19 have been reported in Andhra Pradesh in the last 24 hours, taking total number of cases to 2282, including 705 active cases. 50 patients have succumbed to the infection in the state so far: Andhra Pradesh Health Department
11:30 am: 6 employees of OPPO mobile company's factory in Greater Noida have tested positive for #COVID19. All operations at the factory have been suspended. The operations there had resumed on 8th May, 2020.
11:20 am: Punjab: Shops of electronic items, footwear, hardware & bicycle repair reopen in Amritsar as fourth phase of #CoronavirusLockdown comes into effect.
11:15 am: Total number of #COVID19 positive cases till 9 am in the state is 876 after 48 new cases were reported in the state today: Government of Odisha.
11:10 am: 299 new #COVID19 positive cases reported in Delhi in last 24 hrs, 283 recovered/discharged/migrated in last 24 hrs, no deaths reported in this duration. Total number of positive cases in national stands at 10,054 -including 4485 recovered/discharged and 160 deaths: Govt of Delhi
11:05 am: Maharashtra Govt has approved the formation of a task force which will give recommendations to the Govt to incorporate AYUSH treatment modalities specifically for increasing immunity against #COVID19: State Medical Education & Drug Department
11 am: North Odisha coast will face max impact of #AMPHAN, when it makes landfall. Wind speed expected to be 110-120 kmph,gusting upto 130 kmph. Balasore, Bhadrak, Jajpur, Mayurbhanj dist can be affected on 20 May(when it makes landfall): Umashankar Das,Scientist,IMD Bhubaneswar #Odisha
10:55 am: Maharashtra: Migrant workers queue up outside Chhatrapati Shivaji Maharaj Terminus in Mumbai to board 'Shramik Special' trains for Katihar, Samastipur & Kishanganj in Bihar. #Lockdown4
10:50 am: It will move towards north-northeast direction and cross Digha (West Bengal)-Hathiya island (Bangladesh) on the afternoon/evening of 20th May with a wind speed of 155-165 kmph: Mrutyunjaya Mohapatra, IMD director general #Delhi
10:40 am: Cyclone #AMPHAN in Bay of Bengal, intensified into an extremely severe cyclonic storm at 2:30 AM today. It is expected to further intensify into a super cyclonic storm in the next 12 hours: Mrutyunjaya Mohapatra, IMD director general #Delhi
10:30 am: 6 more #COVID19 positive cases reported in Bihar today, taking the total number of positive cases in the state to 1326.
10:20 am: Bangladesh: 169 Indian passengers to return to West Bengal's Kolkata from Bangladesh's Dhaka today, on a repatriation flight. #VandeBharatMission
10:12 am: Delhi Transport Corporation (DTC) has started bus shuttle services for railway passengers arriving at New Delhi Railway Station, amid #CoronaLockdown. They are dropped off at Shivaji Stadium and Ambedkar Stadium from where they are given further change over of transport.
10:10 am: Jhrakhand: Migrant workers wait to board special buses at Birsa Munda Bus Terminal in Ranchi for their home districts. A worker says, "I have returned from Andhra Pradesh, partly by walking & at times hitchhiking. I have to go to Deoghar district" #Lockdown4
10 am: 140 positive cases reported in Rajasthan today; 2 deaths reported. The total number of positive cases in the state rises to 5342, including 133 deaths and 2666 discharged: Rajasthan Health Department #COVID19
9:50 am: West Bengal: Shops selling footwear, bags, helmets, electronic accessories reopen in Siliguri as #Lockdown4 kicks in.
9:45 am: Very Severe Cyclonic Storm #AMPHAN over central parts of South Bay of Bengal moved north-northeastwards during past 6 hrs,intensified into Extremely Severe Cyclonic Storm&lay centred at 0230 hrs today over central parts of South Bay of Bengal&adjoining central Bay of Bengal: IMD
9:35 am: Karnataka: Barber shops and salons reopen in Hubli as the fourth phase of #CoronavirusLockdown comes into effect.
9:30 am: Delhi: Vehicular traffic increases in the national capital, amid #CoronaLockdown. Visuals from ITO area. The nationwide lockdown has been extended till May 31st.
9:30 am: Highest ever spike of 5242 #COVID19 cases in last 24 hrs, 157 death reported in last 24 hrs. Total number of positive cases in India is now at 96169, including 56316 active cases, 36824 cured/discharged/migrated cases, death toll 3029 deaths: Ministry of Health and Family Welfare
9:25 am: Punjab: Clothes shops remain closed at Chaura Bazar in Ludhiana as the country enters fourth phase of #CoronavirusLockdown.
9:15 am: MP CM Shivraj Singh Chouhan writes to West Bengal CM Mamata Banerjee requesting her to inform Ministry of Railways about the requirement of a Shramik special Indore-Kolkata train for the migrant workers living in Indore, who want to return to their native place in West Bengal.
9:04 am: Tamil Nadu: Around 50 boats of fishermen damaged in Rameswaram following the thunderstorm and rainfall which hit parts of the state last night.
9:01 am: Delhi | A special train reaches New Delhi Railway Station from Rajendra Nagar Railway Station in Patna, Bihar. A passenger says, "I went to Patna on March 21 & got stuck there after imposition of #lockdown. I am happy to be back here. I thank the govt for running special trains".
8:55 am: Kerala | Vehicular movement in Thiruvananthapuram city, amid #CoronaLockdown. The nationwide lockdown has been extended till May 31st. Parts of the city also received rainfall today.
8:45 am: As per the Ministry of Home Affairs (MHA) guidelines for #CoronaLockdown, all religious places/places of worship shall be closed for public; religious congregations are strictly prohibited.
8:30 am: WB: 2 groups of migrant labourers, from Kolkata & Purulia respectively, are returning to their native place in Cooch Behar on foot&on bicycles. They say "How long can we be outside without money?State govt had said they'll arrange bus. We waited initially but later we left"
8:20 am: Maharashtra CM Uddhav Thackeray and 8 other newly elected MLCs will take oath as Members of Legislative Council today at 1 pm.
8:10 am: Gujarat will make guidelines according to containment zone and non-containment zone. Tomorrow District Collectors, Municipal commissioners will make a list of these zones: Gujarat CM Vijay Rupani
8:02 am: Delhi | Large number of migrant labourers reach Delhi-Ghazipur (UP) border. Buses are being arranged to take them to their native places. A labourer (pic 4) says, "I've to go to Hardoi (UP). We've been sitting here since 6 AM. If there are not enough buses, then let us walk home."
7:51 am: Delhi: Heavy vehicular movement at Delhi-Gurugram (Haryana) border amid #CoronaLockdown. Passes and IDs of people are being checked by the Police. The nationwide lockdown has been extended till May 31st.
7:45 am: People's passes being checked, their details noted down. They're being checked by doctors&sampling is being done. After entering,they're being made to go to concerned police station where they're filling up bonds for home quarantine: SHO Narottam Bisht,Clement town police station
7:40 am: Uttarakhand: State govt has tightened the Police surveillance at all inter-state border check posts as a precautionary measure against #CoronaLockdown. Visuals from Aasarodi inter-state border check post.
7:30 am: West Bengal: Traffic movement on Howrah Bridge, which connects Kolkata and Howrah, continues amid checking by Police during #CoronaLockdown. The nationwide lockdown has been extended till May 31st.
7:19 am: Goa: Three more passengers - a total of 7 people - who travelled in Mumbai-Goa train on Sunday, test positive for #COVID19 during TrueNat testing. The total number of active cases in Goa reaches 29.
7:14 am: Delhi | People commute through Delhi-Ghazipur border, amid checking by Police personnel during #CoronaLockdown. The nationwide lockdown has been extended till May 31st.
7:10 am: Delhi | People arrive at wholesale fruit&vegetable market in Ghazipur, to make purchases amid the lockdown. The market reopened on May 16 after being shut for 2 days to undertake sanitization work in the area after secretary & deputy secretary of the market tested COVID-19 positive.
7:06 am: The United States records 820 new Coronavirus deaths in 24 hours: AFP news agency quoting tracker. The latest toll, is the lowest since 776 daily deaths were recorded May 10, but the count ranged as high as 1,894 in subsequent days with the total death count near 90,000,
7:01 am: Delhi | A special train carrying passengers from Jammu Tawi Railway Station (Jammu and Kashmir) arrives at New Delhi Railway Station. One of the passengers, Hina Jain says, "The journey was comfortable, there was no problem. All arrangements were good". #Lockdown4
Posted By: James Kuanal