Coronavirus News: Arvind Kejriwal asks Centre to procure Pfizer COVID vaccine to inoculate children | Highlights
Coronavirus News: Currently, the active number of coronavirus cases in India stands at 24.19 lakh, comprising 8.84 per cent of the total number of cases.
Updated: Thu, 27 May 2021 06:13 PM IST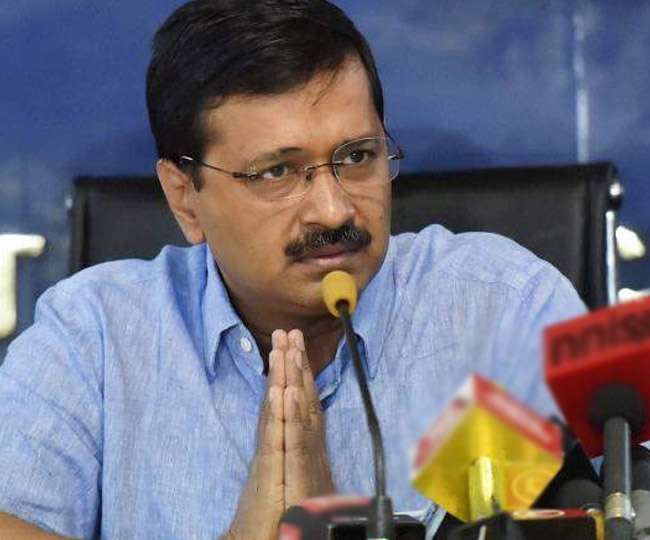 New Delhi | Jagran News Desk: After an unparalleled rise in daily COVID-19 cases, India is seeing a dip in its fresh infections, thanks to the strict containment measures imposed by the state and union territories (UT) governments to control the rapid surge of the infection. However, despite a decline in cases, health experts and doctors have warned against any kind of "laxity" against the virus, saying cases might rise again.
Currently, the active number of coronavirus cases in India stands at 24.19 lakh, comprising 8.84 per cent of the total number of cases. On the other hand, the recovery rate has improved to 90.01 per cent while the death toll stands at 3.15 lakh.
Here are the highlights of the day:
15:59 pm: Also Read -- COVID-19 Vaccination: From jabs for children to import of vaccines, Centre busts 7 myths about inoculations drive
15:25 pm: 18,006 Oxygen Concentrators; 19,085 Oxygen Cylinders; 19 Oxygen Generation Plants; 14,514 ventilators/ BiPAP; ~7 L Remdesivir vials, ~12L Favipiravir tablets delivered/ dispatched through road and air, from 27th April to 26th May, says Union Health Ministry.
15:21 pm: Global tender doesn't help much; why should we buy vaccines at higher price from abroad. For Centre, it's Rs 150 but states have to pay Rs 300-400. Our government will appeal to the SC to direct Centre to issue global tenders and procure vaccines and we can bear its cost, says Rajasthan Health Minister Dr Raghu Sharma.
15:20 pm: For June, Centre has allotted 12.66 lakh vaccines (both Serum Institue and Bharat Biotech); with this combined quota, it won't be possible to vaccinate 3.25 crore beneficiaries as double dose and wastage makes vaccine requirement nearly 7 crore, says Rajasthan Health Minister Dr Raghu Sharma.
We gave an advance of Rs 47 crores to Serum Institute of India (SII) and Rs 12 crores to Bharat Biotech, the former supplied us vaccines, but the latter didn't. Due to no vaccines, we have stopped vaccination. We will resume as and when we get vaccines, he added.
14:32 pm: Centre is doing politics, they should not give such misleading reports. All our reports are going to them. Those who go for vaccination without registering on CoWIN are being deemed by them to be cases of vaccine wastage, says Chhattisgarh Chief Minister Bhupesh Baghel.
There has been 0.6 per cent vaccine wastage in 45+ category and around 0.8 per cent vaccine wastage in 18+ category - less than the 1.6 per cent wastage guideline by Centre. They are not taking into account the data of our 'CGTeeka' portal and they are giving misleading info, he added.
14:16 pm: Also Read -- COVID-19 Treatment: Zydus seeks DCGI nod for human trials of its antibody cocktail | What is it and how does it work
13:47 pm: We don't have vaccines in the first place. The supply that is being made to us is not at par with our demand. It is a matter of concern. It is a 'hand to mouth' situation for us almost every day, says Punjab Health Minister Balbir Singh Sidhu.
There can be 1-2 per cent vaccine wastage. But we won't let it get wasted to an extent where the vaccines would reach their expiry date. It is a different matter if there is needle breakage. There is no vaccine wastage like that, he added.
13:27 pm: Delhi High Court says any person can import Amphotericin B and if any import is made by any person, the same may be cleared by accepting the bond from the importer without actual payment of duty till a final decision on the said aspect is taken.
It says Amphotericin B, used for treating black fungus is required to save lives of people suffering all over the country, the Central Government should consider complete waiver of import duties of the drug for a limited period.
12:58 pm: Just In: Andhra Pradesh government postpones Class 10 exams; to review again in July, says state Chief Minister's Office
12:50 pm: Kerala Government will resume digital classes for school students from 1 June, says state Education Minister V Sivankutty
12:39 pm: This wave of COVID is unprecedented and more dangerous than earlier. But Defence Ministry has rendered its services in the second wave too...DRDO has set up COVID hospitals and Oxygen generation plants in Delhi, Lucknow, Varanasi and many other parts of the country, says Defence Minister Rajnath Singh.
With help of Hyderabad-based Dr Reddy's Lab, DRDO has produced essential medicine 2-DG. It's yielding positive results. I've been receiving information from many stats that they want 2-DG. I'm delighted to say that its 10,000 sachets are coming to market today, he added.
12:14 pm: Delhi Chief Minister Arvind Kejriwal on Thursday sought procurement of Pfizer COVID-19 vaccine as soon as possible to inoculate children. This comes after the US pharma company sought fast-track approval for its jab in India.
"We shud procure this vaccine asap for our children," Kejriwal tweeted, citing a news story on fast-track approval sought by the company.
11:43 am: Also Read -- India COVID-19 Tally: 2.11 lakh new cases and 3,847 deaths in last 24 hours; active cases drop to 24.19 lakh
11:23 am: With efforts of Union Minister Nitin Gadkari, Genetic Life Sciences, Wardha has manufactured Amphotericin B Emulsion injections for treating Mucormycosis. It was being produced by only one company so far. Distribution to begin from Monday at Rs 1,200 each: Office of the Union Minister
10:47 am: Gilead Sciences is working on expediting the supply of AmBisome to India through Mylan. More than 121,000 vials have so far reached India. Another 85,000 vials are on the way. The company will supply 1 million doses of AmBisome to India through Mylan, government sources said, as reported by ANI.
10:47 am: Government of India is doing everything possible to increase availability of Liposomal Amphotericin B injections to deal with Mucormycosis. To augment production, Government of India has given licenses to 5 more companies that can make this drug, ANI quoted government sources as saying.
PM had instructed officials to get this drug from anywhere it is available in the world. Indian missions across the world have been involved in securing supplies of this drug. It has been achieved with help of Gilead Sciences in USA, the sources said.
10:15 am: Just In: Zydus seeks DCGI approval to undertake clinical trials for monoclonal antibodies cocktail that can neutralise COVID infection, says Zydus Cadila
10:14 am: Active caseload further declines to 24,19,907 after active cases decrease by 75,684 in last 24 hours, says Union Health Ministry.
Recovery rate increases to 90.01 per cent. The weekly positivity rate is currently at 10.93 per cent, daily positivity rate at 9.79 per cent, less than 10% for 3 consecutive days, it added.
9:44 am: India reports 2,11,298 new COVID-19 cases, 2,83,135 discharges and 3,847 deaths in last 24 hrs, as per Health Ministry
Total cases: 2,73,69,093
Total discharges: 2,46,33,951
Death toll: 3,15,235
Active cases: 24,19,907
Total vaccination: 20,26,95,874
9:26 am: SEC suggests emergency use authorisation for Remdesivir tablets by Jubliant life Sciences, say ANI sources.
9:24 am: We have around 6.52 lakh vaccines for all age groups. It has been said that there's 37 per cent of vaccine wastage in our state with no evidence. But the wastage is of 4.65 per cent which is lower than that of the other states, says Jharkhand Health Minister Banna Gupta.
Our current stock of vaccines will be consumed in a day or two. We have the capacity of administering 4 lakh doses in a day, he added.
9:15 am: A total of 33,69,69,352 samples have been tested up to May 26 with 21,57,857 samples tested yesterday, says Indian Council of Medical Research.
9:10 am: In phone call with PM Narendra Modi, Pres Emmanuel Macron highlighted that France would continue to stand by India to fight the pandemic together, with more support underway. The two leaders discussed how to bolster multilateral action against virus, says Ambassador of France to India.
8:51 am: Also Read -- COVID-19 Symptoms: Is Gangrene the newest sign of coronavirus? Know what experts say
7:46 am: US Intelligence Community has "coalesced two likely scenarios" but hasn't reached definitive conclusion. Asked them to report back in 90 days. As part of report, I have asked for areas of further inquiry, including specific questions for China: US President Joe Biden on COVID origins.
US will keep working with like-minded partners around the world to press China to participate in a full, transparent, evidence-based international investigation and to provide access to all relevant data and evidence, he added.
7:42 am: Haryana reported 3138 new COVID-19 cases, 5476 recoveries and 106 deaths on Wednesday
Total cases 7,47,740
Active cases 31,644
7:30 am: During series of interactions, Pfizer has informed the government of India that its COVID-19 vaccine is suitable for all aged 12 and above and can be storied at 2-8 degrees for over a month. They also discussed indemnity protection against liabilities before they bring vaccines to India: ANI sources
7:25 am: On the other hand, the recovery rate has improved to 89.66 per cent as 2.43 crore patients have recovered from the infection.
7:20 am: The death toll in India stands at 3.11 lakh with a fatality rate of 1.15 per cent.
7:15 am: India currently has 24.95 lakh active COVID-19 cases, comprising 9.19 per cent of the total number of cases.
Posted By: Aalok Sensharma