Updated: Fri, 16 Jul 2021 12:16 PM IST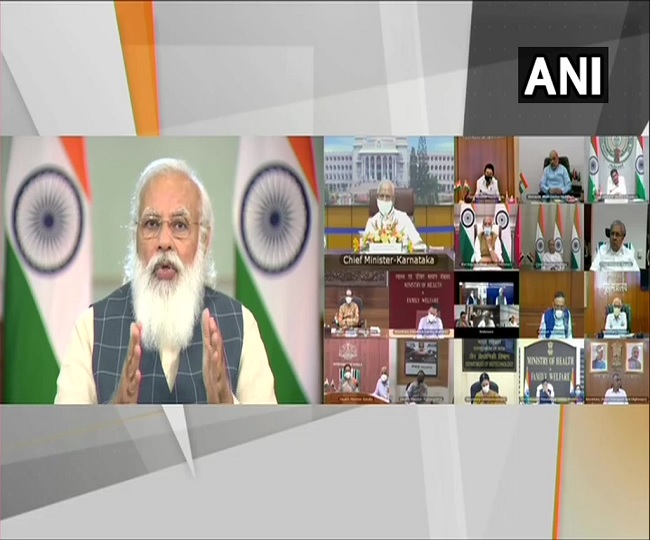 New Delhi | Jagran News Desk: The Union Health Ministry on Thursday raised with the states the issue of violations in COVID-19 norms in many parts of the country, especially hill stations, and impressed upon them the need for focussed public health measures to check the pandemic. In a letter to all states and Union Territories, Union Health Secretary Rajesh Bhushan said complacency at this juncture has the potential to result in another surge in COVID-19 cases.
It is imperative to adhere to the guiding principles of COVID-19 containment and management with a special focus on the five-fold strategy of test-track-treat-vaccinate and adherence to Covid-appropriate behaviour, Bhushan said. The letter comes a day after the Union Home ministry raised the issue of violations of COVID-19 norms observed in several parts of the country, including hill stations, and asked states and union territories to take action against officials responsible for ensuring compliance to guidelines.
Here are the LIVE Updates of July 16:
12:15 pm: The states reporting high new cases need to take proactive measures to stop the possibility of a third wave of COVID19. We need to move ahead with a focus on 'Test-Track-Treat- Vaccinate' approach: PM Modi to CMs of 6 states with high positivity rate
12:07 pm: PM Modi holds meeting with CMs of Tamil Nadu, Andhra Pradesh, Karnataka, Odisha, Maharashtra, Kerala on #COVID19 situation. "We are at a point where there are talks about a possible 3rd wave of COVID. In last few days, around 80% of new cases have come from these 6 states," says PM
12:00 pm: Centre in its affidavit filed in Delhi High Court states, Zydus Cadila which is developing DNA vaccines has concluded its clinical trial for the 12 to 18 age group and is subject to statutory permissions
11:50 am: Supreme Court asks Uttar Pradesh government to reconsider its decision to allow Kanwar Yatra. Supreme Court says it is of prima facie view that "it concerns all of us & is at the heart of the fundamental right to life. The health of citizens of India & right to life is paramount, all other sentiments whether being religious is subservient to this basic fundamental right."
11:40 am: Prime Minister Narendra Modi interacts with Chief Ministers of Tamil Nadu, Andhra Pradesh, Karnataka, Odisha, Maharashtra, Kerala via video conferencing to discuss the #COVID19 related situation in these states
11:30 am: Centre further tells SC that State govts must ensure that distribution of 'Ganga Jal' among devotees &rituals by such devotees in the nearby Shiv Temples take place while mandatorily ensuring social distancing, wearing masks & adhering to all steps required during #COVID19 crisis
11:20 am: Centre tells Supreme Court that tankers be available at identified/designated locations so that nearby devotees can collect such 'Ganga Jal' and do 'abhishek' at their nearest Shiv temples.
11:10 am: Centre files affidavit in SC -State govts mustn't permit movement of Kanwariyas for bringing 'Ganga Jal' from Haridwar in view of #COVID19. However, considering religious sentiments, State govts must develop system to make 'Ganga Jal' available via tankers at designated locations
10:45 am: Odisha | Gyms, yoga institutes reopened today as part of next round of relaxations of #COVID restrictions "We're doing thermal scanning at the gate. Sanitisation will be done in every 30 mins. Members have to carry their own towel & water bottle,"says a gym owner, in Bhubaneswar
10:00 am: We are conducting more than 70,000 tests each day. Around 21 new cases have been reported in the state today. The recovery rate in the state is 98.8%: Madhya Pradesh Home Minister Narottam Mishra on COVID19 situation in the state
9:20 am: Recovery rate increases to 97.28%. Active cases constitute 1.39% of total cases. Weekly positivity rate remains below 5%, currently at 2.14%. Daily positivity rate at 1.99%, less than 3% for 25 consecutive days. Testing capacity ramped up, 44.00cr total conducted: Health Ministry
9:10 am: India reports 38,949 new #COVID19 cases, 40,026 recoveries, & 542 deaths in the last 24 hours, as per Health Ministry Total cases: 3,10,26,829 Total recoveries: 3,01,83,876 Active cases: 4,30,422 Death toll: 4,12,531 Total vaccinated: 39,53,43,767 (38,78,078 in last 24 hrs)
8:40 am: Prime Minister Narendra Modi will interact with Chief Ministers of Tamil Nadu, Andhra Pradesh, Karnataka, Odisha, Maharashtra, Kerala via video conferencing today to discuss the #COVID19 related situation in these states.
8:00 am: With the wide prevalence of the Delta variant of #COVID19, Manipur Government announced total curfew for 10 days, starting from July 18
7:50 am: 92% of total active cases are from 10 districts of the state while remaining 8% are from 26 districts. We can see a plateau in active cases but we want to see a decline. Maharashtra stands at 10th position in per million cases tally: Maharashtra Health Minister Rajesh Tope
7:40 am: Tamil Nadu reported 2,405 new #COVID19 cases, 3,006 recoveries, and 49 deaths on Thursday.
Active cases: 29,950
Total recoveries: 24,65,250
Death toll: 33,606
7:30 am: Jharkhand reports 54 new #COVID19 cases and 62 recoveries.
Active cases: 336
Total recoveries: 3,41,077
Death toll: 5,120
Posted By: Talibuddin Khan