Coronavirus News: 2-day lockdown to be imposed in Kerala again on July 17 and 18 amid surge in COVID cases
Catch all the LIVE Updates here
Updated: Wed, 14 Jul 2021 06:35 PM IST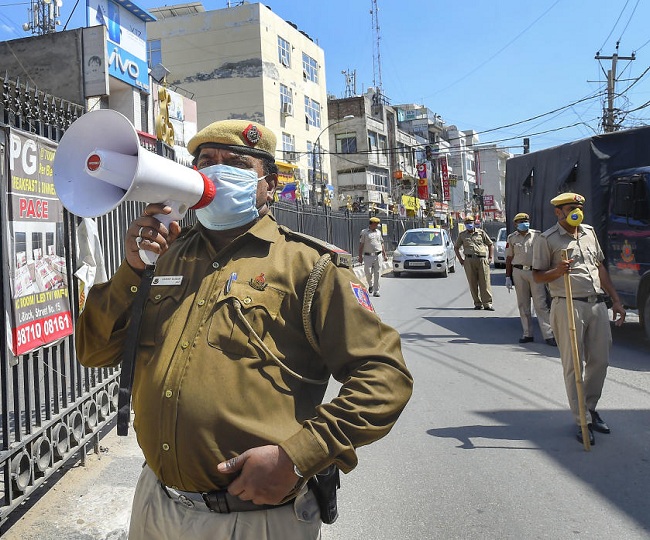 New Delhi | Jagran News Desk: People are talking about the third wave of coronavirus as casually as a "weather update", the government said on Tuesday, noting that "gross violations" of Covid-appropriate behaviour being seen in several parts of the country can nullify the gains made so far in pandemic management. NITI Aayog Member (Health) Dr V K Paul said globally, the third wave of COVID-19 is being seen and called on people to make efforts to ensure that it does not hit India.
Referring to scenes in hill stations and markets like Sadar Bazaar and Janpath market in Delhi, Ranganathan street in Chennai, Vilaripatti in Tamil Nadu, Sukhna Lake in Chandigarh and Bhushi Dam in Maharashtra, Lav Agarwal, joint secretary in the health ministry, said "gross violations" of Covid-appropriate behaviour are being seen "which can nullify the gains" made so far in the management of the pandemic.
Here are the LIVE Updates of July 14:
12:50pm: Situation in Afghanistan was dominating. We're both supportive of intra-Afghan talks based on commitments of the parties to ensure that future government is inclusive. It is critically important to support Afganistan,& making their country independent: Russian Envoy to India
12:40 pm: Sputnik V being part of the Indian vaccination campaign is gradually increasing. The launch of the Sputnik light vaccine is also expected soon: Russian Envoy, Nikolay Kudashev on outcomes of the Russian-Indian Foreign Ministers' talks in Moscow & bilateral cooperation
12:27 pm: Vaccine shortage is present in Rajasthan. We have constantly been telling the Centre. We have the capacity to vaccinate 15 lakh people so it would be better if we receive advance doses for at least four days: Dr. Raghu Sharma, State Health Minster, on vaccine shortage
12:22 pm: Rajasthan | Compared to Delta and Delta Plus, the Kappa variant is mild. 11 cases have been reported in the state. Genome sequencing has been initiated. It is not life threatening but the symptoms are the same as other variants: Dr. Raghu Sharma, State Health Minister
12:10 pm: MP | #COVID19 is under control for now. We're monitoring the situation. Preparations are being done for 3rd wave. Schools will begin for classes 11 and 12 from July 25 at 50% capacity: CM Shivraj Singh Chouhan
12:00 pm: Shanghai Cooperation Organization (SCO) Council of Foreign Ministers meet begins in Tajikistan "Afghanistan and post-Covid recovery are pressing concerns," tweets External Affairs Minister (EAM) S Jaishankar
11:40 am: More than 39.59 Crore vaccine doses were provided to States/UTs. More than 1.51 Crore balance and unutilized doses still available with States/UTs and private hospitals to be administered: Union Health Ministry
11:15 am: FIR registered against 42 persons including organizers of a public gathering at BJP leader Pankaja Munde's office at Worli in Central Mumbai yesterday for the violation of COVID-19-related restrictions: Mumbai Police
11:00 am: There've been speculative reports claiming higher fatality due to COVID based on National Health Mission's Health Mgmt Info System's data. It compares data from Civil Registration System&HMIS to draw erroneous inferences.Such reports are speculation without substantial basis: GoI
10:30 am: Parliamentary Affairs Minister Pralhad Joshi has called an all-party meeting at 11 am on July 18.
9:45 am: India reports 38,792 new #COVID19 cases, 41,000 recoveries, and 624 deaths in the last 24 hours, as per Health Ministry Total cases: 3,09,46,074 Total recoveries: 3,01,04,720 Active cases: 4,29,946 Death toll: 4,11,408 Total vaccinated: 38,76,97,935 (37,14,441 in last 24 hrs)
9:15 am: Uttarakhand: Four bodies recovered from Boh valley till last night, a total of five bodies have been recovered so far. Five to six persons still went missing. Rescue operation resumed early morning today: Kangra District Commissioner Nipun Jindal
8:45 am: 43,59,73,639 samples tested for #COVID19 up to 13th July 2021. Of these, 19,15,501 samples were tested yesterday: Indian Council of Medical Research (ICMR)
7:52 am: Domestic passengers who are fully vaccinated will be exempted from carrying negative RTPCR reports when they enter Mumbai airport. Ahead of this as per the guidelines issued by the Government, all passengers arriving on domestic flights into Mumbai were required to present a negative RT-PCR test report at the time of boarding the flight.
7:45 am: Delhi reports 76 new #COVID cases (positivity rate - 0.11%), 84 recoveries, and 02 deaths in the last 24 hours.
Active cases: 683
Total recoveries: 14,35,204
Death toll: 25,020
7:35 am: A deaf & mute man was allegedly sterilised in UP's Etah on pretext of giving COVID vaccine y'day. A man was brought by Asha worker for surgery. He didn't express objection. Hospital admin was told that his family has been informed. Matter under investigation:UK Tripathi, CMO Etah
7:25 am: Complete Lockdown in Kerala on July 17-18 | There will be a complete lockdown on 17th and 18th July in the state: Kerala Government issued an order on Tuesday
7:15 am: The Uttarakhand government has decided to cancel the Kanwar Yatra this year owing to the threat of Covid-19. The decision was taken after a high-level meeting between Chief Minister Pushkar Singh Dhami and top officials of the state government.
Posted By: Talibuddin Khan