By Abhinav Gupta
Updated: Mon, 20 Apr 2020 09:41 AM IST
Minute Read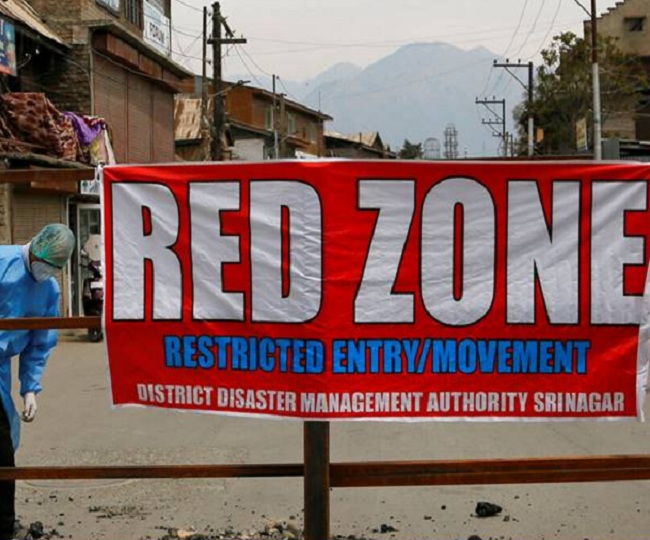 New Delhi | Jagran News Desk: The number of coronavirus cases in India have topped 17,000-mark with over 500 deaths so far. While the nationwide has been extended till May 3, the Health Ministry has classified the country's districts in three zones - Red, Orange and Green - based on the severity of outbreak and the number of cases in the area.
The Centre has directed states to declare districts with higher number of cases as hotspots (red zone), those with lesser number of cases as non-hotspots (orange zone), and those which have reported no cases as green zones.
As many as 170 districts have been identified as hotspots --- 123 hotspot districts with large outbreaks and 47 hotspot districts with clusters --- in 25 states and Union territories. Besides, it has identified 207 non-hotspot districts with clusters in 27 states.
Let us first take a look at what these three categories mean:
Red Zone
The COVID-19 hotspots have been named as Red Zones which require focused attention as large number of cases and high growth rate of infections.
The Centre has identified 170 hotspot districts under the 'Red Zone' which has been further divided into two groups - 123 districts with large outbreak and the remaining 47 with cluster outbreak.
According to the Health Ministry, the Red Zone will have "highest caseload districts contributing to more than 80 per cent of cases in India or highest caseload districts contributing to more contributing to more than 80 per cent of cases for each state in India or districts will doubling rate less than four days."
In a letter to all chief secretaries of states and UTs, Union Health Secretary Preeti Sudan said hotspot districts need to ensure implementation of the outbreak containment plan, adding the states also need to identify hotspots based on the doubling rate of confirmed cases.
Very strong containment measures will be implemented in the hotspot districts. Only essential services are to be permitted in these zones and strict perimeter control and strict restrictions on movement will be enforced.
Hotspots (designated Red Zones) will be assumed to be undertaking effective containment activities if no case is reported in the next 14 days (designated Orange Zones).
All six metros - Delhi, Mumbai, Kolkata, Chennai, Bengaluru and Hyderabad - currently have a high number of cases and have been identified as hotspots.
Orange Zone
Areas which have a limited number of cases in the past and have not witnessed a surge in fresh cases recently have been identified as Orange Zones.
Only limited business activity and farm product harvesting would be allowed in the areas falling under Orange Zone. Micro, Small and Medium Enterprises (MSMe) engaged in manufacturing of essential items like wheat flour (atta), pulse (dal) and edible oils are allowed to function freely while following social distancing norms.
A hotspot district can turn into an Orange Zone when no fresh cases are reported in the last 14 days.
Green Zone
According to the Health Ministry, a district which has not reported any positive cases will be marked under this zone. Also, any COVID-19 hotspot which has not seen any fresh cases in the last 28 days can be turned into a Green Zone.
Several relaxations in lockdown in Green Zone areas were allowed in the consolidated guidelines by the Ministry of Home Affairs (MHA). It had said that offices could run with limited occupancy and social distancing norms. Essential services and small-scale industries related to them have been allowed.
However, large gathering, opening of educational institutions, inter-state travel from these zones and private vehicles have not been allowed. A total of 207 non-hotspot districts have been put under this category.
The MHA had also initially allowed resumption of E-commerce services across country from April 20, but the order was later withdrawn in wake of the continuous rise in cases and deaths.