Coronavirus Hotspots in West Bengal: Check full list of 286 containment zones in Kolkata, 76 in Howrah and 114 in North 24 Parganas here
The state capital Kolkata has reported 1,667 cases with 180 fatalities, while Howrah has recorded 7,99 cases and 36 deaths.
Updated: Mon, 25 May 2020 06:02 PM IST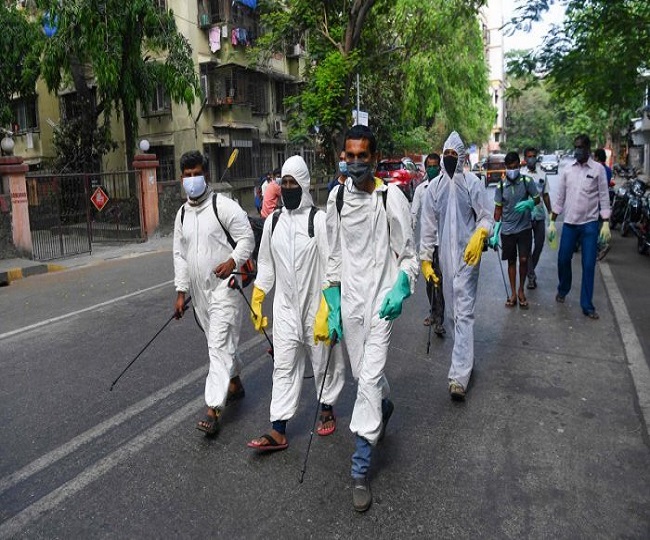 New Delhi | Jagran News Desk: The number of COVID-19 cases in West Bengal have been increasing over the last few days. According to the Union Health Ministry, the number of coronavirus cases in the state stands at 3,667 with 272 deaths. Meanwhile, 1,339 people have been cured and discharged. The state capital Kolkata has reported 1,667 cases with 180 fatalities, while Howrah has recorded 7,99 cases and 36 deaths.
To prevent the spread of the infection, the authorities in West Bengal has identified and sealed containment zones across every district.
According to the Health Ministry, containment zones refers to a specific geographical area where positive cases of COVID-19 are found. The area is sealed and no one is allowed to go out to enter the area without permission from authorities.
Currently, there are 7 private laboratories and 12 government laboratories to test for Real-Time PCR (RT PCR) tests; 11 government laboratories to test for TrueNat tests; 2 government laboratories and 4 private laboratories to test for CBNAAT tests for COVID-19 in West Bengal.
Here's the complete list of containment zones in Kolkata:
13/A/6 RAJA MANINDRA ROAD, KOLKATA 37, 5, 6, 7, 8,
10, 11, 12, 13, 14 Raja Manindra Road, 20 to 51/A Rani
Harshamuki Road, Chandra Nath Simlai Lane
32/9, B.T. Road, (31 to 34 BT Road) PS Cossipore, 26/9
KC Road, Chiriya More, Kolkata 700002, 26/9 KHAGEN
CHATTERJEE ROAD ENTIRE BUSTEE, 22/4/H/6 KC
ROAD, COSSIPORE, KOLKATA, 22 KHAGEN CHATTERJEE
ROAD ENTIRE BUSTEE
8 NO SETHPUKUR ROAD, KASIPUR, 1 - 9 JOGEN
MUKHERJEE ROAD, BANGA SEN LANE, 1,2,3,Cossipur
Rd,JagannathTemple rd all premises , P1 Stand Bank
Rd,Nawab patty all premises, Turner Rd all
premises,Brojodayal Shah Rd all premises,
524B, RABINDRA SARANI, P.O.- BAGBAZAR, PS:
SHYAMPUKUR, WestBengal KOLKATA 700003, 517 TO
580 RABINDRA SARANI, 496, RABNDRA SARANI, KOL5, 2 RADHAKANTA DEB LANE, LALBAGAN BUSTEE,
5C/1A, & all premises no DR BIPIN BIHARI STREET,1 to
64 Rajballavpara,81 to 87 Jatindra Mohon Ave,Gosai
lane,4 to 6 Sasi Ghosh Lane,1 to 6 R.M Goswami lane,
22/A, RAJA MANINDRA ROAD, CHITPUR, KOLKATA37, 22 RAJA MONINDRA ROAD ENTIRE SLUM
61, SOVABAZAR STREET, PO-HATKHOLA,
SHYAMPUKUR, KOL-5, 69 TO 160 SOVABAZAR
STREET, 1,2,3,4,5 NANDARAM SEN LANE, 455E TO
473 RABINDRA SARANI
37, BELGACHIA RD, BELGACHIA PS - TALA, KOL 37, 37
BELGACHIA ROAD LIG HOUSING
5/K,D GUPTA LANE P.S-SINTHEE KOLKATA 700050
(Ward 7,557,TO 559 RABINDRA SARANI ,sarkarbari
Lane,Nivedita Lane,p12 Standbank Rd) + (Ward8 1 to
34 Jasi Mitra Ghat Street,1 to 2 Dhanada Ghosh
Street,1 to 40 Durga Charan Banerjee St,1 to 15 Joy
Bhattacharya st,520 to 543 Robindra Sarani,5 to 10
Sarkar bari Lane)
(1-6) Kripanath Dutta Rd,GhoshBagan,Lock Gate
1 to 43 Bonomali Sarkar Street,2 to 9 Kebal Krishna
Sur Street ,8 to 16 Biswamber Mallick Lane,2,2A
Narayan Sur Street ,Netai pal Lane,Nepal Neogi
Street,1 to 17 Guruprosad Roy Lane, 27 to 40 Balaram
Majumdar Street, 1 to 7A Gopi Roy Lane, 1 to 15
Gosaipara Lane, 16 Kripanath Lane
17,21,23,41,39/1 SRI AUROBINDO SARANI,50,51,53
Jatindra Mohon Avenue,152,150,148,146,142,144
B.k.pal rd,2 to 27 Raja Nabakrishna st, 1 to 10
Jagabandhu modak rd,
93, 87,88,89,85,94,95,COSSIPORE ROAD, KOL-2
5,6 P.N.C Lane, 36Cossipore Rd,1/4 to 2A Ratan Babu
Rd, Kolkata
28,29 cossipur Rd ,all premises no of Jheel Rd &New
Jheel rd
1 to 74 Shyampukur Street & Nabakumar Raha Lane,1
to 63b raja nabakrishna st,2 to 18 ananda lane, 1 to 25
shibsankar mallick lane
1a to 38 B NALIN SARKAR STREET, P.O.
SHYAMBAZAR,2 to 73/a sikder bagan st, ganendra
mitra lane,129A TO 191 Arabinda sarani, 72/1 Grey st
(Gokhana
1a to 17/1b Bhabanath Sen Street, Kolkata 700004,
114 b to 228/2a Bidhan sarani, Dakshin sen ln,14to
24b mohanlal st, Debnarayan das lane,7/9 to 17/19 R
G kar road, 1to 20/A, PAUL STREET, 221/A, A P C
ROAD, PO- SHYAMBAZAR, PS-ULTADANGA, 221 TO
228/2 APC ROAD, NILAMBAR MUKHERJEE STREET,
RAMRATAN BOSE LANE, LALITA MITRA LANE
20/1C TO 36 Cannal West Road, 279 /1B TO 303A
vivekananda road, munshi para ln, kalimuddin ln,kali
banerjee ln, POLICE BARRACK, MANIKTALA, POLICE
STATION
23 TO 48, SIMLA ROAD, MANIKTALA, KOLKATA700006, Khasmahal st munshi para ln, Hazi
Zakaria ln, 82 TO 105 RAJA DHIRENDRA STREET, LALA
BAGAN 1 TO 14/2B TO NIROD BIHARI STREET,243 TO
247 APC ROAD
9 TO 113 Beniatola Street and Beniatola Lanend lane,
Jorabagan
1 TO 104 93/3 Hari Ghosh Street, Bhim Ghosh Lane,
Kasi Bose Lane & Ram Narayan Bhattacharya Lane,
Kolkata 700006,
16A TO 90/2 Durga Charn Mitra Street,chidam mudi
lane,1 TO 23 B Blaqua square,23 NILMONI MITRA
STREET, JM AVENUE, CIT SCHEME & ABINAS
MUKHARJEE LANE
368 TO 472A Rabindra Sarani, 98 TO 122 B B K Paul
Avenue , Sonagachi Lane, 23/A, GARAN HATTA STREET,
MINERVA THEATRE, KOL-6, 1 TO 61A JAYMITRA
STREET, KOLKATA 700005, TARAK CHAKRABORTY
LANE, 14 B TO 19/1AABINUS KABIRAJ STREET, 24 TO
167 /A MASZID BARI STREET
4 TO 38/B NILMONI MITRA STREET, BENIATOLA, KOL
700006 , RAM CHANDRA GHOSH LANE, ZARIFF LANE,
Beadon street, Jatindra mohan ave
1 to114 Durga Charan Mitra Street,
3 to 50 MANIK BOSE GHAT STREET,JORABAGAN,KOL6, Dharmahata 1st lane
19A Gopi Krishna Pal Lane, MATHUR SEN GARDEN
LANE,1A TO 11 KALI PROSONNO BANERJEE ROAD, 1 to
33 BK PAUL AVENUE, 1a to 29 H Kashi Datta Street Kol6, Mathu Sen G Lane
106 to 143/6, M.D Road,5 to 22/2Nather bagan st
DALIMTALA LANE, KOLKATA-9, 9 to 17/c Raja raj
krishna st,10/3 to 26 a khudirum bose ROAD,
BEADON STREET, KOL - 6,155 to 156, A P C ROAD
ROAD,1 to 7 MON MOHAN BOSE STREET, MADHAV
DAS LANE
JORABAGAN TRAFFIC GUARD, 4 to 88 SOVABAZAR
STREET, 439 to 449 RABINDRA SARANI,
BAROWARITALA LANE
381,RABINDRA SARANI, Ahiritola, Beniatola, Kolkata,
West Bengal 700006, RABINDRA SARANI,(3 TO 98)
NIMU GOSWAMI, 1A TO 15 B BRINDABAN BASAK
STREET,Nimtala Ln, Babu ram ghosh ln, 1 to 19
Ahiritola st, 349 to 385 Rabindra sarani, 3A to 96 BK
paul, ahiritola bye lane
20B TO 33 C Nilmani Mitra Street, 62/5/1 TO 69B
Beadon Street, Kolkata 700006, BEADON STREET,1 TO
27/B BEADON ROW, LATU BABU LANE, KEDAR DUTTA
STREET
39/1/2C TO 40H/8 CANAL WEST ROAD
16/7,6A TO45C ULTADANGA ROAD,229 To 243 APC
road,jadu mitra lane
125/2 to 138/2 BIDHAN SARANI, KOLKATA, bidhan
sarani,2 to 29a balaram ghosh street, padma nath
lane, Maharani Hamanta kumari st,Chowdhury ln,1 to
12Nayratna ln,1 to 11/1a Monmatha Bhattacharya
Lane
Goabagan st, lane, bustee( slum), P4 TO P 23 sahitya
parisad st, dalimtala lane,
Peary Mohan sur Lane,chandi Bari st,Abinus ghosh st,
karbala trank lane
65 TO 76/1Bidhan sarani,3/3 TO P 24Raja Raj krishna
road, Roy Bagan, iswar mill lane
Halsibagan,242 TO 243/3 B APC road, 105 TO 107 R D
street
5 & 6 GORAPADA SARKAR LANE, GANAPATI
APARTMENT, PO & PS - ULTADNGA, KOL -67
3/13 Narkeldanga Main Road3/12a-3/3a/h/19/9
Narkeldanga Main Road
P342A CIT ROAD, SCHEME 6, KOL 54, CIT ROAD ,
PHOOLBAGAN AREA, 106 to 128, Narkeldanga Main
Road, Phoolbagan, Kolkata
MOTILAL BASAL LANE, PHOOLBAGAN, KOLKATA,
JOGODYAN
32 Ramkrishna Samadhi Road, Kadapara, Phoolbagan,
Kolkata, 700054, 1/1-36 Ramkrishna Samadhi Road,
133 to 328 CIT Rd, Scheme VI-M, Kankurgachi
57 BELIAGHATA MAIN ROAD, (ID & BG HOSPITAL
CAMPUS QTRS)
165H/1 Belaghata Main Road, P.O + P.S. Belaghata,
(165/1 TO 166E B.M.RD.) 3/1/75,BELIAGHATA MAIN
ROAD P.O-K.G.BOSE SARANI,
P.S- NANDI HOUSE PIN-700085
31 NO, BAROARI ROAD, KOLKATA 700033,
BAROWARI TALA ROAD, SOUTH KULIA ROAD
BELEGHATA 700010, 133, BELIAGHATA MAIN ROAD,
Subhas Sarobar Park, Phool Bagan, Beleghata,
Kolkata, West Bengal 700010, 2A Surea East
Beliaghata Kolkata 700010, 1/1 to 2/10/4, Rashmoni
Bazaar Road, Beliaghata, Kolkata 10
55/4 SASTITALA ROAD, NARKELDANGA, KOLKATA -
700011, 84 to 103/H/15, Narkeldanga North Road,
Kolkata
89, NARKELDANGA MAIN ROAD, PO-KANKURGACHI, PSPHULBAGAN, 1 SIB KRISTO DAW Lane Sebak nagar Bustee
8 WA,3D, MANIKARAN COMPLEX, RAM MOHAN
MALLIK GARDEN LANE, KOLKATA
77/1, NARKELDANGA MAIN ROAD, Phool Bagan,
Beleghata, Kolkata, West Bengal 700011 (45 TO 81,
N.M.ROAD)
94/H/16,NARKELBAGAN MAIN ROAD P.O
NARKELBAGAN,P.S-PHOOLBAGAN
PIN-700115
18/7/15 MANIKTALA MAIN ROAD PIN-700054
102 RAJA RAJENDRA LAL MITRA ROAD KOL 85, 132,133
Raja Rajendra Lal Mitra Road of Ward 35
12 to 15, Ariff Road, Kol 67
91,93,94A,95, Baliaghata Main Road, Kolkata
(Lebugola Bustee)
10 to 34, Beliaghata Main Road, Kolkata
BLOCK – K FLAT – 7, MANIKTALA HSG ESTATE CIT
SCHEME VIIM, KANKURGACHI, KOLKATA - 700054
1-13, CIT Road & 14-24G, Surah 3rd Lane, Beliaghata,
99 to 112/20 Beliaghata Main Road, 39/M/13, Gagan
Sarkar Road & 26, Hem Ch Naskar Road
1/10 to 6L, Atal Bihari Bose Rd & 1 to 30/1, Sastitala Rd
1 to 18/3, Bagmari Road, Maniktala, Kolkata 54
1 to 3F, Ramkrishna Naskar Lane, 51/H/1 to 53/A/C,
Chowlpatti Road, 101/6, Beliaghata Main Road
10,26 TO 65 Mondal Street, Jorabagan, Kolkata,
15/1,15/1/3 Sujendra Seth Lane, 45, 45A,45B, ADYA
SHRADDHA GHAT ROAD BORRABAZAR KOLKATA, 17
TO 41/1MAHARSHI DEBENDRA ROAD,14 TO17/1
NIMTALA GHAT STREET, DHARMATALA LANE
15,1 to 26, No PK Tagore Street, Jorabagan, PO
Beadon Street, Kolkata 700006, P K Tagore Street,1 to
11 E, Akshay Dutta Lane, Beadon 5t Jorabagan
Kolkata 6, 24 to 50 Nimtala Ghat Street, 1 to 11
Baishnab Seth Lane, 16D,1a to 33 TAGORE CASTLE
STREET, KOLKATA – 700006, 267,Rabindra Sarani
16 to 34, Kali Krishna Tagore Street, Barabazar, Kolkata
700007
9 to 18A BEADON STREET, JORABAGAN, KOLKATA, 1 to
49 Ramesh Dutta Street, Ramkrsishna Bagchi Lane, 27,
SETHBAGAN LANE,GIRISH PARK,KOL-6, NANDA
MOLLICK LANE, PEARI DAS LANE, 14/1, RAMESH
DUTTA STREET, KOL – 6, , UMESH DUTTA LANE , 1 to
12 RAJA GURUDAS STREET
25, Harinath Dey Road, Narkeldanga, Kolkata 700009,
1 to 32 Harinath Dey Road
17 to 50,25 Shib Thakur Lane Ps Posta Opp Jorasanko
Thakurbari, 3 & 12 HANSPUKUR 1ST LANE,
BARABAZAR, KOLKATA 700097, 47/18b to 52,Sri
Hariram Goyanka st. 58,Burtala st.
207 to 255,261 to 265C RABINDRA SARANI, KOLKATA,
BARABAZAR, KOLKATA 700007,3 to 15 KALI KRISHNA
TAGORE STREET, RAY LANE, STREET,,22 to 32 Adi
banstala lane, Kalakar st.
6 to 11Raja Brajendra st.
24/H, BECHU CHATTERJEE STREET, AMHERST STREET,
HERAMBO DAS LANE, BROJANATH MITRA LANE, 9B,
BIDHAN SARANI, KOLKATA-700006, 1 to 95 Bechu
Chatterjee Street, 63 to 96 Amherst Street, 5 to 20
Bidhan Sarani
18/1A Balak Dutta Lane, Barabazar, Jorasanko, Kolkata
7, 5 to 12 Marcus Square,
74, Pathuriyghata street, Beadon St, Jorabagan.
Kolkata 700006, 64, Maharshi Debendra rd,
Darpanarayan thakur st, Jadunandan Goswami lane.
Jadulal,mollick rd, 1,Netai Haldar st, Anukul
MUKHARJEE rd, Kalikrishna thakur st.
74, Pathuriyghata street, Beadon St, Jorabagan.
Kolkata 700006, 64, Maharshi Debendra rd,
Darpanarayan thakur st, Jadunandan Goswami lane.
Jadulal mollick rd, 1,Netai Haldar st, Anukul
MUKHARJEE rd, Kalikrishna thakur st.
1 to 14 SUKHIA ST, KOLKATA-09,1 to 5 MAHENDRA
SREMANI STREET, 123/2/H/3 APC ROAD, 79 to 124
MANIKTALA STREET, MANIKTALA BAZAR, 63 AMHERST
ROW 63 AMHERST ROW, BATIK LANE, 1 to 20
RAMANANDA CHATTERJEE STREET, 65 to 85
RAMMOHAN SARONI
295-1 APC ROAD, RAJA RAM MOHAN SARANI, P.S.
NARKELDANGA - 700009, 1 to 16 GARPER ROAD, 1 to
30 RAJA RAJNARAYAN STREET, 3 to 14 RAMMOHAN
RAY ROAD, 264 to 295 APC Road, 9A, Jaganath dutta
rd
3 to 124,6/H/7 TARAK PRAMANIK ROAD , GIRISH PARK
, KOL-06, Kesto das lan.
Bhuban sarkar lane .
186 to 244 C.R.AVE.
70 to 88 Vivekananda rd.
3/D, Sitanath rd. Bedan st.
29/C, DR. DHIREN SEN SARANI, BEDON STREET, KOL-6,
1 to 32 BEADON STREET,
3-B,6 TO 14 GANGULI LANE, KOLKATA-7,167to 170
Cotton st,15/1, 1 TO 14/6 Sovaram Basak st, Gour das
Basak lane. 11 to 16 Kalakar st.,1 to5 Basak lane, 1 to
5 Rampa Narayan st. 7 to 9Jag mohan mollick lane,1
to 6 Mirbardhan Ghosh Lane.
14,Biplobi pulin das st, Kalidas singh lane, 15 to 26
Baduur bagan Street. Parshi bagan lane, Panchanan
ghosh lane, 1 to 23 Fakir chand mitra st. 1 to 14
Biplobi Pulin Das Street, 1 to 10 Fakir Chand Mitra
Street
Jogen Dutta lane. Kailash kobiraj lane. Atul mollick
lane. Maniktala lane. Nanda mollick lane, 19, Doyle
lane.
113G,Keshab ch.sen st. 21 to 59 Kesab Chandra Sen
Street, 57,Raja Rammohan ray sarani. Police abason
Block-c-flat no--19
242 ,Robindra sarani. 1st.gate 2nd,floor. (240 To
304)
(3---7, Madan chatterjee lane. )
12 Digambar Jain Temple Road, P.S. Posta , Barabaar,
Kolkata, 1 to 12, Digambar jain Temple rd. (Posta).
7 No Patwar Bagan Lane, P.S. Ahmerst Street, Kolkata
700009,166 TO 170, KESHAB CHANDRA SEN STREET,
33 - 45,AHMERST STREET, KOLKATA
17/H/4 Surendralal Pyne lane, Bowbazar, Kolkata
700012, RADHANATH MOLLICK LANE, SREE GOPAL
MOLLICK LANE, PROTAP CHATTERJEE LANE,
NABIN KUNDU LANE, BANIYATALA LANE,14 to 38
KESHAB CH SEN STREET,
11 to 60 Colootola Street, Kolkata 700073
27 SCOTT LANE, AMHERST STREET, KOLKATA
700009, DR AMAL RAY LANE,158 to 167 BB
GANGULY STREET, 167, BB ganguly St, Muchipara,
Bowbazar, Kolkata, 1 162/ 1 BB GANGULY STREET,
1 to 18 BAITHAKKHANA ROAD
MUCHIPARA KOLKATA, REFUGE LANE, NATIBAR
DUTTA ROW, SERPENTINE LANE, SASHI BHUSHAN
DEY STREET, SONTOSH MITRA SQUARE
88, COLLEGE STREET, MEDICAL COLLEGE, KOL - 73,
Medical college BC Roy Students Hostel, Kolkata 12,
C.R Avenue
1/7 TO 45 RAVINDRA SARANI, SHYAMPUKUR,
KOLKATA-7
34/2A, BENIATOLA LANE, KOLKATA-700009, Potua
tola lane, 22 TO 70 M.G.ROAD
1 TO 45,18,Mahendra Sarkar Street,Ward-50,
Ps:Muchipara, Kol 12.
131 TO 144 B.B. GANGULY STREET,SEALDAH KOLEY
MARKET,ENTALLY
1/1 TO24/C/H/C, A P C ROAD, KOLKATA 700004
5,Piter lane.63 TO 112C R.Avenue, 265 TO 291Bipin
Bihari Ganguly st.All premises Beverly lane.
5 TO 31A,20,Mollick st. Hanumanji lane. 150 TO
213,2/3 M.G.RD. 99 TO 123 Cottan st.
117 TO 152 Raja Rammohan saroni. Nitai babu lane.
Akhil Mistry lane
1 TO 10 Rajani gupta Row. Raj ch.sen lane. Jay
narayan ch.lane. 21,Hari Sikdar path
8 MANDIR ST JORASANKO KOLKATA19 , Balmukunda makar rd.
(1--25, Munshi Sadaruddin st)
(1--12, Barman st. )
(1--4c, B0llav das st.)
4c, Madan mohan burman st (1 to 97).
(8 TO 12,Ramlochan mollick st.)
(14 To 21, Syed Sally lane).
(93 TO 134), 105, AJC Bose rd.
(1To 3,Debprosad row lane.)
(21 to 99, S.N.Banerjee rd.)
(1 to 13, Ramchandra das row).
58/1 Turf Road, PO+PS- Kalighat, Kolkata, 700025 (1 to
73, Turf Road)
33, Eden Hospital Lane, MCH Service Qtr, Block B,
Room No 233, Kolkata 73, EDEN HOSPITAL ROAD, 213-
249 BB GANGULY STREET, GANGA DHAR BABU LANE,
GIRI BABU LANE , C R AVENUE
1-15 RAJA SUBODH MULLICK SARANI, MALIPARA, KOL13, RAMANATH KABI RAJ LANE ,R K BOSE LANE
74(3-96),DR. LALMOHAN BHATTACHARJEE ROAD,PO 7
PS ENTALLY,KOLKATA
138 AJC Bose Road, Entally, Kolkata 700014,138 TO
149 AJC BOSE ROAD, NRS QTR, CANAL STREET, CHATU
BABU LANE, DEB LANE, DEHI ENTALLY, 50/1 TO 86 DR
SURESH SARKAR ROAD, AMITY PARK, FLAT 3B, 21 DEB
LANE ENTALLY KOL 14
7H/11, (1 TO 7) Hatibagan Road, North Kolkata, Near
CIT Phool Bagan, PS Beniapukur, Kol - 14
11(1-67) HARE KRISHNA KONAR ROAD, 50/C,
BENIAPUKUR LANE
76(18-204) Linton Street, Kolkata 700014,
21-25 CREMATORIUM STREET
30(1-48/1A) Macleod Street, 83TO 131 Park Street,
Kolkata 700017, PARK STREET
33/35/2B, AJ C BOSE ROAD, PO CIRCUS AVENUE, PS -
PARK STREET, Kol 10-38 . AJC BOSE ROAD,
BENIAPUKUR LANE, BIJLI ROAD
46 METCALFE STREET, KOLKATA- 700013,27 TO 89
METCALF STREET, 1-14 GRANT LANE, 1-13 BOW
STREET,P 5-45 KHARU PLACE, METCALF LANE,1-44
MOTISIL STREET,1 BRITISH INDIA STREET, 1-56
WESTERN STREET
21, Market street,16 -37 New Market, Kolkata -
700087, MARKET STREET, 1-49/1 COLLIN STREET
5 NO UMA DAS LANE,NEW MARKET, KOL, UMA DAS
LANE, Rani Rashmoni Road, GOALTULI LANE
20, TALTALA BAZAR STREET, KOLKATA-700014, 1-34C
TALTALA BAZAAR 33-51/1 , S .N.BANERJEE ROAD
2 TANTI BAGAN LANE, KOL - 14, TANTI BAGANLANE,
NOOR ALI LANE
118 ELLIOT ROAD, KOLKATA-700016 WEST BENGAL,
41 TO 110/9 Elliott road 40 TO 45 AJC Bose road),
Ryod Street, RAK Road
28 Nilmani Halder Lane, Dharmatala, New Market,
Kolkata 13, NILMONI HALDER LANE
FLAT-3 GROUND FLOOR,37 C R AVENUE, KOL-12, CR
AVENUE, KHETRA DAS LANE, KAPALITALA LANE,
SAMBHU DAS LANE, GANESH CHANDRA AVENUE
32/C, DOCTOR'S LANE, KOL - 14, DOCTOR'S LANE,
DURGA CHARAN ROAD, TALTALA, ENTALLY, KOL -14,
DURGA CHARAN ROAD
1B/H/1 Chatu babu Lane, Entally, Kolkata, CHATU
BABU LANE, 20/346 Chatu Babu Lane,10/3 TO 15
BECHU LAL ROAD, 11/A/12 TO 26A CRISTIPHER ROAD
8,( 1 TO 40B) ISMAIL STREET, ENTALLY, KOL-14
3, SARAT GHOSH STREET,, Kolkata, West Bengal
700031, 1-36 SARAT GHOSH STREET, 4-12 GC BOSE
ROAD, PAN BAGAN LANE, 1 TO 16C HARALAL DAS
STREET
2, WALIULLAH LANE, KOLKATA 700016, WALLIULLAH
LANE, TALTALA LANE, HAJI MD MOHSIN SQUARE, RAFI
AHMED KIDWAI ROAD, COLLIN LANE
114 PRINCEP STREET,7-167/7 LENIN SARANI
,21-34 NIRMAL CHANDRA STREET6-85 ,BIPLABI
ANUKUL STREET
1/2 Rani Rashmoni Garden Lane, PO- Tangra, Kolkata,
700015, Rani Rashmoni Garden Lane, 44 D C DEY
ROAD, TANGRA, KOL-15, 8 No PAGLADANGA RD(, PS
PRAGATI MAIDAN, ,PO DHAPA, 700105(1-6,RANI
RASH MONI GARDEN ROAD, 25-44,D.C.DEY ROAD,
PAGLADANGA BUSTEE)
1/1 Canal South Road, Tangra, PS Entally, Kolkata 15, 1-
24 Canal South Road, KULIA TANGRA 1ST LANE,MAHER
ALI LANE, (CANEL SOUTH ROAD,KULIA TANGRA 1ST
LANE,MAHER ALI LANE)
16/2/H/3 Shibtala Lane, Kolkata 15, Guri para, 12/1
Beliaghata Road
(6/2/H/3,SHIBTALA LANE
GURI PARA
12/1,BELIAGHATA ROAD
8B Gudipara rd.)
70A Purbayan, Chingrighata, Canal South Road,
Kolkata 700105.166 A, METRO POLITON HOUSING
SOCIETY, Tangra, Kolkata, West Bengal 700105
(70A Purbayan, 166 A, METRO POLITON HOUSING
SOCIETY)
26, P 4, Tangra Street,, Kolkata 6, Tangra Road,
35/H/5/1 PULIN KHATIC ROAD,PS TANGRA KOLKATA
700015, 31/A PULIN KHATICK ROAD, PO ENTALLY, PS
TANGRA, KOLKATA 700015 (20-42,TANGRA ROAD)
67, DC Dey Road, Tangra, Kolkata 15, DC DEY ROAD
MUSLIM CUMP BUSTEE, 66 D C DEY
ROAD,TANGRA,KOLKATA 700015
(66,67, DC Dey Road)
SOUTH BIONCHTALA, P.O. DHAPA, P.S. PRAGATI
MAIDAN, KOLKATA - 700105, Auropota Dhapa
(SOUTH BIONCHTALA, Auropota Dhapa)
51A Tiljala Road, Darapara Bustee Topsia, ABINASH
CHOWDHURY LANE (Included in Darapara bustee)
( Darapara Bustee, ABINASH CHOWDHURY LANE
)(RAICHARAN PAUL LANE)
BRINDABAN GARDENS BUILDING, 21, FLOOR 3, FLAT 3,
9B CHRISTOPHER ROAD, GOBINDA KHATICK ROAD,
KOLKATA 700046
(98,CRISTIFAR ROAD)
6, Karim Hussain Lane, Circus Avenue, Kolkata -
700017, KARIM HUSSION LANE, SP SARANI, MEHER ALI
ROAD, (3-6, Karim Hussain Lane)
4, DR.A.MO, GHAMI ROAD, KOLKATA, WEST BENGAL,
DR AMO GHAMI ROAD, NEW PARK STREET, 40 SYED
AMIR ALI AVENUE
150/2B Debendra Chandra Dey Road, Entally, Kolkata
15, D.C Dey Road, R.N. Road, 11, GOBINDA KHATIK
ROAD , ENTALLY KOLKATA 12, (5-11,GOBINDA KHATIK
ROAD)
25/1 Radhanath Chowdhury Road, TangraKolkata 15,
Radhanath Chowdhury Road ,
10/H/2,BIBI BAGUN LANE, (14,-51,RADHA NATH
CHOWDHURY ROAD,BIBI BAGUN BUSTEE)
12/H/11 Park Street, Taltala, Kolkata 700010, PARK
STREET, 10 Lord Sinha Road, P.S. Shakesphere Sarani,
Kolkata - 700071, BELLE VUE CLINIC, 9 DR. U N
BRAHMACHARI STREET KOLKATA 700017, 4, GORKY
TERRACE ROAD, KOL-17, (1-17, Lord Sinha Road,8-
13,RAWDAN ST,5-14,WOOD ST,20-26,CAMAC ST)
80/1 West Range,Circus Avenue,Beniapukur, CIRCUS
ROAD (2-6, West Range)
100 KARAYA ROAD, 105/93, Karaya Road, P.S- Karaya,
Kolkata-700017, 105/93, Karaya Road, P.S- Karaya,
Kolkata-700017, 22/8/7, Bright Street, Circus Avenue,
Karaya
53/3 Bright Street, 29 A/8 43 Palm Avenue,
Ballygunge, Karaya, Kolkata 19, Palm Avenue,
Ballygunge, Karaya, OLD BALLYGUNGE 1ST LANE
,BONDEL RD,32-76, BROAD STREET
Nursing Hostel SS Chatterjee Heart Clinic, DR BIRESH
GUHA STREET, 6/H/8 CK LANE, CIRCUS AVENUE,
KOLKATA 17, (6 - 19) CK LANE, TILJALA LANE, 6 -
15)MO LANE, 19 - 38 SAMSUL HUDA ROAD, 56 - 60
BRIGHT STREET, DR BIRESH GUHA STREET
47 GOLAM JALANI KHAN ROAD, TILJALA, KOLKATA - 39,
(47 GOLAM JALANI KHAN ROAD) (59,43,61,G.J.KHAN
RD)
5/W Shap Gani 1st Lane, Tiljala, Kolkata 39, Shap Gachi
1st Lane, CHOWBAGHA ROAD,C.N.ROY RD, (4-12,
Shap Gani 1st Lane, 8-14,CHOWBAGHA, 1-39,C.N.ROY
RD)
30/24 Roy Charan Ghosh Lane, Tlljala, Kolkata , (8-39,
Roy Charan Ghosh Lane)
3. KUSTIA MASJID BARILANE, TILJALA 700039, KUSTIA
MASJID BARI LANE, (3-47,KUSTIA MASJID BARILANE
9-48,KUSTIA ROAD)
2 No. Hatgachia, Dhapa, PS: Pragati Maidan, Kolkata -
700103, 1 & 2 HATGACHIA ROAD, D.C DEY ROAD.
12,GOBINDO KATICK ROAD,TANGRA, 12 & 19
GOBINDA KHATICK ROAD, (12,19,GOBINDO KATICK
ROAD, 39,PULLIN KHATIK ROAD
11,SEAL LANE)
9B Collin Lane, Park St, Kolkata 17, (4-9,COLLIN LANE)
1/1C, JHOWTALA, 3RD FLOOR, PS - KARAYA, KOL - 17,
JHOWTALA LANE, SAMSULHUDA ROAD, (1-3,
JHOWTALA LANE)
MASJID BARI LANE, TILJALA, KOL – 39, tiljala masjid
bari lane, tiljala rd (16-31,MASJID BARI LANE)
123, B. B. CHATTERJEE ROAD, KOL 42, BB CHATTERJEE
ROAD, (2-25,107-120,51-67,B. B. CHATTERJEE ROAD)
20 K .N SEN ROAD , KOLKATA 700042, (16-75,K .N SEN
ROAD)
Bedia Danga 2nd lane, ( 1-44,Bedia Danga 2nd lane)
11/C, TILJALA SHIBTALA LANE, KOLKATA 700039,
(TILJALA SHIBTALA LANE) (10-24, KUSTIA ROAD)
33 Tiljala Road, Picnic Garden Road, (33-64, Tiljala
Road 2-11, Picnic Garden Road)
91 Picnic Garden Road, Sree Dhar Roy Road, (91-139,
Picnic Garden Road, 49,KUSTIA ROAD, 26-46,
SRIDHAR ROY RD, 7-11,C.NROY RD)
DARGA ROAD,DILKHUSA ST,TALBAGUN RD,TILJALA
RD,PARK ST, (18-302, DARGA ROAD)
F.F Complex, Indian Museum, 27 Jawaharlal Nehru
Road,
65 to 128 Swinhoe lane
1 to 50 DHARMATALA ROAD
6/12 RAILWAY QTR 2, CONVENT LANE, PS: ENTALLY,
KOLKATA 15, WARD 56, Actual Address: 2 Convent
Lane (Near Pastur Hospital) NOT Railway Quarter
13/1 & 4F Ahiripukur 2nd Lane & 1st Lane &
Ahiripukur Road, P.O. Ballygunge, P.S. Karaya,
100/1 Karaya Road, Ballygunge, Kolkata 19, Lower
Range , 1 - 100 Kareya Road, Tarak Dutta Road, Beck
Bagan Row, Col Biswas Road, Parvez Sahidi Sarani,
Gurusaday Dutta Road All Premises
47A Hazra Road Ballygunge, Kolkata, 47A, 48, 51,44,
41 Hazra Road, 36 Ballygunge Circuler Road, 1 to 9
Deodar Street
39B, Beltala Road, Elgin, Sitala Mandir, Ballygunge,
P-381, KEYATALA LANE, KOL - 29, P381 & ALL
PREMISES NO OF KEYATOLA LANE, KEYATOLA
ROAD, 3 NO LAKECAMP ENTIRE BUSTEE, 4 to 55
Hindustan Park, 39/3 to P 392 Purnadas Road
23K,PANCHANTALA,RABINDRA SAROBAR, KOL-29,
23K, 22, 24, 21,32 PACHANANTOLA ROAD ENTIRE
BUSTEE, AMRI Hospitals, P-4 & 5, CIT scheme, LXXII,
Block-A, Gariahat Rd, Dhakuria, Kol-700029
31A, PANDITIYA PLACE, GARIAHAT, KOL - 29, 1 - 39
PANDITIYA TERRACE, 5, 9/1 PANDITIYA ROAD ENTIRE
BUSTEE, 6/C Panditiya Road
2 NO. LAKE CAMP, PO - SARAT BOSE RD, KOL - 29, 2NO
LAKE CAMP ENTIRE BUSTEE
54/1,94,95,96 TOLLYGUNJE ROAD
P.O KALIGHAT P.S-TOLLYGUNJE
PIN -700026, 13 BOWALI MONDAlL ROAD
14/1 HINDUSTAN ROAD, DOVER LANE KOLKATA, 9A to
39 Hindustan Rd,3 to 11D Dover Lane
51/A SATISH MUKHERJEE RD. TOLLYGUNGE, KOL-26
1 to 26 Lee Rd,(O.C Ganguly sarani),10 Elgin
Rd,1,2,3,13 woodburn park,234/4 A.J.C Bose
Rd(NijamPalace)
122 to 138/1 SARAT BOSE ROAD, 122/A to D Motilal
Neheru Rd.
1 to 16 Lake View Rd, P125 to 75 Jadunath Sarkar rd
all premisess, 19, 218 , 315 , 318 Lake Terrace, 15A to
28 B Anil Ray Road, P74 to 75 Purnadas Road
11B to 50A Garcha 1st Lane, 24 to 53 Garcha Road, 51
to 48 Gariahat Road
KUMAR SURGICALS 700047 (46/3 Ashton Road , Kol -
20) Actual AddressL 4/2/3 Aston Road, 3 to 11B Aston
Road, 45 to 35 Sarat Bose Road, 1 to 12 Madhab
Chatterjee Lane, 26 to 37/1 Chakraberia Road
19,22,24,80 ,25,81 Beltola Rd,1 to 6 Shamananda
lane,65/1,65/3 Sarat Bose Rd ,
9 to 131 Ballygung Gardens,
6 Sunny Park
28/1 JUDGES COURT ROAD, KOLKATA 700027, ( 1A -
22C, J C RD) (4/11 - 8/8AFTAB MOSQUE LANE) , ( 2 -
17/1/2, GOPAL NAGAR ROAD ), (1/11/3 - 23, NABA
RAY LANE)
7/2 DIAMOND HARBOUR ROAD, CWE CAMPUS, & 7,
BODY GUARDS LINE, , KOL 27,
19/H/9 Watganj, Watganj, Kolkata-700023
Qtr No. F9, Rental Housing, Georges Gate Road,
Hastings, Kolkata, Qtr No. F9, Rental Housing, St
Georges Gate Road (St Georges Trs. Hasting Kol23),Mess No 1 INS Netaji Subhash, Khidderpore,
Commissariat Road, Leonard Road, Middle Road,
Clyde Road, 6 Bakery Street, Sew Prasad Road, 1/H/1
to 2/H/1, Shah Rajab Road
15/H/4 Mohan Chand Road, Kolkata, Padmapukur East
Lane, Part of Watgunge Street, Nazir Lane, 34/1
Kabitirtha Sarani, Khidderpore, Kolkata 700023 (10 -
15/H/4, M C RD)
18/1/8/7 Mominpur Road, Khidderpore, Kolkata
700023, Mominpur Road, Khidirpur Kol-23, 2A to 27/2,
Rajab Ali Lane, Mominpore, Kolkata 23 (Ward 78),
8No. H/32 Bhukailash Road, Ekbalpore, Kolkata,
Bhukailash Road, 1 - 19 Mayurbhanj Road, Ideal
Tower Block b, Flat 1a, 57, Diamond Harbour Road,
Ekbalpore, Kolkata - 700023, 36 to 39C, Ekbalpore
Road
49/5 KARL MARX SARANI, KHIDDERPORE, SOUTH POLE,
KOLKATA 23, 48 KM SARANI,KANTHALBERIA ROAD,
Metiabruz
BLOCK 19, FLAT 15, SOUTH EASTERN RAILWAYS
OFFICERS COLONY, GARDEN REACH, KOLKATA 700043,
BNR North Colony, Nimak Mahal Road, CISF Unit,
Bhutghat, Kol 43, CISF Khidderpore Barrack, Nimak
Mahal Road
17, Braunfield Road, Kolkata 27
4 NO. NITYA GHOSH STREET, KHIDDERPORE, KOLKATA23, 10/2H/16, KABI TIRTHA SARANI, KOL-16 (4 - 15,
K.T. SARANI)
45/14/2 DR SUDHIR BASU ROAD KHIDIRPUR
KOLKATA156, 30 EKBALPUR ROAD, KOL- 700023, 11E
EKBALPUR RD. KOL-23, 1D to 6/H/3, Ibrahim Road,
Ekbalpore, Kolkata 23
11/2/H/7, MOULANA MUHAMMAD ALI
RD,EKBALPUR,KOL-23, B/1/1/5/1 to 3/H/19,
Bhukailash Road, PS Ekbalpore, Kolkata 23, 4B to
54A, Dent Mission Road, PO Khidderpore, PS Watgunj,
Kolkata 23, 3C BENGALI SHAH WARSHI LANE, KOLKATA
700023
83 to 117, Rakhal Das Addy Road, Chetla, Kolkata 27,
5 to 12C, Chetla Road & 1/1 to 20A, Sankar Bose Road
19 & 20, Coal Berth Road, Sonadangi, Sahapur Oriya
Para Jhupree
242 to 245, AJC Bose Road, SSKM Hospital Staff QTRS,
Kolkata
5A to 12D , Pitambar Sarkar Lane & 119/1A, CGR
Road, 9D to 40B, Hemchandra Street, Kolkata 23
1/D to 29/B, Pitambar Ghatak Lane,
2D to 47, Nazir Lane, Khidderpore, Kolkata 23
Check remaining 86 containment zones in Kolkata here
Howrah, which has the second-highest number of cases has 76 containment zones-- check here
Check 114 containment zones list of North 24 paraganas here
Posted By: James Kuanal