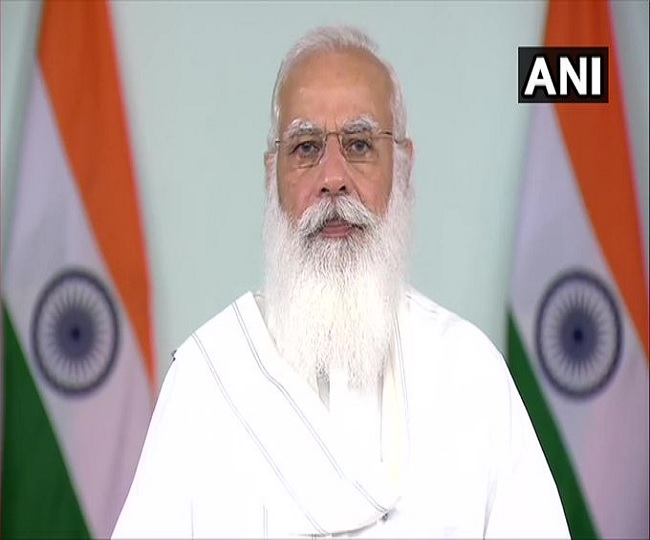 New Delhi | Jagran News Desk: The central government's Subject Expert Committee (SEC) has denied permission to Dr Reddy's Laboratories for conducting Phase 3 trials of Russia's COVID-19 vaccine Sputnik Light in India. "The SEC has denied permission to Dr Reddy's to conduct phase-3 trials on the Russian vaccine Sputnik Light in India," sources told ANI here. After launching Sputnik V, Russia had introduced a new single-dose vaccine called Sputnik Light in May.
Sputnik Light has also been developed by the Russian Ministry of Health, the Gamaleya National Research Centre of Epidemiology and Microbiology and the Russian Direct Investment Fund (RDIF). The RDIF had earlier said that the Russian Sputnik Light coronavirus vaccine demonstrates 78.6 per cent to 83.7 per cent efficacy among the elderly, according to real-world data collected by the Ministry of Health of the Buenos Aires province (Argentina).
Here are the LIVE Updates of July 1:
3:35 pm: Today, our doctors are making & implementing protocols for COVID19. Earlier, we all saw how medical infrastructure was ignored. Despite all problems, India's condition was somewhere stable than other developed countries: PM Modi
3:22 pm: We have come up with a Credit Guarantee Scheme of Rs 50,000 crores to strengthen the health infrastructure in such areas, where there is a lack of health facilities: PM Modi
3:20 pm: Our doctors, their knowledge and experience is helping us battle this COVID19 virus. Budget allocation for the health sector has been doubled: PM Modi's address on #DoctorsDay2021
3:18 pm: On behalf of 130 crore Indians, I want to thank all the doctors: PM Modi's address on #DoctorsDay
3:00 pm: The spot registration and walk-in facility for Sputnik V are currently restricted and we are encouraging beneficiaries to register and make appointments through the CoWIN app: Indraprastha Apollo
2:30 pm: Indraprastha Apollo has started the administration of the Sputnik V vaccine for the public in a staged manner from June 30th. As of today, around 1000 persons have been administered the said vaccine: Indraprastha Apollo
12:30 pm: So far, Austria, Germany, Slovenia, Greece, Iceland, Ireland, and Spain have confirmed accepting Covishield. Switzerland also allows Covishield for Schengen state: Sources
12:15 pm: Versions of EU-approved vaccines approved abroad (original or licensed productions) are equivalent to the mentioned EU-approved vaccines for proof of vaccination protection: German Embassy spokesperson on allowing green pass to travellers who took Covishield vaccine.
11:50 am: Switzerland has accepted Covishield, people administered with Covishield can get green pass to visit Switzerland: Diplomatic sources
11:30 am: More data is needed on mixing of doses, studies show that it may be effective and a little more side effects may be there. But we need more data before we can say that this is a policy that should be tried: Dr. Randeep Guleria, AIIMS Director
11:15 am: An accused in Mumbai fake vaccine case has been arrested from Baramati. This is the 12th arrest in the case: Mumbai Police
11:00 am: There isn't much data on Delta plus variant to suggest it's more infectious, causing more deaths, or has developed significant immune escape mechanism. But if we follow COVID appropriate behaviour, we'll be safe against any of emerging variants: Dr Randeep Guleria, AIIMS Director
10:45 am: Indian drug regulatory body has denied permission to Dr Reddy's to conduct phase 3 trials for Sputnik light in India: Sources
10:00 am: We've lost many healthcare workers to pandemics. On Doctors' Day, WHO salutes these Bravehearts, their families & frontline workers. WHO will continue to work with countries to invest in health workforce strengthening: Regional Director, WHO South-East Asia Region
9:30 am: India reports 48,786 new #COVID19 cases, 61,588 recoveries, and 1,005 deaths in the last 24 hours, as per the Union Health Ministry. Total cases: 3,04,11,634 Total recoveries: 2,94,88,918 Active cases: 5,23,257 Death toll: 3,99,459 Total Vaccination : 33,57,16,019
9:00 am: Government panel recommends against allowing Serum Institute of India to conduct phase 2 & 3 clinical trials of Covavax #COVID19 vaccine on children of age 2-17 years: Sources
8:45 am: On this Doctors' Day, I salute all members of the medical fraternity for rendering selfless service and working round-the-clock to save others' lives by risking their own: Vice President M Venkaiah Naidu
8:25 am: Zydus Cadila applies for Emergency Use Authorisation (EUA) seeking approval from the Drugs Controller General of India (DCGI) for the launch of their DNA vaccine for 12 years & above. The vaccine has completed the third phase of trial.
8:10 am: Underlining that the fight against COVID-19 is not over yet, Modi told the ministers that vaccination should be done on a war footing. Chairing a meeting of the Union Council of Ministers, he asked them to ensure that the projects for which they have laid the foundations are completed and inaugurated by them.
8:00 am: Prime Minister Narendra Modi exhorted his Council of Ministers to work towards creating such an atmosphere in the country wherein everyone follows COVID-19 protocols diligently and takes vaccines to stop the third wave of the pandemic.
7:45 am: Zydus Applies To The DCGI For EUA To Launch ZyCoV-D, world's first plasmid DNA vaccine for Covid-19
7:30 am: Bihar: RJD leaders Tejashwi Yadav and Tej Pratap Yadav take their dose of #COVID19 vaccine at Jai Prabha Medanta Superspecialty Hospital in Patna. Tejashwi Yadav says that they have taken the Sputnik V vaccine.