Coronavirus News: Corona curfew extended in Madhya Pradesh's Bhopal till May 24 | Highlights
Coronavirus News: India's COVID-19 situation continues to be grim with 36.73 lakh active cases and 2.66 lakh deaths. Currently, India's recovery rate stands at 83.83 per cent.
Updated: Sun, 16 May 2021 05:27 PM IST
New Delhi | Jagran News Desk: Despite a decline in India's active coronavirus cases, the Union Health Ministry has flagged concerns over secondary infections like mucormycosis and warned against any kind of laxity. It said that people must continue using face masks and practice social distancing to ensure that cases do not rise again.
India's COVID-19 situation continues to be grim with 36.18 lakh active cases and 2.70 lakh deaths. Currently, India's recovery rate stands at 83.83 per cent. Amid this, Prime Minister Narendra Modi has also health a crucial meeting on Sunday to review the situation in the country.
Here are the highlights of the day:
16:52 pm: Just In: Madhya Pradesh: Bhopal district administration extends 'Corona Curfew' till 6 am on May 24, reports ANI.
16:14 pm: Over 20 cr vaccine doses (20,28,09,250) provided to States and UTs free of cost by Government of India so far. Over 1.84 crore vaccine doses (1,84,41,478) are still available with States and UTs. Nearly 51 lakh doses in addition will be received by them in next 3 days, says Union Health Ministry.
States with negative balance are showing more consumption (including wastage) than vaccine supplied as they haven't reconciled vaccine they've supplied to Armed Forces. 50,95,640 vaccine doses in pipeline, States and UTs to receive them in next 3 days, it added.
15:31 pm: "Arrest me too. Modi ji why have sent the vaccine to foreign countries," tweets Rahul Gandhi.
15:07 pm: All local, suburban and EMU train services in West Bengal will continue to remain suspended till further advice. Services of other Special Trains, Mail or Express Special trains, Parcel Trains and Freight Trains will continue to run as per schedule, till further advice, syas Eastern Railway.
14:38 pm: Those involved in black marketing of Remedisivir will be brought to book. Some incidents have come to light at Victoria Hospital and some private hospitals in Mysuru, Davangere. The health department is taking measures to bring accountability in supply of the drug, says Karnataka Home Minister Basavaraj Bommai.
14:15 pm: BREAKING: Lockdown in Haryana has been extended till May 24 amid the continuous spike in coronavirus cases.
13:45 pm: Just In: COVID-19 curfew restrictions in Punjab's Ludhiana district extended till May 23.
13:30 pm: Karnataka Minister BC Patil announces Rs 50,000 compensation to the families of deceased who succumbed to COVID-19 in Hirekerur constituency, reports ANI.
12:53 pm: A total of 777 tankers and containers carrying 14294.141 MT medical oxygen have been dispatched under supervision of Odisha Police in the last 24 days from Rourkela, Jajpur, Dhenkanal and Angul districts of Odisha to 13 States in the country, says Odisha Police.
12:33 pm: Just In: Prime Minister Narendra Modi called on Chief Ministers of Rajasthan, Chhattisgarh, Uttar Pradesh and Puducherry to discuss the COVID situation with them, reports ANI.
12:14 pm: BREAKING: Delhi lockdown extended for another week by CM Arvind Kejriwal despite decline cases.
11:49 pm: Several important decisions were taken in today's state task force meeting to contain COVID-19. Considering the safety of citizens, all vaccination centres will be gradually shifted from hospitals and PHCs to schools, colleges and other safer locations, says Karnataka Health Minister Dr Sudhakar K.
11:47 am: Just In: Chhattisgarh's Raigarh district has been declared containment zone till May 31. Milk parlours allowed to open between 6-8 am and 5-7.30 pm, wholesale fruit and vegetable market allowed to operate from 12-6 pm. Complete lockdown to be imposed on Sundays, reports ANI.
11:40 am: The virus is spreading in rural areas also. We have started a door to door survey campaign in which a medicine packet will be provided to people with ILI (Influenza like illness) symptoms, says Jaipur District Collector Antar Singh Nehra.
11:21 am: Also Read -- Oxygen crisis continues at Goa medical college as 8 more COVID-19 patients die, toll reaches 83
10:40 am: The Chandan Yatra of Lord Jagannath began in Odisha's Puri. However, in view of the second wave of COVID-19, only a limited number of people were allowed to attend Chandan Yatra.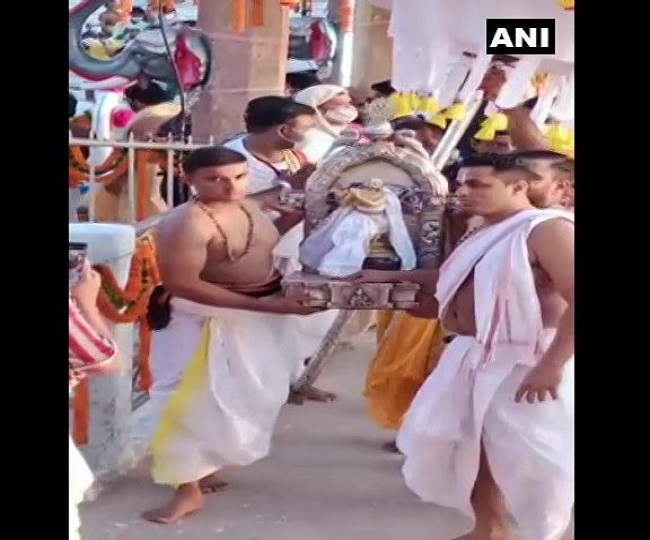 9:58 am: BREAKING: Congress Rajya Sabha MP Rajeev Satav passes away due to COVID-19.
"Today I lost a friend who took the first steps of public life with me in the Youth Congress," tweets party leader Randeep Surjwwala.
9:50 am: India reports 3,11,170 new COVID-19 cases, 3,62,437 discharges and 4,077 deaths in the last 24 hours, says Union Health Ministry.
Total cases: 2,46,84,077
Total discharges: 2,07,95,335
Death toll: 2,70,284
Active cases: 36,18,458
Total vaccination: 18,22,20,164
9:25 am: 31,48,50,143 samples tested for COVID-19 up to 15th May 2021. Of these, 18,32,950 samples were tested yesterday, says Indian Council of Medical Research.
9:22 am: At least 1,053 children of up to 9 years of age were affected with COVID-19 between April 16 and April 30, and 1,618 children were affected between May 1 and May 14, says Uttarakhand Health Department.
8:51 am: Second consignment of Sputnik V arrives in Hyderabad.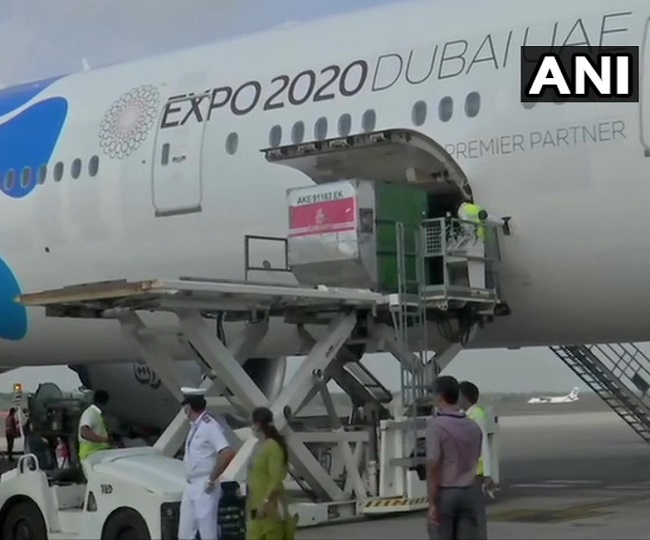 8:22 am: Mizoram reported 181 new positive cases and 1 death on Saturday. Active cases at 2,339 and total cases at 8,861.
8:05 am: PM Modi also said that states and UTs should be encouraged to report their COVID-19 numbers transparently "without any pressure of high numbers showing adversely on their efforts".
8:00 am: Meanwhile, PM Modi on Saturday held COVID review meet and called for augmenting healthcare resources in rural areas to focus on door to door testing and surveillance.
7:55 am: However, it has said that the overall COVID-19 situation in the country is stabilising and the government will work towards ensuring further improvement.
"It is evident that we can see a certain amount of stabilisation of the second wave of the pandemic. Some states have shown a clear pattern, in some states there are concerns and in some others there is a trend towards an increase. It is a mixed picture," it said.
7:50 am: The Health Ministry has warned against any kind of laxity and said that secondary infections like fungal and bacterial are causing more mortality.
Posted By: Aalok Sensharma