Coronavirus in UP: Migrant worker sprayed with bleach meant to disinfect buses in Lucknow, govt says 'unintentionally'
Publish Date: Thu, 07 May 2020 11:23 AM IST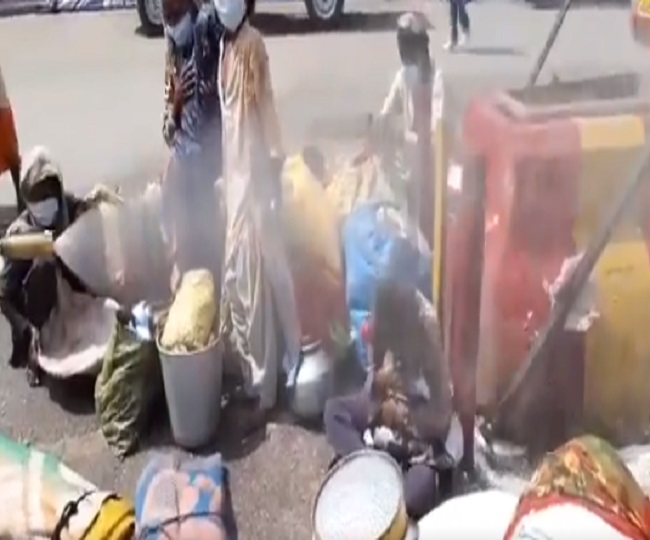 New Delhi | Jagran News Desk: In another instance of spraying disinfectant on migrant labourers, a young boy outside Charbagh Railway station in Lucknow was flinched back in fear after a municipal worker sprayed a bleach and water disinfectant on him upon his return to the state in Shramik trains started by the government.
The video clip shot on Wednesday, which is viral on the social media now has drawn outrage across the internet and was also compared to the similar incident happened in Uttar Pradesh's Bareilly last month when migrant workers were sprayed with similar disinfectant upon their return to the state.
The bleach and water solution sprayed on the boy is used only on surfaces to get the disinfect and not for human beings.
Also Read | India standing 'firmly' in support of everyone: PM Modi salutes corona warriors for 'working selflessly'
However, a top Lucknow Municipal Corporation, who is the in-charge of disinfecting the buses bringing back the migrant workers, has responded to this shocking incident and said that the spraying was unintentional.
"The process of sanitisation of buses was on. The hosepipe was full and when our workers were moving from one bus to the other, some labourers came in the way. It was unintentional," Indramani Tripathi, the Lucknow Municipal Commissioner, said as quoted by NDTV.
"The corporation has been sanitising buses for a month and no such incident has been reported. We have removed the two workers involved because, while unintentional, they certainly made a mistake," he added.
Earlier last month, when some migrant workers were sprayed with the same solution in Bareilly, Uttar Pradesh chief minister Yogi Adityanath had showed concern over the incident and said that such practices and incidents should not be repeated.
Also Read | 3,561 new coronavirus cases in last 24 hours take India's tally to 52,952; death toll nears 1,800
"Chief Minister Yogi Adityanath has condemned the Bareilly incident where officials sprayed disinfectant on migrant workers and has ordered action against them. He also asked (officials) to ensure such incidents do not repeat," Awanish Awasthi, UP' Chief Secretary Home had said as reported by ANI.
In Uttar Pradesh nearly 3,000 people have been afflicted by the coronavirus, while 60 people have succumbed to the deadly contagion so far.
Posted By: Talib Khan