Coronavirus News: PM Modi's 'nautanki' reason behind 2nd COVID wave in India, says Rahul Gandhi | Highlights
Coronavirus News: Rahul Gandhi said that PM Modi acts as an 'event manager' and does not think strategically while dealing with the COVID-19 pandemic.
Updated: Fri, 28 May 2021 04:33 PM IST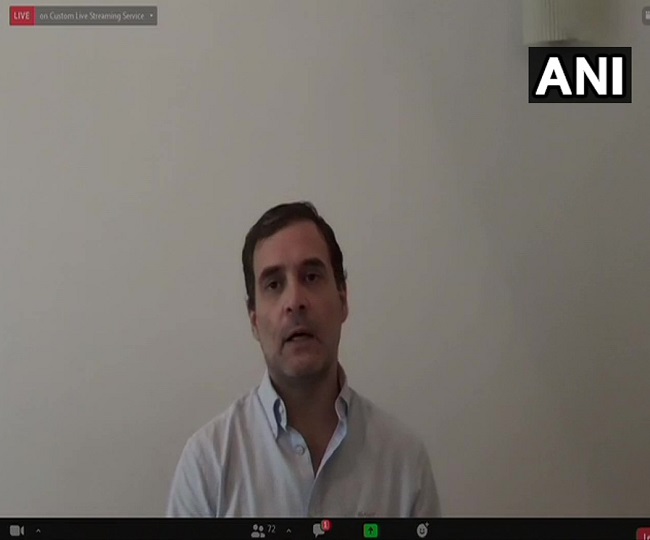 New Delhi | Jagran News Desk: Former Congress President Rahul Gandhi on Friday made a blistering attack at Prime Minister Narendra Modi-led NDA government in the Centre and questioned India's COVID-19 vaccination policy. Gandhi said that PM Modi acts as an 'event manager' and does not think strategically while dealing with the COVID-19 pandemic.
He also slammed External Affairs Minister Dr S Jaishankar for doing 'vaccine diplomacy' and said that by not vaccinating the maximum number of people in the country, the government is giving space to the Coronavirus to mutate. Gandhi also came down heavily on the Central government for not have one fixed centralised charge for vaccination, like most other countries.
Here are the highlights of the day:
16:31 pm: Also Read -- 'India to vaccinate all by December 2021': Prakash Javadekar hits back at Rahul Gandhi over COVID vaccine policy
15:35 pm: Supreme Court directs district administrations across the country to immediately take care of the basic needs of children orphaned after having lost one or both parents to Covid-19, without waiting for further orders.
15:24 pm: Due to the outbreak of second COVID-19 wave in the country, it would not be appropriate to hold Bye Election to the Council of States of Kerala till the pandemic situation significantly improves, says Election Commission of India
14:22 pm: Apollo Hospitals begin to offer the Antibody Cocktail (Casirivimab and Imdevimab) to patients with mild and moderate COVID and at high risk of developing severe COVID, says Hospital authority.
13:31 pm: Odisha Government extends the deadline of the global tender floated for procurement of COVID-19 vaccines by one week. The tender process scheduled to conclude today has been extended till June 4, including the submission of an online bid, technical bid opening and price bid.
13:16 pm: Government not understanding the nature of what they're fighting. Understand the dangers of mutation of this virus. You're creating a liability for the whole planet. Why? Because you are allowing 97 per cent of the population to be attacked by the virus as only 3 per cent are vaccinated, says Congress' Rahul Gandhi.
13:01 pm: The Prime Minister's 'nautanki' is the reason behind the second wave of COVID19 in India. He did not understand COVID19. India's death rate is a lie. The government should tell the truth, says Congress' Rahul Gandhi.
12:56 pm: We had warned the Government of India about COVID19 repeatedly. Later, PM Modi had expressed India's victory against COVID19. This is an evolving disease. Lockdowns and wearing of masks is a temporary solution but vaccine is a permanent solution to COVID, says Congress' Rahul Gandhi.
12:40 pm: The price of DRDO's 2DG anti-COVID 19 drug has been kept at Rs 990 per sachet by Dr Reddy's lab. Government hospitals, central and state government would be provided the medicine at a discounted price, ANI quoted government officials as saying.
12:39 pm: The recovery rate in the state has reached 93 per cent. In yesterday's Cabinet meeting it was discussed that lockdown should be extended for 15 days but relaxations can be given in districts where cases have gone down, final decision will be announced soon, says Maharashtra Minister Rajesh Tope.
12:11 pm: Also Read -- Pfizer, Moderna, Sputnik V and Johnson and Johnson: When will foreign COVID-19 vaccines be available in India?
11:47 am: Uttarakhand has received 15,000 injections of Amphotericin-B used for the treatment of patients with black fungus, says state Drug Controller Tajber Singh.
11:40 am: Government of India has provided more than 22.46 crore vaccine doses (22,46,08,010) to States and UTs. Of this, total consumption including wastages is 20,48,04,853 doses as per data available at 8 am today, says Union Health Ministry.
More than 1.84 crore COVID vaccine doses (1,84,92,677) are still available with states and UTs to be administered. 3,20,380 vaccine doses are in the pipeline and will be received by the States and UTs within the next 3 days, it added.
11:15 am: Delhi HC issued notice to Centre and others on a petition seeking direction to immediately vaccinate children between ages of 12-17 years in Delhi as well as to prioritise vaccination amongst parents having children up to 17 years of age–especially newborns to 12 years of age.
10:57 am: Supreme Court adjourns a plea seeking directions to the Centre, Central Board of Secondary Education (CBSE) and the Council for the Indian School Certificate Examination (CISCE) to cancel the CBSE, ICSE Class XII examination for Monday.
10:37 am: WHO convened global study on origin of COVID19 is an important first step. It stressed the need for next phase studies as also for further data and studies to reach robust conclusions. The follow up of the WHO report and further studies deserve understanding and cooperation of all, says Ministry of External Affairs.
10:00 am: India reports 1,86,364 new COVID-19 cases, 2,59,459 discharges and 3,660 deaths in last 24 hours, as per Health Ministry.
Total cases: 2,75,55,457
Total discharges: 2,48,93,410
Death toll: 3,18,895
Active cases: 23,43,152
Total vaccination: 20,57,20,660
9:33 am: Weekly positivity rate currently at 10.42 per cent and daily positivity rate at 9.00 per cent, less than 10 per cent for 4 consecutive days. A total of 20.57 crore vaccine doses administered so far, says Union Health Ministry.
9:33 am: At 1.86 lakh cases, a declining trend in new cases continues. Daily new cases are lowest in the last 44 days. Active caseload further declines to 23,43,152 with active cases decrease by 76,755 in last 24 hours, says Union Health Ministry.
With 2,59,459 patient recoveries reported during the last 24 hours, a total of 2,48,93,410 patients have recovered in the country so far. Recovery Rate increases to 90.34 per cent, it added.
9:16 am: A total of 33,90,39,861 samples tested up to May 27. Of these, 20,70,508 samples tested yesterday, says Indian Council of Medical Research.
8:55 am: Supreme Court to hear a plea seeking directions to the Centre, Central Board of Secondary Education (CBSE), and the Council for the Indian School Certificate Examination (CISCE) to cancel the CBSE, ICSE Class XII exam
8:52 am: Germany has decided that it will vaccinate children over 12 years of age from June 7. However, it has said that the vaccination will not be compulsory.
"Children and young people aged 12 and over will have the chance to book a vaccine appointment from June 7," said German Chancellor Angela Merkel.
8:33 am: Ladakh reported 141 new cases, four deaths and 145 recoveries in last 24 hours. Active cases in the Union Territory has come down to 1,656; 1438 in Leh and 218 in Kargil district.
7:54 am: Also Read -- Maharashtra lockdown to continue despite dip in COVID-19 cases, relaxations after June 1, says Rajesh Tope
7:27 am: Mizoram reported 239 new positive cases on Thursday. Active cases in the state stand at 2,861 and case tally at 11,382.
7:23 am: India's death toll, meanwhile, stands at 3.15 lakh with a fatality rate of 1.15 per cent.
7:22 am: 2.46 crore COVID-19 patients have recovered from the infection, taking India's recovery rate to 90.01 per cent.
7:21 am: India currently has 24.19 lakh active COVID-19 cases, which comprises 8.84 per cent of the total caseload.
Posted By: Aalok Sensharma