Coronavirus News: PM Modi holds meet with oxygen manufacturers amid shortage crisis in hospitals
Coronavirus Crisis: More than 3 lakh new COVID-19 cases and over 2,000 deaths were reported in India on Thursday, a record-high since the pandemic broke out last year.
Updated: Fri, 23 Apr 2021 03:00 PM IST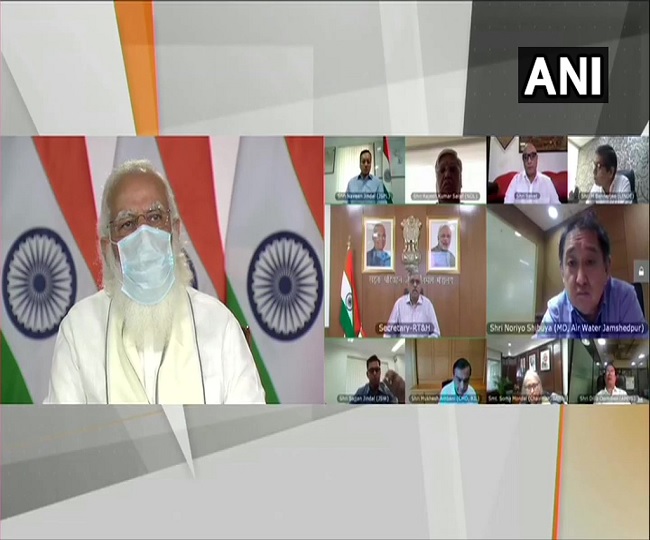 New Delhi | Jagran News Desk: Prime Minister Narendra Modi held a meeting on Friday with chief ministers of 10 states with the most number of COVID-19 cases. The meeting via video conferencing comes amid a huge surge in coronavirus cases, which have now clocked a daily total of over 3 lakh in the country. Chief ministers of Maharashtra, Uttar Pradesh, Kerala, Chhattisgarh, Madhya Pradesh and Delhi are among those who attended the meeting. Modi will hold a meeting with leading oxygen manufacturers in the country via video conference amid concerns expressed by some states that their supply of the life-saving gas is running short with a number of hospitals sending out SOS.
In another unfortunate event, the Sir Ganga Ram Hospital in Delhi has said at least 25 of the sickest COVID-19 patients have died in the 24 hours due to the shortage of oxygen. Around 8 am, the hospital also said it had oxygen for only two more hours. "25 sickest patients have died in last 24 hours Oxygen will last another two hours. Ventilators and Bipap not working effectively. Resorting to manual ventilation in ICUs and Emergency", the hospital said in a statement.
Here are the LIVE Updates of the coronavirus crisis in the country:
2:45 pm: PM Narendra Modi chaired high-level meeting on #COVID19 situation with CMs of 11 states and UTs which have reported maximum number of cases recently. PM assured Centre's full support to all states: Prime Minister's Office (PMO)
2:26 pm: Anyone who gets an RT-PCR positive report shouldn't immediately start thinking that they've to be hospitalised. They should first contact a doctor. Hospitals have a COVID app. At Medanta, we've such an app too, you fill in the details & get a call from doctor: Dr Trehan, Medanta
2:10 PM: 15,000 vials of Remsdesivir reached Raipur airport today, says Chhattisgarh Health Minister TS Singh Deo "It has been sent to CGMSC godown for counting and storage. Distribution of the same will follow immediately, later in the day," he adds
1:55 pm: Prime Minister Narendra Modi holds meeting via video conference with oxygen manufacturers in the country
1:40 pm: Our oxygen supply chain has been diverted to Uttar Pradesh. The supply chain is being maintained in BJP states. Where will we get oxygen from?: West Bengal CM Mamata Banerjee
1:25 pm: Oxygen being supplied to hospitals in Lucknow amid Police protection for safe transportation. An Oxygen Plant Manager says, "There's shortage, I don't have liquid. We're supplying only to Lokbandhu hospital & Balrampur hospital, as per govt order. Not providing to pvt consumers."
1:10 pm: False reports that they died due to lack of O2. When O2 pressure lowered in ICU beds, gave patients O2 manually. Didn't let anyone die without O2. Inox told us after getting state govt's NOC, they'll supply 9000-10,000 cubic meters of O2 daily: Chairman, Sir Ganga Ram Hospital
1:00 pm: Jabalpur | Five patients admitted to the COVID19 ward of Galaxy Hospital have died. The relatives of the patients say that it happened due to oxygen shortage at the hospital, say Police
12:47 pm: Provide vaccine to the states at the same rate as the Central govt. Please provide an action plan for vaccine availability to the states for running vaccination drive for those above 18 years of age from May 1, said Chhattisgarh CM in a meeting of CMs with PM Modi today
12:39 pm: Govt sources added, "Kejriwal has descended to a new low. For the first time, private conversations of PMs meeting with CM was televised. His entire speech was not meant for any solution but for playing politics and evade responsibility."
12:32 pm: Govt Sources say Delhi CM Kejriwal raised point of airlifting oxygen, but did not know that it is already being done. They added, "He spoke about Oxygen express by Railways but Railway sources say that he has not communicated anything about it to Railways."
12:25 pm: Govt Sources say Delhi CM Kejriwal used the PM-CM conference on Covid as a platform to play politics. Govt sources say he "chose to spread lies on vaccine prices despite knowing that Centre does not keep one vaccine dose with itself and shares with states only."
12:20 pm: There's a huge shortage of oxygen in Delhi. Will people of Delhi not get oxygen if there is no oxygen-producing plant here? Please suggest whom should I speak to in Central Govt when an oxygen tanker destined for Delhi is stopped in another state?: Delhi CM in meeting with the PM
12:10 pm: The CJI said that the matter is adjourned to Tuesday, April 27.
12:06 pm: The lordships should look into the interstate movement as there is a serious shortage of oxygen - senior lawyer, Vikas Singh, for the Supreme Court Bar Association, tells the Supreme Court.
11:57 am: Uttarakhand CM calls an all-party meeting to discuss the COVID19 situation in the State, today: Chief Minister's Office
11:50 am: Chief Justice of India SA Bobde allowed Harish Salve to recuse from the case
11:46 am: Solicitor General Tushar Mehta said that it is very unfortunate that many virtual media platforms are abusing this process of appointing Harish Salve as Amicus Curiae in the case.
11:45 am: "People are dying due to lack of oxygen," CJI Sharad Arvind Bobde observed.
11:40 am: Supreme Court starts hearing the suo motu cognisance case on #COVID19 crisis, it will also examine the judicial power of High Courts to declare lockdown. A three-judge bench of the Court, headed by CJI SA Bobde is hearing the case.
11:35 am: West Bengal Home Secretary to hold a video conferencing with all DMs today regarding emerging issues related to #COVID19, with a special focus on oxygen supply chain management.
11:25 am: Delhi | We've liquid medical oxygen that will last one hour and the backup oxygen supply that will last two hours. We are waiting for Linde to come and fill the oxygen tanks: Dr. Sumit Ray, Holy Family Hospital
11:15 am: "I want to send a message of solidarity to the Indian people, facing a resurgence of COVID-19 cases. France is with you in this struggle, which spares no-one. We stand ready to provide our support," says French President Emmanuel Macron
11:00 am: Delhi: Prime Minister Narendra Modi chairs a meeting with the Chief Ministers of high burden states, over the prevailing #COVID19 situation
10:40 am: An inquiry committee of seven persons under the chairmanship of Divisional Commissioner Radhakrishna Game has been constituted to investigate the oxygen leak incident at Dr. Zakir Hussain Hospital, Nashik on April 21: Nashik Police
10:30 am: Virar fire incident, not national news...says Maharashtra Health Minister Rajesh Tope. 13 people have lost their lives in a fire incident at Vijay Vallabh COVID care hospital in Maharashtra's Virar
10:00 am: In today's meeting with the PM, we will talk about Oxygen, Remdesivir, an adequate quantity of vaccines for the State...also the Virar fire incident, it is not national news. State govt will provide financial assistance to those affected: Maharashtra Minister Rajesh Tope
9:45 am: Delhi | An Oxygen carrying vehicle has reached Max Hospital, Saket after the hospital sent an SOS to the government Another Oxygen carrying vehicle has reached Max Smart Hospital, says DCP South
9:30 am: Delhi: Oxygen tanker arrives at Sir Ganga Ram Hospital in the national capital after the hospital sends SOS
9:05 am: The fire at a COVID-19 hospital in Virar is tragic. Condolences to those who lost their loved ones. May the injured recover soon: PM Narendra Modi
8:55 am: Saddened by the loss of lives due to tragic fire at a Hospital in Palghar, Maharashtra. My condolences to the bereaved families. Praying for the speedy recovery of the injured: Defence Minister Rajnath Singh
8:40 am: 25 sickest patients have died in last 24 hrs at the hospital. Oxygen will last another 2 hrs. Ventilators & Bipap not working effectively. Need Oxygen to be airlifted urgently. Lives of another 60 sickest patients in peril: Director-Medical, Sir Ganga Ram Hospital, Delhi
8:25 am: Reliance will roll out our own vaccination programme, R-Surakshaa, across locations for all our employees and eligible family members above the age of 18 years, effective May 1: Reliance Industries Limited
8:15 am: 13 people have died so far in fire at COVID hospital in Virar, in Vasai Virar municipal limits, Palghar district
8:00 am: In view of the current situation of COVID19 leading to insufficient resources for contact tracing & shortage of staff...Only symptomatic health care workers should be tested & only testing positive be isolated& managed as per the clinical condition: AIIMS, Delhi
7:45 am: Jharkhand to provide free COVID-19 vaccine to all above 18 years of age: CM
7:30 am: ITBP has been made the nodal agency to run Delhi's Radha Soami Satsang Beas (RSSB). Initially, 500 oxygenated beds will be set up, we will increase beds if required. All our doctors, paramedics are ready to start this facility: Vivek Pandey, PRO, ITBP
7:15 am: Varanasi: Nine patients were shifted to BHU Trauma Centre due to shortage of oxygen at Trimurti Hospital, yesterday. "Doctors at Trimurti Hospital informed that there is shortage of oxygen here so we are shifting patients to BHU Trauma Centre", said an official.
7:00 am: Tripura: 30 COVID-19 patients escaped from a COVID care centre in Agartala. "All those who fled had come here from UP, Bihar, Rajasthan, MP & West Bengal to take part in a recruitment rally of Tripura State Rifles," said Shailesh Kr Yadav, DM) West Tripura district
Posted By: Talibuddin Khan