Coronavirus Crisis: PM Modi sanctions procurement of 1 lakh portable oxygen concentrators from PM Cares Fund | Highlights
Here are the highlights of April 28
Updated: Wed, 28 Apr 2021 06:08 PM IST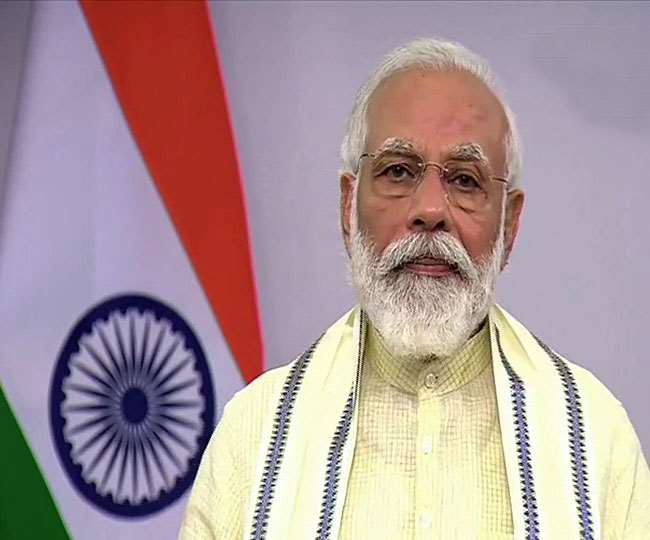 New Delhi | Jagran News Desk: India's toll from the coronavirus surged past 200,000 on Wednesday, the country's deadliest day yet, as shortages of oxygen, medical supplies and hospital staff compounded a record number of new infections. The second wave of infections has seen at least 300,000 people test positive each day for the past week, overwhelming healthcare facilities and crematoriums and driving an increasingly urgent international response. The last 24 hours brought 360,960 new cases for the world's largest single-day total, taking India's tally of infections to nearly 18 million. It was also the deadliest day so far, with 3,293 fatalities carrying the toll to 201,187.
Meanwhile, health experts said that people should not delay taking the Covid-19 vaccine as this will give the virus an opportunity to develop new variants and some of them may reduce the efficacy of current vaccines. The government of India has announced that all individuals aged above 18 years would be eligible to get Covid-19 vaccination starting May 1, registration of which will start from today at 4 pm on the government's CoWIN Portal, Aarogya Setu and UMANG app.
Here are the highlights of April 28:
5:50 pm: As a philanthropic gesture on behalf of Serum Institute of India, I hereby reduce the price to the states from Rs.400 to Rs.300 per dose, effective immediately: Adar Poonawalla
5:35 pm: Weekend curfew to be imposed from 5am on Saturday to 5am on Monday. Only essential activities will be allowed during weekend curfew. All educational institutions, school, colleges, coaching institutions, libraries etc. will remain closed till 15th May: Chandigarh Administration
5:30 pm: Corona curfew' to be imposed from 6pm, 29th April (till 5am) every day until further orders. All shops, malls, multiplexes etc. to close by 5pm every day. All non-essential activities prohibited during the night curfew: Chandigarh Administration
5:15 pm: The registration for 3rd phase of vaccination will take place online. The number of beneficiaries at vaccination centres will depend on the supply. There are around 30 lakh beneficiaries. We have demanded 60 lakh doses of vaccine from Centre: Rajiv Saizal, Health Minister, HP
5:10 pm: Jharkhand: Military Hospital, Namkum has opened a 50 bed COVID care facility for civilian patients
5:05 pm: We had a test registration of about 5 million people in a day on the registration platform. Maybe the number will be double that after registrations are open. We are ready for it: RS Sharma, CEO, National Health Authority
5:02 pm: We will continue to announce as and when States come on board. We will provide information in public. The advice to people is that you log in and get an appointment only when you see vacancies available: RS Sharma, CEO, National Health Authority on registration for vaccination
5:00 pm: On many days, we have had around 5 mn people registering in a day. We expect more than double that number today.We think our system will be able to take the load when registrations open today:RS Sharma, CEO,National Health Authority on vaccination for those above 18yrs from May 1
4:55 pm: Uttarakhand: 'Corona curfew' to remain in place in Doiwala, Herbertpur, Vikas Nagar, and Mussoorie starting tomorrow, orders Dehradun district administration
4:52 pm: Those above 45 years will continue to be vaccinated free of cost by the Central Government: RS Sharma, CEO, National Health Authority
4:47 pm: Some States and hospitals may come on board on May 1 or later, therefore, the visibility into the bookings/vacancy available for vaccination will be available when States, hospitals come on board: RS Sharma, CEO, National Health Authority
4:40 pm: In addition to earlier sanctioned 713 PSA plants under PM Cares Fund, 500 new Pressure Swing Adsorption (PSA) oxygen plants sanctioned under PM CARES Fund. PSA plants will augment the supply of Liquid Medical Oxygen at hospitals in district headquarters and Tier 2 cities: PMO
4:38 pm: PM has sanctioned the procurement of 1 lakh Portable Oxygen Concentrators from PM Cares Fund. He instructed that these Oxygen Concentrators should be procured at the earliest & provided in states with high case burden: PMO
4:30 pm: CoWIN portal restored after it crashed minutes after the registration process for 18+ started at 4 pm.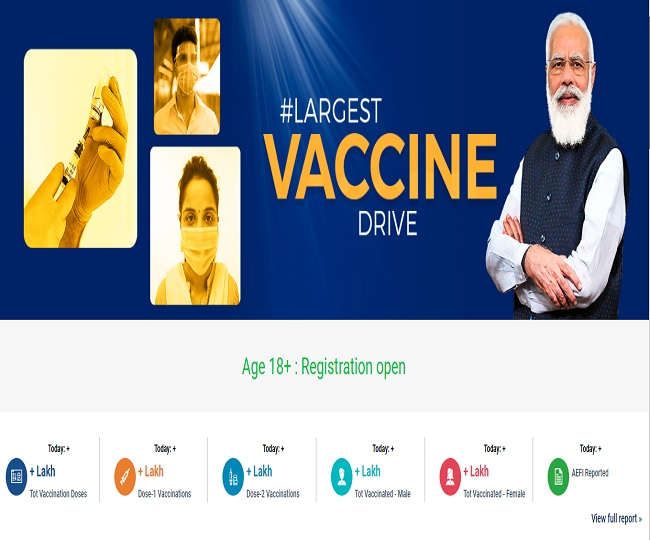 4:20 pm: CoWin, Arogya Setu web portals for 18-45 age group vaccination registration crashes within minutes after launch.
4:15 pm: All members of the Maharastra Cabinet are of the opinion that current COVID19 restrictions should be extended for the next 15 days: Maharashtra Health Minister Rajesh Tope
4:00 pm: We have all the infrastructure to conduct vaccination but we don't have vaccines in adequate quantity. The CM is talking to different vaccine manufacturers. There will be separate centres for vaccination of those between 18-44 years of age: Maharashtra Health Minister Rajesh Tope
3:45 pm: In view of #COVID19 situation, it has been decided to extend the duration of 'Swasthya Suraksha Saptah' till 6 am on May 6. Some changes have been made in the guidelines: Jharkhand CM Hemant Soren (file photo)
3:28 pm: Kanpur: Guru Singh Sabha is providing "oxygen langar" to COVID-19 patients. "Yesterday we have provided medical oxygen to 56 people. 10 beds are available here and we will increase it tomorrow," says Kulwant Singh Gill, senior vice president, Guru Singh Sabha.
3:5 pm: India has helped the world and us during the COVID times by producing vaccines and medicines, and now we just need to give back to our friends: Walter J. Lindner, German Ambassador to India
3:00 pm: Election Commission makes it mandatory for candidates and their agents to show negative RT-PCR test reports or complete vaccination reports to enter counting centres
2:35 pm: Maharashtra: Vaccination stopped at Mumbai's NESCO inoculation centre for today as it runs out of vaccine stock. "Initially, I went to BKC centre but no vaccination was happening there so I came here & was waiting when it was announced that vaccine stock is over," says a man.
2:25 pm: As per reports some patients died due to oxygen leakage in Bilaspur dist hospital on April 26/27 night, I deny this. There were minor leakages that were repaired on same night. 6 patients, on non-invasive ventilation, were shifted to another institution: Bilaspur (Chhattisgarh)DC
2:19 pm: I went to Cantt y'day, where 150 beds have been set up. Number of beds are being increased in other places too. Today 50 more beds will be added to Medical College (Dehradun). Coronation Hospital, with 30 Oxygen beds, is functional Uttarakhand CM Tirath Singh Rawat
2:13 pm: We have sufficient amount of Oxygen, we even supplied a little to other states. We have adequate number of hospital beds too, we set up 1000 beds in Sports College (Dehradun). In Haldwani, we've set up beds in pvt colleges besides medical college & Sports College: Uttarakhand CM
2:05 pm: "I had appealed to IMA to spare some doctors. We have put 1400 senior students of MBBS to run hospitals in districts. We had ordered 68 lakh injections (COVID-19 vaccine) for 3rd phase of vaccination drive starting from May 1 and hope that it will be delivered on time," he added.
2:00 pm: Have ordered to provide 20 vehicles of Dial 112 to every district, they can work as an ambulance. I have also asked district commissioners to increase capacity of beds (COVID-19 care centres) and for medical staff," says Anil Vij, Haryana Health Minister.
1:30 pm: Private offices, including service industry to 'work from home' only. Bare minimum staff involved in critical operations such as maintenance shall be allowed with curfew passes: DC Mohali Girish Dayalan
1:20 pm: Curfew in the entire district from 6 PM to 5 AM on all days (night curfew) & from 6PM every Friday to 5 AM of every Monday (weekend curfew). All restaurants to remain closed for dine-in with, home delivery allowed up to 9 PM. All shops to close by 5 PM daily: DC Mohali
1:00 pm: Lockdown announced in state from 29th April 7 pm to the morning of 3rd May. Essential services & industrial activities allowed, public transport to remain shut. Casinos, hotels, pubs remain closed. Borders to remain open for essential service transportation: Goa CM Pramod Sawant
12:45 pm: Fertilizer companies to supply 50 MT medical oxygen per day for #COVID19 patients. IFFCO is putting up an oxygen plant with capacity of 200 cubic meters/hour in its KALOL unit in Gujarat & their total capacity would be 33,000 cubic meters/day: Ministry of Chemicals & Fertilizers
12:15 pm: Maharashtra: Covishield vaccine not available at Kamla Nehru Hospital's vaccination centre in Pune, says Dr Rajashree Patil. "We have stock of Covaxin for 2nd dose. We have no idea when we get the next stock of Covishield," she said.
12:00 pm: All categories of liquor shops shall remain closed upto 3rd May 2021: T Sudhakar, Deputy Commissioner (Excise)
11:55 am: COVID19 restrictions in Puducherry extended till 3rd May. Gathering and congregation in any form is strictly prohibited.
11:45 am: 25,56,182 vaccine doses were given on Day 102 of the vaccination drive yesterday. 15,69,000 beneficiaries were vaccinated across 22,989 sessions for 1st dose & 9,87,182 beneficiaries received 2nd dose of vaccine: Union Health Ministry
11:42 am: Cumulative number of #COVID19 vaccine doses administered in India has crossed 14.78 crores today. It includes 93,47,775 HCWs who have taken the 1st dose & 61,06,237 HCWs who have taken the 2nd dose, 1,22,21,975 FLWs (1st dose) & 65,26,378 FLWs (2nd dose): Union Health Ministry
11:35 am: Former Congress MP and party's senior leader Eknath Gaikwad passes away in Mumbai. He was state minister Varsha Gaikwad's father.
11:25 am: Following the Tripura govt's orders, Lake Chowmuhani market in Agartala has been relocated to an open area in view of rising cases of COVID-19. Similar steps have been taken in other parts of the state to shift big congested markets to larger places to maintain social distancing.
11:10 am: Karina Gould, Canada's Minister of International Development, announces that Canada is providing $10 million in funding for humanitarian assistance to Canadian Red Cross to support Indian Red Cross Society's response to #COVID19 situation in India: Govt of Canada
11:00 am: There are 3.25 cr people in the state b/w 18-45 yrs of age. So we'll need 7 cr doses of vaccine. Our officers spoke to SII,they'd booked 3.75 cr doses. SII told them that they won't be able to supply till May 15 what Centre ordered,how can they supply to us?: Rajasthan Health Min
10:45 am: Delhi: Two people arrested by Punjabi Bagh Police for black marketing of Oxygen cylinders. Four Oxygen cylinders and one large commercial Oxygen cylinder recovered from their possession.
10:30 am: People arrive outside BKC jumbo #COVID19 vaccination centre in Mumbai even as BMC says that the centre has run out of stock and it is inactive today. "It will open for vaccination as soon as the stock is replenished," says BMC.
10:10 am: India reports 3,60,960 new #COVID19 cases, 3293 deaths and 2,61,162 discharges in the last 24 hours, as per Union Health Ministry Total cases: 1,79,97,267 Total recoveries: 1,48,17,371 Death toll: 2,01,187 Active cases: 29,78,709 Total vaccination: 14,78,27,367
10:00 am: Minister Maliki Osman flagged off 2 of the Singapore Air Force's C-130s, arriving in India today with 256 Oxygen cylinders: Singapore's diplomatic missions in New Delhi, Mumbai and Chennai
9:45 am: Registration for 18 plus to begin on http://cowin.gov.in, Aarogya Setu App & UMANG App at 4 PM on 28th April. Appointments at State Govt centers & pvt centers depending on how many vaccination centers ready on 1st May: Aarogya Setu
9:30 am: 'Oxygen Express', carrying 6 Oxygen tankers from Jharkhand's Bokaro, arrives at Mandideep railway station in Bhopal. Two tankers each will be unloaded at Mandideep and Sagar and one tanker will be sent to Jabalpur.
9:10 am: 28,27,03,789 samples were tested up to 27th April 2021, for #COVID19. Of these 17,23,912 samples were tested yesterday: Indian Council of Medical Research (ICMR)
8:50 am: Central government has increased Haryana's Oxygen quota from 162 MT to 232 MT: Haryana Government
8:35 am: BKC jumbo #COVID19 vaccination centre in Mumbai has run out of stock thus it is not active today. It will open for vaccination as soon as the stock is replenished: BMC
7:40 am: We have over 5 cr people in the state who are 18 years of age & above & for this (vaccination from May 1) we need 12 cr vaccines...We've written to Serum Institute of India & Bharat Biotech too about our demands for vaccines for people above 18: Maharashtra Health Min
7:35 am: Today at around 03:40 am fire broke out at Prime Criticare Hospital in Mumbra, Thane. Two fire engines & one rescue vehicle are at the spot. Fire extinguishing underway. Four dead during shifting of patients to another hospital: Thane Municipal Corporation
7:25 am: Night curfew between 10 pm to 5 am to continue till April 30: Purva Garg, Puducherry District Collector.
7:12 am: We want to make sure that vaccines that we've in our possession or will soon have in our possession are safe,so FDA is reviewing that:US Secy of State when asked on"US to share 60 million COVID vaccine doses with other countries soon,Pres Biden indicated that India will get some"
7:00 am: People leaving the state will have to register themselves at COVID e-pass portal. Ppl coming from 7 hotspots to quarantine for 14 days but if they carrying a negative RT-PCR report of test done 72 hrs before arrival will be exempted:Aditya Negi, DC,Shimla
Posted By: Talibuddin Khan