Coronavirus Crisis: 45 including 42 students test positive for COVID-19 at residential school in Mohali
Catch all the LIVE Updates here
Updated: Tue, 27 Apr 2021 06:37 PM IST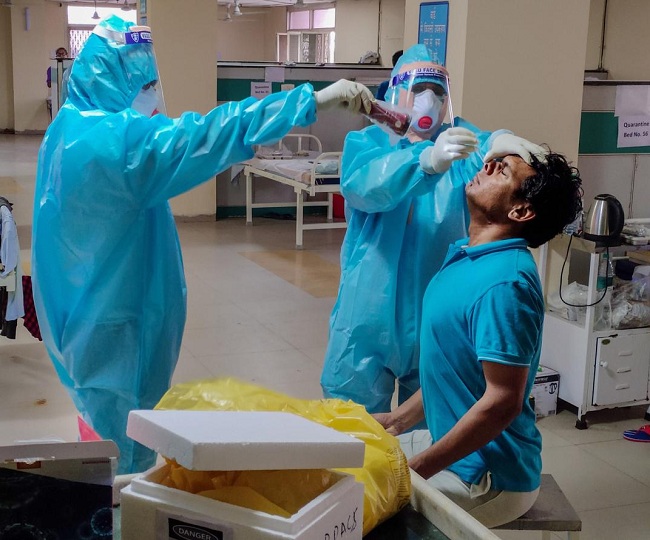 New Delhi | Jagran News Desk: Delhi recorded the highest single-day rise in its COVID-19 death toll with 380 more people succumbing to the infection on Monday, while the positivity rate stood at over 35 per cent. This is the fifth day on the trot that Delhi has recorded over 300 deaths due to coronavirus. It had reported 350 fatalities on Sunday, 357 deaths, the highest before Monday's figure since the pandemic began a year ago, on Saturday, 348 on Friday and 306 on Thursday. The national capital had recorded 22,933 cases on Sunday, 24,103 cases on Saturday, 24,331 on Friday, 26,169 on Thursday, and 24,638 on Wednesday.
The US will begin sharing its entire stock of AstraZeneca COVID-19 vaccines with the world once it clears federal safety reviews, the White House said Monday, with as many as 60 million doses expected to be available for export in the coming months. The AstraZeneca vaccine is widely in use around the world but has not yet been authorized by the US Food and Drug Administration. The US has also been under mounting pressure in recent weeks to share more of its vaccine supply with the world, as countries like India experience devastating surges of the virus and others struggle to access doses needed to protect their most vulnerable populations.
Here are the Highlights of April 27:
6:00 pm: European Commission says a shipment of 'urgently needed oxygen, medicine & equipment' will be delivered to India by European Union Member States over coming days
5:45 pm: Total 55 ventilators issued to Amritsar, Bathinda, Patiala, Jalandhar, Ludhiana and SAS Nagar: Punjab Health Systems Corporation, Govt of Punjab
5:15 pm: Family members of a 62-year-old woman patient created a ruckus outside Delhi's Apollo hospital after she died allegedly as she couldn't get treatment at the hospital. Delhi Police have not received any written complaint in this regard: Delhi Police
5:00 pm: Delhi High Court asks Delhi Govt to file a response concerning the Ashok Hotel being dedicated for judicial officers. HC says Delhi High Court never made any such request. HC takes suo motu cognizance on this issue, and issues a notice to Delhi Government.
4:50pm: Delhi High Court to Delhi government on cylinder refilling units: Our confidence has shaken, you put your house in order
4:45 pm: Delhi High Court asks Delhi Government to file affidavit mentioning the status of the stock of liquid and gaseous oxygen with refillers by 10 am tomorrow
4:30 pm: Railways has also mobilised COVID care coaches for Nagpur, Bhopal, Tihi, near Indore as per demand from the States. An MoU was signed between Divisional Railway Manager, Nagpur and Commissioner, Nagpur Municipal Corporation for 11 COVID care coaches: Ministry of Railways
4:25 pm: Ministry of Railways has made nearly 4000 COVID care coaches with almost 64,000 beds ready for use by States. At present 169 coaches have been handed over to various states, says the ministry
4:10 pm: Delhi HC issues contempt notice, asks Delhi Govt to take action against erring cylinder dealers. The court order came when it was informed by Delhi Heart and Lung Institute that they are facing oxygen shortage and the concerned nodal officer is helpless.
4:00 pm: Delhi High Court suggests Delhi government to get information from all hospitals and pharmacies on the supply of Remdesivir and other drugs. HC suggests Delhi Govt to appoint accounting officers
3:50 pm: IAF airlifted 1 cryogenic oxygen container from Baroda to Ranchi, 2 containers from Pune to Jamnagar, 2 containers from Bhopal to Jamnagar, 3 containers from Jaipur to Jamnagar, 3 from Indore, Bhopal to Jamnagar & 1 cryogenic oxygen container from Hindan to Panagarh on 26 Apr:IAF
3:40pm: C17 aircraft of IAF airlifted 6 empty cryogenic oxygen containers from Dubai on 26th Apr and landed at 1915 hrs at Panagarh in West Bengal on same day. Another C17 aircraft of IAF airlifted 4 empty containers from Bangkok and landed at Panagarh early morning on 27 Apr 21: IAF
3:30 pm: A total of 90 tankers carrying about 1676 MT medical oxygen have been dispatched so far from Odisha to a number of states including Uttar Pradesh, Madhya Pradesh, Maharashtra, Andhra Pradesh, Telengana and Chhattisgarh: Odisha Police
3:24 pm: Delhi HC shows displeasure and says that this cylinder (Oxygen) business is a complete mess. Court asks Delhi Govt to put the house in order; says people have to buy it in black for lakhs, which costs merely a few hundred rupees only
3:20 pm: Delhi High Court shows displeasure with the reports of black marketing of oxygen cylinders. The Court tells Delhi govt to take them (black marketers) in custody, says - you have powers to take action.
3:10 PM: Assam: Kamrup Metropolitan district orders closure of all educational institutes (govt & private) including colleges, universities, & coaching institutes and students' hostels till May 11. Online classes have to be made available for students, the order reads.
3:00 pm: Kerala High Court disposes of the pleas seeking lockdown on May 2nd, the counting day. Court said that the arrangements by EC and State govt are sufficient & there is no need for lockdown. Court directed that the orders issued by the EC and State Govt should be strictly followed.
2:45 pm: 45 people, including 42 students, found positive for #COVID19 at a residential school in Tangori. Positive patients sent to COVID Care Centre for isolation, others being sent home. FIR registered against the Director of the school: Mohali District Collector
2:35 pm: We've already spoken to Commissioner about making a list of people who can help us in procurement of vaccines because we have all preparations in place but if we don't get supply of vaccines then it will be difficult for us to vaccinate all: Mumbai Mayor Kishori Pednekar
2:25 pm: All centres will be ready but there's a question that if they'll get adequate vaccine supply. From 1st May, we've to give vaccine to all above 18 yrs of age but we'll have to see the vaccine supply as earlier vaccination will continue & 2nd dose is to be prioritised: Mumbai Mayor
2:15 pm: On behalf of all Taiwanese people, I would like to express my serious concern over the rapid spread of #COVID19 in India. Taiwan stands with India in this difficult time, & we are ready to provide help: President of Taiwan, Tsai Ing-wen
2:05 pm: Night curfew imposed in Assam from 8 pm to 5 am, the order comes into immediate effect and will remain in place till May 1st.
1:55 pm: A petition has been filed in Kerala High Court seeking its directions to state government for fixing uniform COVID-19 treatment tariffs across private hospitals, labs, & diagnostic centers
1:45 pm: In its order, Supreme Court asks Govt of India to explain the basis & rationale adopted with respect to the pricing of anti-COVID vaccines & other necessary items.
1:40 pm: CM will take a decision on the free vaccination for all, soon. I have signed a proposal for free vaccines. CM will decide on it in the interest of the people...Tomorrow in the cabinet meet, we will discuss the issue of the global tender for vaccine procurement: Maharashtra Dy CM
1:33 pm: We're going to set up 44 Oxygen Plants in Delhi within the next one month - 8 of these are being installed by Centre. The remaining 36 are being installed by Delhi Govt, 21 plants coming from France & 15 plants from within the country itself: Delhi CM Arvind Kejriwal
1:30 pm: I'd written to many industrialists of the country in last 4-5 days. I'd also written to CMs & sought help. We are receiving tremendous support, we have received offers from many people. Many of them are helping. I thank everyone who is helping Delhi Govt: Delhi CM Arvind Kejriwal
1:20 pm: Gangster Chhota Rajan shifted to AIIMS on 25th April for #COVID19 treatment: AIIMS Delhi officials
1:15 pm: We are importing 21 ready-to-use Oxygen plants from France. They can be brought to use immediately. These will be installed at different hospitals and this will help us in resolving Oxygen crisis in those hospitals: Delhi CM Arvind Kejriwal
1:10 pm: Delhi govt decides to import 18 tankers (Oxygen) from Bangkok, they'll start arriving from tomorrow. We've requested Centre to allow use of Air Force planes for this. Talks are on, I'm very hopeful that talks will be successful. This will resolve the issue of transport: Delhi CM
1:05 pm: Till now they have not given any confirmation that when will they be giving the vaccine. Once they give the vaccine, phase 3 vaccination will begin in our state. Presently, people between 18-44 years of age can register themselves ot the CoWIN portal: Bijay Panigrahi
1:00 pm: Phase 3 COVID vaccination will start from May 1st. But it depends on availability of vaccines in state. CM declared free vaccines for 18-44 yrs of age group. State Govt has written to SII & Bharat Biotech for vaccine supply: Bijay Panigrahi, COVID Vaccination In-Charge in Odisha
12:57 pm: INS Sharada has completed first phase of transfer of #COVID19 supplies including oxygen cylinders in Lakshadweep (transfer took place at 4 islands - Agatti, Andrott, Kadmat & Kavaratti). The next consignment of supplies/Oxygen Express is scheduled for departure today: Indian Navy
12:52 pm: During hearing of suo motu case on #COVID19 management, Supreme Court observes, "At the time of national crisis, this court cannot remain a mute spectator. We intend to play a complimentary role to HCs (high courts). HCs have a valuable role to play."
12:50 pm: "We are handling the situation very carefully," Solicitor General Tushar Mehta tells Supreme Court during hearing of suo motu case of oxygen shortage & other issues related to management of #COVID19 pandemic.
12:45 pm: Supreme Court starts hearing suo motu case of oxygen shortage & other issues related to management of #COVID19 pandemic. "We have to step in when we feel so & we need to protect the lives of people," Justice DY Chandrachud says.
12:41 pm: Public access to religious places across the state will be closed. Only administrators & priests will be able to perform puja. Public bus transport will continue in the entire state with 50% capacity. Maximum 50 people at weddings & 20 people at funerals allowed: Gujarat CMO
12:35 pm: Malls, shopping complexs, cinema halls, auditoriums, gyms, swimming pools, water parks, public gardens, salon, spas & other amusement activities will be closed in all 29 cities. All APMCs will be closed, only APMCs associated with vegetables & fruits can be continued: Gujarat CMO
12:30 pm: Earlier, curfew was imposed in 20 cities, including 8 major cities, from 8 pm to 6 am. Curfew will be imposed to other cities Himmatnagar, Palanpur, Navsari, Valsad, Porbandar, Botad, Viramgam, Chhota Udaipur and Veraval - Somnath from 8 pm to 6 am: Gujarat CMO
12:20 pm: Vedanta submits before the Supreme Court that it will supply oxygen free of cost to people in need.
12:15 pm: Supreme Court allows Vedanta to operate oxygen production unit at its Sterlite copper plant in Tuticorin, in Tamil Nadu, on a stand-alone basis. "The plant shall be operated & only produce oxygen & for no other purpose," says Justice DY Chandrachud.
11:55 am: Almost all ICU beds in Delhi are occupied right now. 500 ICU beds each are coming up at the ground near GTB hospital and the main Ramlila Ground, 200 ICU beds at Radha Soami complex. So, around 1200 proper ICU beds will be ready by 10th May: Delhi CM Arvind Kejriwal
11:45 am: Madhya Pradesh Govt will give an ex-gratia of Rs 50 lakhs & a compassionate appointment to families of the policemen who die in the line of duty during COVID pandemic. They'll also get Rs 1 lakh from Central Welfare Fund of Police: State Home Minister Narottam Mishra
11:40 am: Advocate Alok Agarwal, appearing for Maharaja Agrasen Hospital, tells Delhi High Court about a Delhi Govt's order that hospitals have to attend to all emergency patients within 10-15 minutes and give them oxygen and medicines. HC asks Delhi Govt to take instruction on this.
11:34 AM: Appearing for Vedanta, senior lawyer Harish Salve tells SC, "We'll run only oxygen plant & not power plant. Electricity will be provided by the state." Justice DY Chandrachud asks, "When can you start the plant?" "We can start producing oxygen in maybe 10 days," Salve replies.
11:30 am: Supreme Court starts hearing a plea seeking reopening of Vedanta's Sterlite plant in Tamil Nadu for production of oxygen to be used for the treatment of COVID patients Solicitor General Tushar Mehta says produced oxygen should be given to the Centre for allocation to various states
11:22 am: To address shortage of oxygen tankers in the country, the Union Govt has imported 20 cryogenic tankers of 10 MT and 20 MT capacity and allocated them to States: Government of India
11:15 am: Delhi: CM Arvind Kejriwal and Health Minister Satyendar Jain visit the special COVID Care Centre that is being built near GTB Hospital.
11:10 am: Uttarakhand: Dehradun DM Ashish Srivastava issues SOPs for admissions of patients to COVID Care Centre/COVID Health Centre/COVID hospital/.
11:02 am: No victory procession after the counting on 2nd May shall be permissible. Not more than 2 persons shall be allowed to accompany the winning candidate or his/her authorised representative receive the certificate of election from the Returning Officer concerned: EC
10:55 am: Australia will suspend all direct passenger flights from India until May 15, says PM Scott Morrison.
10:50 am: Good to see the first of our medical supplies have now arrived in India and will be deployed where they are needed most. No one is safe until we are all safe. International collaboration is key to fighting this global threat: UK Foreign Secretary Dominic Raab
10:45 am: Election Commission of India bans all victory processions on or after the day of counting of votes, on May 2nd. Detailed order soon.
10:25 am: Indian Customs facilitated clearance of ISO tankers from Thailand at Indian Air Force Base Panagarh: Central Board of Indirect Taxes & Customs
10:10 am: Indian Railways has delivered nearly 450 tons of Oxygen till today morning. Further, 6 Loaded tankers with more than 90 tons of oxygen are presently enroute from Bokaro to Jabalapur & Mandideep (near Bhopal) & 3 tankers on way to Bokaro to pick up Oxygen for UP today: Railways
10:00 am: Telangana reported 10,122 new #COVID19 cases, 6446 recoveries and 52 deaths on 26th April. Total cases 4,11,905 Total recoveries 3,40,590 Death toll 2094 Active cases 69,221
9:45 am: India reports 3,23,144 new #COVID19 cases, 2771 deaths and 2,51,827 discharges in the last 24 hours, as per Union Health Ministry Total cases: 1,76,36,307 Total recoveries: 1,45,56,209 Death toll: 1,97,894 Active cases: 28,82,204 Total vaccination: 14,52,71,186
9:25 am: Senior Congress leader and former MP Karuna Shukla passed away last night at a hospital in Chhattisgarh where she was under treatment for #COVID19. She was also the niece of former PM, late Atal Bihari Vajpayee.
9:10 am: 28,09,79,877 samples tested up to 26th April 2021, for #COVID19. Of these 16,58,700 samples were tested yesterday: Indian Council of Medical Research (ICMR)
8:30 am: 'Oxygen Express' from Jindal Steel Plant in Raigarh of Chhattisgarh reached Delhi today. Oxygen tankers were sent to different hospitals of the national capital.
#WATCH | 'Oxygen Express' from Jindal Steel Plant in Raigarh of Chhattisgarh reached Delhi today. Oxygen tankers were sent to different hospitals of the national capital. #COVID19 pic.twitter.com/SIcWzj7wKQ

— ANI (@ANI) April 27, 2021
8:00 am: Maharashtra: The statewide restrictions in the wake of #COVID19 situation to continue till May 1st. Visuals from Western Express Highway, Bandra in Mumbai.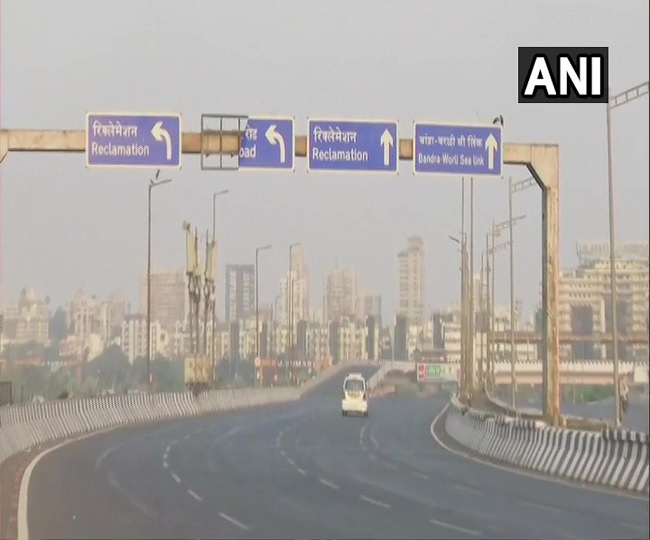 7:45 am: The shipment of vital medical supplies from the United Kingdom, including 100 ventilators & 95 oxygen concentrators, arrived in India earlier this morning: Ministry of External Affairs (MEA)
7:34 am: WB: Bangladeshi nationals who had come to India on medical visas staged a protest at Petrapole border after Bangladesh sealed border with India, yesterday "This has been suddenly announced, we should have been at least 24 hours to return to our country," said a protestor
7:27 am: Odisha: Tourism Finance Corporation of India Ltd. along with an NGO has started an initiative School on Wheels' that will provide COVID education, food, medical assistance & necessary support to street children in Bhubaneswar.
7:20 am: Oxygen special train with tankers of oxygen arrives at Delhi Cantt from Raigarh in Chhattisgarh.
7:10 am: Fruit, vegetable, fish, & meat markets remain very crowded. District administration & market committees have decided to make these areas less crowded& shift some part of markets to open space. Use of mask is mandatory:Shailesh Kr Yadav, DM,West Tripura district
A total of 90 tankers carrying about 1676 MT medical oxygen have been dispatched so far from Odisha to a number of states including Uttar Pradesh, Madhya Pradesh, Maharashtra, Andhra Pradesh, Telengana and Chhattisgarh: Odisha Police
Posted By: Talibuddin Khan