Coronavirus Crisis: PM Modi chairs high-level meeting to review steps taken to boost oxygen availability
Catch all the Updates here
Updated: Sat, 24 Apr 2021 05:09 PM IST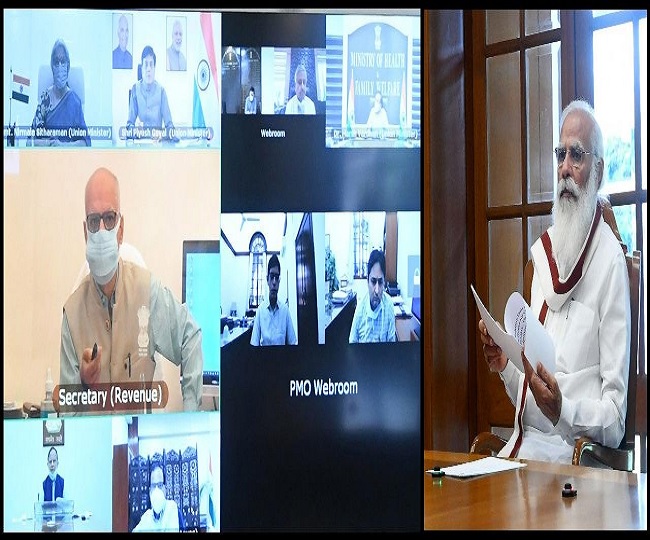 New Delhi | Jagran News Desk: With many hospitals struggling with dangerously low levels of oxygen supply, the Delhi government has decided to maintain a buffer stock of the gas to be used during extremely critical situations, government sources said on Friday. The Centre has enhanced the daily quota of medical oxygen for Delhi from 378 MT to 480 MT. The Delhi Disaster Management Authority (DDMA) had on Thursday appointed three senior IAS officers as nodal officers to ensure smooth distribution and supply of oxygen to various hospitals in the city.
Meanwhile, Oxygen Express train carrying 30,000 litres of liquid medical oxygen arrives in Lucknow from Bokaro, Jharkhand as the country gasps for oxygen. Apart from UP, The first "Oxygen Express" train that left Visakhapatnam on Thursday arrived in Maharashtra's Nagpur Friday evening with seven tankers carrying the life-saving medical gas amid the deadly second wave of the COVID-19 pandemic. Three of the seven tankers have been unloaded at Nagpur Junction railway station.
Here are the Highlights on the Coronavirus crisis:
4:40 pm: Only a limited portion of Serum Institute of India's volume will be sold to private hospitals at INR 600 per dose. The price of the vaccine is still lower than a lot of other medical treatment and essentials required to treat #COVID19 and other life-threatening diseases: SII
4:25 pm: While appreciating the good work done in last 6 phases ensuring Covid safe arrangements at the polling stations, EC directed that regular monitoring of COVID compliant behaviour and action against the violations must be done by the authority.
4:10 pm: This is in addition to more than 800 patients who are already admitted at various centers of AIIMS. Admissions are open and the Emergency department is functional: AIIMS Delhi officials
4:00 pm: Admissions in Emergency dept, AIIMS Delhi were restricted for an hr as oxygen pipelines were being reorganized due to increased requirement of oxygen for #COVID19 patients. Currently around 100 COVID patients are already receiving treatment at the Emergency: AIIMS Delhi officials
3:45 pm: Maharashtra: Seven people died in Yavatmal's Wani after consuming hand sanitiser as the liquor shops were closed. Police say, "Matter is being investigated. All of them were labourers. They consumed hand sanitiser when they couldn't get alcohol."
3:30pm: DRDO is adding another 250 beds later in the evening today at the Sardar Vallabhbhai Patel COVID hospital in New Delhi, taking the total number of beds to 500. In Gujarat, a 1,000-bed hospital has become operational: Defence Minister Rajnath Singh
3:20 pm: Delhi | We haven't received backup oxygen supply yet. We have 70 patients who are in critical condition and need oxygen. If we don't get oxygen supply there could be a big disaster. We have started discharging patients: COVID in-charge, Saroj Hospital
3:00 pm: PM directed Revenue Dept to ensure seamless & quick custom clearance of such equipment. It was also decided that Basic Customs Duty on import of Covid vaccines be also exempted with immediate effect for 3 months: Govt of India
2:50 pm: PM stressed all ministries& depts need to work in synergy to up availability of oxygen&medical supplies. It was decided to grant full exemption from Basic Customs Duty&health cess on import of items related to Oxygen&Oxygen related equipment for 3 months with immediate effect:GoI
2:38 pm: PM Modi chaired a meeting to review steps taken to boost oxygen availability in the country. He emphasised that there was an immediate need to augment the supply of medical-grade oxygen as well as equipment required for patient care both at home and in hospitals: Govt of India
2:25 pm: Kerala | Since the last two weeks, there is a drastic increase in demand for medical oxygen. We are trying to meet this increased demand. We've stopped the production of oxygen for industrial use: Aparna Nayar, Manager, Southern Gas Ltd, Thiruvananthapuram
2:13 pm: Delhi High Court recommends providing security to hospitals if required, and says "We know how people react when they lose their dear ones.....let's not have a law and order situation."
2:00 pm: Amritsar's Neelkanth Hospital authorities should have brought the matter of oxygen shortage to the notice of the Administration. An inquiry committee has been set up to investigate the matter: Punjab Minister OP Soni
1:45 pm: The government of NCT should make all the possible efforts for procuring cryogenic tankers. We expect officers of both governments to coordinate in this regard, says Delhi High Court
1:25 pm: I want to express our solidarity with people of India as they battle a dangerous wave of #COVID19. Our prayers for speedy recovery go to all those suffering from pandemic in our neighbourhood & world. We must fight this global challenge confronting humanity together: Pakistan PM
1:10 pm: We ensured that 'Oxygen Express' travels in a given time. A green corridor was created for the faster moving of the train. Time-taken & carrying capacity of the railways makes it the best mode to transport these tankers across the country: Shivaji M Sutar, CPRO, Central Railway
1:00 pm: Delhi: An Oxygen tanker arrives at Jaipur Golden Hospital in the national capital
12:50 pm: You not only stopped Corona from reaching villages but also played an important role in creating awareness in villages. This year too we have the challenge of stopping this virus from reaching villages: PM Narendra Modi at an event on Panchayati Raj Diwas, via video conferencing
12:45 pm: When we met for Panchayati Raj Diwas a year back, the entire country was fighting against Corona. At that time I had urged all of you to carry out your duty in stopping Corona from reaching villages: PM Narendra Modi at an event on Panchayati Raj Diwas, via video conferencing
12:40 pm: Delhi HC asks the Centre when is the allocated 480 MT of oxygen coming to Delhi. Court says the smooth and full allocated supply of oxygen to Delhi can resolve the many problems
12:35 pm: Steel plants from across the country have supplied 1.43 lakh metric tons of medical oxygen to different states till now: Dharmendra Pradhan, Minister of Steel
12:24 pm: One C-17 aircraft of the Indian Air Force transports two empty container trucks for liquid oxygen to Jamnagar from Pune
12:10 pm: Special campaign launched across the country to provide oxygen from the PM Care fund as part of which 11 new PSA oxygen plants have been set up in Gujarat. The extra amount of oxygen produced in Gujarat will be delivered to other states: Union Home Minister Amit Shah
12:00 pm: Sr Advocate Rahul Mehta informed HC that yesterday we (Delhi) got only around 296 MT of Oxygen supply, despite our quota being 480 MT. He also says that if we're not getting 480 MT of allocated oxygen, entire functioning will collapse in 24 hrs if we don't put our House in order.
11:55 am: Delhi High Court Division Bench of Justice Vipin Sanghi & Justice Rekha Palli begins hearing a plea by Maharaja Agarsen Hospital regarding a shortage of oxygen.
11:45 am: Delhi | All ICU beds at our hospital are full for the last 4-5 days. Some critical patients need 40-50 ltr of oxygen per minute to maintain oxygen saturation level. The oxygen supply chain is compromised: Dr. Suresh Kumar, MD, LNJP Hospital
11:30 am: Jammu and Kashmir: Chinook helicopter airborne from Jammu to Leh with 850 kg load, including Bio Safety Cabinet and Centrifuges. These machines, costing over Rs 1 cr each, made by CSIR and now given to Ladakh are essential for COVID testing, for storage of samples.
11:20 am: Maharashtra | Oxygen Express arrives in Nashik from Visakhapatnam, Andhra Pradesh
11:10 am: Gujarat | Union Home Minister Amit Shah inaugurates an Oxygen plant at Ayurvedic Hospital, Kolwada village, Gandhinagar. Chief Minister Vijay Rupani and Deputy Chief Minister Nitin Patel also present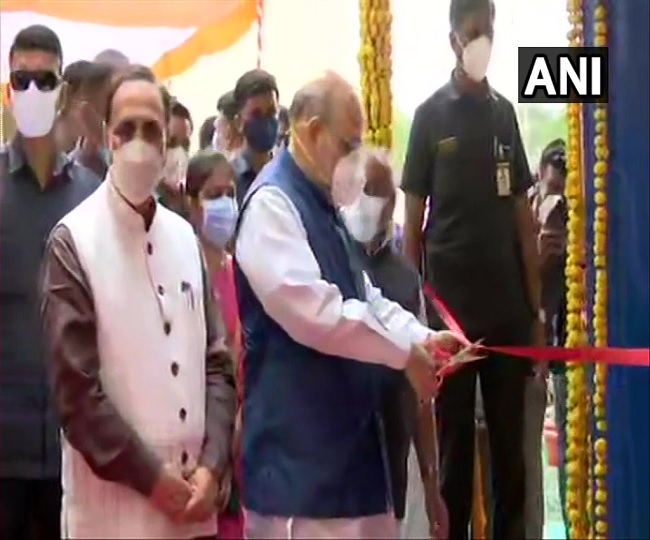 10:55 am: The government of India's procurement price for both #COVID19 vaccines remains Rs 150 per dose. GOI procured doses will continue to be provided totally free to States: Ministry of Health and Family Welfare
10:45 am: Amritsar | Five patients have died at the hospital. We are facing an oxygen shortage for the last 48 hours. The administration is saying that oxygen will not be given to private hospitals before government hospitals: MD, Neelkanth Hospital
10:40 am: Delhi | We are closing the admissions because of an oxygen shortage. We are discharging the patients: COVID in-charge, Saroj Hospital
10:24 am: Delhi | We have received only 500-litre of oxygen after pleading for 12 hours. Our daily requirement is 8000 litres. We've 350 patients in the hospital. The treatment of choice in COVID is oxygen but when we don't get it what will happen?: Dr SCL Gupta, MD, Batra Hospital
10:17 am: Delhi | Oxygen supply to last only half an hour now, more than 200 lives are at stake. We lost 20 people due to an oxygen shortage last night: DK Baluja, Jaipur Golden Hospital
10:10 am: Oxygen Express will reach Nashik soon. The best possible route was selected & the train's movement was ensured through a green corridor which was continuously monitored by the seniormost officers of the Railways and Railway Minister himself: Shivaji M Sutar, CPRO, Central Railway
10:00 am: India reports 3,46,786 new #COVID19 cases, 2,624 deaths and 2,19,838 discharges in the last 24 hours, as per Union Health Ministry Total cases: 1,66,10,481 Total recoveries: 1,38,67,997 Death toll: 1,89,544 Active cases: 25,52,940 Total vaccination: 13,83,79,832
9:40 am: Delhi: Oxygen tanker arrives at Batra Hospital and Medical Research Centre after the hospital sent SOS call today morning
9:25 am: Oxygen Express will reach Nagpur soon. The best possible route was selected & the train's movement was ensured through a green corridor which was continuously monitored by the seniormost officers of the Railways and Railway Minister himself: Shivaji M Sutar, CPRO, Central Railway
9:10 am: Bengaluru: A 61-year-old COVID19 patient died allegedly by suicide by hanging himself from a ceiling fan at Vijaaynagar Hospital last night; body to be shifted to Victoria hospital, say police
8:50 am: AIIMS has postponed the INI-CET PG 2021 entrance exam till further notice, due to the current COVID19 situation
8:40 am: A gurdwara in Ghaziabad has started 'Oxygen Langar' to help COVID patients Till now we've been able to save around 200 lives. We request the DM & VK Singh ji to provide us with 25 oxygen cyclinders for 12 hours which will to help us save 1000 lives," says Gurdwara manager
8:25 am: Maharashtra | Mumbai Police discontinues the colour-coded sticker system for vehicles
8:10 AM: SC has now taken cognizance of COVID situation in the country. If SC had taken into consideration the roadshows done by many political leaders, Prime Minister, Home Minister and the Haridwar Kumbh at the right time, then, such a situation would not have arisen: Shiv Sena's Saamna
7:50 am: Second Oxygen special train with tankers of oxygen arrives in Lucknow from Bokaro in Jharkhand
7:37 am: Telangana Health Department urges people who are returning from Kumbh Mela to isolate themselves for 14 days and if they have any symptoms then they must get tested immediately: State Govt
7:28 am: US Food & Drug Administration & US Centers for Disease Control & Prevention have determined that the recommended pause regarding the use of Johnson & Johnson COVID-19 Vaccine in the US should be lifted & use of vaccine should resume: US' Centers for Disease Control and Prevention
7:20 am: 32 big oxygen cylinders and 16 small oxygen cylinders were recovered during a raid at a house in Dashrath Puri area. Probe underway: Delhi Police
7:12 am: Weekend lockdown to imposed in all urban areas of the state b/w 9pm on Friday to 5 am on Monday.However,there will be exemption of 1 hr (5am -6am) for morning walk& other physical activities on Saturday&Sunday: Saumendra Priyadarshi, CP,Bhubaneswar-Cuttack Twin City,Odisha
7:00 am: As COVID pandemic inflicts a heavy toll on countries around the globe,US Chamber strongly encourages administration to release millions of AstraZeneca vaccine doses in storage as well as other life-saving support for shipment to India,Brazil& other nations: US Chamber of Commerce
Posted By: Talibuddin Khan