Coronavirus Crisis | 'Request Centre to supply at least 700 MT oxygen to Delhi till situation demands': Manish Sisodia
Catch all the LIVE Updates here
Updated: Sat, 08 May 2021 04:56 PM IST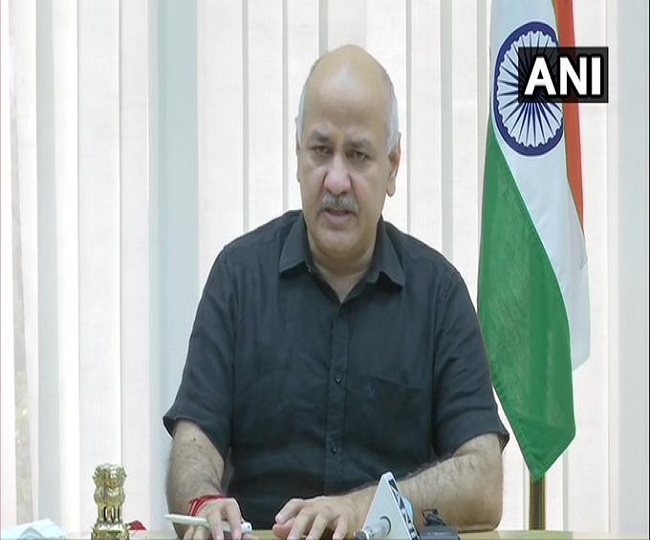 New Delhi | Jagran News Desk: Prime Minister Narendra Modi on Saturday spoke to Maharashtra Chief Minister Uddhav Thackeray on the COVID-19 situation in the state. PM Modi has been interacting with chief ministers over the telephone for the last couple of days to take stock of the pandemic situation in their states. Apart from Uddhav Thackeray, the prime minister also dialled Madhya Pradesh Chief Minister Shivraj Singh Chouhan and Himachal Pradesh Chief Minister Jairam Thakur and Tamil Nadu CM MK Stalin to discuss the COVID-19 situation in their respective states.
Meanwhile, Delhi Chief Minister Arvind Kejriwal on Saturday said the number of COVID-19 vaccination centres will be increased three times in Delhi and demanded that the Centre supply around 2.6 crore vaccine doses for inoculation of all people in the national capital in the next three months.
Here are the Highlights of May 8:
4:05 pm: India gave so much to world during Corona crisis. So it's just the act of returning this help. When we got to know that India needs mostly oxygen, we had our military getting into gear & they brought in big oxygen plant. I think on Monday morning we have a test run: German Envoy
3:57 pm: Delhi: Germany has sent an Oxygen Plant with the capacity of generating 4,00,000 litres of oxygen. The Plant will serve DRDO operated Sardar Vallabhbhai Patel Covid Hospital. German Ambassador to India Walter J Lindner inspected the Plant today.
3:52 pm: In view of the increasing COVID-19 cases, summer vacations in all government, non-government, private and day boarding schools till June 30. During this period, if a private school wants to conduct online classes, it can do so as per its convenience: Govt of Uttarakhand
3:45 pm: Dr Anant Narayan Bhatt & Dr Sudhir Chandna, Institute of Nuclear Medicine & Allied Sciences(INMAS-DRDO) scientists speak about drug 2-deoxy-D-glucose (2-DG). DCGI approved emergency use of its therapeutic application as adjunct therapy in moderate to severe COVID patients
3:30 pm: On May 5, we received 730 MT oxygen for the first time but on May 6 we got 577 MT oxygen & 487 MT of oxygen yesterday. I urge the Central govt to maintain at least 700 MT of oxygen supply to Delhi till the situation demands: Delhi Deputy CM Manish Sisodia
3:25 pm: We're getting help for the supply of oxygen from Central govt; Delhi HC & Supreme Court have also intervened in this regard. We need 700 MT oxygen to run hospitals in the state & if we want to increase the capacity of our hospitals we need 976 MT of oxygen: Delhi Deputy CM
3:20 pm: All journalists in Haryana will be administered #COVID19 vaccines. Preparations for their vaccination will be made at media centres in all districts: Haryana Chief Minister's Office (CMO) quoting CM Manohar Lal Khattar
3:10 pm: Seeing upsurge in #COVID19 cases in rural areas, CM Manohar Lal Khattar has directed to constitute 8,000 teams led by trainee doctors, comprising ASHA, Anganwadi & health workers, to conduct tests. Govt schools & AYUSH centres to be converted in isolation centres: Haryana CMO
3:00 pm: Union Health Ministry revises national policy for admission of COVID patients to COVID facilities; requirement of a positive test for COVID-19 virus is not mandatory for admission to a COVID health facility
2:46 pm: We've ordered 25 lakh doses from Bharat Biotech & 50 lakh vaccines from Serum Institute of India, they'll provide them according to the availability. We need 2.5 cr vaccines & we've placed orders for 75 lakh. Vaccination program should be one & monitored by Centre: TS Singh Deo
2:30 pm: We received 1.50 lakh Covaxin doses from Bharat Biotech on May 1 & the vaccination is going on with that. We'll receive 3.50 lakh doses of Covishield today & the further vaccination will go on with this: Chhattisgarh Health Minister, TS Singh Deo
2:10 pm: The PM & Union Govt have been guiding Maharashtra in the Corona War from the very beginning & it is being put to good use by the State Govt. The CM also thanked the PM for accepting some of Maharashtra's suggestions: Maharashtra CMO
2:05 pm: PM Narendra Modi today telephoned CM Uddhav Thackeray & said that Maharashtra was fighting a good battle against the second wave. The CM requested that Maharashtra be given more strength in terms of oxygen & informed about various measures: Maharashtra CMO
2:00 pm: PM Narendra Modi spoke to Tamil Nadu CM MK Stalin on the COVID-related situation in the state
1:53 pm: Vaccines are being administered at 100 schools in Delhi & 1 lakh people are being vaccinated daily. We are planning to expand it to 300 schools & ramp up the vaccination to 3 lakhs per day: Delhi CM Arvind Kejriwal
1:50 pm: Delhi CM Arvind Kejriwal & Deputy CM Manish Sisodia inspected a vaccination centre for 18-44 age group which has been set up at Sarvodaya Girls Senior Secondary School in Chirag Delhi. They also interacted with the beneficiaries.
1:45 pm: People are gasping for oxygen and you (Centre) took control of oxygen management in your hands. If you can't manage then let the states manage on their own. We've to bear an extra burden of Rs 3,000 crores due to taxes on vaccines: Rajasthan Minister, Pratap Singh Khachariyawas
1:40 pm: Free vaccine is the right of every citizen of this country. It should be given to all without any discussion... They (Centre) have put GST on vaccines& started increasing prices of petrol & diesel after Bengal elections: Rajasthan Cabinet Minister Pratap Khachariyawas
1:30 pm: The drug comes in powder form in sachet, which is taken orally by dissolving it in water. It accumulates in the virus-infected cells and prevents virus growth by stopping viral synthesis and energy production: DRDO
1:24 pm: Higher proportion of patients treated with 2-DG showed RT-PCR negative conversion in COVID patients. In efficacy trends, the patients treated with 2-DG showed faster symptomatic cure than Standard of Care (SoC) on various endpoints: DRDO
1:17 pm: DCGI has granted permission for emergency use of therapeutic application of drug 2-deoxy-D-glucose (2-DG) as adjunct therapy in moderate to severe COVID-19 patients. Being a generic molecule & analogue of glucose, it can be easily produced & made available in plenty: DRDO
1:10 pm: Maharashtra: Mumbai Mayor Kishori Pednekar and Shiv Sena MP Arvind Sawant inaugurate a drive-in vaccination centre at Wellington Sports club in Mumbai.
1:00 pm: For last 7 days, 180 districts in the country have not seen a single new case of COVID-19. 18 districts have not recorded any cases in last 14 days. 54 districts have not witnessed any new case in last 21 days: Union Health Minister Harsh Vardhan
12:48 pm: Bihar: Janata Dal (United) leader & Legislative Council member Tanveer Akhtar dies of COVID-19
12:40 pm: PM Narendra Modi spoke to Maharashtra CM Uddhav Thackeray on the COVID-19 related situation in the state
12:33 pm: States with negative balance are showing more consumption (including wastage) than vaccine supplied as they've not reconciled the vaccine they have supplied to Armed Forces. Over 53 lakh vaccine doses will be received in addition by states/UTs within next 3 days: Health Ministry
12:30 pm: Govt of India has so far provided more than 17.49 crore vaccine doses (17,49,57,770) to states/UTs free of cost. Of this, the total consumption including wastages is 16,65,49,583 doses. Over 84 lakh doses are still available with the States/UTs to be administered: Health Ministry
12:25 pm: Maharashtra CM Uddhav Thackeray has written to Central government, seeking permission to develop a separate app for COVID vaccination in the state. He wrote the letter following complaints of frequent glitches in CoWIN platform.
12:15 pm: If Delhi government is given 80-85 lakh doses of COVID-19 vaccine per month, we can complete vaccination within three months: Delhi CM Arvind Kejriwal
12:07 pm: If we get adequate vaccine doses, we can complete vaccination within 3 months. There're 1.5 crore people above 18 years of age in Delhi so we need 3 crore doses. Out of this, Delhi Govt has got only 40 lakh doses so far. We need 2.6 crores more doses: Delhi CM Arvind Kejriwal
12:00 pm: 70% of Covishield stock will be used to vaccinate 45+ who are due for 2nd dose and rest 30% will be used to vaccinate 45+ seeking 1st dose. While Covaxin will be administered only to 45+ who are due for 2nd dose after 6 weeks of 1st dose: Dr K Sudhakar, Karnataka Health Minister
11:50 am: Why is there so much discrimination with Bengal? They sent the central team within 24 hours of oath-taking. Actually, they (BJP) are not ready to accept the public mandate. I never support violence. They are spreading fake news & fake videos: West Bengal CM Mamata Banerjee
11:47 am: Rs 30,000 crores is nothing for the central government... There should be a universal vaccine program for all throughout the country: West Bengal Chief Minister Mamata Banerjee in the state Assembly
11:40 am: Manipur: Imphal West district administration imposes curfew till May 17 under Section 144 of CrPC to contain #COVID19 spread; essential services & people going for vaccination & COVID test exempted from restrictions.
11:15 am: COVID-19 infection has reached villages of Uttarakhand. The level of transmission despite Corona Curfew is a matter of concern. To contain the spread, the government will take a major decision by May 10: Uttarakhand Cabinet Minister Subodh Uniyal
11:00 am: 200 oxygen cylinders & 10 oxygen concentrators sent by Thailand government and another 100 oxygen cylinders & 60 oxygen concentrators donated by Indian community in Thailand arrive in Delhi.
10:45 am: Actor Kangana Ranaut says she has tested positive for COVID-19
10:35 am: As per Chhattisgarh High Court directive, state government will set vaccination centres in different districts to vaccinate people falling in 18-45 age group and belonging to Antyodaya, BPL & APL categories in 1/3 ratio: Chhattisgarh government
10:25 am: Chhattisgarh High Court yesterday directed state government to start vaccination 'immediately' for people falling in 18-45 age group & granted liberty to continue inoculation of Antyodaya, BPL & APL groups of people in 1/3 ratio till it finalizes its vaccination policy.
10:15 am: Karnataka: People throng Agricultural Produce Market Committee (APMC) market in Hubli to purchase vegetables as the city observes Janta Curfew during the weekend. A two-week lockdown will remain in place across the state between May 10 & May 24.
10:00 am: Khan Market case involving seizure of oxygen concentrators from Khan Chacha restaurant in Khan Market has been transferred to Crime Branch: Delhi Police
9:40 am: India reports 4,01,078 new #COVID19 cases, 3,18,609 discharges, and 4,187 deaths in the last 24 hours, as per Union Health Ministry Total cases: 2,18,92,676 Total discharges: 1,79,30,960 Death toll: 2,38,270 Active cases: 37,23,446 Total vaccination: 16,73,46,544
9:30 am: Maharashtra: Pune Police enforce complete weekend lockdown in the city. Only pharmaceutical shops are allowed to function during the weekend lockdown.
9:15 am: Odisha reported 11,807 fresh COVID-19 cases, 8,401 recoveries, and 21 deaths yesterday, as per State Health Department Total cases: 5,24,207 Total recoveries: 4,31,658 Active cases: 90,335 Death toll: 2,161
9:00 am: Tamil Nadu government announces complete lockdown for two weeks starting May 10 to control the spread of COVID-19
8:30 am: Kerala: Nine-day lockdown comes into effect in the state today; visuals from Thiruvananthapuram city.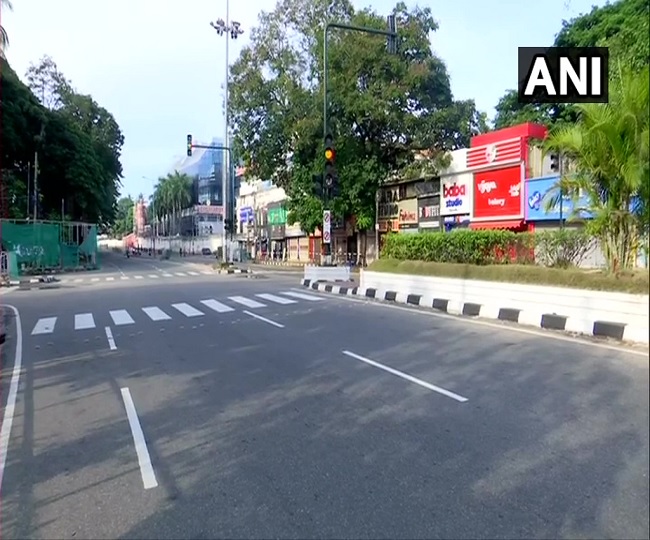 8:00 am: Telangana reported 5,559 new COVID-19 cases, 8,061 recoveries, and 41 deaths yesterday Active cases: 71,308 Total recoveries: 4,13,225 Death toll: 2,666
7:45 am: Two lionesses have tested positive for COVID-19 at Etawah Safari Park. Both of them have been kept in isolation: Director, Etawah Safari Park
7:33 am: Maharashtra: Nashik Municipal Corporation launched an online portal helping people book & find nearby crematorium "This portal is user friendly that helps one choose the location and time slot for cremation at the nearest crematorium," said an official
7:26 am: J&K: Border Roads Organisation concluded 371 kms long cycle expedition in Poonch yesterday "We have organised this expedition to create awareness about COVID and road safety among locals. It started in Rajouri dist & was concluded here," said Rohit Gupta, Executive Engineer, BRO
7:20 am: Telangana: Hyderabad based start-up develop affordable oxygenator "It is developed to cater need of people who can't afford oxygen concentrator. It provides oxygen to a patient for around 12hrs or to 2 patients simultaneously," said Praveen Gorakavi,Co-founder of start up
7:13 am: World Health Organisation (WHO) listed the Sinopharm COVID19 vaccine for emergency use in all countries, a prerequisite for a potential COVAX roll-out: WHO
Posted By: Talibuddin Khan