Coronavirus Crisis LIVE: COVID-19 vaccines being administered in India effective against current variants: Health Ministry
Catch all the LIVE Updates here
Updated: Wed, 05 May 2021 04:40 PM IST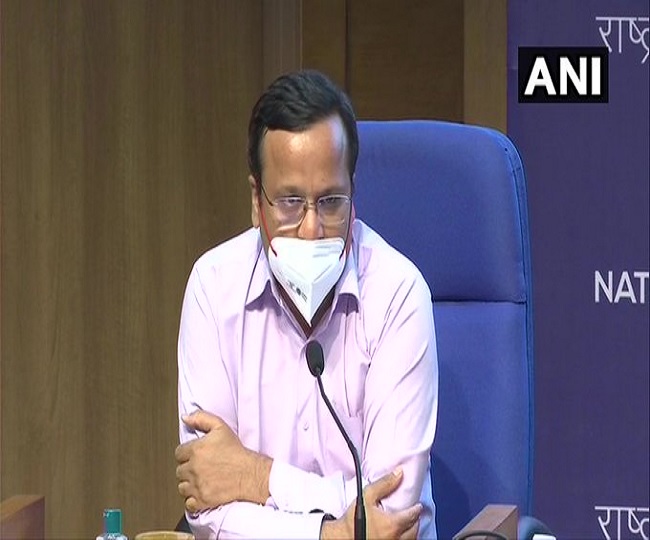 New Delhi | Jagran News Desk: The death of COVID-19 patients due to non supplying of oxygen is a "criminal act and not less than a "genocide", said that the Allahabad High Court on Tuesday amid reports of shortage of medical oxygen due to rise in COVID-19 infections. "We are at pain in observing that death of Covid patients just for non supplying of oxygen to the hospitals is a criminal act and not less than a genocide by those who have been entrusted the task to ensure continuous procurement and supply chain of the liquid medical oxygen," read the order by a bench of Justice Ajit Kumar and Justice Siddhartha Varma.
The High Court observed that stories of hoarding of oxygen cylinders and harassment meted out to those poor citizens who were begging for an oxygen cylinder to save the life of their near and dear ones, both at the end of district administration and police administration are being viralled in social media. This comes as India's total tally of COVID-19 cases crossed the 2 crore mark with 3,57,229 infections being reported in a day, while the death toll increased to 2,22,408 with 3,449 new fatalities, according to the Union Health Ministry data updated on Tuesday. The total tally of COVID-19 cases in the country has climbed to 2,02,82,833. Registering a steady increase, the active cases have increased to 34,47,133 comprising 17 per cent of the total infections.
Here are the LIVE Updates of May 5:
4:40 pm: Scientists of India & all over world are working to anticipate these kinds of variants & act against them rapidly by early warning & developing modified tools. It's an intense research program, happening in India & abroad: K VijayRaghavan, Principal Scientific Advisor to Centre
4:35 pm: Vaccines are effective against current variants. New variants will arise all over the world & in India too but variants that increase transmission will likely plateau. Immune evasive variants & those which lower or increase disease severity will arise going ahead: K VijayRaghavan
4:30 pm: Variants are transmitted same as original strain. It doesn't have properties of new kinds of transmission. It infects humans in a manner that makes it more transmissible as it gains entry, makes more copies & goes on, same as original: Principal Scientific Advisor to Centre
4:25 pm: 12 states have more than 1 lakh active cases, 7 states have 50,000 to 1 lakh active cases,& 17 states have less than 50,000 active cases. Maharashtra, Kerala, Karnataka, Uttar Pradesh & Andhra Pradesh have around 1.5 lakh active cases:Lav Agarwal, Union Health Ministry,Jt Secy
4:22 pm: Liberalised policy (for vaccination) was started on May 1st. Under this, the drive has begun smoothly in 9 states and 6.71 lakh people in the age group of 18-44 years have been administered vaccines: Lav Agarwal, Union Health Ministry, Joint Secretary
4:20 pm: There are some areas of concern. Bengaluru reported around 1.49 lakh cases in last one week. Chennai reported 38,000 cases. Some districts have recorded further & speedy COVID cases, these include Kozhikode, Ernakulam, Gurgram: Lav Agarwal, Union Health Ministry, Joint Secretary
4:18 PM: An increase in deaths has been noticed too. Maharashtra, Karnataka, Andhra Pradesh, Delhi, and Haryana reported more death cases: Lav Agarwal, Joint Secretary, Union Health Ministry
4:15 pm: Around 2.4% day on day growth in COVID cases has been noticed: Lav Agarwal, Union Health Ministry Jt Secy
4:00 pm: Maharashtra: People gather in large numbers outside BKC Jumbo COVID-19 Vaccination Centre in Mumbai. "Nothing is organised here. Even queues are not formed properly," says Rajshekhar Upadhyaya, a local.
3:30 pm: Corona curfew imposed from midnight of May 6 to May 16. All offices to remain closed and only essential services allowed. No one from outside allowed without a negative RT-PCR report. Class 10th exams cancelled, students to be promoted: Govt of Himachal Pradesh
3:00 pm: In view of the prevailing #Covid situation, Govt. has decided to impose a complete lockdown in East Khasi Hills district from 8 PM of 5th May till 5 AM of 10th May 2021. Weekend lockdown will also be imposed in all districts in the State: Meghalaya CM Conrad Sangma
2:00pm: It is a serious matter. A magisterial level panel has been formed that also includes medical experts who are looking into the matter. An investigation will reveal the shortfall: Namami Bansal, Joint Magistrate, Roorkee.
1:30 pm: Delhi Police ASI, stationed at Lodhi Road Crematorium, helps in cremation of people who died due to COVID. I have helped nearly 1100 people. I have taken both shots of vaccines & take all precautions. I have postponed my daughter's marriage to help people here: ASI Rakesh Kumar
1:15 pm: Delhi reports 20,960 new #COVID19 cases, 19,209 discharges and 311 deaths Active cases: 91,859 Death Toll: 18,063
12:55 pm: Gujarat: Despite COVID restrictions, women in large numbers gathered at Navapura village in Sanand, Ahmedabad district to offer prayers at the Baliyadev temple, yesterday Action was taken against 23 people including the Sarpanch of the village, says KT Kamaria, DySP, Ahmedabad Rural
12:45 pm: Rs 100 crores allotted from the Chief Minister's relief fund for vaccination of citizens between18-44 years of age: Arunendra Singh Chauhan, Additional Secretary to Uttarakhand Government in a letter to new Director General of Medical Health and Family Welfare
12:36 pm: Solicitor General (SG) Tushar Mehta, appearing for the UOI, said it is unfortunate that the Delhi High Court had initiated contempt proceeding when the Centre, its officers are doing their best in the issue
12:30 pm: The Union of India has approached Supreme Court today against yesterday's Delhi High Court's order asking officials monitoring oxygen procurement and supply to states, including Delhi, to be present during today's hearing
12:20 pm: Chhattisgarh HC directs State Govt to have a discussion with the Secretaries of the relevant departments & fix the ratio of allotment of vaccines & distribute the vaccines in the third phase of vaccination (for 18-44 age group) in an equitable manner
12:10 pm: Chhattisgarh High Court tells State Govt to fix a reasonable ratio of allotment of vaccines to the 'Antyodaya Group', persons belonging to 'Below Poverty Line' & persons belonging to 'Above Poverty Line', with reference to all relevant aspects
11:50 am: Telangana reported 6,361 new COVID cases, 8,126 recoveries and 51 deaths on 4th April Total cases: 4,69,722 Total recoveries: 3,89,491 Active cases: 77,704 Death toll: 2,527
11:40 am: Amicus Rajshekhar Rao tells Delhi High Court that things seem to be getting better. Senior advocate Rahul Mehra, appearing for Delhi Govt, tells HC that we received 555 MT oxygen yesterday
11:30 am: Five patients died due to a shortage of oxygen at a private hospital in Roorkee. Haridwar district administration has issued an order to investigate the matter and formed a committee: District Magistrate Haridwar
11:25 am: T20 WC: IPL postponement won't deter India's chances to host event, ICC to take call around July
11:10 am: Delhi High Court begins hearing petitions relating to various issues including oxygen supply arising due to the rise in COVID-19 infections in the national capital
10:55 am: Delhi HC issues notice to Centre and Delhi Govt on a plea seeking direction to explore the possibility of import of at-home self-testing kits from countries where such kits are already in use. The plea also seeks direction to regulate the sale and quality of N95 masks.
10:40 am: In view of fresh challenges, Small Finance Banks are now permitted to regard fresh on-lending to MFIs with asset size up to Rs 500 crore, as priority sector lending, facility available up to 31 March, 2022: RBI Governor Shaktikanta Das
10:35 am: RBI announces Rs 50,000 crore liquidity for ramping up COVID-related healthcare infrastructure and services till March 2022: Governor Shaktikanta Das
10:25 am: But even at this time, in run-up to next MPC (Monetary Policy Committee) when our teams are analysing various incoming data, we don't expect any broad deviation from projections made in our April MPC but you'll have to wait for MPC statement due in June 1st week: Shaktikanta Das
10:10 am: Build-up in input price pressures across sectors, driven in part by elevated global commodity prices remains a concern. Inflation trajectory over rest of the yr will be shaped by #COVID19 infections & impact of localised containment measures on supply chains & logistics: RBI Gov
10:00 am: Reserve Bank of India will continue to monitor the emerging COVID19 situation and will deploy all resources and instruments at its command especially for the citizens, business entities, and institutions beleaguered by the second wave: Governor Shaktikanta Das
9:45 am: India reports 3,82,315 new #COVID19 cases, 3,38,439 discharges and 3,780 deaths in the last 24 hours, as per Union Health Ministry Total cases: 2,06,65,148 Total recoveries: 1,69,51,731 Death toll: 2,26,188 Active cases: 34,87,229 Total vaccination: 16,04,94,188
9:15 am: My message going into G7 is, COVID a global challenge, and we're going through it right now, there are various actors and reasons why it as severe as it is, & a global pandemic requires a global effort & in the past we'have contributed to that global effort: EAM Dr S Jaishankar
9:00 am: Delhi reported 19,953 new #COVID19 cases, 18,788 recoveries, and 338 deaths on 4th May 2021. Total cases 12,32,942 Total recoveries 11,24,771 Death toll 17,752 Active cases 90,419
8:30 am: The key message to Indian Missions abroad is- there'll be debates in India, filter the noise, do what you have to do as a mission. Your job is to ensure key requirements – O2, pharmaceuticals/ Remdesivir vaccine supply chain and logistics for all of this is a requirement: EAM
8:15 am: COVID-19 crisis: Over 180 cryogenic oxygen containers transported by Indian Air Force
7:50 am: Brihanmumbai Municipal Corporation received a fresh stock of 1 lakh vaccine doses last night and it will resume vaccination of people above 45 years at its and govt's vaccination centres: BMC
7:35 am: West Bengal reports 17,639 new #COVID19 cases and 107 deaths
Total Cases: 8,98,533 Active cases: 1,21,931 Death toll: 11,851
7:23 am: An Oxygen Express train carrying tankers of liquid medical oxygen reached Delhi today.
7:14 am: Death of Covid patients just for non supplying of oxygen to the hospitals is a criminal act and not less than a genocide by those who have been entrusted the task to ensure continuous procurement and supply chain of the liquid medical oxygen: Allahabad High Court
7:00 am: Allahabad HC seeks report on treatment given to sitting high court judge VK Srivastava who succumbed to covid-19 last week
Posted By: Talibuddin Khan