Coronavirus Crisis LIVE: The first consignment of Sputnik V vaccines from Russia arrive in Hyderabad
Catch all the Live updates here
Updated: Sat, 01 May 2021 04:33 PM IST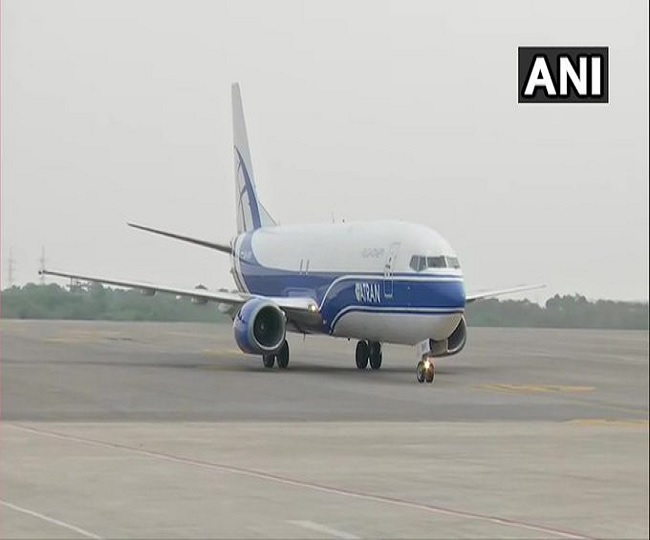 New Delhi | Jagran News Desk: India will start the vaccination drive for those in the 18-44 age bracket from Saturday as the country continues to battle the second wave of COVID-19. However, some states have flagged the shortage of vaccines and expressed their inability to start vaccination of people above 18 years from today. The Centre on April 19 had announced a ''liberalised'' policy, making all above 18 years of age eligible to get vaccinated from May 1.
It has also allowed state governments and private hospitals to purchase vaccines from manufacturers. Per the revised rules, the centre will receive 50 per cent of the vaccines supplied; states and private hospitals will get the remaining doses. As per the Ministry of Health and Family Welfare, more than 2.45 crore beneficiaries register themselves on Co-WIN portal till 9.30 pm on Friday for the Phase III of the vaccination drive. However, due to the delay in procurement of vaccines leading to a shortage, several states have said they won't be able to kick off the drive on Saturday.
Here are the LIVE Updates of May 1:
4:30 pm: WATCH
#WATCH The first consignment of Sputnik V vaccines from Russia arrive in Hyderabad pic.twitter.com/PqH3vN6ytg

— ANI (@ANI) May 1, 2021
4:20 pm: The first consignment of Sputnik V vaccines from Russia arrive in Hyderabad
3:30 pm: Uttarakhand: Amid rise in COVID cases in state, Dehradun Qazi offers to covert madarsa complexes into COVID care centers. We're ready to convert all madarsa complexes into COVID care centers. We'll support the govt whatever way possible: City Qazi Mohd. Ahmed Qasmi
3:15 pm: 6 #COVID patients died in ICU ward & 2 in main ward (due to oxygen shortage) today. We could not save them even after making effort from our end. Since this wave hit the country, we've been demanding oxygen from the govt: Dr SCL Gupta, Medical Director of Delhi's Batra Hospital
2:55 pm: I request the decision-makers with folded hands to provide oxygen to Delhi: CM Arvind Kejriwal
2:47 pm: There is a major issue of oxygen. SOS is coming from all hospitals. We've spoken in courts & written to the Centre that Delhi requires 976 tons of oxygen daily but we've been allotted only 490 tons of oxygen. Yesterday we received only 312 tons. How will this work?: Delhi CM
2:45 pm: Gorakhpur: #COVID19 vaccination for people above 18 years of age has started at 10 centres in the district today, says a health department official.
2:40 pm: Vaccination for people b/w 18-44 yrs started at only one centre. We've received 4.5 lakh vaccines, being distributed in all dists. Large scale vaccination in Delhi will begin from day after. There's no walk-in now. Only those with appointment & registration have to come: Delhi CM
2:33 pm: We're prepared for vaccination of people 18 yrs and above. We'll start vaccination as soon as we get the vaccines. We will get vaccines in a day or two. CM has called a meeting at 4pm today and all programs will be discussed there: MP Medical Education Minister Vishvas Sarang
2:25 pm:West Bengal: Oxygen tanks were loaded from Durgapur on Oxygen Express to provide Liquid Medical Oxygen to Delhi. These cryogenic tanks were flown in from Singapore by Indian Air Force.
2:20 pm: Govt has included import of oxygen concentrators for personal use, through post, courier or e-commerce portals, in the list of exempted categories, where Customs clearance is sought as ''gifts". This exemption is valid till 31 July 2021: Ministry of Commerce & Industry
2:10 pm: Goa: Four-day lockdown imposed from Thursday night to Monday morning amid increase in COVID cases in the state. Only essential services like supermarkets, vegetable shops, grocery shops & some fish shops are open from morning 7 to 12 noon: Goa Minister Michael Lobo
1:50 pm: Batra Hospital informs Delhi HC that they were out of oxygen for sometime today and lost lives too, including their own doctor, due to that. It also informs that the oxygen tankers reached them sometime back. Delhi High Court suggests the hospital to install oxygen generator.
1:45 pm: Delhi High Court directs Centre to ensure that 4 oxygen tankers (having Haryana Number) allocated to Delhi, but currently detained in Rajasthan, are released immediately. Court also asked the Counsel representing Centre to file a compliance report of it
1:30pm: Government extends timelines of certain compliances, to mitigate the difficulties faced by taxpayers due to ongoing #COVID19 pandemic: Ministry of Finance
1:15 pm: Karnataka: CM BS Yediyurappa inaugurated the vaccination drive for people above 18 years of age today at Bowring and Lady Curzon Hospital in Bengaluru.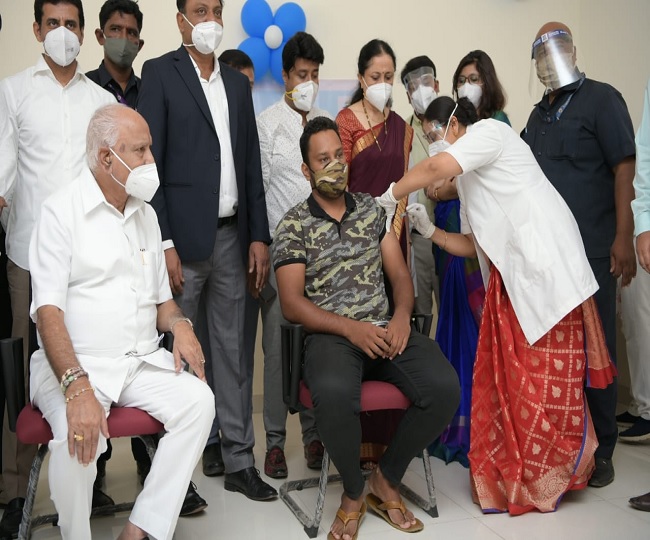 1:00 pm: The Armed Forces are in this together. We are calling it 'co-jeet'. Because we need to win this war on COVID. We have to win this war. All the Armed Forces are cooperating with each other on this: Lt Gen Madhuri Kanitkar, Deputy Chief of Integrated Defence Staff (Medical), to ANI
12:50 pm: On the suggestions that Delhi Govt should take help of Armed Forces to setup more infrastructure in Delhi, counsel of Delhi Govt says, we are in the process at the highest level, our govt is looking into it, we're coming up with 15000 more beds.
12:40 pm: Supreme Court allows the process of counting of votes of Uttar Pradesh Gram Panchayat polls starting tomorrow while taking into note the assurance given by the State Election Commission that necessary measures will take place at counting centers in terms of #COVID19 guidelines.
12:30 pm: Chairman Mukesh Amvbani personally supervising scale-up of production and transportation at Jamnagar. In April 2021, Reliance supplied over 15,000 MT of Medical Grade Liquid Oxygen free of cost - helping nearly 15 lakh patients: Reliance Industries Limited
12:25 pm: Reliance Industries rallies its resources on a war footing to become India's largest producer of Medical Grade Liquid Oxygen from single location. Produces over 11% of India's total production of Medical Grade Liquid Oxygen-meeting needs of nearly every 1 in 10 patients: Reliance
12:15 pm: Maharashtra: #COVID19 vaccination for people in the age group of 18 to 44 years of age, begins at Kamla Nehru Hospital in Pune.
12:00 pm: Thai Govt decided to send their aircraft to evacuate some Thai embassy officials. This Royal Thai Air Force flight, coming to India for evacuation on May 1, carried 15 concentrators from Thai Govt to Indian Red Cross, along with 15 concentrators by Hindu Samaj of Bangkok: Sources
11:40 am: We ordered 1 crore vaccines. We have received vaccines for 45+ cateogory too. We have purchased directly from the comapnies. We have also floated global tenders for 5 crore vaccines in the state. I am sure that we will be able to take this forward successfully: CM Yogi Adityanath
11:30 am: 2500 centres for 45+ have begun phase 3 vaccination today. We've also begun vaccination for 18+ age category & included 7 dists where positivity rate & active cases are highest-Lucknow, Prayagraj, Varanasi, Gorahpur, Bareilly, Kanpur&Meerut, 85 separate centres for 18+ set up: CM
11:15 am: 15 oxygen concentrators from Thailand arrive in Delhi as assistance to India in the fight against #COVID19.
11:00 am: Maharashtra: Phase 3 vaccination for #COVID19 begins. Visuals from a centre in Nagpur. An official at the centre says, "We've received update from head office that vaccine will be administered only to people between 18-44 yrs of age today. Their vaccination will begin at 2 pm."
10:47 am: Delhi: Two men arrested for selling fake Remdisivir to people. They used to sell Remdesivir at Rs 35,000 per vial. 17 injections seized from their possession. Further investigation is underway.
10:38 am: I request everyone with folded hands to wear a mask, that too double masks. People are requested to not step out of their houses unnecessarily: Mumbai Mayor Kishori Pednekar
10:30 am: With the help of our friend and partner US, we are extremely grateful for all the help that has been extended. Today is the third flight which is going, two have already gone and many more will be going: Indian Ambassador to the US, TS Sandhu, in Washington, DC
10:24 am: Priority will be given to people b/w 45 to 60 years of age coming in for their second dose. Vaccines will be given to people b/w 18 to 44 years of age only after they have registered & received a message. Vaccine centres will function as and when we receive vaccines: Mumbai Mayor
10:20 am: People who have registered on CoWIN app & received a message can go to vaccination centres. Don't go to centres until and unless you receive a message. If you have registered but have not received a message, don't go to the centre: Mumbai Mayor Kishori Pednekar
10:10 am: State is of opinion that we'll procure as many vaccines as possible. There's pressure on GoI as during first wave, cases were reported in large numbers from Maharashtra but now other states also affected. There's demand for oxygen &other things from many states: Maharashtra Dy CM
10:00 am: We had planned a big event for today but we received only 3 lakh doses. Out of that 20,000 have been given to Pune district. Today we don't have vaccines to inoculate people aged 45 yrs & above. Hence vaccination centres in Pune dist are closed for next 2 days: Maharashtra Dy CM
9:50 am: India reports 4,01,993 new #COVID19 cases, 3523 deaths and 2,99,988 discharges in the last 24 hours, as per Union Health Ministry Total cases: 1,91,64,969 Total recoveries: 1,56,84,406 Death toll: 2,11,853 Active cases: 32,68,710 Total vaccination: 15,49,89,635
9:28 am: 28,83,37,385 samples tested up to 30th April 2021 for #COVID19. Of these, 19,45,299 samples were tested yesterday: Indian Council of Medical Research (ICMR)
9:15 am: Kerala: Streets remain deserted and shops remain closed in Thiruvananthapuram after the State government imposed restrictions to curb the spread of #COVID19 , only essential services & emergency services permitted on Saturdays & Sundays.
8:45 am: I express my condolences to the patients, doctors and hospital staff who lost their lives in the fire accident at Bharuch Hospital. The state government will provide assistance of Rs 4 lakh to the families of each of the victims of the accident: Gujarat CM Vijay Rupani
8:10 am: It's an unfortunate incident not only for us but for entire Bharuch. With Police & admn's help, we could shift patients to other hospitals. 14 patients & 2 staff nurses lost their lives in the incident: Zuber Patel, trustee of the COVID care centre in Bharuch where fire broke out
7:53 am: Today, USAID #COVID19 coordinator Jeremy Konyndyk, White House National Security Council and Embassy of India, Washington DC oversaw the send-off of the 4th plane carrying critical life-saving supplies to the people of India: USAID
7:45 am: Odisha govt has constituted an Expert Committee for taking decision on the use of Tocilizumab and other new drugs for treatment of #COVID19 patients. The Committee will examine and assess the proposal of use of such drugs on case to case basis under the supervision Of DMET.
7:35 am: "In Bengal, May 1 is a holiday, May 2 is our election result, May 3, 4 are also not vaccination days, our vaccination starts on May 5, so I have four more days. I will be hoping that I'll be starting vaccination drive for the 18-44 age group on May 5 onwards," she says.
7:23 am: "They've written to us that they won't be able to supply us vaccines till June, so we still don't have the vaccines with us. We're ready with vaccination centres but the moment the vaccines comes to us we'll able to vaccinate," she says
7:10 am: This time vaccine supply will not be (given) by govt but we've been asked to write to manufacturers directly and we've written to Bharat Biotech and SII for vaccines: Dr Rupali Basu, MD & CEO, Woodlands Hospital, Kolkata on 3rd phase of vaccination drive
Posted By: Talibuddin Khan