Coronavirus News | Maharashtra, Delhi, UP among 6 states reporting high number of deaths: Govt
Catch all the LIVE updates here
Updated: Sat, 22 May 2021 06:35 PM IST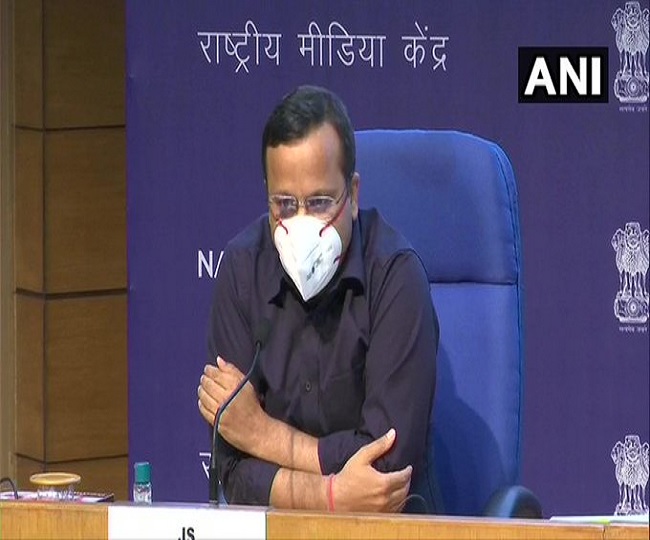 New Delhi | Jagran News Desk: The government has asked social media companies to immediately remove any content from their platform that uses or refers to the term 'Indian variant' of coronavirus, to curb misinformation around COVID-19, sources said Friday. According to sources, the IT Ministry has written to all social media platforms asserting that the World Health Organization (WHO) has not associated the term "Indian Variant" with the B.1.617 variant of the coronavirus in any of its reports. The sources said that a notice has been issued in this regard on Friday by the IT Ministry, which states that a false statement is being circulated online that implies that an "Indian variant" of coronavirus is spreading across countries.
Here are the LIVE Updates of May 22:
5:30 pm: Delhi CM Arvind Kejriwal meets the family of 26-year-old Dr Anas, a doctor who succumbed to #COVID19, and hands over a cheque of Rs 1 Crore to them My son was on duty & serving people when he lost his life. I hope my other children may also serve our nation, says Dr Anas' Father
5:05 pm: You asked me if a person can get inoculated with a vaccine different from the one he received in the first dose. Scientifically & theoretically it's possible. But recommending this - is evolving situation. No robust scientific evidence, only time will tell: Dr VK Paul, Niti Aayog
4:55 pm: Relevant action will be taken when we reach the level when a consensus at the world level is reached, over vaccine: Lav Agarwal, Joint Secretary, Union Health Ministry on 'vaccine passport'
4:52 pm: So far there's no consensus at level of WHO over this. Discussion still being done if vaccinated people will be allowed. As of now,as per WHO guidelines&guidelines by countries, people with negative COVID test report being allowed: Joint Secy,Health Ministry on 'vaccine passport'
4:45 pm: Pandemic is stabilising in a major part of the country. Positivity rate is going down & active cases are going down: Dr. VK Paul, Member-Health, Niti Aayog
4:30 pm: The existing manufacturers are working towards increasing their capacity and production capacity: Lav Agarwal, Joint Secretary, Union Health Ministry
4:25 pm: Amphotericin B was available in the country in limited supply. Its availability & supply is now being increased. Ministry of Pharma is coordinating with Ministry of Health for providing license to 5 addl manufacturers: Lav Agarwal, Joint Secy, Union Health Ministry
4:20 pm: There are more than 93 districts where declining case positivity is being noted: Lav Agarwal, Joint Secretary, Union Health Ministry
4:10 pm: There are only 7 states that are reporting more than 10,000 cases & 6 states with 5,000-10,000 cases. 6 states are reporting a high number of deaths. These are Maharashtra, Karnataka, Tamil Nadu, UP, Punjab and Delhi: Lav Agarwal, Joint Secretary, Union Health Ministry
3:55 pm: Vegetables, fruits required by the general public will be provided by the Department of Horticulture in vehicles in Chennai city and in all districts in collaboration with the concerned local bodies and corporation. News and media companies can operate as usual.
3:45 pm: The lockdown Implemented in Tamil Nadu is further extended for the period of one week from 24.05.2021 without any relaxation. Only the following activities will be allowed - Pharmacies, Veterinary Pharmacies. Milk supply, drinking water and daily newspaper distribution.
3:30 pm: All the shops allowed to open today (22-5-2021) till 9-00 pm and tomorrow 23.05.2021 for one day only from 06.00 am to 09.00 pm. Private and government buses will be allowed to travel today (22.05.2021) and tomorrow (23.05.2021).
3:15 pm: Rare cases of Mucormycosis (Black Fungs) of small intestine seen at Sir Ganga Ram Hospital, Delhi in a 56-year-old man & a 68-year-old man. Biopsy confirmed Black Fungus of small intestine in them. Both these patients had COVID &diabetes but only one of them had received steroids
3:00 pm: Delhi CM writes to PM over #COVID19 vaccine situation. His letter reads, "We've to close the vaccination centres from today as vaccines for 18+ category is exhausted. Delhi needs 80 lakh vaccines every month so that everyone here can be vaccinated within 3 months.'
2:30 pm: He (Kamal Nath) is calling it Indian Corona. He further added 'hamari pehchan, mera Bharat COVID.' It's an insult to India. Other Congress leaders also giving such statements. WHO clarified that no country's name has been attributed to any variant:Union Minister Prakash Javadekar
2:00 pm: 8,848 people have been infected with mucormycosis or Black Fungus across the country, Union Minister Sadananda Gowda said today
1:45 pm: An Oxygen Express train piloted by an 'all female crew' arrived in ICD, Whitefield, Bengaluru with 120 metric tonnes of Oxygen from Tatanagar.
1:30 pm: Vaccination for judicial officers, staffers & their families underway at Lucknow bench of HC & Allahabad HC. For media personnel too, we started vaccination at Noida & Lucknow. Next step is to make separate centres for judicial officers & media personnel in all districts: UP CM
1:20 pm: Vaccination for the 18+ category halted in Delhi from today. Vaccine stock for this category has been consumed. Due to this, their vaccination centres have been shut. Only a few vaccines are available at some centres which will be administered today: Delhi CM Arvind Kejriwal
1:10 pm: Arvind Kejriwal urges the Centre to provide an adequate number of doses of COVID-19 vaccine to Delhi, says 'Vaccination only way to fight COVID pandemic'.
1:00 pm: It's inaccurate to blame COVID treatment for increase in Mucormycosis cases. It's because of the new Covid mutant that is affecting the beta cells in pancreas, resulting in increase in blood sugar level: Dr Tatyarao Lahane, Director, Directorate of Medical Research and Education
12:45 pm: Russian side has also proposed Sputnik Light. The regulatory approvals for that in India are still not completed. But once those regulatory approvals are given, Sputnik Light will be one more area of cooperation between India and Russia: Indian Envoy to Russia, in St Petersburg
12:30 pm: For Sputnik, 150,000 doses plus 60,000 doses supplied to India. By May-end about 3 mn doses will be supplied in bulk. Those will be filled in India. In June, it's expected to increase to 5 mn & production in India expected to start in Aug: Indian Envoy to Russia, in St Petersburg
12:15 pm: Third, Russian side will transfer the technology to Indian company & the Indian company will produce it fully in India. All these 3 put together will be about 850 million doses: Indian Ambassador to Russia, D Bala Venkatesh Verma
12:00 PM: Sputnik will be produced in India in 3-phases. First, supply from Russia - fully made - which has already started. Second, RDIF will send to India in bulk. It will be ready for use but it will have to be filled in various bottles in India: Indian Ambassador to Russia
11:52 am: With more than 20.66 lakh tests conducted in the last 24 hours, India has again set a new record for the highest tests conducted in a day: Union Health Ministry
11:45 am: It started with Chinese corona. Now it's Indian variant corona. Today, India's Prez & PM are afraid of the Indian variant of COVID 19. What toolkit is this? Our scientists are calling it the Indian variant. Only BJP advisers are not accepting it: Kamal Nath, Congress
11:30 am: Few days back, we heard Arvind Kejriwal's fake statement on Indian variant and Singapore. He (Kamal Nath) is also calling it Indian COVID. This is sure that Kamal Nath has connection with the toolkit: Madhya Pradesh Home Minister Narottam Mishra
11:20 am: Uttarakhand has recorded the highest number of deaths in the first 20 days of May. During the second wave of #COVID19, 51% of the total 5,600 deaths in the state were reported between March 1 and May 20: State Health Department
11:00 am: A total of 23,680 additional vials of Amphotericin-B have been allocated to all States/UTs today. The Allocation has been made based on total number of patients which is approx. 8,848 across country: Sadananda Gowda, Union Minister for Chemicals & Fertilizers
10:45 am: Ladakh reported 121 new positive cases, 110 recoveries and one death on Friday. Active cases: 1,599 Total recoveries: 15,374 Death toll: 173
10:36 am: 420 doctors including 100 in Delhi have lost their lives due to COVID19 in the second wave of the infection: Indian Medical Association (IMA)
10:28 am: Chairman, DDMA Leh notifies the extension of ongoing Corona curfew from 24th May (7 am) till 7th June (7am) in Leh
10:20 am: Uttarakhand government issued an SOP for the prevention & black marketing of Amphotericin-B, a black fungus medicine. The drug will be available only in dedicated #COVID19 Health Care Center Medical Colleges and only in state government institutions.
10:10 am: Gujarat | A 15-yr-old boy, discharged post #COVID, was diagnosed with Mucormycosis (Black fungus). Boy is stable after surgery. We expect to discharge him in 2 or 3 days. This is 1st case of paediatric Mucormycosis in Ahmedabad: Abhishek Bansal, a paediatric doctor at Pvt hospital
9:45 am: COVID Vaccination drive continues in J&K. Vaccination drive in J&K started on January 16, 2021. 28 lakh doses have been administered so far. J&K's average of vaccinating people above 45 years of age is around 60%: Financial Commissioner, Health & Medical Education, Atal Dulloo
9:30 am: India reports 2,57,299 new #COVID19 cases, 3,57,630 discharges & 4,194 deaths in last 24 hrs, as per Health Ministry. Total cases: 2,62,89,290 Total discharges: 2,30,70,365 Death toll: 2,95,525 Active cases: 29,23,400 Total vaccination: 19,33,72,819
9:00 am: 32,64,84,155 samples tested for #COVID19 up to 21st May 2021. Of these, 20,66,285 samples were tested yesterday: Indian Council of Medical Research (ICMR)
7:45 am: Delhi University's Mata Sundri College for Women has lost two faculty members to Covid-19 within a span of five days, its principal Harpreet Kaur said Friday.
7:29 am: Maharashtra | A 28-year-old has been arrested from Jogeshwari West, by Crime Branch unit 9, for hoarding 25 oxygen cylinders and 12 oxygen kits for black marketing. Search underway for another accused. Case registered at Oshiwara Police Station: Mumbai Police
7:23 am: Fungus grows in cramped & humid spaces so keep ensure that your surroundings are cleaned regularly. Avoid consuming eatables refrigerated for days, eat fresh fruits, let sunlight in your house & wash your masks daily: Medical Director Dr Suresh Kumar, LNJP Hospital, Delhi
7:15 am: White fungus (Aspergillosis) is not as dangerous as black fungus. The treatment for the latter can continue for 1-1.5 months hence early diagnosis is critical. Don't take steroids to treat #COVID19 without consulting your doctor: Dr Suresh Kumar, MD LNJP Hospital, Delhi
7:07 am: "A 53-year-old diabetic woman, first confirmed case of Mucormycosis (black fungus) in Agra, has been admitted to Sarojini Naidu Medical College. 5 more suspected patients of fungal infection are under treatment," said District Magistrate Prabhu N Singh y'day
Posted By: Talibuddin Khan